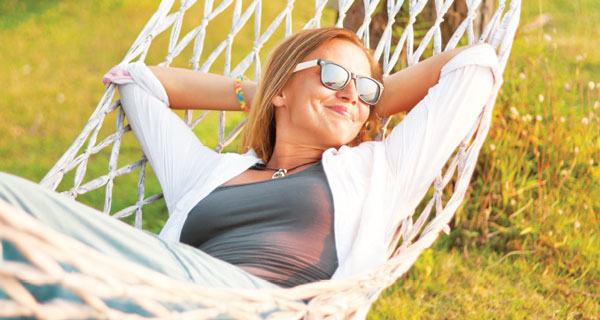 It's an understatement to say that we love sunshine here in San Joaquin. Paired with that whimsical Delta breeze, just the right amount of sunscreen, and a good book, we can easily whittle away our summer days outside. Oh, yeah. We know you're grinning from ear to ear, but there's just one tip we have that can bring this relaxing retreat full circle in all the right ways. A hammock.
Hammocks are back in style, as if they never left—littering garden departments, commercial conglomerates, and even camping stores. But when you really, really think about it, is it all that surprising? Just imagine, for a moment—you're heading out to the back patio, your favorite music playlist primed on your phone, and tucked in the corner of your yard, between two big, beautiful trees, is a sling of fabric just waiting for you. And so you do. Feet kicked up, the perfect view of those lazy white clouds swimming by overhead. You hit "play" on your phone, and voila! Instant and very welcomed retreat from your all worries and your strife.
Now that you're itching to get your sway on, it's time to learn a thing or two about the many varieties available. Didn't realize they came in an assortment of threads, did you? The first that often springs to mind is the classic rope hammock. These are typically used with a spreader bar, which evens out the hammock's rope without hassle, but also makes the hammock more prone to tipping over. Ones made out of cotton are the most comfortable, though polyester ropes are far more durable and less prone to mildew.
The quilted hammock is another style you've probably seen before. Also available with spreader bars, this hammock is comprised of a fabric, often with filling of some sort for cushioning, that you lay across, with ropes that attach to the fabric and then to the spreader bars. Similarly, the Brazilian hammock is made entirely from cotton fibers and is very thick. These are not typically used with a spreader bar, and has a cocooning effect when you lay in them. The Nicaraguan hammock is very similar to the Brazilian, but the weave is much tighter and doubled. Our personal favorite, however, is the Mayan hammock. Designed in bright, beautiful colors, it's comprised of thin string which makes for a very flexible hammock. They're also very light, and can hold a very large amount of weight. Perfect for the whole family to gather onto for that annual photo!
Poolside hammocks are very durable and mildew resistant—for good reason! It's less likely to fall prey to the sun's baking rays and lose color, and perfect for drying off after a swim. This type typically comes with a spreader bar, so you can get your tan without being cocooned. And last—but not least—is the camping hammock! Weighing on the lighter side, it's perfect for backpackers who want to get off the ground after a day's trek. They're extremely durable and made to be hung between two trees, so you can sleep and be on your merry way. Better still, some even come with bug nets, so you won't be pestered by flying blood suckers. But personally? We love this for backyard sleepovers with the kids! Select the type of hammock that suits your lifestyle and spend your days resting easy!