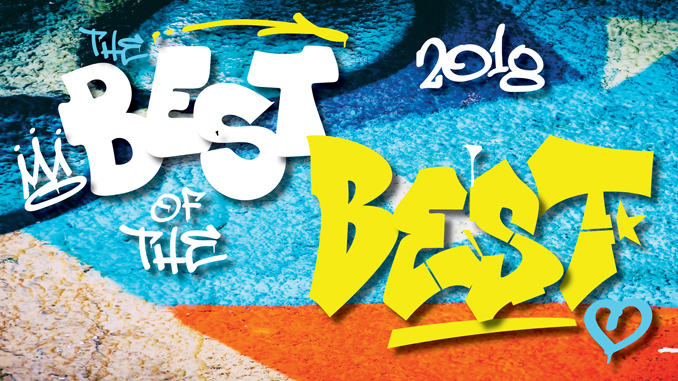 Our 12th Annual Best of the Best Readers Poll
Check Out All of the Winners Below! We're all about applauding the area. It's sort of our thing.
300+ Celebrated Community Staples Maybe that's why July's edition is a staff favorite. The anticipation, the friendly rivalry, the office phone ringing off the hook–'Are the votes in?' From avid readers, friends, neighbors, and number one fans–the ballots have been cast and the time to crown is now.
BE SURE TO GRAB YOUR TICKETS TO OUR BIGGEST PARTY OF THE YEAR
JULY 12th, 2018 at Brookside Country Club, Stockton, 5:30pm-10:30pm



BEST OF FOOD
From brunch to barbites, and every ethnic eat in between…
Best American Cuisine
While diversity abounds in the restaurants of San Joaquin, sometimes you're just hungry for some good ol' American cuisine. Stop by Market Tavern and satisfy your carnivore-cravings with their wood-fired Flat Iron Steak. Switch things up at Midgley's Public House, where celebrity chef Michael Midgley has been cultivating American-fusion cuisine since 2014. Enjoy a meal at Garlic Brothers, a skipper's favorite stop on the Delta channel. Looking for something more exclusive? Join Brookside Country Club and take advantage of their private restaurant; try the Braised Short Rib, a customer favorite!
Best Appetizers
When it comes down to it, appetizers are a test of will: You try not to fill up on them, but sometimes you just can't help yourself. Stop by Midgely's Public House for their Avocado Fries-and be prepared to slap some hands away! Check out Market Tavern's ever-changing menu of inspired appetizers and you're sure to be tempted to try them all. Let Garlic Brothers drop the bomb on your taste buds with a serving of Atomic Balls-fried macaroni with bacon and green onion, served with sweet and hot peppers.
Best Bakery
Cookies, cakes, and pies, oh my! There are so many options to choose from in San Joaquin to satisfy that sweet tooth. While M&W Dutch American Bakery has provided Stockton with sugary confections of all shapes and sizes for almost 20 years, Corner Scone Bakery's got Lodi covered with their freshly baked scones, snickerdoodles, cinnamon rolls, and more (and is always generous with their sample plate!). Genova Bakery is Stockton's oldest bakery, serving the area their famous fresh bread since 1918. If it's a sweeter taste you're in the mood for, indulge in Nothing Bundt Cakes' melt-in-your-mouth bunt cakes and Bundtinis.
Best Barbecue
There's something about a plate of barbecue that fires up all the synapses in your brain necessary for a good time. Let Fat City Brew & BBQ be your shepherd as you climb to BBQ Heaven, beer in hand, St. Louis ribs as the stairway. Check out Tin Roof BBQ & Catering for lunch, if you dare-their Hot Links Sandwich, Tri-Tip Burger, and other filling options will have you bursting at the seams. Looking for a sit-down dinner? You can't go wrong with Waterloo Restaurant; try the Waterloo Special and get your fix of both chicken and ribs in one delicious entrée.
Best Breakfast
Nothing starts your day off better than a big breakfast. At the corner of Quality and Quantity we have Chuck's Hamburgers in Stockton, where heaping hash browns and pancakes the size of dinner plates are standard portions. In Lodi, Avenue Grill is a local favorite; regulars swear by the Poor Man's Benedict. Got a picky eater in your life? Bring them to Town & Country Cafe and let them peruse through their extensive breakfast menu-from open-faced toasts, to benedicts, to handheld breakfasts, there's something for everybody!
Best Brunch
Break out the bottomless mimosa's, it's time for brunch! Check out Fenix in Lodi, where Sunday brunch entrées include bottomless Weibel sparkling wine mimosas, freshly baked pastries, coffee, and soft drinks. The Dancing Fox Winery & Brewery has got you covered if you're looking for a buffet-style brunch with a fine-dining atmosphere. A fan of eggs benedict? Head over to Bud's Seafood Grille for their delicious brunch options-the Crab Cake Benedict is to die for!
Best Buffalo Wings
Nothing says, "I'm ready for the big game" like a plate of saucy, spicy buffalo wings. Grab a basket of delicious wings from Smitty's Wings & Things in Stockton, and make sure to try as many sauces as possible! Kick up the spice with Fire Wings in Lodi, a wing-paradise offering plenty of taste bud-invigorating flavors and sides for you to choose from. If you want to nosh on your wings in a pub-type atmosphere, be sure to bring the gang to Porter's Pub in downtown Lodi for a finger-lickin' good time.
Best Burgers
Having been irreplaceable as America's favorite comfort food for generations, most foodies consider the hamburger sacred-while that's not (yet) its official status, if it were, you can be sure local temples of worship would include Bob's at the Marina, where their patties are thick, juicy, and blessed with TLC. If it's cheese you need, look no further than Squeeze Burger & Brew, where the cheese skirts don patties like golden halos. On your foodie pilgrimage through the San Joaquin, don't forget to check out Flip's Burgers, Stockton's hidden gem of a burger joint.
Best Casual Dining
Looking to keep it casual? Head to Porter's Pub in Lodi for a friendly atmosphere and delectable dinner options, no suit or tie required. Garlic Brothers is another great option for a laid-back dining experience, especially if you're coming in from a long day on the water! If you're looking for a quiet place with quality food in Stockton, head to Market Tavern for a nice dinner in the heart of Stockton's Lincoln Center.
Best Chef
With a plethora of fantastic restaurants in San Joaquin, there are so many great chefs working hard to provide locals with unique cuisine. Chef Michael Midgley of Midgley's Public House is Stockton's very own celebrity chef, having been featured on television shows including Cutthroat Kitchen, a competition from which Michael emerged the victor. Another excellent chef emerged, not from a TV show, but from literal flames. Chef Richard Hymen of the appropriately-named Fenix restaurant is back at it after an oven accident, and business is booming. Executive Chef Chris Isert cooks up creativity on the daily for members of Brookside Country Club-where he also teaches interactive cooking classes with a dash of comedy and, of course, wine.
Best Chinese
If your impression of Chinese food is take-out, you've been seriously misled; have a seat at Dave Wong's Restaurant in Stockton and get a taste of authentic Chinese cuisine in a fine dining environment. Also in Stockton, Yen Du specializes in Szechwan, Peking, and Hunan Cuisine. Peking in Stockton is another local favorite, enjoy the warm ambiance of their restaurant as you feast on homemade kimchi, hearty portions of house chicken with fried rice, or in the winter months, their sizzling rice soup!
Best Restaurant Desserts
Just when you think you're so full you couldn't possibly eat another bite, out comes the dessert menu. Suddenly, you have just a little more room! After you've filled up on their apps and entrées, Papapavlo's Bistro & Bar offers a delicious Baklava Cheesecake, Rice Pudding, and a wide selection of other desserts. Rosewood Bar & Grill in Lodi is another tantalizing dessert-oasis; try their Dark Colombian Chocolate Tart, Five-Spiced Carrot Cake, or Double Rainbow Vanilla Ice Cream! And don't forget Midgley's Public House; you haven't lived until you taste their Doughnut Maple Bacon Bread Pudding!
Best Fine Dining
In the mood to show off your favorite dress and taste some truly fine cuisine? Grab your significant other by the arm and click-clack into one of San Joaquin's finest restaurants. Prime Table's high-quality steaks in tandem with their swanky, throw-back décor make this restaurant Stockton's go-to for a fine-dining experience. Feeling a more open, rustic vibe? Try Fenix: sourced from local farmers, their new-American cuisine is made with fresh, sustainable ingredients, and their large windows let natural light in to illuminate the restaurant's gorgeous design. Towne House Restaurant is another great option; located at the beautiful Wine & Roses, with a seasonal menu that is a true tribute to Lodi's rich wine and farming cultures.
Best Food Truck
The food truck craze is far from over; in our area, we have some truly diverse options to satisfy even the most eclectic cravings. Check out A Moveable Feast on Kettleman Lane in Lodi and pray they're serving the Ahi Poke Fries! If it's Mexican food you're craving, you have to try the Asada Tacos at Tacos El Mayita in Stockton, usually located at the 76 gas station next to In-N-Out. La Picosita is another excellent Mexican food truck; find them on the corner of Church St. and Turner Rd. in Lodi!
Best Frozen Yogurt/Ice Cream
Smack dab in the middle of summer? One towering scoop of ice cream, please! Tigers Yogurt has all our cold-treat needs covered, with their sky-high servings of delicious frozen yogurt in a variety of flavors. If you're looking to beat the heat in Lodi, head over to Honey Treat Yogurt Shoppe, where the frozen yogurt and custard creations are a local favorite. Aldo's Italian Ice & Gelato has a wonderful selection of cold sweet treats in Tracy including custard, ice, and gelato.
Best Happy Hour
After a long day at work, we'd be hard-pressed to find a more welcoming sight than a tiny umbrella, salt, or some citrus slice adorning the rim of a glass full of liquor-but it's even better when the drinks are half off! From 3-6 PM Midgley's Public House offers half-off appetizers, house wines, and draft beers. Swoop on a deal at Garlic Brothers, where happy hour means $2.50 well drinks, house wines, and bottled beers. Stop by Porter's Pub in Lodi from 2-6 PM and enjoy select beers for only $3, as well as discounted nachos, wings, hot dogs, and sliders.
Best Health Food Store
It's never been easier for San Joaquin and to eat healthy. In our county we have a great selection of health food stores where locals can find all the highest quality products and most reputable health food information. Stop by Artesian Natural Foods for all your natural food needs if you're in Lincoln Center; their friendly staff is there to answer all your questions! Cruising around Lodi? Check out Sheri's Sonshine Nutrition and see if they're doing a demo of one of their products! If you're looking for an all-inclusive spot on the Miracle Mile, look no further than Green's Nutrition, which has everything from natural food, to supplements and pet care products.
Best Indian Restaurant
Arguably one of the most flavorful cuisine's out there, San Joaquin is blessed with some fantastic Indian Restaurants. With recipes brought straight from India, Tandoori Nites in Stockton is a must-try for any lover of Indian cuisine, so order a classic masala dish or try something new! Check out Swagat Indian Cuisine, while you're at it; their Tandoori dishes are to die for, and don't forget the Naan! In Tracy, Dhaba Indian Cuisine is the place to be; go for the food and stay for the atmosphere and excellent service.
Best Italian Restaurant
The Italian community has roots in San Joaquin that date back to the early 1900s. It's only fitting, then, that some of our finest restaurants serve Italian cuisine. Get a taste of the motherland at Pietro's Trattoria, where they serve up some mean pasta entrées in a wine-country setting. Check out Angelina's Spaghetti House, a Stockton hotspot since 1973, for some authentic Italian dishes you won't forget. De Vega Brother's is another must-try: if you haven't had their veal or chicken dishes, you're missing out!
Best Pizza
Deep-dish? Thin-crust? Cheese-stuffed? San Joaquin's got all your pizza-preferences covered. David's Pizza is a local foodie favorite, where you can pick a specialty pizza or create your own cheese-covered creation; if you're a meat-lover, we recommend the #1 David's Combo! Michael's Pizza is another excellent choice, with their wide variety of toppings and solid Veggie Lover's pizza where pie is stacked with the good stuff. Craving some "za" in Lodi? Order a combination pizza at Rick's Pizza, or take matters into your own hands and Freestyle your own pie!
Best Japanese Restaurant
Japanese is one of the most artful cuisines out there, and San Joaquin harbors some serious gems. Try the Spicy Chicken Teriyaki dish at Mikasa Bistro & Sushi in Tracy, or the Royal Garlic Tiger Prawns, served with miso soup, salad, and rice for a delicious Japanese dining experience. Cocoro Japanese Bistro & Sushi Bar is a Stockton favorite on the Miracle Mile; choose from a variety of Teriyaki, Donburi, or Udon & Soba dishes too pretty to eat. Craving a bento box that has it all? Look no further than Komachi Sushi in Lodi, where the creative, fresh dishes are works of pure culinary artistry.
Best Mexican Restaurant
Fresh tortillas, steaming Spanish rice, juicy carne asada-If you're looking for premium Mexican food in California, San Joaquin boasts some of the best spots around. Nestled into the Waterfront warehouse is Stockton's hidden gem Nena's Mexican Restaurant, where the portions are large, tortillas are legendary, and the waterfront is within view. In Lodi, we have Habañero Hots, where the slogan goes "Eat the Fajitas, Drink the Margaritas!" They also cater, so book them for your next event! Looking for a contemporary approach to Mexican? Octavio's is an excellent choice, so grab some friends and come hungry!
Best New Restaurant
Shake up your restaurant routine with the new kids on the block: One BBQ sauce-smothered rib, wing, and sandwich at a time, Fat City Brew & BBQ has claimed its spot in the hearts of Stocktonians, with 28 beers on tap to please even the pickiest beer drinker. Fellow newcomer El Pazcifico Mexican Grill & Cantina has also won over its city; if you're on the hunt for authentic Mexican food in Lodi, make sure you give this one a try. Upper Room in Tracy has all your health-food needs covered-not only do they serve meals heavy in protein and complex carbs, but they also offer a meal prep service!
Best Outdoor/Patio Dining
There's no sweeter way to dine on a warm summer evening than under an open sky of stars. If you want to hear the soft sounds of water and feel the Delta breeze tousle your hair, ask for patio seating at Garlic Brothers and dine on the deck overlooking Village West Marina. If it's a venetian atmosphere you need, Pietro's patio emulates the open-air Italian dining experience. Get front row seating to the beautiful Lincoln Center at Midgley's Public House for some choice people-watching and delectable American-fusion cuisine.
Best Romantic Restaurant
Whether you're celebrating an anniversary or anxiously waiting to pop the question, if there's love in the air, you can be sure that Towne House has something to do with it. Spend your romantic evening in their elegant dining room with classic décor, or under the stars of their lovely patio. Craving steak for your date night? Bring your significant other to Prime Table for their romantic, low-lit ambiance and quality beef. If tu amoré loves Italian, Pietro's Trattoria is a choice option for spoiling your loved one with exceptional cuisine.
Best Seafood Restaurant
Here in California, if you're not serving fish, you don't know your audience! Lucky for us, Bud's Seafood Grille knows exactly what west coast customers need, serving up their fresh California Seafood Combo, Seafood Sauté, or their famous Fish and Chips. For some truly divine shellfish, the Whole Dungeness Crab at The Crab Zone tastes like it was prepared by Poseidon himself. Don't forget Midgley's Public House; their Lobster, Linguine & Mussels, and Salmon & Prawns entrées are sure to satisfy your sea-side cravings.
Best Steakhouse
We're no nutritionists, but we're pretty sure steak is good for the soul. If you agree, make sure you try El Rancho Steakhouse, where the steaks are thick, juicy, and made with the highest quality beef around. Prime Table also serves up a mean steak; whether you prefer Filet Mignon, Rib Eye, or Bone-In New York, they have what you need. Midgely's Public House is another local temple of beef-their Tomahawk Ribeye, served with fries and grilled asparagus, is to die for.
Best Sushi
When it comes to sushi, San Joaquin rolls with the best of 'em. If you haven't already, go check out Mikasa Sushi for some of the best sushi rolls this side of the Pacific. While any of their specialty rolls make an excellent choice, the SJM Roll is obviously our personal fav! Komachi Sushi is the place to go if you're looking for some exceptional sushi; we recommend the Flaming Dragon Roll that the server sets aflame! Getting dinner and a movie? Stop by Misaki Sushi & Bar in Stockton next to the movie theatre and enjoy a variety of sushi rolls.
Best Thai Restaurant
If you're one of those folks for whom nothing is spicy enough, get familiar with Thai cuisine and be ready to feel the burn! Stop by Siamese Street in Stockton, a local hot spot for lovers of Thai cuisine, and try one of their excellent curry, seafood, or rice and noodle entrées. If you're a local, you're probably familiar with Thai Me Up-if you aren't familiar, we recommend their Waterfall Beef Salad or the traditional Pad Thai. Thai Spices offers a massive selection of menu choices at their Lodi location: Spicy Eggplant, New Zealand Lamb, and everything in between.
BEST OF 2018 // FOOD WINNERS
American Cuisine
Market Tavern
Midgley's Public House
Brookside Country Club (tied for 3rd)
Garlic Brothers (tied for 3rd)
Appetizers
Midgley's Public House
Market Tavern
Garlic Brothers
Bakery
M&W Dutch American Bakery
Corner Scone Bakery
Genova Bakery (tied for 3rd)
Nothing Bundt Cakes (tied for 3rd)
Barbecue
Fat City Brew & BBQ
Tin Roof BBQ & Catering
Waterloo Restaurant
Breakfast
Chuck's Hamburgers
Avenue Grill
Town & Country Café
Sunday Brunch
Fenix
The Dancing Fox Winery & Brewery
Bud's Seafood Grille
Buffalo Wings
Smitty's Wings & Things
Fire Wings
Porter's Pub
Burgers
Bob's at the Marina
Squeeze Burger & Brew
Flip's Burgers
Casual Dining
Porter's Pub
Garlic Brothers
Market Tavern
Chef
Michael Midgley, Midgley's Public House
Richard Hyman, Fenix
Chris Isert, Brookside Country Club
Chinese
Dave Wong's Restaurant
Yen Du Restaurant
Peking Restaurant
Restaurant Desserts
Papapavlo's Bistro & Bar
Rosewood
Midgley's Public House
Fine Dining
Prime Table
Fenix
Towne House Restaurant
Food Truck
A Moveable Feast
Tacos El Mayita
La Picosita
Frozen Yogurt/Ice Cream
Tigers Yogurt
Honey Treat Yogurt Shoppe
Aldo's Italian Ice & Gelato
Happy Hour
Midgley's Public House
Garlic Brothers
Porter's Pub
Health Food Store
Artesian Natural Foods
Sheri's Sonshine Nutrition Center
Green's Nutrition
Indian Restaurant
Tandoori Nites
Swagat Indian Cuisine
Dhaba Indian Cuisine
Italian Restaurant
Pietro's Trattoria
Angelina's Spaghetti House
De Vega Brothers
Pizza
David's Pizza
Michael's Pizza
Rick's Pizza
Japanese Restaurant
Mikasa Japanese Bistro
CoCoro Bistro & Sushi Bar
Komachi Sushi
Mexican Restaurant
Nena's Mexican Restaurant
Habanero Hots
Octavio's
New Restaurant
Fat City Brew & BBQ
El Pazcifico Mexican Grill & Cantina
Upper Room
Outdoor/Patio Dining
Garlic Brothers
Pietro's Trattoria
Midgley's Public House
Romantic Restaurant
Towne House Restaurant
Prime Table
Pietro's Trattoria
Seafood
Bud's Seafood Grille
The Crab Zone
Midgley's Public House
Steakhouse
El Rancho Steakhouse
Prime Table
Midgley's Public House
Sushi
Mikasa Sushi
Komachi Sushi
Misaki Sushi & Bar
Thai Restaurant
Siamese Street
Thai Me Up
Thai Spices
---
BEST OF DRINKS
Here's an excuse to bar hop. You're welcome. (Don't worry there's a coffee stop along the way.)

Best Beer Pub
If you're in search of something fun to do on a Friday night, head over to Ollie's Pub in Lodi for the dance floor, back patio, and quality selection of Irish beers on draft. If you're looking for a good place to settle in with your favorite beer as you watch the game, Porter's Pub is a sport's lover's choice spot. New to the scene is Five Window Beer Co.: its spacious tasting room with large windows, TVs, and tables make it the perfect place to enjoy a beer with your buddies.
Best Beer Selection
As craft beer continues to explode in San Joaquin, there's never been a better time to familiarize yourself with all the best spots serving our favorite bubbly libation. You can't go wrong with Porter's Pub; they offer some of the most popular beers around, with a couple newbies thrown in for those who want to experiment. Taps Barrel House is a favorite of beer aficionados who love to drink local, as the tasting room offers 28 locally brewed beers. Ollie's Pub is another great spot for any beer lover, so head to Lodi and check out what they have on draft!
Best Coffee House
Want to hear a joke? Decaf. If that made you giggle, then you're probably already a fan of Empresso Coffeehouse in Stockton, where caffeine is more than a morning pick-me-up, it's a lifestyle. If you're looking for a coffee shop with delicious caffeinated creations and excellent customer service, Barista's Coffee House in Tracy is sure to impress. For those who like a comfortable atmosphere to sit down and enjoy their lattes with a book in hand, make House of Coffees in Lodi part of your morning ritual.
Best Margarita
In the sweltering summer months, are you in need of a frozen concoction that will help you hang on? Well, look no further than La Palma Mexican Cuisine, where they're serving up salt-rimmed margaritas that Jimmy Buffet would approve of. Octavio's in Stockton is another respectable sector of Margaritaville-give their top shelf margaritas a taste. Check out Habañero Hots in Lodi, not just for their delicious Mexican cuisine, for their great margarita selection as well!
Best Winery
Lodi has such a reputation for excellent wineries that picking the best of the best is no easy task. This year, our readers dubbed Oak Farm Vineyards one of the premier wineries in the appellation, thanks to their beautiful patio and gorgeous winery grounds on which one can enjoy their award-winning wines. Also in this year's line-up is Michael David Winery, featuring an onsite café, award-winning bakery, and of course, delicious wine! Harney Lane Winery & Vineyards is another excellent winery in Lodi-take a stroll through their beautiful garden under towering trees or sit by the fire pit and socialize with fellow lovers of wine.
Best Wine Tasting Room
For the best wine tasting experience around, you have to check out Oak Farm Vineyard's rustic tasting room: Wood panels, a crackling fireplace, and soft lighting will provide all the ambiance you need as you sip on some of the finest wines in the Lodi appellation. Harney Lane Winery & Vineyards' tasting room is adorned with adorable merchandise, from home décor, to wine-paraphernalia, to sparkling jewelry, so you can shop while you sip! Viaggio Estate & Winery offers a beautiful tasting room featuring luxurious couches, sleek high-top tables, and cute string lights to add sparkle to your wine-tasting experience.
Best Wine Club
When you love vino as much as we do, being a wine club member is just something you do. But with so many options in San Joaquin County, where should you sign up? At Harney Lane Winery & Vineyards it's always Wine:30 and club members can get their fix with quarterly releases, complimentary tastings, and hefty discounts. Choose from the four-bottle club, six-bottle club, or the case club. Macchia's wine club is all about customization. There are six different memberships, boasting two to 12 bottles and plenty of tastes. Club Weibel at Weibel Family Winery sends wine shipments three times per year including special reserve wines and Club Weibel only releases.
BEST OF 2018 // DRINK WINNERS
Beer Pub
Ollie's Pub
Porter's Pub
Five Window Beer Co.
Beer Selection
Porter's Pub
Taps Barrel House
Ollie's Pub
Coffee House
Empresso Coffeehouse
Barista's Coffee House
House of Coffees
Margarita
La Palma Mexican Cuisine
Octavio's
Habañero Hots
Winery
Oak Farm Vineyards
Michael David Winery
Harney Lane Winery & Vineyards
Wine Tasting Room
Oak Farm Vineyards
Harney Lane Winery & Vineyards
Viaggio Estate & Winery
Wine Club
Harney Lane Winery
Macchia Wines
Weibel Family Winery
---
BEST OF SHOPPING

Where to find everything from new looks to old classics.
Best Consignment/Vintage
The Owl Box in downtown Tracy has undergone a steady transformation since it opened in 2010. In addition to the refinished antique furniture that once made it famous, the three women who own the shop-a grandmother, mother, daughter trio-also hock home décor, gifts, and DIY craft supplies. New & Again takes a different approach, filling its School Street gallery with consigned pieces from local homes. Caterpillar Children's Boutique is a thrift store for kids, selling gently used goods for children of all ages, plus a few new items, too. And for women who like vintage garb, Lilou of the Valley Vintage in Stockton sells everything from dresses to t-shirts.
Best Designer Eyewear
Ditch the drugstore specs and go designer. Optician Lynda Winter owns Great Spectacles. In the Lincoln Center shop staff make recommendations for frames while taking into consideration bone structure, face shape, eye color, skin tone, and lifestyle. Brookside Optometric Group is less store more eye care, but they fill shelves with a large collection of frames from high-end designers such as Burberry, Coach, Dolce & Gabbana, Marc Jacobs, Oakley, and more. Also in Stockton's Lincoln Center, Meyers Optical specializes in designer frames and sunglasses with a large collection of sports eyewear from Oakley, Ray Ban, and Spy.
Best Fashion Accessories Boutique
The streets of San Joaquin County's favorite cities are lined with cute fashion boutiques, but how do you know which shop stocks the best stuff? According to readers, Stella Mitchell in Lodi is top notch for accessories, clothing, and more. FINA, with real estate in Stockton's coveted Lincoln Center, sells jewelry, sunglasses, shoes, and other accessories in a clean, organized space. Look no further that Blackbird Boutique's colorful Instagram page for fashion inspo. The looks, available in store, are effortlessly put together online so shoppers can grab and go outfits without too much effort.
Best Fine Jeweler
Whether you're shopping for an engagement ring, a birthday present, or a custom piece for someone special, the fine jewelers in SJ won't let you down. Gary J. Long Jewelers sells a selection of classic gems and modern pieces. At Danz Jewelers experiences are intimate. The family owned shop offers custom jewelry design, and a gemologist inspects the Belgium diamonds by hand. Tucked inside the Stone Creek Village Shopping Center, Peck's Jewelers is Stockton's oldest family owned and operated jewelry store, with roots dating back to 1945. Staffed with experts in all things sparkly, it's easy to find pieces for him and her inside.
Best Gift Shop
Picking out a thoughtful gift is a hard task for many, especially when you want to make an impression. At The Owl Box in Tracy, the owners are three-generation of women promising gifts suitable for every age, from infant to grandmother. Also in Tracy, Mia Bella's Boutique boasts home décor and gifts ranging from kitschy, farmhouse-style signs to brightly colored wallets. Best Wishes in Stockton is perhaps the best shop in the region to pick up a greeting card, and with Mud Pie kitchenware and Pinky Up flavored sugars, you'll never fail to find a hostess gift that impresses.
Best Women's Clothing Boutique
FINA continues its reign as the most desirable fashion boutique in the county. Readers are still salivating over the high-end styles stocked seasonally, including name brands such as True Religion, Hudson, and Citizen. Stop in for floral blouses or trendy sunglasses. At Bella's Closet wardrobes are made. Owned by Alycia Green, a stylist turned business owner, the boho-chic boutique is bursting at the seams with trendy pieces and closet staples after Alycia's takeover in 2015. Stella Mitchell is another shop that got a recent redesign and rename, as well as a new, gorgeous location. Now on North School Street, the Lodi boutique sells both feminine outfits and clothes for men, an addition inspired by owner Kelli Ann Knowles' son.
Best Women's Shoes Boutique
Women and shoes go together like, well, women and shoes. But where do the county's best-dressed women shop for their footwear? Dennis Shea Shoes & Accessories is certainly a favorite, stocking name brand designs from UGG, Ilse Jacobson, and more while Blackbird Boutique sells every kind of footwear there is from flats and wedges to high heels and boots. Don't forget Bella's Closet. When owner Alycia Green says she stocks everything, she means everything, including fashionable floral kicks (in sandals and sneakers).
Best New Boutique
Who can say no to a new place to shop?! The Valley is bursting with new businesses as of late and many are putting their own stamp on local fashion. In Manteca The Nested Owl has residents buzzing over its unique collection of gifts and collectibles, and it always stocks-you guessed it-owls! Lilou of the Valley Vintage specializes in gently used clothing from the past, giving new life to classic garb. Owners and mother-daughter team Amanda Denton and Pamela Snell handpick the inventory at Boxwood Finch, a home décor shop on Lockeford Street in Lodi. Stop in for kitschy pillows, bold statement pieces, and chic holiday decorations.
Best Shopping Center
All malls are not created equal, but shopaholics in SJ know where to go. Stockton's Lincoln Center-home to FINA, Best Wishes, Dennis Shea's, and more is an expert mix of good cuisine, locally owned shops, and worthy chains. Not far away, Stonecreek Village is home to stores like Crazy 8 and Charming Charlie's as well as higher-end chains Lane Bryant, LOFT, and J. Jill. Park West Place prides itself on location, location, location. Just a quick drive from the freeway, this premier shopper's paradise is home to retail giants Cost Plus, Lowe's, Kohl's, Ross, PetSmart, and more.
BEST OF 2018 // SHOPPING WINNERS
Consignment/Vintage
The Owl Box
New & Again (Tied for 2nd)
Caterpillar Children's Boutique (Tied for 2nd)
Lilou of the Valley Vintage
Designer Eyewear
Great Spectacles
Brookside Optometric Group
Meyers Optical
Fashion Accessories Boutique
Stella Mitchell
FINA
Blackbird Boutique
Fine Jeweler
Gary J. Long Jewelers
Danz Jewelers
Peck's Jewelers
Gift Shop
The Owl Box
Mia Bella's Boutique
Best Wishes
Women's Clothing Boutique
FINA
Bella's Closet
Stella Mitchell
Best Women's Shoes Boutique
Dennis Shea Shoes & Accessories
Blackbird Boutique
Bella's Closet
New Boutique
The Nested Owl Gifts & Collectibles Shop
Lilou of the Valley Vintage
Boxwood Finch
Shopping Center
Lincoln Center
Stonecreek Village
Park West Place
---
Best of Play
Amp up your socialite status, win it big, bust a move, hear a tune.

Best Art Gallery
The vibrant art culture in Stockton is probably the city's best kept secret-until now, of course! Our readers love the exhibitions at Haggin Museum; from their photography showcases to mixed media and acrylic works, all exhibitions bear modern cultural significance. Then there's the Goodwin Gallery on Pacific Avenue, featuring such collections as Carl Vosburgh Miller's Watercolors, and offering a youth art program. We can't forget Art Expressions of San Joaquin, the nomadic gallery that pops up in locations around Stockton, providing a creative outlet for artists as well as a rich and diverse cultural experience for the community.
Best Family Festival
There's nothing like a good festival to put a sparkle in your child's eye. Take the whole family out to the annual Lodi Grape Festival, a four-day event bursting at the seams with entertainment, food, carnival rides and more. Spice up the family's Spring and head to the San Joaquin Asparagus Festival, where you and the kids can enjoy carnival rides, Monster Truck Rides, and of course, a plate of delicious deep-fried asparagus. For those who prefer a market over a carnival, Stockmarket in Stockton offers a variety of local art, jewelry, and delicious food for the family to peruse on a sunny Saturday afternoon.
Best Food Festival
Being the breadbasket of the world, San Joaquin boasts a variety of wonderful food-centric festivals for locals to enjoy. Bask in the bounty of our favorite green stalk at the San Joaquin Asparagus Festival, and delight in asparagus confections of all shapes and sizes, namely the deep-fried asparagus smothered in parmesan cheese! You can't go wrong with the Greek Festival, either-their lamb gyros and sweet, flaky baklava are a must-try. Celebrate the grape harvest in Lodi at the annual Lodi Grape Festival, where you can wine taste while you enjoy a variety of dishes from local food vendors.
Best Downtown Stockton Hotspot
Finding a destination for a night on the town in Port City has never been easier! Deliberation Room is downtown's newest addition to their bar-scene; this swanky joint emulates an upscale vibe with a relaxing ambiance, so stop in for a cocktail! Cast Iron Trading Co. is Stockton's trendiest café where locals can indulge in quality food, a wide selection of craft beer, and live performances from local bands. Just a few steps away is Channel Brewing Co.-while you're tasting one of their unique brews, be sure check out any upcoming events at their venue!
Best Private Golf Course
Swing away, San Joaquin! This year, our readers picked Brookside Golf & Country Club as their favorite private golf course, and with good reason: their well-groomed, two-tiered driving range is one of the best practice ranges and putting greens in Central California. Stockton Golf & Country Club is another excellent place to put, serving the area with a source of tranquil recreation for over 100 years. Woodbridge Golf & Country Club also sports beautiful putting and chipping greens that have delighted golfers for almost a century.
Best Public Golf Course
Looking for a beautiful golf course you can access sans-membership? Look no further than Swenson Park Golf Course. With towering Valley Oaks adorning the green lawn, this easy walking course is a Stockton gem built for golfers of all skill levels. Visit Elkhorn Golf Club for 97 acres of golfer's bliss, with manmade lakes and mature trees adorning the 18 holes. Get a country club feel without the cliques at Manteca Park Golf Course, an 18-hole course boasting a quality golfing experience and a family-friendly environment.
Best Local Casino
You've got to ask yourself one question: "Do I feel lucky?" Well, do ya, San Joaquin? If you answered yes, then Jackson Rancheria Casino & Resort is where you want to be, with 32 gaming tables, 1,700 slot and video machines, and more MegaJackpot winners than any casino in Northern California! You'll need to ensure your casino gaming skills are up to scratch before trying your hand at some of the big games and big money on offer here; perhaps practice on an online casino like https://casino-korea.com/ first to ensure you win big. Black Oak Casino Resort offers another opportunity to win big, with 1,300 reel and video games, as well as popular table games-if you're really feeling lucky, try the high-limit machines! Parkwest Casino in Lodi gives locals the chance to take Lady Luck for a night on the town, offering games such as Texas Hold'em Poker, Blackjack, and No-Fee Gaming on popular tables. If you don't want to stop there, you can always go online to the Online casino Thailand site – 999bet-th.com and see how you can move from table to digital and test your skills on there.
Best Sports Bar
There's nothing better than being able to kick back, watch the game, and enjoy a drink after a long day at work. If you like to watch the game, but you're also a fan of the above casinos, you may want to check out this Profit accumulator review to see if the sportsbook platform is to your liking. You can always count on Porter's Pub in Lodi to be playing the big game, as well as offering a great selection of beers, wine, and cocktails. With a diverse beer selection and wide array of televisions broadcasting various sports games, Valley Brew in Stockton is another local favorite. Check out Fat City Brew & BBQ, where the food, drinks, and comfortable atmosphere will make it your new favorite place to catch the game.
BEST OF 2018 // PLAY WINNERS
Art Gallery
Haggin Museum
Goodwin Gallery
Art Expressions of San Joaquin
Family Festival
Lodi Grape Festival
Asparagus Festival
Stockmarket
Food Festival
Asparagus Festival
Greek Festival
Lodi Grape Festival
Downtown Stockton Hotspot
Deliberation Room
Cast Iron Trading Co.
Channel Brewing Co.
Private Golf Course
Brookside Golf & Country Club
Stockton Golf & Country Club
Woodbridge Golf & Country Club
Public Golf Course
Swenson Park Golf Course
Elkhorn Golf Club
Manteca Park Golf Course
Local Casino
Jackson Rancheria Casino & Resort
Black Oak Casino Resort
Parkwest Casino
Sports Bar
Porter's Pub
Valley Brew
Fat City Brew & BBQ
---
BEST OF HEALTH / BEAUTY
Places to get gorgeous & experts who will help you stay that way.
Best Allergist
Spring was the season for red eyes, itchy noses, and hay fever, but for many, that misery pours over into summer. Whether you're suffering from seasonal allergies or food sensitivities, an allergist may be able to help. At Allergy Immunology and Asthma Medical Group, doctors treat skin allergies, food sensitivities, nasal allergies, and asthma. Dr. Dennis W. Del Paine has 34 years of experience as an internist and allergist treating common ailments. Down the road, Dr. Jun Lu handles adult cases as well as pediatric patients suffering from allergies, offering parents a place to turn when their children are suffering.
Best Chiropractor
Chiropractors fix more than backaches and leg pain. Doctors at Hayes Chiropractic focus on spinal manipulation, care after an accident, family wellness, and nutrition at their four San Joaquin County offices in Lodi, Stockton (two locations), and Galt. If you live in Tracy or Mountain House, the team of doctors at Valley Chiropractic can help, with extended care hours and weekend openings that make stopping in, even after a long commute, easy. Ringer Chiropractic in Tracy even has physical therapists at the office to treat sports injuries and other tendon/ligament tears and sprains.
Best Cosmetic Surgeon
Whether you're looking for a little nip or a tiny tuck, there's a lot of ways to change the way you look and feel. Cosmetic surgeons in San Joaquin County offer services for the face, breasts, body, and skin. Dr. Hugh Vu has a stellar reputation in the region for his plastic and cosmetic surgery jobs. Dr. Kimberly Cockerham is best known for her expertise in oculofacial rejuvenation and reconstruction, treating everything from eyelid and brow enhancement to facial laser resurfacing. Dr. Thomas McNemar prides himself on creating each patient's ideal appearance through facelift, breast augmentation, body contouring, and many other procedures. Stop into his Tracy office for a consultation.
Best Cosmetic Dentist
A bright, straight smile suggests success, but sometimes it takes more than bi-annual dentist appointments to find perfection. Dr. Todd Franklin offers porcelain veneers and crowns, teeth whitening, dental implants, and other restorations in a warm and welcoming environment. Every service results in better self-esteem, overall appearance, oral health, and function. Dr. Edward Graham serves Stockton and its surrounding areas boasting high standards and exceptional results. In addition to the services listed above, Dr. Graham does bonding, composite fillings, and porcelain inlays, onlays, and bridges. Ronald Noriesta, DDS, does it all with an emphasis on comfort, convenience, and economics.
Best Dentist
Why does it always feel like finding a quality dentist is an impossible endeavor? Look no further than the experts of San Joaquin County! Lester Low, DDS, provides both family dental care and cosmetic procedures at his office in Stockton's Brookside neighborhood. His dedication is to improve smiles while also promoting oral health. Kids Care Dental offers the same quality care to the kids in San Joaquin families with offices across the county. Amy L. Scriven, DDS, shares her knowledge with patients to help them make informed decisions whether they are coming in for routine cleanings and preventative dentistry or fixing major mouth problems such as periodontal disease, cosmetic procedures, and restorations.
Best Dermatologist
Dermatology is the branch of medicine responsible for the skin, nails, hair and diseases that affect these parts of the body. With a lot of dermatologists in SJ, how do you choose the right one to treat you? Our readers recommend starting with Dr. Stuart Jacobs of the Central Valley Medical Group and Sutter Medical Network. His specialties range from cancerous growths to cosmetic procedures such as Botox and fillers. At Quail Lakes Dermatology, doctors focus on medical dermatology and skin cancer surgery, tackling some of the more serious issues to affect the skin. However, staff also offers chemical peels. At Central Valley Dermatology, Dr. Clinton E. Prescott, Jr. is at the helm. The doctor boasts a menu filled with cosmetic procedures that include Latisse, chemical peels, waxing, facials, and Juvederm as well as laser skin therapy and laser hair removal.
Best Optometrist
When eyesight isn't perfect, there are a lot of options for how to treat it, and ultimately it's up to the patient to decide who gets to decide their optometric management. Who you want to do the treating is also at the patient's discretion. In 1998, three of the largest optometric practices in Stockton joined forces to become Brookside Optometric Group. It's a one-stop shop for eye exams, glasses fittings, and LASIK surgery. At Zeiter Eye Medical Group, optometrists take it further. In addition to traditional eye care, services include treatment for diseases including glaucoma as well as cosmetic surgeries and BOTOX. If you suffer from an eye turn or lazy eye or need eye training or vision therapy for sports, Midtown Optometry has you covered. There's no patient too young for the Stockton office, where staff happily treats infants with abnormal vision development, too.
Best Eyebrow Artist
Want to give your friends brow envy? Perfectly coiffed brows are all the rage in 2018, and SJ County is home to some serious artists. Pull up a chair and get ready for a face redefined. Otilia Aguila fills her Instagram (@browsbyotilia) with proof of her talent, and she offers brow services out of JC Salon Studio in Stockton. Briana, owner of Makeup Mau Loa, specializes in microblading, the semi-permanent eyebrow makeup beauty gurus applaud, out of her glam spot in Tracy. In Lodi, Shandi Alegre-Hunt is the brow master, offering both waxing and microblading to fierce fashionistas at Rogue Artistry.
Best Facial
At Perfect Balance Day Spa the most requested facial is the Signature Spa Facial, customized to target individual concerns such as hyper pigmentation, signs of aging, breakouts, congestion, dehydration, and more. For Morgan Almanza at ULTA Beauty in Lodi, facials are about more than relaxation. The esthetician that has worked at the salon since early 2017 is dedicated to educating her clients about skin care, treatment plans, and quality products. "My favorite part of my job is the educating portion," she says. Hi Pretty Esthetics & Makeup Services enhances natural beauty with affordable treatments that range from 30 minutes to one hour using Image Skincare products. The Spa at Wine & Roses offers nearly 10 different facial options for you, your man, and your teenager, ranging from 30 minutes to an hour.
Best Hair Removal
Summer is here and getting summer bod ready means removing unwanted hair. Look no further than Perfect Balance Day Spa where a team of estheticians is ready to rip, wax, and remove hair all over the body. In addition to waxing, Simplicity Skin & Spa offers sugaring, too, an ancient hair removal process that trades wax for a gel made from sugar, lemon, and hot water that pulls hair out at the root. Kym with a Y Organic Spa & Waxing Studio focuses on quality products to protect skin. Services at Kym's range from $15 for a lip wax to $75 for a full Brazilian.
Best Hair Salon/Studio
Head into summer with a new look. Get perfectly coiffed at POMP Salon, Lincoln Center's dream salon dedicated to nurturing creative hair stylists and their craft. It's the place all SJ beauties in the know head for the trendiest looks. Need an alternative? Get inspired by the bright and bold salon décor at Exclusive Beauty (also in Stockton) and dye your do a bright shade. At Lodi's Stained Hair & Nail, guests can walk out with a new look, literally from head to toe, and a stockpile of quality salon products.
Best Health Club/Gym (multiple locations)
There's no better time than summer to start sweating it out. After all, you want to be beach body ready through Labor Day. In-Shape gyms are located throughout the county and every health club offers its own lineup of group classes, personal training schedules, and plenty of fitness equipment. Some gyms even boast a pool! Pure Form PFT (personal fitness training) focuses on teaching gym rats the right form to avoid injury while building strength and fitness with interval training and a four-phase system that helps clients lose, tone, get lean, and increase performance. Planet Fitness is one of the largest gym franchises in the U.S. with more than 1,500 clubs. Facilities are filled with strength and cardio equipment for members to use at their leisure for a really low price.
Best Health Club/Gym (one location)
There's more to working out than big-name gym chains. In fact, sometimes it's the one-offs that offer the home-sweet-home feeling clients crave. At F4 Fitness and Nutrition in Stockton, members come in to get their sweat on and leave with a post-workout protein shake, offering both fitness and nutrition services under one roof. At Ben Mackie Fitness Spin & Movement the focus is on personal training. Members thrive in small groups or one-on-one as they practice yoga, Pilates, spin, and barre. At Twin Arbors Athletic Club, a Spare Time Club, the focus is on friendship and fitness for the whole family with a swimming pool and youth and adult sports on-site.
Best Hearing Center
Hello-are you there? If your hearing is declining it's time to see the doc! For 40 years Stockton Hearing & Speech Center has offered its expertise to the Central Valley. It's a full service center, with testing services, care, and equipment available under one roof. In Lincoln Center, American Hearing Aids makes evaluations, product pickup, and battery replacement convenient-plus in-home care is available when needed. University of the Pacific's Hearing & Balance Center cares for patients with hearing loss and balance problems such as vertigo.
Best LASIK Eye Surgery Center
The promise of better sight without eyewear may sound too good to be true, but with a lineup of eye surgery centers offering LASIK procedures in San Joaquin County, 20/20 vision is more achievable than you think. Readers have voted the skilled ophthalmologists at Zeiter Eye Medical Group the best in the region. If you're looking to ditch contact lenses and glasses, Heritage Eye, Skin & Laser Center can help, correcting nearsightedness, farsightedness, and astigmatism with the same procedure. At Central Valley Eye, a blade-free LASIK procedure is offered to minimize complications caused by the instrument used to create the LASIK flap.
Best Makeup Artist
Say yes to beauty with a full face of makeup expertly applied by one of San Joaquin County's best MUAs. Shandi Alegre-Hunt offers flawless application for special occasions as well as more permanent options for beauty including lash extensions and microblading through Rogue Artistry. Celebrity artist Hector John hocks makeup at his Tracy boutique and applies it for a fee. At Hi Pretty Esthetics & Makeup Services, ladies line up for expert makeup application (and facials beforehand).
Best Medi-Spa
A medi-spa, or medical spa, is an expert combination of day spa services and medical procedures aimed at enhancing natural beauty. Step into Total Body Medi Spa where Dr. Shah works his magic and offers free consultations. New Body MD has added coveted hydrafacials to its menu that also boasts laser hair removal and injectables. Spend a whole day at Perfect Balance Day Spa where staff is dedicated to relaxation and rejuvenation. The one-stop shop proffers hair care, nail care, facials, massages, waxing, and more.
Best OB-GYN
You can't be too picky when it comes to caring for your lady parts. Dr. Gill at Gill Obstetrics and Gynecology comes highly recommended and with more than 60 years of experience. In Tracy, Dr. Stephen Tsang is the obstetrician of choice. For ladies who live in Lodi, Dr. Leslie Sackschewsky (part of the Sutter Medical Network) does it all, from laparoscopic surgery and hysterectomies to cervical cancer prevention and high-risk pregnancy care.
Best Orthodontist
Those pesky braces may cost an arm and a leg, but with the right doctor in charge the process doesn't need to be too painful-at least not for parenst! Dr. Wheeler at Wheeler Orthodontics focuses on modern technology in his Stockton office. Stop in to learn more about Invisalign and Invisalign Teen, as well as other discreet options for dental appliances. At Samra Low Orthodontics, Dr. Low treats the whole family and offers both ceramic braces and Invisalign, plus digital molds. Kids Care Dental has offices all over, making it a convenient option for busy parents, and in addition to regular checkups and routine dental care, on-staff orthodontists tend to braces. Trosien Orthodontics uses more traditional methods to treat crooked teeth, including braces and elastics families are familiar with, plus Invisalign.
Best Retirement Center/Community
Where do you want to live out your golden years? Whether it's assisted care you need or an activity-rich, independent lifestyle free of home responsibilities, there's a place in San Joaquin County to call home. Tour O'Connor Woods where there are several levels of care available to seniors and a calendar chocked-full of fun activities is its main draw. In Manteca, the Commons at Union Ranch promises inspired aging with a long list of amenities, including a fitness center, several dining options, and outdoor lounge areas. A three-story waterfall greets guests as they enter Rio Las Palmas in Stockton, and that feature sets the tone for the rest of the community, dedicated to beautiful surroundings and opportunities to socialize.
Best Day Spa
Go ahead, pamper yourself. Among the vineyards, Lodi's The Spa at Wine & Roses is dedicated to working "green." Surrounded by gorgeous grounds, the products echo the spa's natural surroundings, both environmentally friendly and organic. At Perfect Balance Day Spa, guests are treated from head to toe, with hair, nail, and body services on the menu. If tight muscles are what ails you, Kharma Spa & Boutique is the cure. Located on Stockton's bustling Pacific Avenue, staff specializes in massage therapy but also offers facials and nail care.
Best Tanning Studio
Need a little color before those big summer plans? Hop on over to HavAtan with locations in Stockton and Lodi. The boutique salon offers a mix of tanning services to provide the tan guests crave. Giving HavAtan a run for its money, Planet Beach in Lincoln Center boasts sunless spray tans as well as UV tanning, plus a whole lot of other beauty and fitness services. Try the custom airbrush spray tan at Sunny Daze in Lodi for a change. The state-of-the-art Infinity Sun technology gives flawless color and an even application.
Best Tattoo Parlor
Getting inked is forever, which makes finding the best tattoo artist a must. Lucky for you, our readers have hyped their favorite nearby parlors for new body art and we're spilling the tea! Red owns the Lodi location of Emerald Tattoo and he staffs five other artists (plus a piercer!) to keep clientele coming back. Need a little inspiration? The books at Hard Luck in Lodi are filled with pieces you'll want to replicate-or schedule a consultation for a totally custom piece. In Tracy, 12 Monkeys is a mainstay. The long-standing tattoo parlor on Central Avenue has been a part of the city for a long time, and many residents of the SJ city walk around with the artists' artwork on display.
Best Urgent Care
Whether it's an emergency or you just can't get in to see your primary care doctor, urgent care is there to serve. Stockton Urgent Care has earned a reputation as the best in the biz, and patients tend to walk away happy (or as happy as they can leaving an urgent care facility). Also in Stockton, Trinity Urgent Care doesn't fall far behind in terms of reputation, and the long hours-it's open 9 AM-9 PM daily-are a plus. Sutter Urgent Care offers a fast and convenient alternative to the ER, with expert physicians and nurse practitioners on hand 7 days a week, 365 days a year.
Best Yoga Studio
Perfect your downward dog at Shine Yoga & Barre. The downtown Stockton studio promotes self-love with its feel-good classes offered in an array of disciplines, and there's even a second studio in Quail Lakes. At Flow Yoga and Wellness Studio, teachers focus on overall wellbeing through strength, flexibility, and meditation at their Tracy location where they offer something for yogis of all skill levels and ages. Now and Zen Yoga Studio is a little more full service. In addition to fitness classes in yoga and Pilates, experts offer massage, skin care, and energy healing on-site.
BEST OF 2018 // HEALTH & BEAUTY WINNERS
Allergist
Allergy Immunology and Asthma Medical Group
Dr. Dennis W. Del Paine
Dr. Jun Lu
Chiropractor
Hayes Chiropractic
Valley ChiropracticRinger Chiropractic
Cosmetic Surgeon
Dr. Hugh Vu
Dr. Kimberly Cockerham
Dr. Thomas McNemar
Cosmetic Dentist
Dr. Todd A. Franklin
Dr. Edward T. Graham
Dr. Ronald S. Noriesta
Dentist/Dental Practice
Dr. Lester Low, DDS
Kids Care Dental
Dr. Amy L. Scriven, DDS
Dermatologist
Dr. Stuart Jacobs
Quail Lakes Dermatology
Central Valley Dermatology
Eye Care/Optometrist
Brookside Optometric Group
Zeiter Eye Medical Group
Midtown Optometry
Eyebrow Artist
Otilia Aguila, JC Salon Studio
Makeup Mau Loa
Shandi Alegre-Hunt
Facial
Perfect Balance Day Spa
Morgan Almanza, ULTA Lodi (Tied for 2nd)
Hi Pretty Esthetics & Makeup Services (Tied for 2nd)
The Spa at Wine & Roses
Hair Removal
Perfect Balance Day Spa
Simplicity Skin & Spa
Kym with a Y Organic Spa & Waxing Studio
Hair Salon/Studio
POMP Salon
Exclusive Beauty
Stained Hair & Nail
Health Club/Gym (Multiple Locations)
In-Shape Health Clubs
Pure Form PFT
Planet Fitness
Health Club/Gym (one location)
F4 Fitness and Nutrition
Ben Mackie Fitness Spin & Movement
Twin Arbors Athletic Club
Hearing Center
Stockton Hearing & Speech Center
American Hearing Aids
University of the Pacific's Hearing & Balance Center
LASIK Eye Surgery Center
Zeiter Eye Medical Group
Heritage Eye, Skin & Laser Center
Central Valley Eye
Makeup Artist
Shandi Alegre-Hunt
Hector John Cosmetics
Hi Pretty Esthetics & Makeup Services
Medi-Spa
Total Body Medi Spa
New Body MD
Perfect Balance Day Spa
OB-GYN
Gill Obstetrics and Gynecology Medical Group
Dr. Stephen Tsang
Dr. Leslie Sackschewsky
Orthodontist
Wheeler Orthodontics
Samra Low Orthodontics
Kids Care Dental (Tie for 3rd)
Trosien Orthodontics (Tie for 3rd)
Retirement Center/Community
O'Connor Woods
Commons at Union Ranch
Rio Las Palmas
Day Spa
The Spa at Wine & Roses
Perfect Balance Day Spa
Kharma Spa & Boutique
Tanning Studio
HavAtan
Planet Beach
Sunny Daze Tanning
Tattoo Parlor
Emerald Tattoo
Hard Luck Tattoo
12 Monkeys
Urgent Care
Stockton Urgent Care
Trinity Urgent Care
Sutter Urgent Care
Yoga Studio
Shine Yoga & Barre
Flow Yoga and Wellness Studio
Now and Zen Yoga Studio
---
BEST OF SERVICE
Plan and purchase in confidence with help from the pros.
Best New Auto Dealership
In the market for a new car? Skip the lots smothered in streamers and balloons and head over to the trusted Chase Chevrolet in Stockton, where the service is genuine and the cars, trucks, and SUVs are of the highest quality. Mercedes-Benz of Stockton will have you driving in style in their luxury coupes, roadsters, and SUVs. Big Valley Ford not only offers exceptional automobiles in their lot for you to peruse, but also has a reliable service department for all your vehicle's needs.
Best Local Credit Union
If you're looking for a Credit Union you can trust, look no further than Financial Center Credit Union, offering everything from checking accounts, to loans, to mobile services, and serving the San Joaquin County for more than 50 years. Central State Credit Union is another choice among our readers for their top-notch financial services and expertise. Premier Community Credit Union is also among our readers' preferred financial institutions in the county, offering investment services along with accounts and loans.
Best Local Bank
Picking the right bank can be a crucial decision for your financial future. Bank of Stockton is of course Stocktonians' go-to, not just because it's been a part of the community since 1876, but because of their excellent reputation for providing quality services such as accounts, personal loans, IRAs, mobile banking, and more. Locals rely on BAC Community Bank, where their extensive portfolio of financial products and services combine with excellent service to provide a quality banking experience. Farmers & Merchants Bank has been providing a complete range of financial products and services to Californians since 1916.
Best Financial Planning Company
Whether you're saving for retirement, learning to invest, or just wanting to meet a financial goal, The Salvetti Group is San Joaquin's go-to for help creating a customized financial plan that fits personal needs and expectations using their comprehensive, six-step process as developed by the CFP Board of Standards. Blakely Financial Services uses WealthVision through LPL Financial to develop a financial plan that's right for you and your family's future. Tina Wells Lee works to get to know their customers so that they may not only offer competent financial advice but become your personal financial concierge.
Best Law Firm
When you pick an attorney to be in your corner, not only do you want the best of the best, but you want someone who specializes in your specific area of need. Kroloff, Belcher, Smart, Perry & Christopherson Law Firm focuses on business and litigation, as well as trust and estates. The Law Offices of Lawrence M. Knapp has been committed to representing victims of personal injury since 1993. Shore, McKinley, Conger & Jolley is a full-service law firm, representing clients in everything from business and commercial law to family law. Neumiller & Beardslee has a diverse array of areas of practice, including environmental law, food and agriculture law, and tax law.
Best Dog Groomer
When the pooch needs a good pampering-bath, haircut, nail trim, the works-only the best groomers will do. Local pet owners trust Sycamore Lane's award-winning grooming salon to take care of their doggos with services such as a soothing massage bath, hand-drying, and Mini Groom and Full Groom packages. In Lockeford, Country Clippers offers professional pet grooming at affordable prices, ensuring that both you and your pup go home happy. Paw Prints in Stockton is another great choice for the pooch's pamper day, so stop by and get that puppy polished!
Best Dog/Pet Supplies
From quality pet food, to brushes, to toys and treats, Carter's Pet Mart has your pet-needs covered with their wide selection pet-paraphernalia that is sure to keep your furry friend healthy and happy. PetSmart is another local favorite, offering a wide range of pet supplies to feed, groom, and care for your puppers at home. Locals also frequent Pet Supplies, the third-largest specialty pet food retailer in the U.S., for all their pet-care needs.
Best Pet Boarding
Leaving for vacation but can't find anybody to look after Fido? Have no fear: Sycamore Lane Kennels has a variety of services such as spacious kennels, play yards, group play, and a living room setting for cuddle time, so you can rest easy knowing your best buddy is well-cared for. Sunset Kennels is another local favorite, offering the largest indoor/outdoor accommodations in the area, in addition to play yards, climate-controlled rooms, and designated play time. San Jaoquinians also trust Canine Culture to care for their dogs while they're away: The kennel provides soothing music to drown out noises, an automatic fresh water system, and climate-controlled interior, among other services.
Best Veterinary Clinic
When a beloved pet is ill, they can't tell you where it hurts or how long they've felt sick. That's why you need a quality veterinarian to correctly diagnose your pet. Sierra Veterinary Clinic is an AAHA-accredited hospital, providing only the most advanced care to the furry friends of San Joaquin. Walker Veterinary Hospital offers services including vaccinations, surgery, x-ray and ultrasound, as well as dental series. Staff at Vineyard Veterinary Hospital in Lockeford consistently cultivate a reputation for being friendly, competent, and truly wonderful with their pawed-patients.
Best Air Conditioning/Heating
Heating and cooling costs ebb and flow throughout the year, but not only is summer an important time to reduce cooling efforts, it's often a good time to get your heating unit in order. Lovotti Air services units, helps optimize temperature settings, and installs new units all over San Joaquin. Rod Johnson Air Conditioning, a locally owned and operated Stockton business, celebrated its 50th anniversary this year. Over the years the company has expanded from small-scale air conditioning jobs to a full-service heating, air, home comfort, and solar business. Air Tech Heating & Air Conditioning Service is better known in the commercial market, but the company does offer some residential services that customers love.
Best Bathroom Remodeling
A bathroom remodel is one of the fastest, least expensive ways to add value to your home. Call the professionals at HT Home Design to get started. The expert staff is well equipped to handle remodels from ceiling to floor, with creative solutions that take spaces from cookie cutter to one-of-a-kind. Kelly's Kitchen & Bath Showroom doles out plenty of inspiration for those looking to remodel their wet spaces. Plus the showroom doubles as a high-end hardware store for DIY-ers. Don't let the name of this Modesto business fool you-All About Kitchens has a good reputation for handling bathroom jobs, too. Choose from the company's quick-service options, including flooring, counter tops, and toilet upgrades, or really commit with luxury fixtures and high-end finishes.
Best Window Treatments
Shutters, blinds, curtains-there's so many ways to cover your windows, how will you know where to begin? Discovery Shutters & Shadings has been voted the best in the business again, and shoppers drool over the store's Hunter Douglas window treatments. Budget Blinds of Stockton focuses on individuality to bring together a space, using Roman blinds, cordless systems, or luxurious motorized sets. You'll never imagine the spaces you can create with the Elite Shutters & Shadings staff. Choose from natural wood blinds or bring a room to life with color. Their website shares photos for inspiration!
Best Flooring
Trends in flooring are constantly changing, and it can be hard to keep up! But if flooring materials are dating your home, there's a quick way to fix the problem. Lucky for Lodi residents (and those in surrounding cities) Raphael's Hardwood Flooring spices it up with custom designs for customers. When convenience is a factor, choose Vineyard Floors. The Lodi business' mobile showroom-boasting carpet, hardwood, laminate, tile, and waterproof materials-will come to you. Also in Lodi, Classic Design Interiors sells more than just floors. It's a one-stop-shop for home renovation.
Best Furniture Store
Whether you're looking for a special piece of furniture or want to overhaul your whole home, there's a furniture store for that. Knowledgeable staff at Thornton House Furniture & Interior Design are more than just sales people. Some double as interior designers there to help customers craft a cozy space with special pieces from their collection. Many have heard of Daniger Furniture-its reputation is known throughout the region. Currently in the hands of its third generation owners, Curt and Susan Daniger, staff is committed to the company's legacy of quality and integrity. Minerva's Furniture is a classic furniture store in the heart of Lodi, specializing in pieces for the whole home. At C.R. Porter Home Collection (now in Lincoln Center) owner Tammy Kelley is dedicated to embracing customers' individuality with ever-changing inventory. Search her collections of decorative Sid Dickens tiles and Jan Barboglio wrought iron accessories.
Best Garden/Outdoor Store
What better time than summer to redecorate outdoor spaces? With Garden Flair embraces the unusual, selling recycled wine bottle chandeliers and wild stone sculptures in its Pacific Avenue shop. At In Season, the focus is on fresh organic produce and live plants. And at Delta Tree Farms customers can choose from hundreds of greenery options-think trees, bushes, and others plants-or partake in a Saturday workshop to turn those thumbs green.
Best Home Builder
Ever heard a horror story about someone's home? It's possible that lackluster builders set homeowners up for failure. Look to Caresco Homes for a luxury abode, like the ones in Brookside Estates (Stockton), Sedona at Sundance (Manteca), and Windwood Estates (Woodbridge). FCB Homes is dedicated to quality materials and timeless design, lending its expertise to communities in Lodi, Stockton, and Manteca. Grupe, a full-service homebuilder and property management company, contributes to SJ neighborhoods with energy-efficient homes and stately commercial properties.
Best Interior Designer
Turn your home into a residence worthy of Architectural Digest. KTJ Design Co. owner Kathleen Jennison has earned a local reputation for creating spaces that suite the individual, trading stuffy cookie-cutter homes for something more you. Staff at HT Home Design uses its own inventory and industry connections to transform dated rooms. Stepping into the Classic Design Interiors showroom is like stepping into every model home you've ever toured, with experts on staff who can help you achieve the same professional look in your own home.
Best Kitchen Remodeling
Get the chef's kitchen dreams are made of with the help of a local expert. Skip the national chains and instead check in with San Joaquin County's remodeling professionals. At All About Kitchens, the name says it all. While the Modesto remodeler offers more than just kitchen remodels, it is the company's specialty. For HT Home Design, kitchens are just one on a laundry list of spaces the Stockton home store is known for revamping. The family-owned Mazzera's Remodeling Center has 75 years of experience handling first-time remodelers, and they use that expertise to calm the fears of anxious clientele.
BEST OF 2018 // SERVICE WINNERS
New Auto Dealership
Chase Chevrolet
Mercedes-Benz of Stockton
Big Valley Ford
Local Credit Union
Financial Center Credit Union
Central State Credit Union
Premier Community Credit Union
Local Bank
Bank of Stockton
BAC Community Bank
Farmers & Merchants Bank
Financial Planning Company
The Salvetti Group
Blakely Financial Services
Tina Wells Lee
Law Firm
Kroloff, Belcher, Smart, Perry & Christopherson
The Law Offices of Lawrence Knapp (Tied for 2nd)
Shore, McKinley, Conger & Jolley (Tied for 2nd)
Neumiller & Beardslee
Dog Groomer
Sycamore Lane Kennels
Country Clippers
Paw Prints Grooming & Spa
Dog/Pet Supplies
Carter's Pet Mart
PetSmart
Pet Supplies Plus
Pet Boarding Kennel
Sycamore Lane Kennels
Sunset Kennels Garden Retreat
Canine Culture
Veterinary Clinic
Sierra Veterinary Clinic
Walker Veterinary Hospital
Vineyard Veterinary Hospital
Air Conditioning/Heating
Lovotti Air
Rod Johnson Air Conditioning
Air Tech Heating & Air Conditioning Service
Bathroom Remodeling
HT Home Design
Kelly's Kitchen & Bath Showroom
All About Kitchens
Window Treatments
Discovery Shutters & Shadings
Budget Blinds
Elite Shutters & Shadings
Flooring
Raphael's Hardwood Flooring
Vineyard Floors
Classic Design Interiors
Furniture Store
Thornton House Furniture & Interior Design
Daniger Furniture
Minerva's Furniture (Tie for 3rd)
C.R. Porter Home Collection (Tie for 3rd)
Garden/Outdoor Store
With Garden Flair
In Season
Delta Tree Farms
Home Builder
Caresco Homes
FCB Homes
Grupe
Interior Designer
KTJ Design Co.
HT Home Design
Classic Design Interiors
Kitchen Remodeling
All About Kitchens
HT Home Design
Mazzera's Remodeling Center
---
BEST OF WEDDING
Who needs a pinterest board when you have local insight.
Best Wedding Cakes
There are so many elements that go into making a wedding spectacular, but the cake is the final piece to the matrimonial puzzle. Locals trust Frosted Flour to customize their perfect cake, as the bakery boasts a variety of flavors to choose from and has an excellent reputation for producing beautiful wedding confections. Fizz Bakery promises to create the wedding cake of your dreams, offering a free tasting service as well as a portfolio of their previous work for some cake-inspo! Sit down with the folks at SweetArts to come up with the perfect flavor and design for your special day, and be sure to take advantage of their consultation and tasting services!
Best Wedding Catering
In the market for a restaurant to cater quality cuisine for the big day? Locals love Angelina's Spaghetti House, where the hors d'Oeuvres and Italian entrées will delight every one of your lovely guests. Let Country Catering & Special Events, Inc. excite the taste buds and nourish the souls of your family and friends with their versatile menu that's sure to be a great fit for your special occasion. If you're craving something soulful on your wedding day, check out Smokin' Yankees BBQ & Catering-their catering services will ensure your guests get their fill of finger-lickin' good barbeque.
Best DJ
Set the tone for your very special occasion and book Elite Entertainment, San Joaquin's number one choice for the perfect wedding playlists (they also offer extra goodies such as a photobooth, confetti cannon, and more!). Locals also trust Marquis Entertainment for all their matrimonial-music needs, as they promise to provide a fun, memorable, and unique atmosphere for your special day. DJ Dave Tilman has DJ'ed every kind of event under the sun, so you know you're signed up for a night of quality music when you book him for the best day of your life.
Best Event Planner
Wedding-planning stress is a thing of the past with So Eventful, who promises to take care of all the details, from venue scouting, to event design, to budget development, and more-when the big day comes, you'll feel like a guest at your own event! Locals also love Goodstock Productions for planning their special day, as they promise to work with you on design, planning, and organization to ensure that your event is unique to you. Magical Moments is a mother/daughter team that has offered their top-notch wedding planning services to San Joaquin since 2011.
Best Event Supply Rental
With so many little details to take care of for the perfect ceremony, let Giuffra's Party Rentals handle the supply list, providing rentals for everything from sparkling glassware, to fine china, to serving accessories, to arches and columns. Stockton Supplies has local party-needs covered, offering not just rentals for your special occasion, but janitorial services as well! Or, bring your list to American Event Rentals and let them guide you through their extensive catalogue of wedding accessories, flatware, china, tables, chairs, and much more!
Best Flowers
A beautiful bouquet is the cherry on top of an elegant wedding. Bring a photo of your bouquet inspiration into Silveria's Flowers & Gifts, and they'll sit down with you to design an elegant custom bouquet that suits your unique style. If you're in Tracy, stop by Little Flower Shop and let them craft an upscale bouquet fit for your dream wedding, and be sure to ask about their wedding packages! Blossoms By Lisa boasts a gorgeous portfolio of her work with wedding bouquets and centerpieces bursting with blooms, so check out her website and book a consultation!
Best Wedding Dress
"An unforgettable day deserves an unforgettable dress" is the motto at Bliss Bridal Salon in Stockton, and we couldn't agree more; Boasting designer names such as Augusta Jones, Essense, and Lis Simon, you're bound to find The One amidst the racks at Bliss. Find some drop-dead gorgeous gowns at Sheryl Giles Bridal Couture as you peruse through their endless gallery of designers and styles on their website and in-store. Hunting for a gown in Lodi? Check out The Elizabeth Bridal Salon, the one-stop-shop for all your bridal fashion needs that has served the brides of Lodi for over 60 years.
Best Makeup Artist
Once you've taken care of all the little details to ensure a flawless day, you'll want to have your makeup look flawless, too. Brides of San Joaquin trust makeup and beauty expert Shandi Hunt to have them looking like a celebrity on their celebratory day, who offers services such as lash extensions and microblading as well as makeup application. In Tracy, locals seek out celebrity makeup artist Hector John, who's worked with famous fashion designers and photographers, reality TV stars, and more. In Lodi, brides-to-be are pampered at Hi Pretty Esthetics & Makeup Services; be sure to check out their gallery for inspiration!
Best Men's Formal Wear
Look sharp when you wed the woman of your dreams and get fitted at Tuxedos of Lodi where all the best trendy and traditional formal wear is in stock in addition to classic wedding apparel-so bring your groomsmen, too! In Stockton, grooms trust Formal Connection, the tuxedo shop for all your formal occasions that carries only the highest quality tuxedos, vests, and other apparel. Make it a date with your bride-to-be and head over to Bliss Bridal Salon-while she tries on wedding gowns, you can check out the many classic and modern styles of tuxedos offered, but make sure you don't see the dress!
Best Photo Booth
Put down the smartphone and step into a photo booth to snap some real selfies you can print and keep forever! Book The Original Selfie Photo Booth and take advantage of customized photo strip designs, props, and an online photo gallery so you can showcase and share easily online. Check out Party Pix People and snap some photos you'll never forget with their Open Selfie Booth with unlimited prints and a USB flash drive to hold the memories permanently! Snap your photos with a Ro-Sham-Bo photo booth, that's decked out to the nines with props, custom boarders and more.
Best Photographer
With all the cherished memoires you'll be making on your wedding day, you'll want the best photographer to capture those moments in their full glory. Couples of San Joaquin trust the husband and wife team Richard and Shawna at Briggs Photography to capture the true essence of their special day. Peruse the photography packages at Heather Jean Photography and add your romantic day to her gallery of "Love Stories"! Jon and Jess Photography is another excellent choice for capturing your big day's special moments, so check out their client albums and see the gorgeous shots they've taken!
Best Wedding Rings
Ready to put a ring on it? Before you pop the question, browse the diamonds imported directly from Antwerp, Belgium at Peck's Jewelers, Stockton's oldest family owned and operated jewelry store. Pop into Gary J. Long Jewelers-voted Stockton's best jewelry store for 25 years in a row-where you can peruse exclusive lines from top designers or customize your own unique ring. Drop by Danz Jewelers, boasting the largest selection of diamonds and custom jewelry designs in the area.
Best Indoor Wedding Venue
Wishing for a wedding away from the elements? Book the beautiful Garden Ballroom at Wine & Roses, or their quaint Cellar Room connected to a private patio. Indulge in the breathtaking views of the gorgeous Brookside Golf & Country Club golf course from within their private indoor/outdoor venue. If you're on the market for a space that leans toward trendy, check out The Sycamore, the Central Valley's premier event space chalked full of artistic elements and unique design.
Best Outdoor Wedding Venue
If you're hoping to marry your SO among Mother Nature, Lodi's wine country offers some exceptional venues for you to choose from. Couples of San Joaquin love the open space of Wine & Roses' Wedding Garden that's surrounded by regal deodar trees. Celebrate your love on the lush lawn of Viaggio Estate & Winery, where 23 acres of land will lend you and your guests a view of the waterfront, garden, vineyard, and mansion. Tie the knot alongside vineyards on Oak Farm Vineyards' Great Lawn, the ideal spot for a sunset wedding.
BEST OF 2018 // WEDDING WINNERS
Wedding Cake
Frosted Flour
Fizz Bakery
SweetArts Bakery
Wedding Catering
Angelina's Spaghetti House,
Country Catering & Special Events, Inc.
Smokin' Yankee's BBQ & Catering
Wedding DJ
Elite Entertainment
Marquis Entertainment
DJ Dave Tilman
Event Planner
So Eventful
Goodstock Productions
Magical Moments Event Planning & Coordinating
Event Supply Rental
Giuffra's Party Rentals
Stockton Supplies
American Event Rentals
Flowers
Silveria's Flowers & Gifts
Little Flower Shop
Blossoms by Lisa
Wedding Dress
Bliss Bridal Salon
Sheryl Giles Bridal Couture
The Elizabeth Bridal Salon
Makeup Artist
Shandi Hunt
Hector John
Hi Pretty Esthetics & Makeup
Men's Formal Wear
Tuxedos of Lodi
Formal Connection
Bliss Bridal Salon
Photo Booth
The Original Selfie Photo Booth
Party Pix People
Ro-Sham-Bo
Wedding Photographer
Briggs Photography
Heather Jean Photography
Jon and Jess Photography
Wedding Rings
Peck's Jewelers
Gary Long Jewelers
Danz Jewelers
Indoor Wedding Venue
Wine & Roses
Brookside Golf & Country Club
The Sycamore
Outdoor Wedding Venue
Wine & Roses
Viaggio Estate & Winery
Oak Farm Vineyards
---
BEST OF PARENTING

Whether it's your first or third, trusted recommendations rule.
Best Charter School
Few things are more important for a child than a quality education. At Health Careers Academy curriculum is geared toward giving students with an affinity for the industry a leg up. Venture Academy is another local charter school breaking the mold, promising to encourage curiosity inside and outside of the classroom with individualized education plans that fulfill core requirements. Aspire Public Schools has 14 campuses serving the Central Valley (its first service region) and the schools earn points with parents for dedication to physical and emotional safety as well as academic excellence.
Best Birthday Party Spot
Create the party of your child's dreams without the hassle of going it alone. At Ginger Bugs, moms and dads can customize party packages to fit their needs while giving kids plenty of play options-think imaginative toys, a tricked-out play structure, and an over-sized ball pit. Older kids will enjoy the freedom of open jump and dodge ball games at the indoor trampoline park Sky Zone. Or, hand the reigns over to experienced party planners at Gym Stars. The two-hour, full-service NOVA party is the gym's most popular option and will earn mom and dad major parent points. All of these kid party spots are sure to have the whole class talking come Monday!
Best Children's Ballet
At The Dance Connection in Stockton, prima ballerinas are born through structured dance courses for all ages and abilities in the family-owned studio that feels like a home away from home. Tiny dancers can get their start at Gym Stars where traditional technique, positions, and terminology are used. For those who want to branch out, ballet/jazz classes offer a fun combination of two popular styles. For the youngest ballerinas Pacific Ballet starts aspiring dancers as young as four years old with pre-ballet classes.
Best Children's Clothing BoutiqueNo surprises here-Sassy Pants Children's Boutique was once again voted the best children's clothing boutique in the county! Angela Scannavino Karp continues to fill her Lincoln Center shop with colorful duds for boys and girls with an emphasis on designer European labels. Caterpillar Children's Boutique, however, is often the first pick of eco-friendly moms-those looking to reduce their carbon footprint by buying gently used clothes instead of new pieces. Kids of all ages can find cute clothes at Lodi's Willow Tree, where baby and toddler gear is front and center.
Best Children's Dance Studio
Get out those dancing shoes-SJ is home to some stellar studios where tiny toes can grow a passion for dance. Chelsea Hill is the director at Unique Visions Dance Company where her dance certifications and education make her a star with dancers of all ages and levels. At Dance Connection, young dancers can take their skills to competition in a variety of disciplines including both ballet and hip-hop. Elevate Dance Company prides itself on turning young dancers into professional performers with higher learning in technique, showmanship, and artistry.
Best Children's Dentist
Good oral health and beautiful smiles start early. Give your kids the best start with frequent check-ups. Kids Care Dental has plenty of offices in the Central Valley making it a convenient option for great dental care. Dr. Lester Low invites the whole family into his Stockton practice, offering routine dental care and cosmetic procedures to families. Anisha Ranchhod, DDS, MDS, and owner of Lodi Pediatric Dentistry dedicates her time to early intervention, taking her oral health education on the road to local preschools. Dr. Lynn Parker is a pro with little ones, drawing on her 20 years of experience as a dentist and many years as a mother of three.
Best Children's Gymnastics
Parents flip for these local gymnastics hot spots. Gym Stars comes highly recommended by the region's moms-in-the-know. The lineup stretches beyond traditional gymnastics to offer instruction in tumbling, cheerleading, karate, and dance. Impact Gymnastics Academy starts kids young, offering classes for gymnasts as young as six months old. At Champion Gymnastics Academy preschoolers can start jumping, twirling, and playing in beginner's classes before trying out for the gym's competition team.
Best Children's Martial Arts Studio
Experts say martial arts is a great way to teach discipline to young kids. At Tibon's Goju Ryu Fighting Arts Sensei Tibon mixes Okinawan Japanese straight line fighting and the soft style of Chinese Kemp to create a single fighting form. At Valor Training Center kids and teens are invited to learn martial arts starting at 5 years old, and parents can take a martial arts, Muay Thai kickboxing, or Krav Maga self-defense class at the same gym. If jiu-jitsu, a Brazilian combat fighting style that focuses on grappling and groundwork, is more your speed check out Stockton Jiujitsu.
Best Children's Photographer
Capture your brood's childhood with professional photos close to home. Emily Abbas at Little Love Story Photography & Design trades cookie-cutter studio shots for personality-infused shoots, nurturing a childhood passion that grew along with her own tiny models. Sweet Sister's Photography has long been a favorite of new moms looking to create lasting memories of their child's first years. Heather Jean Photography takes advantage of the region's natural beauty, using outdoor light and surroundings to enhance family photos, maternity shoots, and newborn announcements.
Best Indoor Family Activity
Get the gang together and create some memories-San Joaquin County is bursting with family-friendly outings for all. At Sky Zone, parents and kids can jump, dodge, and get in shape together with jump times and fitness programs. World of Wonders Science Museum makes everyone a kid again, giving those both young and old a chance to explore the natural world around them and solve puzzles together. At Zaps Zone families bond over a game of laser tag at the two-story, state of the art arena.
Best Outdoor Family Activity
When the weekend hits and its time for some family-fun, head to Micke Grove Regional Park and check out their Zoo, Museum, and of course, Fun Town, chalked full of amusement rides and carnival-inspired treats. Take your child on a float down the Pirate Lagoon on the Pixie Queen Boat at Pixie Woods or let them cool off from the summer heat in the Dragon Water Play Area. Sign up the family for a kayak lesson at Lodi Lake Park or just enjoy the scenic beauty of the trails that weave through the trees!
BEST OF 2018 // PARENTING WINNERS
Charter School
Health Careers Academy
Venture Academy
Aspire Public Schools
Best Birthday Party Spot
Ginger Bugs
Sky Zone
GymStars Gymnastics
Children's Ballet
The Dance Connection
GymStars Gymnastics
Pacific Ballet
Children's Clothing Boutique
Sassy Pants Children's Boutique
Caterpillar Children's Boutique
Willow Tree
Children's Dance Studio
Unique Visions Dance Company
Dance Connection
Elevate Dance Company
Children's Dentist
Kids Care Dental
Dr. Lester Low, DDS
Lodi Pediatric Dentistry (Tied for 3rd)
Dr. Lynn Parker, DDS (Tied for 3rd)
Children's Gymnastics
GymStars Gymnastics
Impact Gymnastics Academy
Champion Gymnastics Academy
Martial Arts Studio
Tibon's Goju Ryu Fighting Arts
Valor Training Center
Stockton Jiu-Jitsu Academy
Children's Photographer
Little Love Story Photography & Design
Sweet Sister's Photography
Heather Jean Photography
Indoor Family Activity
Sky Zone
World of Wonders Science Museum
Zaps Zone
Outdoor Family Activity
Micke Grove Regional Park
Pixie Woods
Lodi Lake Park