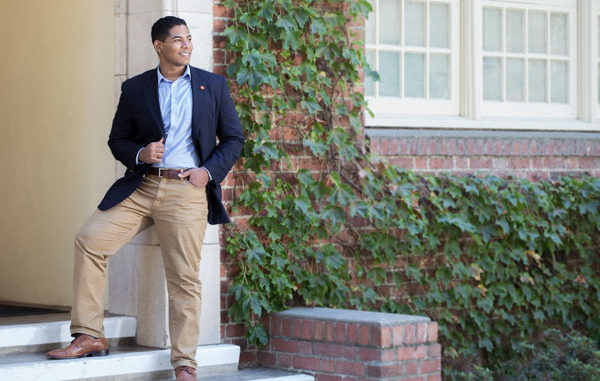 Once a foster youth, Xavier Mountain is now pursuing his Master of Social Work at University Southern California.
Since attending Lincoln High School in Stockton, he went on to become an alumnus of University of the Pacific. His goal is to attend law school at an Ivy League college.
Though his maternal mother was addicted to drugs, and he experienced both physical and mental abuse while under the care of his adoptive family—which eventually resulted in his adoption papers being voided at 15 years of age and catapulting him into the foster care system—Xavier's story is one of hope.
"I want everyone to know there is hope," Xavier says. "I am an example of what you can be—if not more, if not better… I notice when I put my mind to something it happens."
At 17 years old, after three years back in the foster care system, Xavier decided to take back control of his life. He says it required him waking up one morning and deciding not to be a product of his circumstances.
Shortly after, he was honored by his high school for his academic achievements. Although he wavered in his next few years, he managed to refocus and attended Delta College, before a scholarship from Mary Graham Children's Foundation and a woman named Kerry Heckman—who Xavier now calls his mother—took him to Pacific, his dream school. "As I grew, I learned to let everything go."
After receiving his bachelor's in Sociology, Xavier applied to USC where he is currently pursuing his Master of Social Work with a concentration in Policy. He wants to study policy in order to affect change in the foster care system and help more troubled youth find positive futures. He believes he's in a unique position to affect change because he's experienced the system. Most policy makers don't know firsthand what it's like going through the system as a foster youth.
"As a foster youth, even though you don't like the system, the system is what raised you," Xavier says.
Xavier is working with the John Burton Foundation in San Francisco to pass SB12, which would expand access to the Pell Grant for foster youth. Together with the foundation, he is writing letters to Governor Jerry Brown, working with lobbyists and state politicians, and signing petitions.
Xavier also wants to spread his positive attitude to others. He says in a time of constant bad news, hope is most important.
"I understand hope more than a lot of people because I didn't give up," Xavier says. "Every experience I had in my life was for a reason."