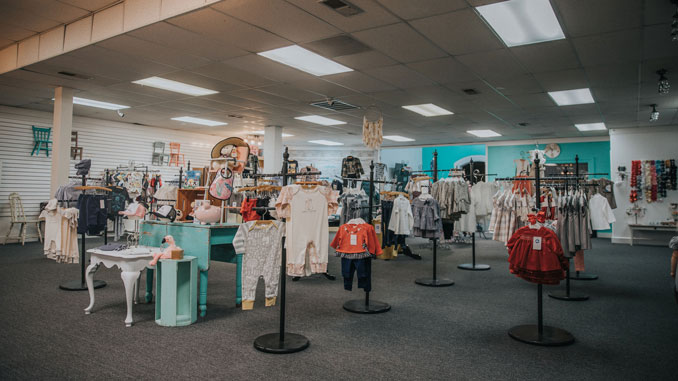 Children's Boutique Ushers in a Family-Friendly Era in Lodi
Mindy Maiwald Compton has always believed in the importance of putting family before one's career. Then again, instead of choosing between the two, Mindy has always found a way to combine them.
"I wanted to have a career where I could be a mom first," she explains. "Something where I could still hang out with my daughter and make her my priority."
When Mindy heard Willow Tree Children's Clothing Boutique was on the market, she decided to capitalize on the opportunity. And, she knew just the person to help her. 
"My mom and I have worked together for years, and she has accounting experience—she did the books for a multimillion-dollar company for over 30 years before she went into retirement," explains Mindy. "I have a degree in child development and have worked the last eight years in retail. So, it was just a perfect marriage of those things."
At the start of June, Mindy and her mother Jan Campbell bought the boutique, and in July, moved the store to its new School Street location in downtown Lodi. Together, the mother-daughter team has curated some of the best children's clothing and accessories, with shelves and clothing racks boasting high-quality items and lines—Mayoral from Spain, ultra-soft KicKee pajama pants made from bamboo, Little Giraffe throws, Copper Pearl blankets, and so much more.
And, if you stop in for a visit, don't be surprised to see Mindy's daughter toddling around the boutique. Just three years old, Everly Compton is more in love with Willow Tree than anyone.
"She loves being here with us, and she gets to play with all kinds of kids," says Mindy. "She cries on the days we don't go to the store—she calls them 'Willow Tree days'."
And what exactly makes a Willow Tree Day? It isn't just the high-quality clothes, blankets, and accessories that the boutique carries—it's the experience of family. "In working together, my mom and I are giving my daughter strong female role models," explains Mindy. "We're showing her how to stand on her own two feet."
In addition to being a positive role model for her daughter, Mindy wants her boutique to be a role model for the community—offering cookie-baking classes, tea parties, doula classes, and even a safe, comfortable place for moms to breastfeed or pump if they're out and about downtown.
"Downtown Lodi is such a good destination," concludes Mindy. "We hope to make it more family-friendly!"
 Join the Willow Tree Family:
Willow Tree Children's Clothing Boutique
120 N. School St., Lodi
(209) 339-7300