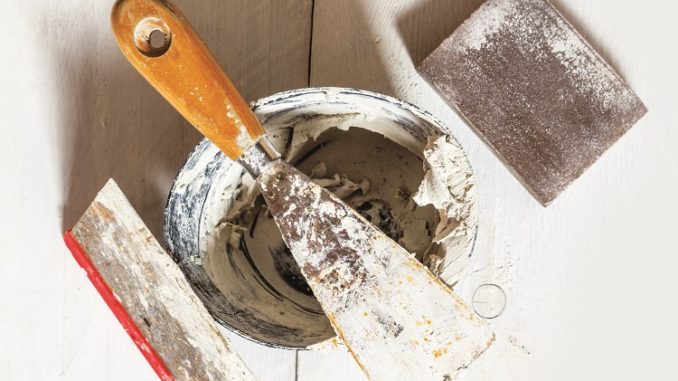 By Melissa Hutsell
Revive the old and make anew with the latest home décor trend – refurbishing old furniture to match your own home and personality. Someone else's trash easily becomes your brand new treasure with a little TLC and some DIY inspiration.
Pick Your Piece
The first step begins with a creative canvas – this is the fun part; as you explore second hand stores looking for that special piece. Whether you want to re-vamp an existing piece of your own furniture, or venture out for new finds, your options are endless. Turn an old bookcase into a bar, use a secretary desk as a linen closet, or a chest as a coffee table. You can find used furniture begging for new life at our local Goodwills, thrift stores, antique shops and consignment shops such as New and Again, or specialty businesses where used furniture is their forte. Denise and DeWayne Konz, owners and artistic extraordinaires of Lodi's Bath and More, have transformed their hobby of collecting and repurposing pieces into a San Joaquin treasure. When looking for furniture to repurpose, the Konz's scout garage sales and estate sales for the best finds.
When it comes to picking your project, Denise recommends allowing the pieces to be your muse. "When looking for a project, I always look at the detail of the piece, like the molding, curves or embellishme
nts," she advises, "I look for durability also. If it's wobbly, I'd have to work on rebuilding it." She says that when it comes to looking for projects, she prefers aged items with stories to tell. "I listen to what they have to say…. Most items tell me they want to come out and play and be part of the family again. They just need to be redressed with paint and love."
Gather Your Supplies and Start Sanding
Once you've chosen your project, it is time to make your vision a reality. Begin with the basics; a sander (or sand paper), paint or stain of your choosing, and sealer for durability. You will also need cloths, paint brushes, protective gear like goggles and gloves, and a workspace with ventilation. Lay a piece of painter's plastic or builder's paper down, and begin! Furniture made from wood is a great starter project because of its simplicity. We will guide you through the process of refurbishing such pieces. First, take off the old paint or stain by sanding gently until smooth or 'flat.' It's important to sand with the grain of the wood, and find the proper grit for the particular wood you are working with. This will also help with minor scratches and discoloring. You might find it easier to sand if you take legs, arms, drawers and knobs off. A little elbow grease goes a long way!
Let's Add Some Color

Next, if you prefer a wood stain or dye, now is the time to apply, after surfaces are smoothed evenly.
If you opt to decorate using a finish such as
chalk paint, sanding isn't always necessary. However, you will need to clean the surface with soap and water to remove oil. Then, begin painting! "Chalk Paint® will stick to almost any type of project, being wood, metal, fabric, glass and more," Denise explains. However, if you have an oiled or stained piece, you may need prep work (such as sanding) as Chalk Paint® is a water based paint. "Water and oil, well they don't mix. If you have a piece that has been oiled or Formica, you can do a coat of Shellac as a base coat.  Chalk Paint® will then apply nicely," advises Denise. The staff at Bath and More work exclusively with Annie Sloan's Chalk Paint for their projects, but Milk Paint, or Old Town Paint works great as well!
"The wonderful thing about working with Chalk Paint®, is it's made for the novice painter. It's very forgiving and easy to work with. You can brush the paint on freely, not in a smooth stroking method. Chalk Paint® is all about texture and color. The more texture, the more interesting the piece becomes." The best part, this paint can go a long way- as one quart of Chalk Paint® covers 150 square feet, explains Denise.
The Final Touches
Next, add a second coat of paint and wax. Waxing, whether clear or dark, helps protect the paint and can add an aged look to your piece. If you desire adistressed look, Denise recommends starting with a high grade of sand paper, such as 220 grit. "I always recommend starting light with sanding and then you can always get heavier if you'd like." Sanding while wet keeps the dust levels down, she explains, "When wet distressing, you would use a wet towel and scrub on the paint where you want the distressing. Always keep your paint brush handy, in case you've taken too much paint off." For extra personality, add some stencils with your favorite designs. After distressing, go straight to waxing. "Apply a light coat of Clear Wax first. If you're wanting an aged look, apply the Dark Wax next."
Relish Your Restoration!
Lastly, let the piece dry (which can take one to two hours with Chalk Paint), reattach the extremities, add new or old knobs…and enjoy your handmade creation!
Find Your Inspiration, Materials, or Classes:
Bath and More
19 W. Pine St., Lodi
(888) 445- 2284
BathandMore.com
McKinley's Frame Shop
11 W. Pine St., Lodi
(209) 625-8194
McKinleysFrameShop.com
New and Again Consignment Furniture Gallery
210 S. School St., Lodi
(209) 368-2200
NewandAginOnline.com
Goodwill  
943 W. March Ln., Stockton
(209) 476-8290
66 S. Wilson Way, Stockton
(209) 466-3252
Goodwill-sjv.org
The Owl Box
131 W. 10th St., Tracy
(209) 830-0796
OwlBoxVintage.com