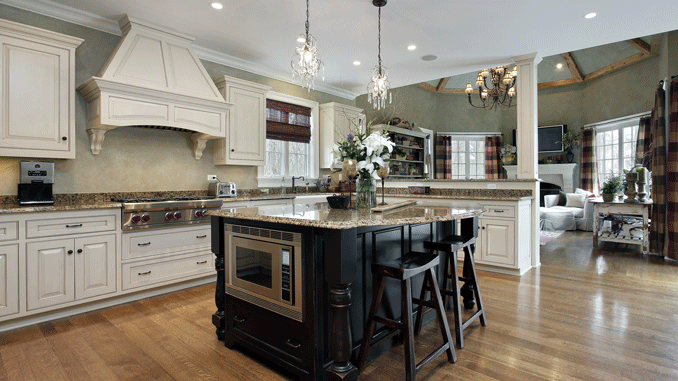 Ding, ding! What's that?
It's the sound of your alarm clock, the doorbell, the oven timer, and the Salvation Army volunteer rolled up into one. Does it signal the last of your sanity escaping you? Possibly.
It's no secret that you'll be running non-stop from the first stitch in your child's Halloween costume to the last clink of your champagne glass as we ring in 2019. Can you believe it?! With less than 30 days before the start of the storm, use your time wisely and prep for a confident and calm hostess experience with upgrades sure to assist your seemingly impossible mission. (You can do it, we're rooting for you!)
Crush it with Curb Appeal
Go above and beyond with your first impression. Don't know where to start? Grab that old bench (or find one at our plethora of vintage and consignment stores) and head to The Owl Box in Tracy. They not only carry Annie Sloan Chalk Paint®, but also the perfect pillow to place once your DIY project is done. Purchase a few plants, and bring in color with bright or bold pots. Get a new driveway from someone like this Lynchburg driveway paving company. On a serious budget? Removing dust and dirt can bring an old door to life, and a new welcome mat makes company feel cozy.
Add an Outdoor Fire Element
The end of summer doesn't mark the end of your outdoor enjoyment. Soak up your beautiful backyard year round-and make more room for relatives-with a fire element. Go big with a built-in statement fireplace from Kokoma Grills, or spend less than $100 on Chiminea-they're super cute and warm just the same! Regardless of your budget, a fire element is a must.
Spruce up the Guest Bathroom
Hire the talented designers at HT Home Design in Stockton to turn your guest bathroom into the lap of luxury. Think soaking tub, white subway tiles, plenty of vanity space, and lots of storage. If you get guests year-round, why not find a service like that Available via S.E. Electrical Services and get a professional to put a ceiling fan in the room so they can control the temperature in the room? Don't think smeared mirrors, and the fact that they may never leave (?!).
Replace Old Carpeting
Nothing makes a house sparkle like clean floors. You could bust your butt all day, cleaning cabinets and countertops, yet no one will seem to notice until you tackle the task of mopping the floors. If a dingy carpet is leaving your space looking less than lustrous, jump on the bandwagon. If you don't want to buy a completely new carpet, you could always contact a carpet cleaning company to make your carpet look good as new. Or, you can just buy a new one – the choice is yours!
Create a Space for Winter Gear
Fall means wet boots and bulky jackets…cramping your entryway. Keep your home open and welcoming by investing in some closet space for all that stuff! California Closets in Modesto can make your minimalist dreams come true with a solution to every storage problem you can dream up. The end result? A well-designed hanging space with a perfect place to sit and remove your shoes, and even a spot to aesthetically store them.
Keep it Cozy
Everyone enjoys feeling warm when it's cold and rainy outside. If your air conditioning system is about to kick the bucket, there's no better time to replace it than now. By hiring a professional air conditioning contractor that is well-known as the area's trusted experts in heating and air conditioning, you will be able to guarantee a good service. Whether it's a repair, replacement, or maintenance you need-Lovotti Air has got you covered.
Trim the Room, then the Tree
Before you bring in the main attraction, take some time to show your space some love. Clean corners, baseboards, remove clutter, and play around with furniture placement-really create an altar-like space for your tree that will make all your hard and meticulous decorating work truly shine. Next step? Bring in new pieces! Maybe a recliner perfect for the uncle who loves to nap fireside? Thornton House Furniture in Lodi has just that. Or, maybe a bigger living room table perfect for snacks and drinks-check out Home Furniture Gallery's selection.
Buy a New One
But, seriously. If your home doesn't work for you, don't work for your home. It's important and fulfilling to love the space you're in, and everyone deserves a sacred space. Holidays often ignite growing families, and what better reason to begin researching a larger location. If the holidays have you facing the fact that you're outgrowing your home, Stockton realtor Danielle Hardcastle of PMZ Real Estate is ready to help you navigate the tricky real estate market for an enjoyable, exciting experience.
Invest in a Second Fridge
Really, though! How overwhelming is a bursting fridge holding your ingredients hostage? Or the lack of space that leaves you handing out all of your delicious leftovers? The solution is simple: Buy another fridge and set it up in the garage. Designate the 'garage fridge' for beer and bottles, or dishes from guests that require refrigeration while everyone waits for the turkey to be done (ugh).
Go Energy Efficient
Who has a relative that leaves every light on? I do, I do! Who doesn't sweat the power bill? Most people with solar. Not only is solar a renewable energy resource, but it can cut your energy bill and be used to heat your home through those cold winter months via solar thermal energy. BTA Solar is the go-to authority on making the energy efficient transition, and is ready to guide you through the products and services best for your mission.