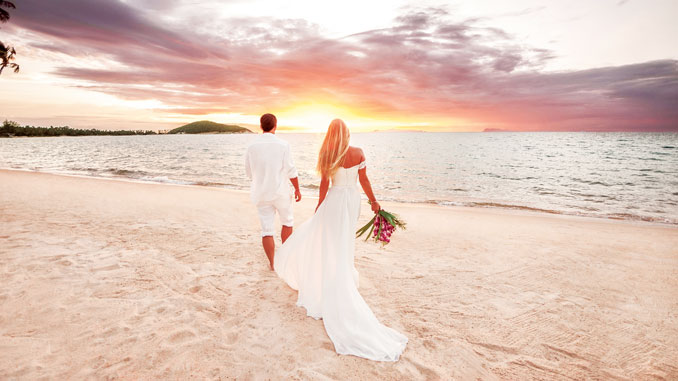 Dreaming of a destination wedding?
Whisking away to a coastal beach town or lakeside resort to exchange vows in front of a new landscape? Whether far from home or close by, any wedding not held in the hometown of the bride or groom is considered a destination wedding. For those who venture farther away, it could mean fewer guests, but also lower costs.
According to GroupTravel.org, one out of every four weddings is a destination wedding, and California, Nevada, and Florida are the most popular places to wed in the continental U.S.
To pull it off, you'll need a little help. Handpicking details in a town you've never been, or don't spend much time in, is tricky. Make it work by hiring a wedding planner on the other side to handle the details. This planner should work in the locale you are marrying and provide as much help as the bride and groom desire.
An upside to destination weddings is often cost. On average, destination weddings cost the bride and groom (and their families) about $3,000 less, but the cost to attendees is higher. This can severely cut down on how many people attend your wedding, which could be a pro or con; that's up to you!
We've sought out eight of the most popular locales in the Western states for couples looking to travel to their nuptials, with backgrounds so breathtaking you won't want to leave for the honeymoon!
Disneyland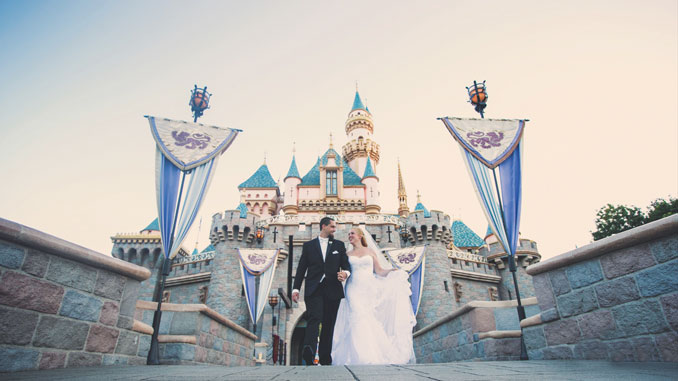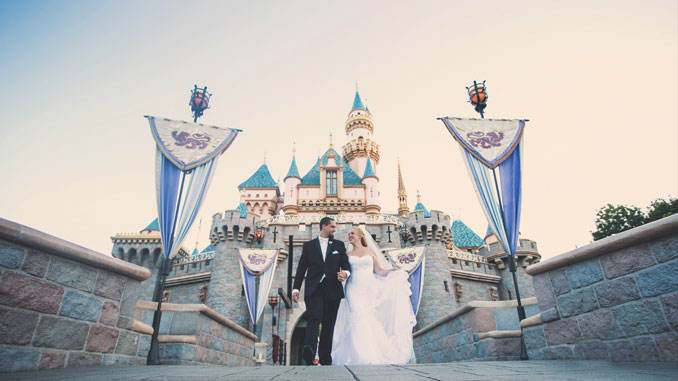 Proposals abound at the Happiest Place on Earth, where Snow White's Wishing Well is a prevalent choice for future grooms to pop the question to the love of his life. It must be the magic that makes Disneyland a go-to for couples to build memories together. If you enjoyed a Disneyland proposal, why not continue the festivities at the house of mouse? With six Disney locales (Florida, California, France, Tokyo, Hong Kong and Shanghai), Disney Fairy Tale Weddings admits to marrying about 1,500 brides each year, taking the princess fantasies of this elite group of women, who call themselves "Disney Brides," to the next level. So how do you pull it off?
Your budget doesn't need to be big. Disneyweddings.com has a planning tool on its website that helps estimate cost before you commit. A Disney wedding is possible for as little as $12,000, however, that won't buy nuptials in front of Sleeping Beauty's Castle.
From the soundstage at Disney California Adventure Park to the courtyards and terraces throughout Disney's over-the-top hotel, the venue can match
your vision without breaking the bank.
Best Time of Year: Everyday is a good day to get married in sunny California, but wedding offseason (January-March) may offer some price drops.
Go Big or Go Home
Deck your day out in Disney. F
rom a Paolo Sebastian Disney Wedding Dress to match your favorite princess to adorable bride-and-groom ears from the park, there's plenty of ways to take your Disney vision over-the-top. Think cake toppers, serving knives, and stationary, all available through Disney's Fairy Tale Weddings.
The Honeymoon
When you marry in Disneyland, bride and groom need not travel for the honeymoon. The key to honeymooning in the park is to make the vacation stand out from other Disneyland escapes. Stay in Disneyland Resort's Mickey Mouse Penthouse, indulge in spa experiences at Disney's Grand Californian Hotel & Spa, and dine at the park's most delectable restaurants.
Las Vegas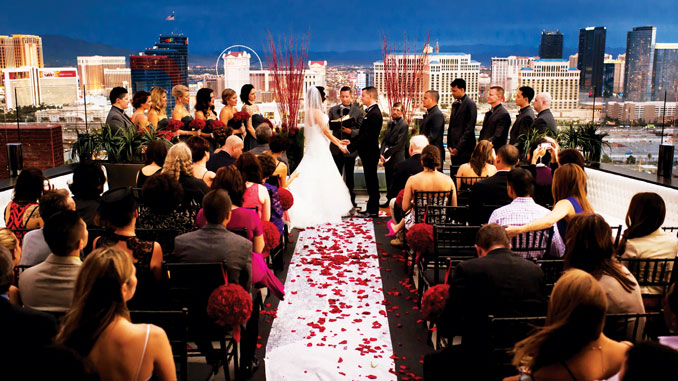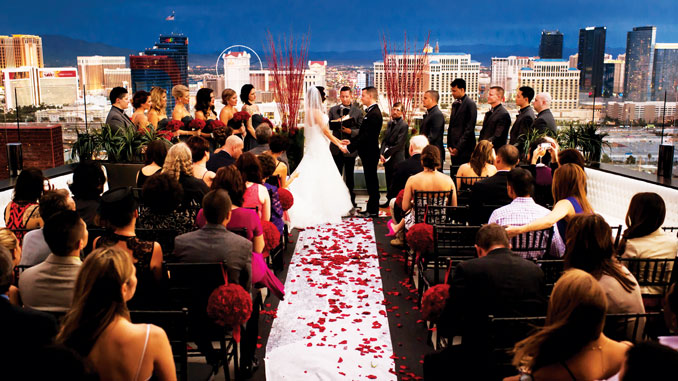 The ease of marrying in Las Vegas is one of the perks of the location. It's still heralded as a quick stop for nuptials, and perfect for those who want to elope. Now, however, weddings in Las Vegas can also be extravagant affairs. The bright lights of the Vegas strip, the mini-monuments, the fountain shows and over-the-top accommodations offered at its many resorts, all make it one of the most popular destinations for brides and grooms.
Even the most extravagant weddings in Las Vegas can be convenient. Almost every major hotel has a wedding chapel inside, and those chapels come equipped with contacts for photographers, DJs, bakeries, and more. Often a bride and groom only have to meet with the coordinator and let the professionals take over. Chapel of the Flowers is a favorite, and Joël Robuchon, a restaurant in the MGM Grand, allows couples to say, "I do," in a 1930s-inspired Parisian paradise.
The constant party happening outsid
e the chapel doors is another reason to book a wedding in Vegas. The after-party can be anything you want-a club spinning Calvin Harris, a late-night dining spot with a view, or a high-flying Cirque show. Whatever your dream is, in Vegas, it can come true.
Best Time of Year: It's never a bad time to get married in Las Vegas, the real city that never sleeps.
The Honeymoon
Stay and play in Sin City after your guests have gone home. Book a suite at any hotel on the strip and celebrate your new union in luxury. This is the time to splurge: buy front row tickets to your favorite act, eat oysters at Aqua Knox, rent a cabana at a luxury pool, and tour the finer parts of the city-from balloon rides to fine art galleries. If you want to step outside of Las Vegas, book a tour to the Grand Canyon, an easy day trip from downtown.
Zion National Park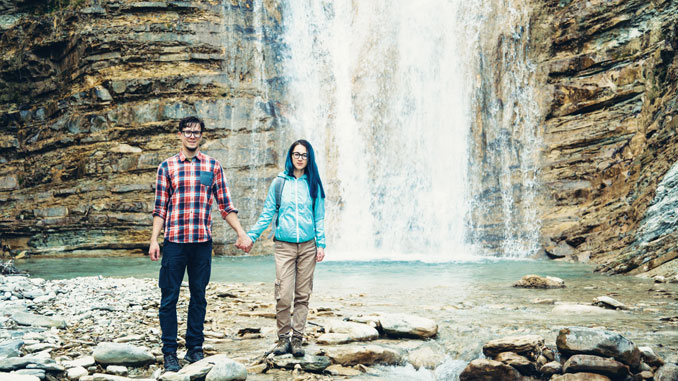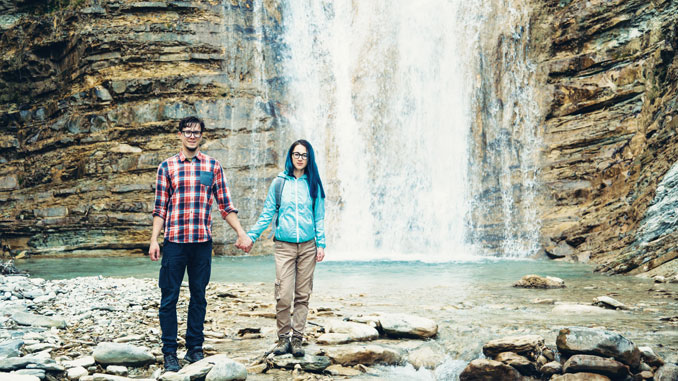 Say "I do" under an arch of steep red cliffs in Zion Canyon, where scenic drives lead to forest trails, flowing rivers, waterfalls, and a hanging garden. It's hard to go wrong when choosing a space in the southwest Utah nature preserve to celebrate your biggest day.
In most cases, a Zion wedding is a small affair. It's a place to appreciate beauty and splendor-intimate affairs held in the vast wide open. To be married there, brides and grooms must apply for a permit a minimum of three weeks before the event and pay the $100 fee, a small price for the expansive beauty that abounds.
Look to surrounding cities to find the extras you'll need to pull it off-reception location, bakery, DJ, etc. Zion, as a picturesque destination for lovebirds, has plenty of professionals ready to help, including Forevermore Events. A good photographer is most important; you'll want to take advantage of the beauty around you. Of course, you could custom your own photo book with those photographs, to make the memory last a lifetime, preserving it in the form of a book. Photo books are quite affordable these days, especially with personalized gift manufacturing sites such as GiftLab and similar others around on the internet.
Best Time of Year: A mild climate welcomes brides and grooms year-round. The park is quietest in the winter months, but snow and ice are sometimes nuisances when choosing a backdrop or hiking post I-do, and some lodges close until spring. October is often heralded as the best month to visit Zion, as well as the summer months.
The Honeymoon
You've already traveled to paradise, why leave? Spend your first days as man and wife at one of the resorts tucked in or around Zion National Park. True to the National Park surroundings, most accommodations are three-star at best but that doesn't make them any less appealing. Make a list of the best sites to see: Angel's Landing is a 1,488-foot tall rock formation; The Narrows upstream of the park's main canyon; and Temple of Sinawava, a natural stone amphitheatre centered between major hiking trails. Cap off your trip with a night or two in nearby Hurricane, Utah (a 30-minute drive) at Coral Springs Resort.
Half Moon Bay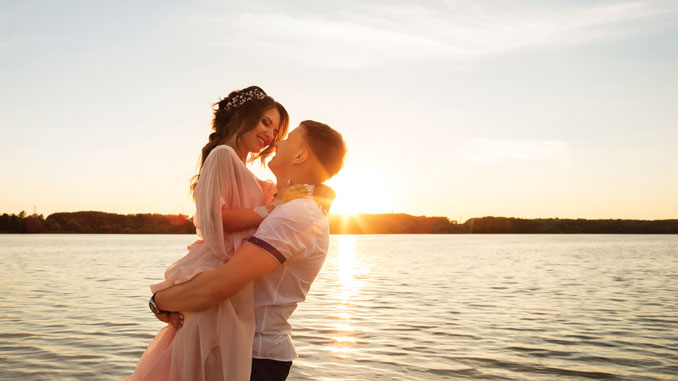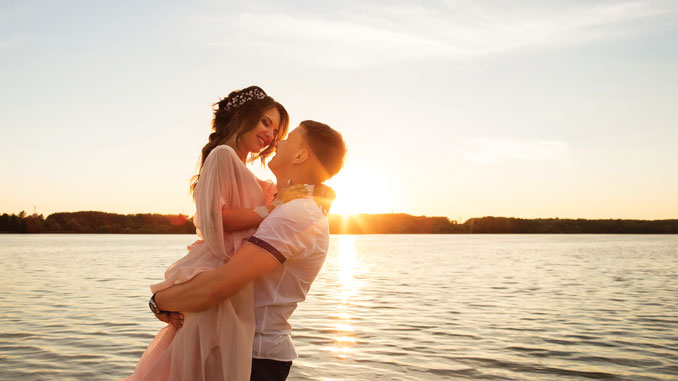 A beach wedding is hardly overrated when you're talking about walking down the aisle at Half Moon State Beach. Sand between your toes, coastal winds through your hair, it's a romantic spot for tying the knot. The casual air of the beach is a perfect contrast to the high-end accommodations in the historic coastal town.
The Ritz Carlton at Half Moon Bay grants brides' wedding wishes. The resort sits on a bluff overlooking the Pacific Ocean. The Ocean Lawn, ideal for up to 300 guests, is the go-to spot for lavish affairs, while other locations at the resort offer more intimate venues. Imagine saying your vows against a picturesque backdrop before stepping into the grand ballroom to celebrate the beginning of your new life. Go all out with a vintner dinner or wine tasting at your event, where an on-site wedding advisor oversees every decadent detail. Ditch the conventional three-tiered cake and order in a centerpiece from Elegant Cheese Cakes, a specialty bakery in Half Moon Bay. (They also offer traditional wedding cakes).
Best Time of Year: California coasts get chilly in winter but it's never too cold to marry outside. Pay mind to the wet season, which could rain on your parade, but also consider prime whale watching season and other annual events you may want your event to coincide with, such as the Titans of Maverick surfing event or Dungeness crab season, which you can serve for dinner.
The Honeymoon
Half Moon Bay is nestled in a cove between the infamous redwood forests and the Pacific Ocean. When planning a honeymoon after a Half Moon Bay wedding, brides and grooms won't have to travel far to meet their needs. Spend a couple nights basking in your newlywed glow at the highly appointed Ritz Carlton Resort. Then, slip away to the surrounding attractions, just a quick drive away. Hike through Redwoods or speed into the city where San Francisco offers nightly entertainment, high-end dining spots, and over-the-top accommodations.
Coronado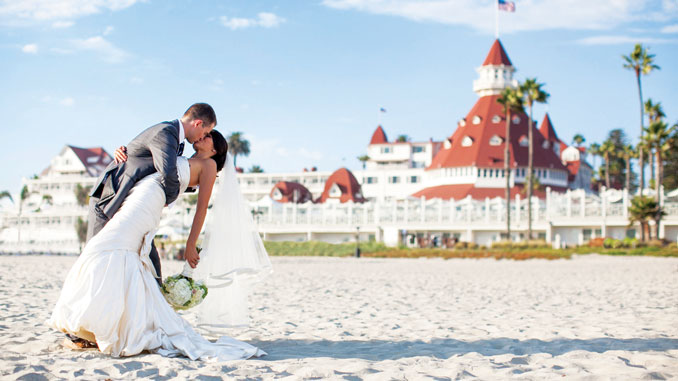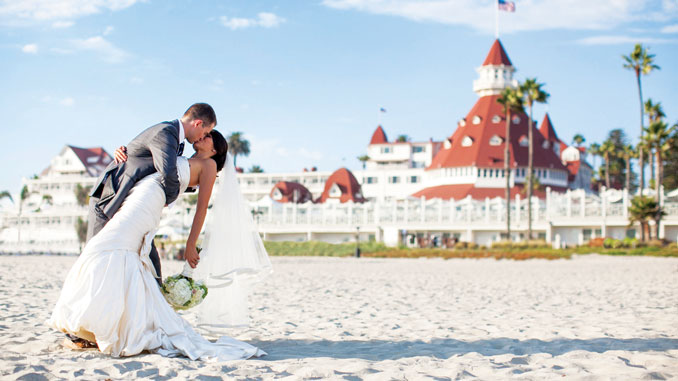 Situated in the San Diego Bay, this California resort city is best known for its red-roofed Victorian Hotel del Coronado and its accompanying beach-named among the best in the world. From the quiet of the beachside city, the gorgeous San Diego skyline can be viewed, granting your beach nuptials a one-of-a-kind city backdrop.
Coronado, dubbed The Crown City, is home to many high-end wedding venues, including Coronado Cays Yacht Club, bursting with nautical charm; the Coronado Island Marriott Resort & Spa, adept in hosting indoor-outdoor events with modern touches; and Loews Coronado Bay Resort, a storybook property set on 15-acres of peninsula. A small wedding chapel by the sea, Coronado Beach Classic, grants wishes for brides with small guest lists (max is 22, including bride and groom).
Best Time of Year: Offseason will offer price breaks for brides eyeing Coronado, but the best time of year to visit is March through May and September through November, when the weather is just right.
The Honeymoon
Much of Coronado's charm exists in its small-town quirks. However, being small, means a couple of days to rest and recharge on the island may be all you need to see it all. Sail before you leave. Then, finish your honeymoon by heading back to San Diego where there are more attractions to enjoy. Short and long cruises leave out of San Diego for those who want to extend the private celebration.
San Francisco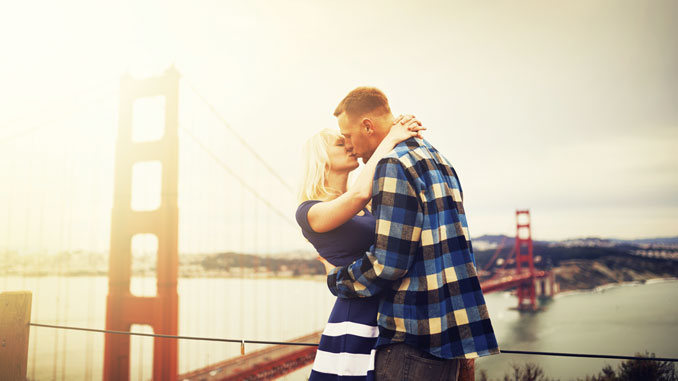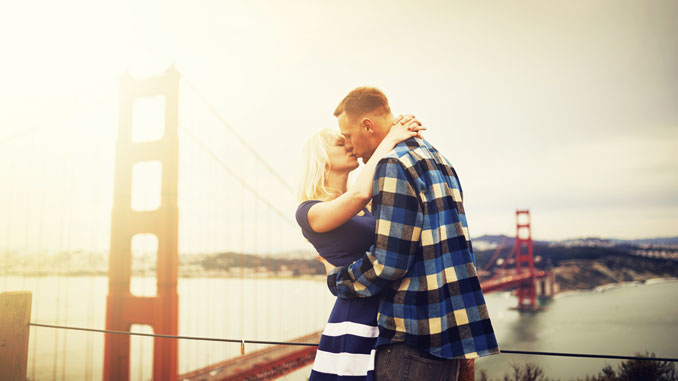 Located at the tip of the peninsula, surrounded by the Pacific Ocean, San Francisco is alive with every opportunity for brides and grooms. Many choose to marry at San Francisco City Hall, a gorgeous building with a grand staircase perfect for traditional photos and then host receptions in nearby places. The location is beautiful, and the building does offer opportunities for many gorgeous photographs. If you're thinking of getting married in City Hall, it's definitely going to be worth hiring a photographer to capture the event. There are even some photographers who specialize in city hall wedding photography, ensuring that the couple will receive the best photographs to remember their special day. With that gorgeous City Hall in the background, the pictures are sure to be beautiful. Host a hotel affair that's beyond every guest's wildest dreams at The Westin in Union Square, impress at the Julia Morgan Ballroom at the Merchant's Exchange, or embrace something different by saying "I do" under strands of twinkling lights at the Mission District's Foreign Cinema.
When planning, consider your options-San Francisco offers plenty. Step into the San Francisco Flower Mart and design your own blooms at wholesale prices, bring your fairytale to life with a gourmet cake from Glass Slipper Gourmet, and choose from a list of top musical talents like Garuda Blue or Smash City.
Best Time of Year: Bear this tidbit from Mark Twain in mind: "The coldest winter I ever spent was a summer in San Francisco."
The Honeymoon
Bespoke Experiences has a reputation for providing visitors with luxury tours, itineraries custom-tailored for your pleasure. Fit in those tourist attractions you've never made time for, like walking across the Golden Gate Bridge, visiting Alcatraz, or popping into one of the many museums scattered throughout the city. Pay attention to the list of visiting exhibitions and events for unforgettable experiences. Think drinks at the Exploratorium on an adults-only night. Traipse through museums, lunch at eateries run by celebrity chefs, and finish your evening with a show at the Orpheum Theatre or drinks at the Top of the Mark, an iconic high-end cocktail bar proffering 360-degree views of the city.
Tahoe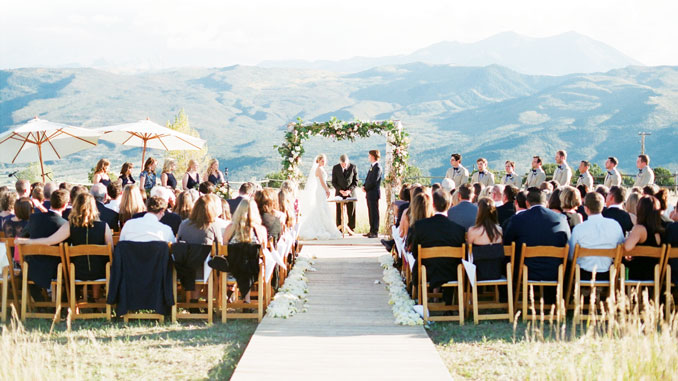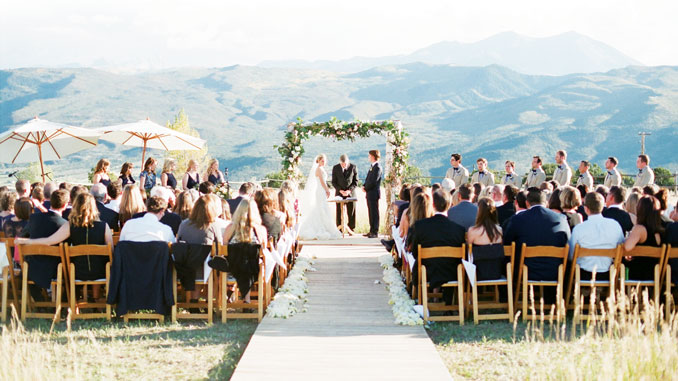 Whether you crave lakeside nuptials in the middle of summer or a winter wonderland affair, kissing under an arch of icicles, Tahoe provides both settings in one locale-one that is easily accessible for San Joaquin brides.
Choose between cozy inns, grand hotels, open gardens, and beach spots. The Cork & More, an intimate wine store in South Lake, is on-hand to cater when the venue is BYO (bring your own)-think grilled salmon with dilled lemon butter preceded by mixed greens and strawberry salads topped with Feta cheese-like the high-end Marriott's Grand Residence Club in South Lake Tahoe.
Entire affairs can be designed through wedding planners in South Lake, Truckee, Incline Village, and Tahoe City. Call A Lake Tahoe Wedding Planner, Merrily Wed, or Forget Me Knot Events, LTD. Love the water? A floating reception is a special way to celebrate the big day. Dinner cruises are easily transformed into post-wedding parties that cruise Zephyr Cove and Emerald Bay.
Best Time of Year: The beauty of Tahoe is it's picturesque every time of year. Choose between summer nuptials on the beach or a winter event, where you say, "I do," outdoors in the snow.
The Honeymoon
Stay and play in Tahoe. If it's winter, stay at Heavenly or Northstar and board and ski your days away, followed by candlelit dinners in the lodge. In summer, hiking and lake activities are aplenty. Hire a photographer to take shots in front of Emerald Bay to commemorate the trip. The Ritz Carlton in Lake Tahoe offers a private lake oasis, Lake Club, in the summer months, available only to guests. With floor-to-ceiling windows that blur the lines between indoors and out and a private pier and beach access. Weddings can also be held here.
Aspen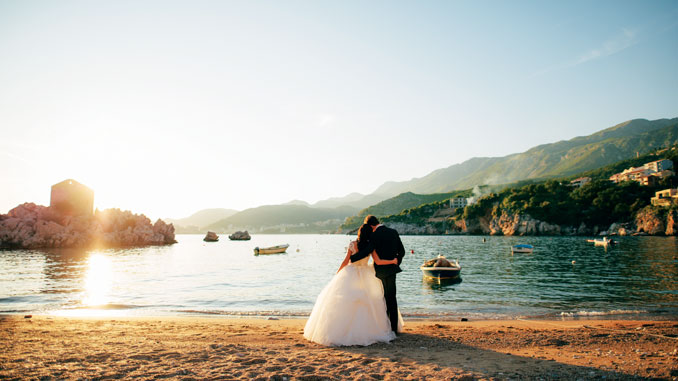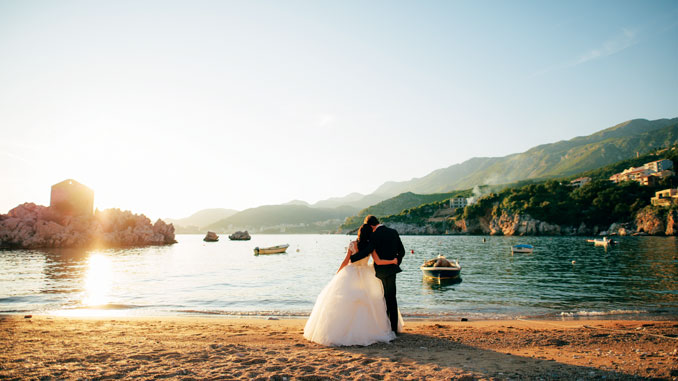 Best known as a ski town west of Denver, Aspen is an outdoor recreation Mecca every month of the year. Its high-end amenities make it a magnet for celebrities, plus an ideal destination for weddings and honeymoons. Between the ski lodges and black diamond runs, classy restaurants, luxury boutiques, and landmarks such as the Wheeler Opera House (built in 1889) sit. Art galleries and late-night stops for cocktails round out the mountaintop cities eclectic offerings.
Weddings in Aspen are a serious business, offering insane options for adventurist brides and grooms. Say "I do" at 11,212 feet on Aspen Mountain or pick a venue that will photograph well; Maroon Bells is the most-photographed peak in North America and offers a stunning backdrop for brides and grooms.
Best Time of Year: Like Tahoe, the gorgeous seasons in Aspen lend themselves to stunning nuptials year round. September, however, is known as a popular time to wed in the Colorado city. If you're planning to have your wedding in this beautiful city, you might want to look for Lodging in Grand Junction, so that you don't have to worry about finding a place for all of your relatives to stay.
The Honeymoon
Everything you need to enjoy your honeymoon is right here in Aspen. Embrace the romance with thrilling excursions, such as paragliding off of Aspen Mountain to a secluded picnic spot where champagne awaits or take the Silver Queen Gondola to Aspen Mountain's peak where the Sundeck boasts Friday night moonlit dinners and live music. Couple-centric activities such as The Aspen Cooking School's "Couples in the Kitchen: A Hands-On Workshop," dog-sledding and horseback riding across serene landscapes, and 90-minute coupes massages (complete with champagne and chocolates and hot tub soaks surrounding by waterfalls) offered at St. Regis Hotel's Remède Spa, will round out the honeymoon.