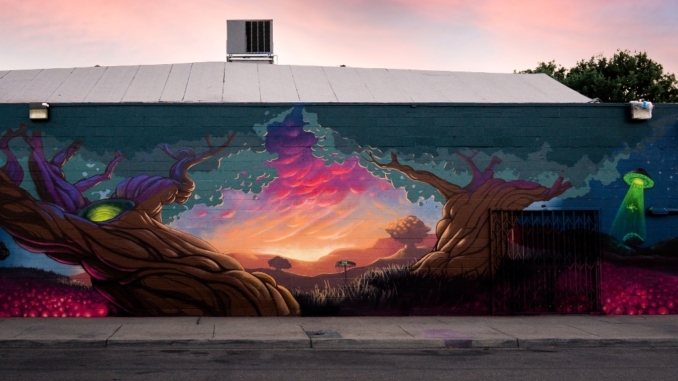 A groundskeeper by day and an artist by night. Jeremy "Kolourlab" Johnson has been creating art for as long as he can remember, perhaps most notably to locals in the form of vibrant murals sketched across the city. "I've been told my work has a bit of fantasy and playfulness to it, and I feel like that's pretty true," Jeremy says.
It's possible that art is in Jeremy's DNA. His mother, after all, was an artist and often had projects for her kids to do growing up that involved the arts. At age 10, Jeremy's step mom enrolled him in the Aldrich School of Art, which used to be located on the Miracle Mile. There, the late Joy Aldrich really opened up Jeremy's eyes to a world of possibilities.
After several educational endeavors, which included two years of advance placement art at Bear Creek High School, art classes at San Joaquin Delta Community College, and a semester at Art Center College of Art and Design in Pasadena (the college was too expensive to stay for the long run according to Jeremy), he landed back in Stockton and was part of the 1850 Collective for two years before it disbanded. "We were Stockton's young hip art crew and had art pop-up shows all over Stockton, giving us a foot in the door to individually make names for ourselves," Jeremy explains.
The relationships he created led to his first mural opportunity, an invitation from Matt Amen who asked if he wanted to paint a mural using some leftover supplied from a previous project. The collaboration with Alex Suelto covered a four story building located at Market and Aurora streets. It was, "probably the biggest building I've ever worked on," Jeremy says.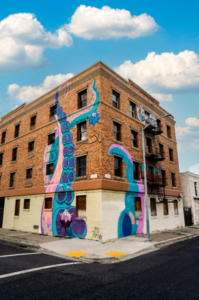 Shortly after Jeremy was invited to participate in the 2019 Wide Open Walls Mural Festival in Sacramento. "There I painted my first solo mural titled, 'Cheshire,' which garnered a lot of buzz with people and although it was painted over two days, after it was done, mural work continued to flow in." Unbeknownst to Jeremy, the owner of the building sold it and after the festival, they painted over his mural. "I'm not going to lie, it stung a bit, but I knew the nature of public art and they couldn't paint over the experience I had," he says.
In addition to the collaborative piece in Stockton, Jeremy has works on OTB Disc Golf Co. located on the corner of San Joaquin Street and Alpine Avenue, in the courtyard of Sayla Music Academy at 21 W. Locust St., and an Alice in Wonderland-themed piece from the 2021 Wide Open Walls Festival located on the side of the Schiff's Estate Sale building at 1309 Del Paso Blvd. in Sacramento.
While murals may be his largest form of public art, it's not the only medium Jeremy dabbles in. "These days, I'm actually making art in my home studio more than painting murals," Jeremy explains. "I love experimenting with painting on found objects like old acoustic guitars or painting on my own cut out shapes of wood."
"Color definitely plays a role in my work," Jeremy says. "I tend to nerd out and obsess over my color choices and how they play with each other. I also incorporate nature into my work quite a bit having worked in landscaping with my dad since I was 13 and now at University of the Pacific for 15 years as a groundskeeper."
Jeremy has also taught a few classes, but with his limited time, his passion lies in making art more than mentoring.
"I'm still working a nine to five job and raising two kids with my wife," Jeremy says. "Just showing up and pushing through the tired or scared feeling is huge! It's work but I feel like if you have a passion for what you do, you'll make the time."
One tip he has for budding artists is to take matters into your own hands by reaching out to local businesses and offering your services. "Whether it's showing your work in a coffee shop, a mural where tons of people will see your work, or on tangible goods, those are great places to start getting your work out there."
"Art making is my passion," Jeremy says excitedly. "Whether I do it full-time or while I keep a day job, I think I'm going to do this for the rest of my life. If I can inspire and bring joy to my viewers, that's all could ask for."
"Your art isn't for everyone, so don't let that be the deciding factor," – Jeremy Johnson
Kolourlab
Kolourlab.com
@kolourlab
[email protected]