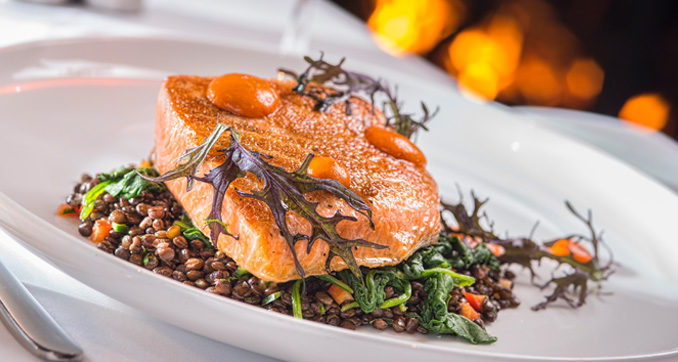 It's a Tuesday evening and the chill outside is barely a whisper compared to the warmth in each welcoming smile at Towne House. The jazz band is in full swing, picking at strings on the bass, spilling over piano keys, and breaking out the beat across the drums. Candles and dimmed sconces cast their glow across white linen tables, polished silverware, and wine glasses.
We opt for a table near the bar, where the Mixologist barista conducts a symphony of her own. Slipping splashes of vibrant liquor over ice and sashaying the contents over and again, she serves two brilliant, seasonal jewels to our table. My managing editor's face lights up, she takes a sip, and the worries of the day slip from her brow. Two figures in perfectly aligned smocks emerge from the corridor nearby, and our visit with the masterminds behind the menus of Wine & Roses begins.
"When I first started, Wine & Roses was just a bed and breakfast, and we used to do weddings just on the lawn," John Hitchcock, Executive Chef and Partner of Towne House Restaurant at Wine & Roses, leans back in his chair. "I've seen Towne House grow from nothing to something. The ballroom hadn't been built yet and the restaurant was open sporadically. When the ballroom opened, I we turned it into a seven-day breakfast, lunch, and dinner operation."
Since its humble beginning, the establishment has blossomed, from its variety of quality ingredients to the men and women behind every masterpiece. Each chef learned their trade and studied new styles beyond San Joaquin, and each returned to their Central Valley roots, opting to bring their abilities back to their hometown. "We're trying to give our community a place to go that has comfort food, but with that city flair," Dawnelle O' Brien, Pastry Chef of Towne House at Wine & Roses, notes.
We can't help but agree between mouthfuls of buttery-rich Foie Torchon, marinated in moscato, pink salt, and sugar. It's served with a huckleberry gastrique and poached grapes atop house-made brioche. And every bite of the Fried Oysters is just as savory as the last, arranged on butter-leaf lettuce in a Miso Togarashi emulsion and topped with Asian pear slices. Everything that makes up the menu is purchased, prepared, and served with quality and freshness in mind.
"We get the majority of our fish overnighted from Honolulu," John explains. "And we use higher-end ingredients: Non-antibiotic, hormone-free pork. The salmon has no food coloring and no hormones."
Danica Aviles, the Chef D' Cuisine, leads us through the restaurant's seasonal salad, noting how each flavor plays into the next, from the mixed chicories, right down to the crisp and tart Mutsu apples.
"We change the menu four to five times a year, maybe more. We'll change dishes here and there," Danica explains. It's bittersweet seeing our favorites go, especially when you have incredible entrees such as the Rabbit Loin, raised right here in San Joaquin. And the Grilled Prime NY Pave, with marble potatoes, bacon lardon, and brandy cream sauce, certainly makes a mouth-watering impression.
But Towne House Restaurant's chefs always prevail when moving out the next line of courses, dessert included! "I do tastings for each menu with [the staff]," Dawnelle smiles. "They all come down to the kitchen and sample around eight desserts. That's how the dessert menu is created. This last menu though… We ended up putting almost everything on the menu because no one could decide what to take off and what to keep on."
Our time with Towne House Restaurant came to an end amid blissful bites of Wine & Roses Sweet Cake, thick with ginger cream cheese filling, and spiced cider sauce. And with the last sweet spoonful of Éclair Au Café, in all its golden-dusted glory, we bid our chefs and their cooking prowess adieu.
Find Your Flavor At:
Towne House Restaurant
2505 W. Turner Rd., Lodi
(209) 334-6988
WineRose.com