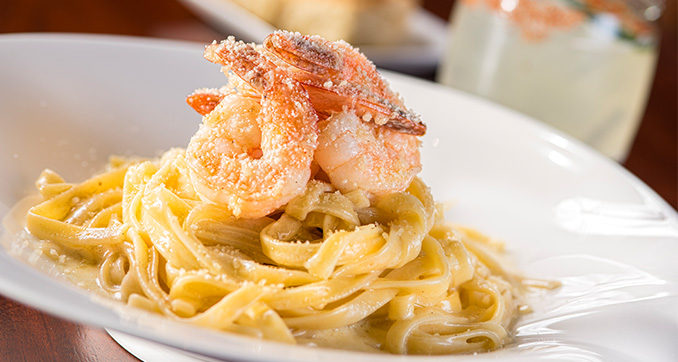 Nestled in the heart of downtown Stockton, where sunshine casts its gaze across the waterfront in bright, candescent ripples, is BellaVista Cucina Italiana. It's a restaurant which lives and breathes the beauty of fine Tuscan cuisine, providing residents and out-of-towners a taste of rustic Italy, without ever leaving their table.
Bella Vista is the creation of Proprietress and Head Chef Rima Barkett. Having grown up in Tuscany, Italy, Rima knows first-hand that fresh, seasonal ingredients are key to crafting simple, superb meals. From her mother's kitchen, to Cordon Bleu, and Gambero Rosso, Rima's knowledge of cooking has expanded across her lifetime.
Rima found her calling in Stockton's historic buildings when she married her husband, Anthony Barkett, and moved to the states. From there, she opened Café Luna, to the delight of San Joaquin foodies. And although Rima decided to close the doors of her first successful business five years later, many customers have strived to stay in touch, waiting for the day when Rima would take to Stockton's dining scene once more.
"I have customers who've grown with me," Rima exclaims. "They tasted my cooking at Café Luna and then found I'd opened BellaVista. They're so excited!"
Since its soft opening in January 2017, BellaVista has entertained full houses, riveted by specialty entrees that have become essentials on Rima's menu. And while favorites may find a lasting place along the meal list, Rima makes sure to continue adding new and unique combinations to her plates. "I love to watch people's expressions when they eat my food," she beams. "That moment when they take a bite!"
It's no wonder that many who venture in for dinner leave with a copy of Rima's cookbook. Many of the meals prepared for lunch and dinner hail from her own recipes contained within. "People can come and eat something, then take home my cookbook and try making it themselves."
With comfort food favorites like Ravioli and Fettucine Alfredo, to larger-than-life palate pleasers, such as the Pollo Alla Cacciatora—with chicken cacciatore in marinara sauce—guests on their first visit soon become frequent customers.
Along the walls and tables, lights are primed for a more intimate setting, providing BellaVista with an almost whimsical air. It's cozy and comforting all at once, perfect for a date night or taking the family out for dinner after a movie.
But BellaVista strives to bring something more than Italian cuisine to its guests. It's a gateway to good food hailing from right here in San Joaquin's county seat. Rima wants her city to know that they can enjoy a beautiful sunset over a glass of wine without ever leaving downtown. "The terrace will be open when weather permits. From there, guests can enjoy music and the view."
But don't worry, those in need of a lunchtime reprieve will be pleased to know that BellaVista offers lunch from 11 AM to 3 PM, giving guests all the time they'll need to order favorites like the Mediterranean salad, with walnuts, green apples, feta cheese, sun-dried tomatoes, and dried cranberries, or a variety of steak, chicken, turkey or vegetarian panini! And what are we looking forward to most on our next visit? Let's just say that BellaVista's dessert menu has our name written all over it!
Enjoy A Bite With:
BellaVista Cucina Italiana
110 N. El Dorado St., Stockton
(209) 949-2104
BellaVistaStockton.com