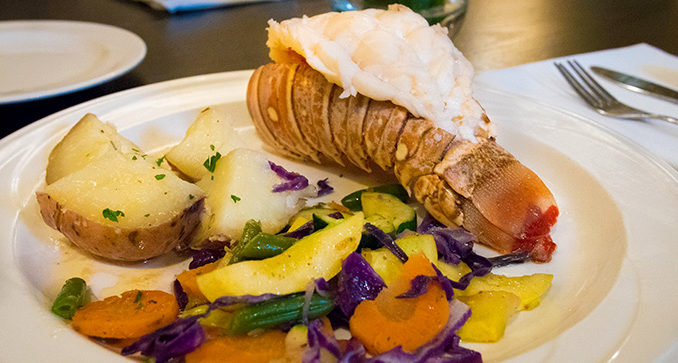 By Melissa Hutsell
Tucked away in Stockton's upscale Lincoln Center is where you will find, quite possibly, the best Clam Chowder you've ever tasted. Topped with a perfectly fitting bar menu and an inviting ambiance, the locally owned and operated restaurant, Bud's Seafood Grille, serves as a regional gem where customers can always expect consistency, and above all else, fresh ingredients.
Owners Jeanne and Bud Millsaps opened the restaurant on April 1, 1993. The two hail from Stockton and are firmly rooted in the community. The 'home grown' couple, as Jeanne describes, met at Delta College and have been together ever since. As a fisherman and seafood lover, Bud always found passion in the food industry. He began his career ordering food for more than 60,000 soldiers in Vietnam, and assisting in the success of a fish market before he took the next natural step and opened what today is known and loved as Bud's. The establishment is family run, with their son Matt managing the bar and food menu.
The restaurant prides themselves on being ahead of the curve, says Jeanne, by saying true to their motto, "simple and fresh." Quality ingredients at reasonable prices is priority for the restaurant and, of course, its' guests who have grown to expect consistently delicious entrees, starters and desserts. From the Coconut Prawns to the Macadamia Mahi and fresh Salmon Cakes, all recipes are prepared made in-house, even down to the salad dressings, giving each dish a distinct 'Bud's' taste. Ingredients are sourced as locally as possible, with an ever-changing menu of specials catering to in-season dishes like Red Snapper and Rainbow Trout. "Halibut is only on the menu when it's in season, in Alaska," says Jeanne. "In summer, we offer Linden's Shady Lady tomatoes right off the vines," adds Bud. Each summer, the grille brings back its ever-popular sandwich, featuring the locally sourced veggie for the restaurant's Ultimate BLT. "Customers can't wait for it." Bud's also features several other seasonal and local favorites, including a San Joaquin staple, asparagus!
But Bud's doesn't stop there, as they aim to keep their reputation as the best seafood joint around. The staff caters to customers and their needs, creating dishes upon request and shaping their menu accordingly. "As a mom and pop shop," describe the Millsaps's, "we can go above and beyond for our customers. We always try to accommodate when possible." Also worth raving about, are the grille's fantastic portions that will leave just enough for later, and the delicious bread and butter to hold you down before your meal arrives. Did we mention the bar menu?
Bud's bar menu perfectly compliments the menu– and it doesn't just include drinks! The list of satiating bar bites include; Hot, Sweet and Spicy Shrimp, Huevos Diablo, Fish Tacos, salad and bread. The cocktail offerings are cleverly fitting to the restaurant's seascape theme with options like the "Jaws," "The Perfect Storm," "Castaway," and "Master and Commander," among more.
For 23 years and counting, Bud's has been a gathering place for all occasions, from a family brunch to a date night, or even just a place to grab a drink after work. Though the emphasis remains largely on seafood dishes, the grille's classic menu impresses with their non-seafood selections. May we suggest the oh-so-tender Bud's Beef, the Chicken Marsala, Halibut with Beurre Blanco Sauce and buttered capers, or even Jambalaya? If you aren't a seafood lover, you are bound to find an alluring entrée!
For More Information:
Bud's Seafood Grille
314 Lincoln Center, Stockton
(209) 956-0270
BudsSeafood.com