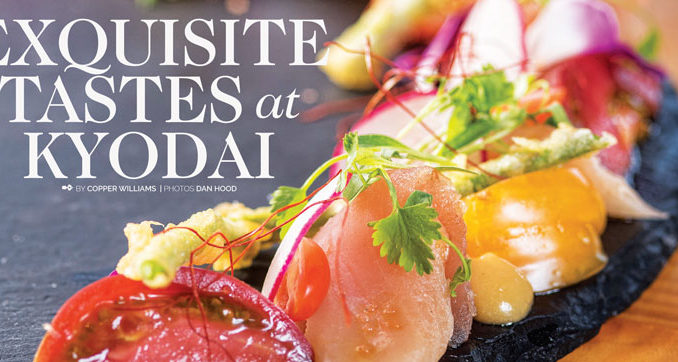 There's something special about the flavors crafted at Kyodai that can't be found anywhere else. Ask anyone at the sushi bar or seated at a table and they'll tell you it's the dedication of the staff or their passion for food that goes into each plate. In our honest opinion? It's a little bit of both, alongside the comradery between co-owners Kevin Pham and Andy Dang, who sculpted one of Stockton's most prized sushi restaurants.
This bond is what the duo brings to their guests, and those guests are more than welcome to challenge the chefs for new and exciting dishes if they're so inclined. "We have regulars that come in a couple times a week that don't even ask for a menu," Kevin grins. "They just leave it up to the chef to create whatever comes to mind with whatever fish and seasonal produce we have."
It's another way Kevin and Andy bring interaction and novelty to the restaurant. That, along with on-menu dishes like the Red Boy Roll, filled with shrimp tempura, spicy tuna, cucumbers, and more. And, let's be frank with ourselves, here. Can you really pass up the Bluefin roll? With negi-bluefin, akami, garlic cream, and jalapeno? No, we didn't think so.
But, believe it or not, Kyodai goes beyond the dinner table. Whether you're visiting for your first or fifteenth time, you're walking into an establishment surrounded with locality and simultaneously fused with that open air mood known best in the Bay. A hip, modern layout is your venue, padded with Kyodai's spectacular food: a work of art all on its own. Enjoy sleek, wooden tables and lighting that's perfect for not only date night, but also taking selfies with your friends and favorite dish! And, take our word for it, you'll want to snap a few before taking a bite.
Each freshly prepared roll is a thing of beauty, with every piece properly tucked in its rightful place to concoct a mouth-watering meal. You can thank Kevin and Andy for that, by the way. They prefer to follow a seasonal menu, rich in vegetables available right here in California. Take for example, one of the new favorites on the menu: Heirloom Albacore. With local asparagus, heirloom tomatoes, and fresh albacore, drizzled in miso mustard and chili oil, it's a dish of beauty. "We're moving toward more local produce," Kevin states. "We want to continue working with community farmers."
Amidst your meal, don't forget to snag a drink or two. The bar is stocked for your pleasure with a little something for everyone. Get creative with your meal and order a few sake bombs to go with that Black Cod entrée! And if you're a fan of our Lodi appellation, keep an eye out for wines from local vineyards. If alcohol isn't your deal may we suggest dessert? Now here's the hard part. Are you going to go with the Apple Roll? Or the Tempura Battered Cheesecake?
Whatever your taste of the evening, you simply can't go wrong with Kyodai. They've established themselves as one of the leading sushi artisans of our lovely valley and for good reason! Keeping up with the latest trends in L.A., San Francisco, and New York can be hard work. But Kevin and Andy have got your back in providing the latest and greatest menu specials. Drop in, grab a stool at the bar, and have a chat with some of the outstanding artists behind each roll. With friendly conversation, laughs galore, and exceptional cuisine, it's always a five-star dining experience.
Set Your Sights On:
Kyodai
Stone Creek Village
5779 Pacific Ave., Stockton
(209) 323-5495