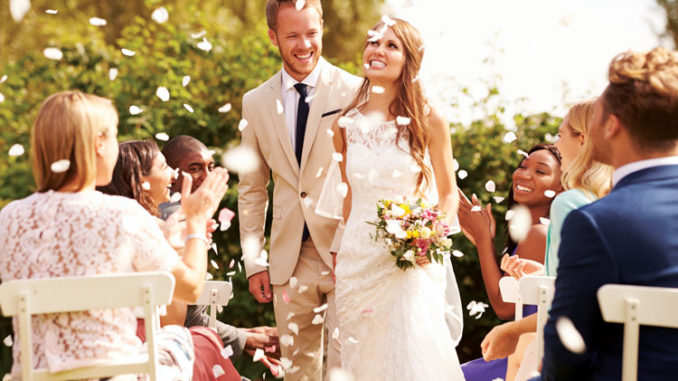 Don't let dueling families ruin your big day
Whether your family and future in-laws don't see eye to eye or the conflict exists between members on one side, don't let your wedding be the venue for a decades-long dispute to blow up. Instead, employ these helpful actions to stave off World War III and ensure you aren't tackling in-laws and drunken uncles in your wedding dress.
Tweak tradition
Blended families and in-laws who don't get along are a recipe for disaster on your big day. If the volcano of hurt feelings threatens to erupt mid-ceremony, do your best to calm the impending storm. Embrace tradition by creating a bride and groom side to separate quarreling guests. Or, if divorce is a factor, forgo the tradition of having one person walk the bride down the aisle and opt to make it a family affair or a one-woman journey to the altar.
Master the seating chart
You may not be able to stop squabbling siblings from interacting, but you can certainly try your hardest to limit their crossing paths. Make a diagram of your seating area, create a post-it tag for each guest, and get to work. It may take some shuffling, but with enough attention to detail, you should be able to seat guests with beef at different tables, or even opposite sides of the room.
Say no to alcohol
An open bar is like adding fuel to the fire. Opt for a cash bar, no alcohol, or at least a wine and beer-only reception if it will keep tempers from boiling over. Or, if a few choice players are causing you stress, alert the wedding planner and bartender. They can keep an eye on individuals and cut them off if necessary so you aren't the bad guy.
Call in reinforcements
In addition to the staff you have hired to help you get hitched without a hitch, employ a trustworthy brother-in-law or member of your bridal party to keep an eye on feuding relatives. These people can break up altercations before they draw attention, or run interference when it looks like your mother and mother-in-law might come face-to-face over the dessert table.
Let it go
Ultimately, it's your day. You can talk to family members beforehand and employ every trick in the book but sometimes you just have to say bye-bye to stressing over what you can't control. Let others do your dirty work and handle the potential agitators while you dance the night away.