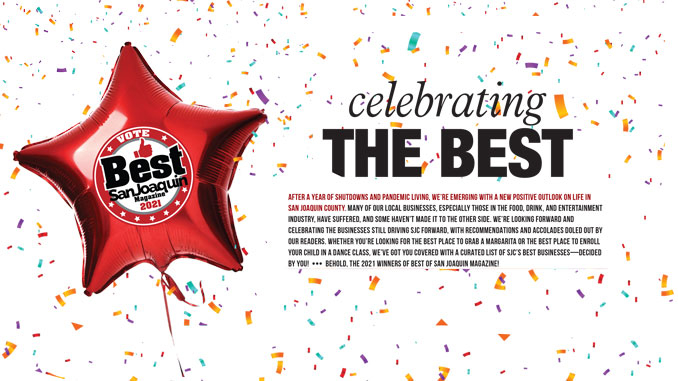 After a year of shutdowns and pandemic living, we're emerging with a new positive outlook on life in San Joaquin County. Many of our local businesses, especially those in the food, drink, and entertainment industry, have suffered, and some haven't made it to the other side. We're looking forward and celebrating the businesses still driving SJC forward, with recommendations and accolades doled out by our readers. Whether you're looking for the best place to grab a margarita or the best place to enroll your child in a dance class, we've got you covered with a curated list of SJC's BEST businesses—decided by you!  
---

Best Beer Brewery
In downtown Lodi, Five Window Beer Company's fifteen taps feature a rotating lineup of local favorite, bestselling, and newly released craft beers. Whether you like it hoppy or fruity, enjoy your brew alongside a wood-fired pizza or get it in a growler to take home. Or, hop on over to Lodi Beer Co. where local and seasonal favorites are always being poured. On the other side of town, High Water Brewing is bringing bold flavors with 36 taps and a full kitchen—they even have craft draft soda. Pick your poison and enjoy in the outdoor beer garden.    
Best Bloody Mary
Bid adieu to the boring Bloody Marys you've known all your life and say hello to Market Tavern's stunning Saturday and Sunday brunch menu where you'll find six tempting flavors like Smoked Pig (applewood bacon, half egg, cheese-stuffed fried olive, pickled vegetable) and Italian Stallion (meatball slider, pepperoni, parmesan, red chile flakes, pickled vegetable). Patrons of Ollie's Pub in Lodi know it's not just the place you go when you're looking for a proper pint – and they're letting you in on the secret. Meanwhile, American Waffle Diner is whipping up some mean Mary's all week long.
Best Craft Beer Pub/Beer Menu
The craft beer scene is hopping in San Joaquin County and our readers are sharing their favorite places to belly up to the bar and grab a cold one. Lodi Beer Co. is pouring a selection of award-winning lagers and ales. The Stockton-based microbrewery Valley Brewing Co. was the local watering hole long before they started serving up their own original flavors in 2015. Can't choose just one craft beer at Five Window Beer Company? Opt for a flight and you won't have to.
Best Craft Cocktail   
For killer cocktails in an upscale and inviting setting, our readers know to look no further than Market Tavern where classic cocktails like the Old Fashioned and Manhattan have a new look. Or head to Midgley's Public House for original house cocktails like a Peach Smash (Bird Dog Peach Whiskey, fresh lemon, muddled mint), Huckleberry Lemon Drop (360 Huckleberry Vodka, fresh lemon juice, simple syrup, cranberry, sugar rim), or Ruby Sparkle (grapefruit vodka, Aperol, St. Germaine, grapefruit juice, sparkling wine). Or, head north to Lodi's popular West Oak Nosh for a boozy brunch or an anytime-of-day cocktail. 
Best Coffee Spot (Local)
If coffee gives you a reason to get out of bed every morning, these local coffeeshops have the caffeine kick you're craving. House of Coffees is an institution in Lodi, serving up hot, iced, and blended coffees, made how you like it—flavored, sweet, or strong. With several locations around town, Stocktonians swear by Empresso Coffeehouse, where they've got the basics covered (drip, French press, and cold brew coffees) and are spicing up the coffee scene with drinks like their Mexican Mocha (also available as a frappé). Or, pop into Poppy Coffee for your daily cuppa in a quaint and modern setting.
Best Juice/Smoothie Bar
These juices and smoothies are sweet and packed with the vitamins, minerals, and antioxidants, making them the perfect—dare we say, healthy?—summer cooldown. Put some pep in your step with Nekter Juice Bar, where they're pressing, blending, and serving up freshly made juice, smoothies, and juice cleanses. Juice It Up! Lodi offers a full menu of smoothies, fresh and cold-pressed juices, and even smoothie bowls. And at Leti's Fruit, you can choose from fruity options like a Mexican agua fresca, smoothie, or juice.
Best Margarita
On the rocks, blended, served with salt, fruit-flavored or classic sweet and tart—there's no shortage of top-notch margaritas in the county. El Pazcifico Mexican Grill & Cantina is our readers' top pick for fruity margaritas in Lodi. For fresh squeezed margaritas with a fruity twist (like the mango margarita), grab a spot as Octavio's. Meanwhile, at La Mesa you can choose from more than half a dozen margarita flavors, including Piña Picante and Coco y Piña.
Best Tea Room
In Lodi, The Hidden Tea Room is an open secret and the best place to go for a traditional English high tea experience. Reserve a table or rent the tea room for your private event (15-25 guests). With a selection of traditional loose-leaf teas and modern iced tea flavors, even the youngest guests will enjoy their own "Teddy Bear Tea." Plus, high tea is served with a variety of scones and other seasonal finger foods.
---


Art Gallery
The Haggin Museum in Stockton has long been a favorite of residents young and old, relying on permanent collections that represent local history and interactive displays. Until July 18, the museum is tackling sustainability and conservation with an exhibition from the Bank of America Collection. Most art museums won't let you eat while you browse the artwork, but at Double Dip Gallery in Lodi, grabbing a cone of Gunther's Ice Cream is part of the experience. The Stockton Art League-sponsored Elsie May Goodwin Gallery not only has art on display but offers classes and working art spaces. While temporarily closed, online viewings are encouraged on the website.
Local Casino
Looking for a little excitement? Some of the best casinos are just a stones throw away. Within 100 miles of San Joaquin County, gamblers will find Jackson Rancheria Casino Resort in Jackson that offers a wide array of casino games and slot machines, fine dining, and concerts and entertainment. Red Hawk Casino in Placerville ups the ante with childcare options at the 24-hour operation that features plenty of gaming options, retail stores, and five restaurants. Third on our list is Thunder Valley Casino Resort in Lincoln where the gaming hotel also boasts golf and a spa for a truly luxurious getaway.
Downtown Stockton Hotspot
If you're looking for good food and a good atmosphere, locals say you should flock to Cast Iron Trading Co., a downtown eatery with live music and an outdoor patio. The Downtowner beckons regulars in with rotating specials and Good Mood Food staples that identify as comfort grub with a healthy touch. The Stockton Waterfront is always a good idea if you're looking for a good place to stroll, grab a drink, and have dinner all in one spot.
Golf Course (Private)
At these three courses, membership is worth it. Avid golfers will enjoy the benefits of becoming a member at Woodbridge Golf & Country Club where players can create their own 9-hole combinations, work with PGA staff, and take advantage of the other on-site amenities including access to tennis courts, a fitness center, and more. Brookside Golf & Country Club is another worthy contender with a par-72 18-Hole Championship Golf Course on property. The history at Stockton Golf & Country Club is enough to draw anyone in—one of the first twelve courses in California—but the upgrades to the clubhouse, fitness center, and dining rooms, are what make membership so appealing.
Golf Course (Public)
No membership needed (though some are offered) to hit a few balls on these courses. Two hundred-year-old oak trees decorate the 18-hole, par-72 course at Swenson Park as well as the nine-hole par-3 course. In Lodi, Micke Grove is the premier public course to try, with a links-style golf course featuring lakes, sand bunkers, and panoramic views. Also in Stockton, Elkhorn Golf Club offers more than just a place to play a round, with an active social calendar and plenty of tournament opportunities, there's a lot to be a part of at Elkhorn.
---


American Restaurant
Want to skip cooking for the night? When you're looking for classic American dishes, look no further than Market Tavern, a Lincoln Center restaurant that always appears to be buzzing with hungry guests. Around the corner at Midgley's Public House, Chef Michael Midgley is a master in the kitchen, turning out creative fare that is both fantastic and filling. At Lodi Beer Company, a beer and a burger is a staple, but it's only the tip of the iceberg.
Appetizers
Michael Midgley puts a lot of effort into crafting the perfect appetizers for guests. The list includes at Midgley's Public House everything from Ahi Nachos to Prime Rib Sliders, Crack Shrimp to Asparagus Cigars. Stop in for shareables or make it a meal. Market Tavern also has a long list of worthy contenders when it comes to best appetizers including Furikake Fries, Roasted Beets, and Griddled Cornbread. At Papapavlo's Bistro & Bar (with locations in Stockton and Lodi) you can try a little bit of everything by ordering a Appetizer Platter, complete with Mushroom Triangles, Feta Cheese Triangles, Roma Tomato Bruschetta, Spinach Feta Cheese Appetizers, Hummus, and Tzatziki Sauce. Oh, and don't forget the Greek classic Flaming Cheese.
BBQ
'Tis the season to fire up the grill! But spare yourself the trouble and leave the work to the masters. Fat City Brew & BBQ serves a heavy menu of meats and sides that will make your mouth water. Expert Tip: We suggest not missing the junk nachos. At Tin Roof BBQ, choose from premium smoked meats and house-made sides Monday through Saturday. Or, order a BBQ dish from Stockton's Waterloo Restaurant and then take home the sauce to enjoy later.
Bakery
What is better than warm treats from a local bakery? We're struggling to think of anything past the dessert case at M & W Dutch American Bakery, stuffed with a variety of cakes, cookies, and pastries. At Corner Scone Bakery, a rotating menu of treats are baked daily, plus staples like tasty croissants customers can depend on. At Fizz Bakery there is lots to try but it's the cupcakes and custom cakes that should never be skipped, whether you want a quick treat for yourself or a decadent dessert to impress at a party.
Bar Food
Sometimes you just want something quick to wash down your beer with. At Midgley's Public House, the emphasis is on elevated bar snacks, not your usual chicken tenders and nachos. While at Porter's Pub on School Street they take the bar atmosphere and run with it, turning out easy to eat and easy to please meals and snacks that definitely fit the bar food bill. Lodi Beer Company, also on School Street, leans on its old-school tavern feel and in-house brewery to accompany a menu of comfort food that's both tasty and fresh.
Breakfast Spot
A hamburger for breakfast? Why not? However, that's not all Chuck's Hamburgers offers (despite the name). This hometown favorite has a full menu of breakfast staples done right from eggs and bacon to omelets and more. Avenue Grill in Lodi is another easy choice for breakfast where the menu is made up of classics with some twists such as the Poorman's Benedict, Carnitas Quesadilla, and the Potato Platter. If you're looking for breakfast with a view, Bob's At the Marina provides both the aesthetics and the fare worth driving for.
Brunch
When breakfast comes a little later in the day, perhaps enjoyed on a lazy Friday afternoon or on Sunday as a final farewell to the weekend, we like to call it brunch. And when it comes to brunch, no one does it better than Bud's Seafood Grille (just ask our readers). The seafood staple in Lincoln Center serves up a variety of fare from both land and sea, paired with cocktails primed for day drinking. At Mimosas Gourmet, the portions are big and the drinks even bigger. Come by and have a seat on the patio for quality people watching while you swig mimosas and other sippers over a gargantuan omelet. Market Tavern, also in Lincoln Center, does brunch right during select hours on Saturdays and Sundays.
Buffalo Wings
When it comes to wings, Smitty's Wings & Things is the gold standard of awesome, a perfect mix of BIG, fresh chicken wings and bold sauces dreamed up by a former NFL player (Steve Smith) and his wife, Jaime. Fire Wings in Lodi brings the heat with flavors like mango habanero and buffalo stampede. Or, get weird with a milder combo like peanut butter. Porter's Pub may not be a wings-only destination, but that doesn't stop the restaurant from bringing the heat when it comes this dish. We recommend trying a bite of the Korean Pepper or Honey Sriracha.
Burger (Classic)
Somedays you just need a big juicy burger. For a traditional rendition, hit up Bob's at the Marina where the burgers are big and cooked to perfection—why mess with a good thing, right? At Squeeze Burger, large sesame buns house patties outfitted with the infamous cheese skirt. And Moo Moo's Burger Barn keeps it real with a simple menu that includes burgers, fries, and shakes.
Burger (Specialty)
When you're looking for innovation, the classic burger quickly becomes the base for a more over-the-top experience. Midgley's Public House knows how to get creative in the kitchen, topping beef patties with everything from spam and pineapple to prime rib and fried onion strings. Port City Burgers also knows how to get funky, turning out menu items such as The Barnyard and The Spicy Cowboy. At Brookside Country Club there is one menu item that rounded up enough votes to take third place in this competitive category—the St. Andrews Burger.
Casual Dining
A casual meal doesn't mean simple food, it just means a fuss-free atmosphere to enjoy your fare. Market Tavern brings in crowds to enjoy its varied menu for brunch, lunch, and dinner. At Garlic Brothers you can dive into Italian-inspired dishes, including an array of pastas, stone-oven pizzas, and other comfort foods. At Midgley's Public House we're digging into everything from juicy steaks to creamy soups and beyond.
Caterer
When you need to feed a crowd, leave the work to the pros. San Joaquin County is brimming with caterers worthy of your business. Angelina's Spaghetti House is so good it's a go-to for nearby weddings. While at Papapavlo's Bistro & Bar you can indulge in Medditerrenean dishes at reasonable prices. For a kicked-back affair, order up from Tin Roof BBQ where the process to getting smoked brisket and smoky beans to your dinner table is as easy as 1-2 (no third step necessary).
Chef
Michael Midgley is no stranger to this category. Stockton's resident celebrity chef once again takes home the gold for best chef in SJC. Chris Isert from Brookside Country Club is another favorite, with a passion for food and feeding members and their family/friends.
Chinese
When you want the good stuff, our readers suggest a trip to Dave Wong's Restaurant in Stockton. The atmosphere is sleek and the food is iconic. Think traditional Chinese dishes like lemon chicken and egg foo yon. At Yen Du Restaurant, guests can gobble up entrees with roots in Sichuan, Peking, and Hunan. At Peking Restaurant, the digs are simple, focusing instead of the quality of what's coming out of the kitchen.
Clam Chowder
The star of the show when it comes to soups, Bud's Seafood Grille is an easy pick for this best of category, but not far away, also in Lincoln Center, Midgley's Public House can give the seafood joint a run for its money with both New England and Manhattan style options popping up on the menu. For those lucky enough to dine at Brookside Country Club, Chef Chris Isert's version of the soup will have you slurping up every last bit.
Cheese Plate/Charcuterie Board
Charcuterie is having a serious moment—in fact, it's been going on so long I'm not even sure we can call it a moment anymore. Instead, cheese plates are just part of life. Lisa Spreads MM is a master at turning out curated cheese boards fit for any occasion, complete with seasonal accoutrements that make every board festive. Cheese Central was crafting cheese platters before it was trendy. Stop in to hand select items for your cheese board or ask about pre-made boxes to take home. Let's Brie Friends can do a simple plate or an extravagant display. Call to order a custom grazing table, to-go box, or customizable platter.
Deli
It's about more than sandwiches at Podesto's Market (although those are gold, too!). The Lincoln Center market has focused on good prices and a community feel since its inception in 1982. Stop in for a gourmet deli sandwich or shop the weekly specials for deals on kitchen staples and specialty items. Gian's Delicatessen offers an Italian-inspired menu featuring sandwiches and daily specials including spaghetti and homemade raviolis. Fiori's Butcher Shoppe has modest roots as a butcher shop where neighbors would go for their marinated meats. Today, the family-owned store is known for its hot and cold sandwiches and is setup for dine-in eating (when permitted).
Dessert (Take Home)
Picking up sweets to go? Nothing Bundt Cakes is reader's favorite spot to pick up a bundtlet, bundt cake, or dozen bundtinis in myriad of flavors, including monthly specials. Residents can't get enough of the goods served up at 85 Degrees Celsius either, a chain with a Stockton location featuring cake slices, whole cakes, pastries, and breads. SweetArts Bakery in Tracy has too many options to choose from—seriously, we dare you to pick just one. And, the bakery sells treats that fit many diets including gluten-free and keto.
Donuts/Pastry
Donuts are versatile. Breakfast item? Of course! Dessert? Definitely! But one thing we know for sure is all donuts are not created equal. Readers go gaga over the treats at Tender Donut in Stockton—from perfectly glazed to colorfully sprinkled. At Star Donuts (also in Stockton) the usual suspects sit next to inventive options like a cinnamon toast crunch donut that uses real cereal. Most customers, however, rave about the soft dough more than the toppings. At Donut King, you can try everything from a blueberry cake donut to an apple fritter.
Best Filipino Restaurant
In San Joaquin County we aren't short on quality Filipino eateries. At Best Lumpia, it's in the name (but lumpia is just the start of the menu). At Papa Urb's Grill, chefs offer up both traditional dishes and fun fusions that mix Filipino cooking with tacos, wings, sliders, and more. With locations in Tracy and Stockton, Island Gourmet sells hot plates and prepared meals as well as market items from Asia.
Fine Dining
Enjoy a fancy night out on the town by stepping foot into Prime Table Steak House. The upscale cocktails and dry-aged steaks are sure to impress any dinner companion. Locals know that Pietro's Trattoria is the real deal when it comes to Italian cooking. Tucked inside of Wine & Roses, Towne House Restaurant offers a seasonal rotating menu that can be enjoyed under the twinkling outdoor lights in the hotel's coveted courtyard.
Food Truck
Mobile menus give "food on the go" a whole new meaning. Port City Burger puts its namesake centerstage, offering delicious burgers that rival those of any sit down eatery. A Moveable Feast serves up meals not always found in a food truck, specializing in crab cakes, Cajun shrimp, island salmon, and other fine grub. Taqueria El Grullense is an elevated Mexican food truck handing out burritos, tacos, quesadillas, and other food at affordable prices.
Ice Cream/Frozen Yogurt
There's something so fun about making your own frozen yogurt treat, like a nostalgic nod to build-your-own-sundae sleepovers as a kid. At Tigers Yogurt, customers love how many options there are to choose from for both flavors and toppings. Honey Treat Yogurt Shoppe rotates flavors to include two new ones every day, plus more than 20 toppings to choose from. In Lodi at Oh My Yogurt stack it with fruit or add candy.
Happy Hour
It may just be the happiest hour of the day! But where do you want to be when the clock strikes happy? Midgley's Public House is a clear winner when it comes to happy hour deals on drinks and food. Up next, Garlic Brothers offers deals worth dining in for. Or, keep it simple over at Porter's Pub. Things are subject to change so keep an eye on local websites or call ahead to confirm hours and deals.
Health Food Store
When you're looking for diet-friendly fare or socially conscious goods, your average super market doesn't always make it easy to find the right products. Specialty health stores, however, know how important ingredients and sourcing are to us! Artesian Health Foods leads the pack with everything from vitamins and supplements to pre-packaged goods (with locations in Lincoln Center and Tracy). Sheri's Sonshine Nutrition Center offers a similar concept in Lodi. At Green's Nutrition, private health consultations are also in stock next to all those healthy groceries and supplements.
Indian Restaurant
Authenticity is what matters here. Tandoori Nites Restaurant is known for its classic Indian dishes, lunch buffet, and full bar. At Swagat Indian Cuisine, they keep it casual, with fare that represents both northern and southern Indian fare. In Lodi, Friends Restaurant, they'll always be there for you with garlic naan, chicken tikka masala, and vegetable samosas.
Italian Restaurant (Not Pizza)
Pietro's Trattoria makes every course standout, starting with an appetizer of bruschetta and finishing with seasonal gelato. Angelina's Spaghetti House is known for its asparagus ravioli but its other pastas and entrees are just as worthy of praise. At De Vega Brothers, it's nearly impossible to choose between the fresh seafood offerings and more traditional pastas.
Japanese Restaurant
The husband-wife team of Sonny and Tim Chang have pulled out yet another win in this category, celebrating their massive stand-out menu that includes everything from sushi to teriyaki chicken at their Lodi business,  Komachi Sushi. Mikasa Asian Bistro & Sushi Bar is another contender, where Chef Harry is busy creating foods modeled after his many travels to Asia, but not lacking invention. Shirasoni Japanese Restaurant is a small but mighty local chain with a Stockton outpost that whips up flavorful teppanyaki with flair, as well as serves sushi, sashimi, and donburi.
Mexican Restaurant
The number of readers who voted El Pazcifico Mexican Grill & Cantina as their favorite in this category (and others) certainly explains the perpetual line at this popular Downtown Lodi hotspot. If you can't get in, try Octavio's Restaurant instead, which debuted a refreshed look. Locals can't get enough of the cuisine at Don Luis Mexican Restaurant, which reflects both Chef Cuate's professional training and his family's influence.
Outdoor/Patio Dining
2020-2021 has been a year filled with outdoor eating, and while we may have been welcomed back indoors, we'll stay take a seat al fresca at these restaurants. Garlic Brothers' patio reigns supreme, while Pietro's Trattoria in Lodi and Midgley's Public House smack dab in the middle of Lincoln Center come in second and third respectively.
Pizza (Non-chain)
We can't help ourselves from falling in love with pizza all over the county. David's Pizza is a standout, tossing New York Style pies in Stockton. Michael's New York Style Pizza recently added to its menu, but the staples that have been delighting customers for years remain. Dante's Pizza & Café allows you to build your own or choose from a menu of specialty pies Wednesday through Sunday.
Salads
Summer is the season of salads. We love creating our own towering creations at Whirlow's where the options look and feel endless. Salads may not be the first item that comes to mind when you picture Bud's Seafood Grille, but if you're looking for leafy greens, this is the place to stop in Lincoln Center. If you have the will power to look past the long list of carb-heavy dishes and spring for a salad instead, Papapavlo's Bistro & Bar's selections will not disappoint.
Sandwiches
Something about a sandwich just feels like the most classic lunch staple you can order. But when it comes to stacking meat and cheese on delicious bread, who does it best? It isn't the first time readers have boasted about the selections at Podesto's Market & Deli. Fiori's Butcher Shoppe, however, came in second for its menu filled with marinated meats and prime cuts. Genova Bakery owes part of its success to its infamous bread, but that's not the only ingredient helping this sandwich shop find its way into locals' hearts. 
Seafood Restaurant
There are restaurants that do seafood well and then there is Bud's Seafood Grille. Truly, there is no competition when it comes to this seafood hotspot that opened its doors in 1993. Located in Lincoln Center, Bud's is focused on serving fresh, quality ingredients to guests, concocting well-balanced meals that are heavy on fish. Everything from the oysters to the salmon, the scampi to the mahi mahi are finished to perfection, and with multiple dine-in atmospheres to choose from as well as catering options, it's easy to get your hands on the delicious grub (and the fun and funky cocktails that accompany them).
Steak/Prime Rib
Sometimes you just need a big, juicy steak. But from the cut to the cooking, not every steak is the same. For the best steak or prime rib dinner in San Joaquin County, stop into Prime Table Steak House in Lincoln Center. At El Rancho Inn, the focus is on the steak and lobster. Midgley's Public House doesn't skimp on size when it comes to these meaty entrees—choose from a 48 oz. Tomahawk Ribeye, a 14 oz. ribeye, or an 8 oz. filet mignon.
Sushi
Our Japanese eateries sure know their stuff when it comes to crafting popular sushi rolls. Mikasa Asian Bistro & Sushi Bar is expert at turning out spicy and mild rolls, including classic options and more inventive choices. It's no surprise Komachi Sushi is also landing on this list, with more choices than we can count when it comes to fresh rolls. Cocoro Japanese Bistro & Sushi Bar has an entire menu section dedicated to creative rolls (and another one featuring the restaurant's simpler options).
Tacos
El Pazcifico Mexican Grill & Cantina are experts at plating a variety of authentic dishes that look almost as good as they taste. Regardless of what meat you choose the tacos here are no exception. There's more than one way to enjoy tacos at Octavio's Restaurant—choose from four popular options, including some that take an out-of-the-box approach to this classic menu item. Keep it casual at Adalberto's Mexican Food Restaurant and order tacos anytime of day—pssst it's open 24 hours.
Thai Cuisine
When it comes to Thai, readers spoke out about their three favorites. Thai Spices Restaurant offers traditional fare including spicy curries and greasy noodles in a laidback environment while Thai Me Up debuted a new bar with the new year, earning extra points in the style and drinks department. However, it's still the food that keeps patrons flooding in. Siamese Street Thai Restaurant does things a bit differently—adding fusion dishes to its list of classic eats housed in a vibrant space.
Waffles
We are never amazed when a place with waffle in the name wins top prize for this category. American Waffle Diner takes home the gold for its long list of well-done waffles including the menu's newest item: The San Joaquin Magazine Waffle. Or, dive into a stack at Avenue Grill where specialty waffles pop up at the diner every so often. Mimosas Gourmet knows how to dress up a breakfast. Stop here for more than the standard—guests can choose between options both savory and sweet.
---


Best Allergist
Whether your kryptonite is pollen or peanuts, soy or shellfish, allergies can stop you in your tracks. Sometimes those over-the-counter meds pack enough punch to take the edge off, but oftentimes nagging or more serious allergies will have you searching for stronger stuff. And for more than 30 years, Stocktonians have trusted the allergy experts at Allergy Immunology & Asthma Medical Group to help get their allergies under control.
Best Cosmetic Surgery
Looking good and feeling good is more than a passing trend. At Vu Plastic Surgery, Dr. Hugh Vu isn't interested in a cookie-cutter approach to cosmetic surgery. Instead, he believes in taking the time to understand the patient's personal goals and achieve lasting results. McNemar Cosmetic Surgery's Dr. Thomas McNemar puts his natural affinity for precision and perfection to work helping his patients accentuate their outer beauty while building confidence to enhance their inner beauty.
Best Cross Fit Studio
The team at Crossfit 209 Sport has one goal: help you experience what your body was built to do with a focus on varied physical exercises that mimic natural and functional movements. At ASAP Fitness, you'll do more than feel the burn—you'll join a community that is always rooting for you. The founders of The Camp Transformation Center recognized a need for a new approach to weight loss and fitness. At the Lodi location (one of more than 100 locations), locals are finding the support and motivation they need to change their lives and shed extra weight.       
Best Day Spa
Year after year, locals agree that the best relaxation staycation can be found at The Spa at Wine & Roses. Just try to top their classic Wellness Message or hydrating Honey Bee Good message. Or if you're looking to pencil some reoccurring relaxation into your monthly schedule, Perfect Balance Day Spa's membership packages are the way to go. Meanwhile, Blush Bar will make you feel like a whole new person with their lash extension experts and menu of clinical skin care solutions.
Best Dentist (Cosmetic)
Want a smile that will light up the room? Lodi's Dr. Todd Franklin knows that a radiant smile is a healthy smile, so he offers cosmetic services ranging from fixing cracked and broken teeth to teeth whitening, enamel or gum shaping, and more. Dr. Lester Low treats every patient like family to ensure top-notch dental care to Stockton residents. And at Martin Dentistry, you have three times the cosmetic and implant dentistry experts: Dr. Doug Martin, Dr. Dax Martin, and Dr. Sky Martin have the experience to address your every dental concern.   
Best Dentist (Pediatric)
Kids Care Dental & Orthodontics knows that lifelong dental health starts young, so they aim to put young patients at ease while addressing all dental needs in one place. Martin Dentistry isn't just for mom and dad; the youngest members of the family will also benefit from the team's expertise and the whole family will leave with brighter smiles. Say cheese! Meanwhile, Stockton native, mom, and Navy veteran Dr. Sharon Manois is bringing a modern approach to dentistry that will put even the youngest patients at ease. 
Best Orthodontist
At Samra Orthodontics (Stockton and Modesto), Dr. Manjeet Samra and Dr. Aaron Rondon focus on treating people, not patients, which means they're focused on the big picture and know what a big impact your orthodontic journey can have. Dr. Sean Collins's patients love his professionalism and knowledge. Dare we say, he can make getting braces enjoyable? When little smiles need a little straightening, Kids Care Dental & Orthodontics is there.  
Best Dermatologist/Skin Doctor
Proper skin care is about more than just pampering yourself. From skin cancers to eczema, rosacea, hair loss, and more, Dr. Stuart Jacobs knows that the idea that "it's only skin deep" has no place in medical care and leverages his more than 30 years of experience to ensure patients receive the treatment they need. At Fairmont Dermatology, Dr. Abdallah Khourdaji customizes each skin care treatment, whether it is for skin cancer or cosmetic. The doctor duo at Quail Lakes Dermatology is committed to encouraging preventative measures (wear your sunscreen!), as well as addressing existing skin concerns.
Best Eye Care/Optometrist
Brookside Optometry Group has been a trusted provider of eyecare since three of Stockton's largest optometric practices joined forces back in 1998. More than 20 years later, their team includes 11 highly trained optometry experts who have seen it all. Patients look to Zeiter Eye Medical Group, the leading provider of cataract treatment and surgeries in the Central Valley, for eye exams, glaucoma treatments, and – yes – cataract treatments. At Midtown Optometry, husband-and-wife team Dr. Derron and Dr. Leanne Lee offer vision services for the whole family, including eyewear, lenses, and vision therapy.  
Best Facial
Treat yourself to 45 minutes of pure bliss with one of the half a dozen facials offered at Blush Bar in Stockton or allow the experienced estheticians at Perfect Balance Day Spa to create a facial fully customized for your skin type and concerns. The Spa at Wine & Roses offer a variety of facials depending on your skin type and problem areas. You might opt for a Beautiful Back Purification, all the benefits of a facial, but for your back! There's even a facial designed just for gents.
Best Family Health Practice
With more than 350 primary care and specialty physicians throughout Stanislaus, San Joaquin, and Merced counties, Sutter Gould Medical Foundation is a not-for-profit healthcare organization dedicated to providing the best care for every member of the family. HT Family Physicians is a private practice that prides itself on offering comprehensive primary care, preventive care, and disease management services at their locations in Stockton and Lodi. When your family joins Kaiser Permanente, you're joining a healthcare network 40 hospitals, 700 medical offices, and 23,000 physicians strong.  
Best Fitness Classes
Thanks to the popularity of fitness classes, there's no need to go it alone. Whether you're looking to improve your strength, flexibility, or form, hoping to heal an injury, or just seeking some comradery, you're sure to find a class at Twin Arbors Private Sports Club in the pool, on the yoga mat, or in the gym. Form First Functional Fitness (aka F4 Training) prioritizes – as you might guess from the name – teaching proper form through a rotating lineup of classes. At Shine Cycle + Yoga + Barre your workout will come alive with a beat-based indoor-cycling class and Shine's specialty hot yoga.  
Best Hair Salon Studio
The pandemic is over and those emergency kitchen scissor sheers just aren't going to cut it anymore. Leave the styling to the pros at Pomp Salon where bold cuts and bright colors are second to none. Or turn to UNIQO Salon in Downtown Stockton for modern, organic, and out-of-the-box cuts, colors, and hair care regimens. From blowouts to Brazilians, bobs, beach waves, and blue updos, Lux Salon has you covered from roots to tips.     
Best Health Club (with multiple locations)
With 60+ locations up and down California, In Shape Health Club got its start in Stockton and remains a flexible and dependable option for San Joaquin County locals looking to get their sweat on. Built on the philosophy that a healthy lifestyle takes more than a good workout, In Shape aims to be a place where community and overall health keep their members coming back time after time.
Best Health Club (with one location)
If you're struggling to find motivation in the cookie cutter, locations-across-the-nation chains, these local health clubs are here to offer you all the personalized support you need to take the next step in your fitness journey. Twin Arbors Private Sports Club wants to help you turn your health into a habit with their wellness-focused programs. And at Form First Functional Fitness you're guaranteed a well-rounded workout regime with a different style of workout offered every day.
Best Hearing Center
Losing your hearing can mean losing a little piece of your autonomy. You miss out on conversations with your loved ones – and chase them from the room with the TV blaring. But, thanks to American Hearing Aids, Stocktonians have been hearing loud and clear for more than 20 years. With locations throughout the greater Sacramento area (including Lodi and Stockton), Sacramento ENT can address hearing related concerns like sudden or gradual loss of hearing, tinnitus, and ear infections. At the University of the Pacific Hearing and Balance Center, the experts are with you every step of the way from prevention to rehabilitation.
Best Hospital
Deciding where to turn for the best medical care can be a stressful process. Luckily, our readers' recommendations mean you can rest assured you'll receive the best care possible. St. Joseph's Medical Center is at the top of the list with their online ER waiting room, patient navigator services, and a variety of health-centric classes. Based in Lodi, Adventist Health Lodi Memorial Hospital is one of the region's premier nonprofit healthcare providers who not only care for patients, but care about them as well. And among Kaiser Permanente's 40 hospitals and 700 medical offices, Kaiser Stockton stands out for great patient care.      
Best Hospice/Palliative Care
When choosing the best end of life care for your loved ones, it is important to trust the care providers and at Hospice of San Joaquin nothing is more important that ensuring their patients receive the dignity and care they deserve. And at Community Hospice in Modesto, you can be sure your loved ones will be met with the same compassion, quality care, and integrity that has driven the organization for the last four decades. 
Best Independent Pharmacy
Customer service is paramount to independent pharmacies, meaning you can expect personalized attention each and every time. At Hammer Lane Pharmacy, that's exactly what's keeps patients coming back—that and the wide variety of insurances accepted, the flexibility of in-person refill or delivery options, and competitive pricing. The team takes the time to ensure you understand what your medications do and how they work, so that you leave feeling in control of your health.    
Best Lasik Eye Surgery
If you're fed up with fiddling with contact lens and constantly cleaning those smudged glasses, let the local Lasik experts at Zeiter Eye Medical Group clear up your questions and explain your options. Heritage Eye's Dr. Kenneth Miselis know that Lasik can be a life-changing experience and finds the process almost as rewarding as his patients do. Brookside Optometry Group's team of experts has performed or assisted with more than 30,000 Lasik procedures—no doubt that you're in good hands here! 
Best Medical Supply Store
If you're aches and pains are bad to the bone, it's time to stop by The Bone Store. Sometimes pain relief is as simple as finding the right pillow to alleviate pressure points, selecting the right brace for a little added support, or slipping into the perfect pair of supportive shoes to have you standing tall. Up the ante with a zero-gravity chair or stress-less recliners.
Best OB-GYN
Your OB-GYN is going to be involved in some of life's biggest, and most sensitive, moments, so choosing a provider isn't a decision to take lightly. With a cumulative 65 years of experience and as the largest OB/GYN Medical Group in San Joaquin County, Gill OB/GYN Medical Group believe that their patients deserve not just great care, but also compassion and comfort. At Dignity Health, Dr. Bhagya Nakka knows women's health issues inside and out, offering care before, during, and after pregnancy. From high-risk pregnancies to cervical cancer screenings, hysterectomies, and more, Dr. Leslie Sackschewsky ensures that her patients are fully involved in decisions around their health.
Best Orthopedics
Out of sight, out of mind is not always a great mantra, especially when it comes to your bones. Orthopedic trauma and sports injuries require a different treatment approach than conditions that have developed gradually, but Alpine Orthopaedic Medical Group is ready to help patients recover from either—or both. From pain management to surgery or joint replacement, they'll work with you to develop the best treatment plan to get you back on your feet.  
Best Physical Therapy Company
No doubt that physical therapy can work miracles and Movement for Life Physical Therapy is committed to providing effective and efficient treatment methods with a focus on injury prevention to cut down on additional recovery time. Pine Street Physical & Occupational Therapy is dedicated to seeing patients recover quickly thanks to their evidence-based approach to physical therapy. Golden Bear Therapy Partners works to get patients the resources they need by leveraging a growing network of care providers across the West Coast.   
Best Skilled Nursing
Trust our readers' recommendations to ease any apprehension you have when picking a skilled nursing facility for your loved one. The Meadowood Skilled Nursing facility at O'Connor Woods is known for their focus on rehabilitation while providing around-the-clock care according to each resident's needs. Likewise, at Fairmount Rehabilitation Hospital, the focus is providing compassionate care with medical integrity. And at Arbor Rehabilitation & Nursing Center, the staff works day and night to ensure residents can return home with as much freedom and autonomy as possible. 
Best Yoga Studio
Stretch away the stress at some of San Joaquin County's top yoga studios. Shine Cycle + Yoga + Barre is at the top of our readers' list, boasting a selection of classes whether you're looking for relaxation, recharging, or flexibility. For a schedule as flexible as you, look into classes at Now & Zen Yoga Studio in Lodi or break a sweat with Stockton's True You Hot Yoga.
Best Urgent Care
It's always good to know where you can head for all of life's little whoopsies. Sutter Gould Medical Foundation has several urgent care locations throughout the county to offer quick care no matter where you are. At Stockton Urgent Care Medical Clinic, you can catch up on your immunizations, get stiches, and address other symptoms that require quick attention. Trinity Urgent Care serves the greater Stockton and Elk Grove areas and is ready to get you back in tip-top shape whether you have a broken bone or the flu.   
---


Best Air Conditioning/Heating
Is there anything worse than your heating system breaking in the middle of a frigid winter storm? Aside from maybe your AC dying during a blazing summer heatwave, that is. Either way, Stockton's trusted Lovotti Inc. has you covered and will get your systems up and running in no time. Or reach out to Queirolo's Heating & Air Conditioning, where it's been all about family since 1954 and the team's priority is ensuring your family's comfort year-round. Coaches HVAC ExtraordinAIR specializes in more than puns – give them a call for commercial or residential HVAC (heating, ventilation, and air conditioning) installations or repairs. 
Best Antique Store
One man's trash is another man's treasure and you never know what treasures will turn up at our local antique shops. Turn heads with a new-to-you fashion accessory from Hubba Hubba! Antiques on Stockton's Miracle Mile or pick up the perfect repurposed piece of furniture. At New & Again Consignment Furniture Gallery in Downtown Lodi, you can choose from a great selection of gently used furniture, antiques, collectibles, and other household goods. Complete your antiquing circuit just down the street at Secondhand Rose! 
Best Custom Blinds
With 20 years of experience helping customers find their perfect window coverings, Discovery Shutters & Shadings is sure to uncover the perfect option to compliment your décor and keep those harsh summer rays shut out. And who said hefty price tags needs to come between you and your beautiful window coverings anyway? At Budget Blinds, you can request a free in-home or virtual consultation to see just how many options you have at different price points. Or reach out to Lodi's Classic Design Interiors for a little professional advice if you're in over your head with your DIY project.  
Best Flooring Shop
Your floors have a lot to stand up to—spills, stains, scuffs, and a lifetime of footsteps. Make sure they're up to the task by trusting our readers' top flooring picks. At Raphael Hardwood Flooring, the experts will guide you through the process of choosing the perfect hardwood or waterproof flooring for your home. Classic Design Interiors will set you up from floor to ceiling and help you choose the right carpet, tile, hardwood, or other material for every room in the house.  
Best Furniture Store (Modern)
C.R. Porter Home Collection has been bringing chic Bay Area style to San Joaquin County for more than 20 years and the staff is eager to help you find your new favorite piece when you visit their Stockton showroom. At Minerva's Furniture whether you're looking for a new couch, recliner, or mattress, comfort comes first. Get ready to sit back and relax. And for one-stop shopping, swing by Lodi's Thornton House Furniture where you'll find plenty of quality furniture and home accessories.
Best Garden/Patio/Outdoor
Rain or shine, outdoor living is front and center in San Joaquin County and our readers' favorite garden stores will bring you a little sunshine all year long. With a rotating inventory of local honey, produce, cheeses, jams, gardening tools, gifts, live plants, and other goodies, In Season is your go-to garden shop for every season. And when it comes to bringing a little bit of the garden inside, With Garden Flair is there to help with unique home accessories alongside their selection of patio furnishings. Meanwhile, Delta Tree Farm is ready to meet your every plant nursery need. 
Best Home Builder
Have a specific vision for your future home? Caresco Homes has built more than 1,000 homes in San Joaquin County and can help bring your ideas to life. FCB Homes doesn't just build houses, they build communities. Reach out to learn more about their latest projects in Lodi. The foundations of Elliott Homes were laid in 1914 and since then the company has been building family homes throughout California and Arizona. 
Best Interior Designer
Picking a style for your home is a very personal choice. After all, you want it to feel like your home, not like a big box store showroom. But what do you do when you don't actually know what your style is? Kathleen Jennison, owner and lead designer at KTJ Design Co., has you covered! She'll work with you to find the perfect look so you feel comfortable and, well, at home. Classic Design Interiors has a whole team to help you pick the perfect look, from flooring to cabinets, fixtures, and lighting. At CR Porter Home Collection, you can find the perfect furniture and all the finishing touches you need to make your home your own.  
Best Kitchen Remodeling
With a professional interior design team and suppliers offering all the best classic and trending countertops and cabinetry, Classic Design Interiors can help you cook up the perfect design for your kitchen. The family-owned Mazzera's Remodeling Center has picked up a few tips and tricks over the last 80 years of helping homeowners with kitchen remodels. Or, if your kitchen project is starting to look more like a rebuild than a remodel, Brent Workman Construction (a Lodi-based general contractor) can help you build everything from the ground up.     
Best Solar Company
Thinking about switching to solar but don't know where to start? No stress, our readers know just the place. SunPower by The Solar Quote uses a solar technology designed to make the most of every ray of sun last longer and look good. With BTA Solar you'll get more than installation – they'll also handle all the rebate application paperwork and any local jurisdiction permits to have your system up and running in no time. With customers across the nation, Sunrun is dedicated to helping families power their lives and will work to find the perfect solar solution for you.
---

Birthday Party Spot
Now that we can celebrate outside of our households again, we think birthday parties are going to be BIG this year. Looking for a venue? Our trusty readers tell us that Ginger Bugs is the best place in SJC to book a kid's party with an indoor playground and helpful staff that take the planning out of your busy hands. At Impact Sports in Lodi, kids get free range of the open gym where they can tumble, jump, and play. If you prefer to take the party outside, Pixie Woods is just the spot, offering amusement rides, kid-friendly attractions, themed play areas, and even a water play area for those warmer days.
Charter School
When you have the opportunity to choose your child's school, it can be overwhelming and word-of-mouth means a lot. Take our readers' words for it—the best charter schools in the area rank: Aspire Public Schools with multiple locations throughout the county, Health Careers Academy for older students with an interest in pursuing a career in health, and John McCandless STEM Charter School in Stockton with a focus on STEM subjects.
Children's Ballet/Dance
When it comes to extracurricular activities, dance is popular for many. Lodi's Twinkle Toes, inspired by Owner Ashley Trammell's daughter, will open its enrollment again in August. In Stockton, The Dance Connection offers dance instruction across many disciplines including ballet, jazz, and hip hop. Elevate Dance Company dabbles in both instructional courses and competitive dance separated by age and skill level in styles including ballet, hip hop, acro, jazz, global movement, and more.
Children's Clothing
Looking to keep your little one stylish? Support local businesses to get unique looks and styles that will help your mini-me standout. Willow Tree Children's Boutique keeps it both fashionable and comfortable with brands for infants, toddlers, and school-aged children. At Sassy Pants Children's Boutique in Stockton's Lincoln Center, an explosion of color and high-end brands are perfect for everyday wear as well as special occasions. Caterpillar Children's Boutique has a different business model, supporting sustainability with a buy, sell, and trade program that offers gently-used clothing at a discount.
Gymnastics
Kids can flip and tumble their way to fun all over San Joaquin County. GymStars Gymnastics has a little bit of everything for your wild ones. From karate to dance, ninja classes to tumbling, plus a line-up of active camp options—there's no shortage of ways to get moving. Impact Sports is an all-ages experience with classes for young kids (open to the public) as well as special events for older kids only. It's in the name at Champion Gymnastics, where the premier facility offers boys and girls recreational classes for aspiring gymnasts and cheerleaders as well as competition teams for those looking to show off their skills to a bigger audience.
Indoor Family Fun
Prepare to be wowed. At World of Wonders (W.O.W.) Science Museum, parents and kids can play side by side while they discover scientific concepts with hands-on exhibits. Learn about electricity, sound, and more. Plus, special events offer more ways to play and learn together. While much of Impact Sports' offerings are geared toward kids, they have plenty of opportunities for families to play together with Kinder Morning Playtime where kids and guardians burn off energy together (and anyone can join). Or, get your jump on at Sky Zone Trampoline Park with family-friendly dodgeball, obstacle courses, and free-jump spaces.
Martial Arts School
It's easy to stumble upon a Tibon's Goju Ryu Fighting Arts and Supplies goju ryu program in San Joaquin County because the gym that started in 1984 has expanded, offering programs at places such as Stockton and Modesto GymStars and Hiers Goju Ryu in Lodi. And with ease of access and plenty of satisfied students, it's easy to see how this karate school landed in the number one spot on our 2021 Best Of list. Cutting Edge Martial Arts in Lodi offers classes for kids and adults accessible to all, specializing in taekwondo. At VALOR Training Center (with locations in Stockton and Elk Grove), students learn the art of Muay Thai with kid-focused classes, teen classes, and adult classes, including cardio kickboxing, so the whole family can work out together.
Children's Photographer
Capture life's most precious moments with professionals who not only know how to turn out good photographs but are also experts at handling kids through all stages of live. Sweet Sisters Photography is no stranger to this list, taking home the top spot again. In second place, Caroline Photography provides studio space for family portraits and other photography needs. Or, make memories with Little Love Story Photography & Design starting with a maternity shoot and following your child's growth through the years.
Preschool
Education is of the utmost importance, especially after a year like last year. Give your child a jumpstart on their academic career with a high-rated preschool. Vinewood Preschool operates out of Vinewood Church in Lodi, focusing on early learning and religious lessons. Snell's Pre-Kindergarten School offers more than just schooling with full-time childcare available to kids ages two to five. In Stockton, Central Methodist Nursey School is celebrated for its long history of serving community families, first opening its doors in 1963 with a play-based approach to learning that encompasses the well-being of the whole child.
Private School
Regardless of your child's path in life, St. Mary's High School is an excellent choice for helping them find success. For kindergarten through eighth grade, Presentation Parish School focuses on faith, academics, and service to turn-out well-rounded future citizens. For younger kids, Cathedral of the Annunciation School combines challenging curriculum with lessons that align with the Catholic Christian community, creating a triangle of support between teachers, parents, and students.
---


Accountant/CPA Firm
Is tax season enough to make your head spin? Want to rev up your retirement savings, but don't know where to start? Is bookkeeping slowing your small business down? Iacopi, Lenz & Company can help with all that and more. All About Numbers in Stockton aims to help educate their customers so they can make sense of their taxes and the rest of their financial to-do list. Bowman & Company provides personalized solutions to fit each customer's needs – during tax season and throughout the rest of the year.    
Best Auto Body Shop
After a collision, you don't need the extra stress of worrying about whether or not your car is going to get fixed right – the first time. All Foreign & Domestic Body Shop has promised pain-free repairs for the last 30 years and works directly with several insurance companies to get your car up and running as soon as possible. Fix Auto Stockton (formerly Aurora Collision Center) has a new name, but the quality collision repairs they've been providing hasn't changed since 1944. In Lodi, you can trust your ride to American Auto Body just like locals have been doing since 1976. 
Best Bank (Local)
In San Joaquin County locals benefit from several long-standing, close-to-home banking institutions where you're more than your account number and balance. With 20 locations and 150 years of serving the Central Valley, the Bank of Stockton boasts all the tech and knowledge of a big bank plus the personal service generations of customers have come to expect. Headquartered in Lodi, F&M Bank will give any national bank a run for their money with their diverse banking services. The family-owned BAC Community Bank operates with the goal of strengthening the community's financial health. 
Best Credit Union (Local)
With lower rates, fewer fees, and a focus on communities, it's no surprise that these longstanding local credit unions are trusted by our readers year after year. San Joaquin County's largest credit union, Financial Center Credit Union, offers traditional banking services like checking and savings accounts, as well as insurance products, financial planning, and a legal help hotline. Golden 1 Credit Union serves more than a million members, offering services at 70 locations throughout the state. Premier Community Credit Union was created with teachers in mind but now serves the entire San Joaquin County community – with a continued focus on educators. 
Best Dog Trainer
Believe it or not, you can teach an old dog new tricks. But at Bone-a-Fide Dog Training they know it isn't just a question of Fido blindly obeying. Instead, they put an emphasis on teaching owner and pup alike to communicate and understand each other. With 40 years of experience, the trainers at The Canine Culture offer an eight-week training course for dogs of all ages. And at Sycamore Lane Kennels, training classes are held at their onsite All Dogs Sports Park where pups can complete a Canine Good Citizen class, a Nose Work class, a Swimming and Dock Diving Class, and more. 
Best Dry Cleaner
Dry cleaning protects fabrics that would be damaged by heat or water if you tried to wash them at home, but it is also the best way to remove stains that can't be lifted by water (like grease and oil). Trust your formalwear, coats, bedding, and those other can't-be-cleaned clothes to Lincoln Center's Parkwoods Cleaners. Too busy for a drop off? Sign up for Guild Dry Cleaners & Alterations' free pick-up and delivery services or benefit from Fresh Cleaners' multi-location convenience. 
Best Family Photographer
From baby bumps to birthdays and all the special memories to be made in between, the husband-and-wife duo at Jon & Jess Studio are there to capture all the magic of the moment. Stockton-based Sweet Sister's Photography specializes in newborn, birthday, family, and graduation shoots. Caroline Photography has been capturing those special moments since 1980 and current owner and head photographer Kevin Richtik is carrying on the studio's original standard of excellence, whether at the studio or on location.     
Best Hotel
It's been a stressful year. Our readers think you deserve a staycation! And nothing says "unwind" quite like Wine & Roses. With upscale onsite dinning and a day spa that snagged several Best Of titles over the years, you won't ever want to check out. Located just steps from Stockton Arena, Banner Island Ballpark, and the Civic Auditorium on the Stockton Waterfront, University Plaza Waterfront Hotel offers 179 luxurious guest rooms, fine dining, and 10,000 square feet of event space. Lounge in bed all day, enjoying the Hilton Stockton's room service or take a stroll to the nearby UOP campus. 
Best Insurance Agent (Individual)
The unforeseen is unfortunately a part of life and you want to know that you can trust your insurance agent to be there when the unexpected eventually comes knocking. For more than a decade, Stockton residents have been trusting Farmers Insurance Agent Ryan Turner to lead them when it comes to auto, home, life, and other insurance policies. State Farm's George Azevedo Jr. offers a wide range of insurance policies – including pet insurance! And Farmers Insurance Agent Paula Ortiz's customers appreciate her dedication to finding them the right insurance protection.   
Best Law Firm
Whether working with individuals, businesses, or public agencies, Kroloff, Belcher, Smart, Perry & Christopherson is proud of the firm's reputation for going above and beyond for clients. McKinley, Conger, Jolley & Galarneau is a full-service law firm in Stockton with expertise in business law, family law, real estate litigations, and more. Neumiller & Beardslee has grow with Stockton for more than a century and continues to represent individuals', businesses', and non-profit organizations' interests.   
Best Pest Control Company
Take a deep breath, put down the flamethrower, and call the experts. With 16 Northern California locations, Clark Pest Control has all your roach, ant, bedbug, and other petulant pest needs under control. At Delk Pest Control you can choose between a single service or a bimonthly maintenance service. A-1 Exterminators is a third-generation business that has been ridding Stockton homeowners of termites, pest, and rodents since 1969. 
Best Pet Boarding
With our readers' most trusted kennels, your pets can have their own vacation while you're out of town! Your pooch will find spacious kennels, activity yards, puppy playgroups, and plenty of cuddle time at Sycamore Lane Kennels (feline friends are welcome, too). And at The Canine Culture, your dog will enjoy having their own indoor/outdoor kennel and twice daily outdoor play – they'll even fall asleep to soothing music at night! Lodi's Sunset Kennels Garden Retreat offer spacious kitty condos, private indoor or indoor/outdoor doggie kennels, or family kennels where your pups can stay together. 
Best Pet Spa/Grooming
With three different grooming services (Mini Groom, Full Groom, or Bath & Tidy) provided by nationally certified groomers, your pooch will come home from Sycamore Lane Kennels looking like their best self. The Canine Culture offers regular grooming services – or your pup can have a spa day while boarding. Dogs of all sizes and breeds are welcome at 209 Pet Spa, where they'll be treated to a full body haircut, bath, blowout, nail trim, and more.
Best Real Estate Firm
There are a lot of things you can DIY when it comes to your home – but buying and selling shouldn't be one. Take our readers' advice and turn to Schaffer & Company Realtors who have been finding Lodi families their perfect homes for over 60 years. Or, reach out to Cornerstone Real Estate Group, who knows the impact the decision to buy (or sell) can have on your life, taking the time to ensure every step of the process is seamless. After facilitating the purchase and sale of San Joaquin homes for decades, Grupe Real Estate has the know how—and knows where—to find your perfect home. 
Best Realtor (Individual)
After an initial foray into the real estate industry as an appraiser in 2010, Lance McHan found that the service many real estate agents were offering their clients left much to be desired. Convinced he could do better; he became an agent himself in 2015 and offers his clients a personalized approach with each and every sale. Friendly without being pushy, his goal isn't to sell you a house, it's to work with you to find your perfect home.
Best Senior Assisted Living
Choosing the senior assisted living facility best suited to your needs or the needs of your loved one is a personal choice but knowing where our readers place their trust can help you with your decision. Year after year, O'Connor Woods and its 34-acre gated community is a top pick. The Commons on Thornton also has a great reputation with residents, offering a selection of leisure and fitness activities while the chores are handed by staff. Meanwhile, Oakmont of Brookside is an industry leader, specialized in luxurious, resort-style living. 
Best Tattoo Studio
Emerald Tattoo & Piercing is all about quality over quantity. Offering both cover-up and original art, they make sure to not rush any step of the process so their customers always leave satisfied with their tattoos. Built around a theme that encompasses Manteca's history, Union Tattoo & Piercing aims to be the go-to tattoo shop for the community. Quarter Horse Tattoo in Stockton specializes in traditional American and Japanese styles and are especially excited to make your black and grey tattoos come to life.     
Best Veterinary Clinic
If your pets could talk, they'd tell you exactly what's bothering them. The next best thing is taking them to visit one of the county's most trusted vets. The team at Lodi Veterinary Hospital is there for you in emergency situations and for planed procedures ranging from surgery to dentistry, x-rays, parasite prevention, and more. Stocktonians have trusted their pets' health to Venetian Pet Hospital for more than 25 years and our readers are sure you can, too. Sierra Veterinary Clinic believes in treating your pets as if they were one of their own, ensuring quality care at every visit.   
---


Auto Dealership
In the market for a new car? We know the process can be a drag. Chase Chevrolet, however, makes it easier. The shop, family owned and operated since 1944, treats customers like part of the family, with deals on new and used vehicles. If you're looking for a luxury vehicle Berberian Mercedes-Benz is the place to shop for everything from sportscars to high-end SUVs. Big Valley Ford rounds out our list with a wide selection of inventory that offers family vehicles, work trucks, Lincolns, and extensive new and pre-owned inventory.
Bicycle Shop
If the new vehicle you are looking for comes on two wheels, you'll want a shop you can trust. Whether you're purchasing a new bike or need a qualified repairman to service your current ride, voters are in agreeance that Robby's Bicycles is the place to go in Stockton for everything from road and mountain bikes to cruisers and comfort bikes. Lodi Cyclery is the spot in town, not only operating regular bike sales and repairs but also specializing in electric bikes for commuting and adventure.
Consignment Shop
We love to thrift because it's good for both our pocketbooks and the environment. New & Again is our go-to spot for gently used furniture and other home goods that will give our spaces a quick spiff-up. In Tracy, My Best Friend's Closet keeps patrons looking stylish in impressive designer duds that don't carry the daunting price tag. Or, do it all in one run at Superior Thrift in Stockton, where the thrift shop carried everything from vintage clothes to rare home décor. Check out the website for featured specials—SuperiorThrift.com.
Designer Eyewear
Whether they are prescription, for sun, or just for style, Great Spectacles seems to always be taking top prize when it comes to designer eyewear stores. The Lincoln Center shop curates a variety of designer frames and accessories needed to keep you looking stylish—and able to see! Brookside Optometric Group not only sells frames, it's also an optometrist office so you can see a doctor and get your glasses in the same place with the help of a knowledgeable source. Similarly, Zeiter Eye has multiple locations throughout the Central Valley and beyond to keep your eyes in tip-top shape while also putting your best face forward.
Fashionable Accessories
The Fashionable You in Lodi makes shopping a fun affair for everyone. The shop specializes in women's goods including jewelry and hats, handbags, and shoes. There simply isn't much you can't get here when it comes to fashion accessories. Browse the website to see what's in or stop by and take a look for yourself. Also in Lodi, Fashion Safari packs a lot into its space with a collection of cute finishing touches for every outfit. It even became our favorite place to shop for facemasks this past year. Meanwhile, Regalo Bello sells accessories for our bodies and our homes—an ideal place to buy a gift for just about any woman on your shopping list.
Gift Shop
When it comes to finding the perfect gift for any occasion, may it be a baby shower or a birthday, Best Wishes is a one-stop shop, carrying the cards, giftwrap, and presents to please. Regalo Bello is another worthy contender, sharing new inventory on its Facebook account so you always know about the new drinkware and home accessories taking up space in the Stonecreek Village shop. Boxwood Finch is a quaint Lodi space oozing charm, with a wide selection of gifts from recipe books and serving platters to locally made beauty products and more.
Fine Jewelry
Anniversary presents, engagement rings, graduation gifts, when it comes to big occasions, Gary J. Long Jewelers knows their stuff. The premier jeweler with a shop in Lincoln Center has been serving the community since 1983, taking home countless accolades for selection and service. Peck's Jewelers also has a storefront in Lincoln Center where he sells fine diamonds and other pieces. At Peck's, it's in the details—the Graduate Gemologist and Certified Gemologist Appraiser who owns the shop is a master at recognizing quality. In Lodi, Danz Jewelers has been serving the community since 1984, selling diamonds, specializing in custom jewelry design, and servicing your existing pieces.
Music Store
Looking to pick up a musical instrument on a budget? Music Go Round in Stockton gets its name from its business model—buying and selling used instruments, sound equipment, and more. Since 1974, The Music Box in Lodi has been dedicated to making music in San Joaquin County, with a wide selection of instruments (including student pieces) and other equipment. If you're looking to rent an instrument, step into Bill's Music Sales or shop online. Bill's also offers lessons and repairs.
Pet Supplies
Sure, there are plenty of big box stores serving animal needs in SJC, but when it comes to a local, quality experience, our readers favor one place—Carter's Pet Mart. The local chain has stores in Stockton, Manteca, and just outside San Joaquin County in Modesto, selling a variety of goods to meet pet needs from diet-friendly treats to safety gear and more. Stop in and be treated like family, with an entire staff of knowledgeable pet lovers at the ready to help you find everything you—and your pets—need.
Shopping Center/Mall
Looking to shop 'til you drop? Instead of bopping from location to location, get it all done in one spot. Lincoln Center is the destination in Stockton for those looking to buy gifts, have lunch, and pick up cute new clothes for themselves. Plus, the shopping center offers events and other seasonal happenings to make the experience more fun. At Weberstown Mall, trade in boutiques for big box stores and eateries that provide a nostalgic mall experience. Next door, you'll find a continuation of the traditional mall experience at Sherwood Mall where Best Buy, ULTA, and HomeGoods take up real estate.
Vintage Clothing Store
Three are a lot of places to thrift in San Joaquin County, but if you're specifically looking for vintage pieces to finish your wardrobe, there's just two places our readers favor above the rest. Lilou of the Valley Vintage sells everything from licensed Betty Boop t-shirts to 90s Nike gear that is fully back in style. At Superior Thrift, shoppers can find high-end vintage clothing, affordable concert tees, wearable art in the form of painted denim, and collectible sports gear.
Women's Clothing Boutique
Don't you hate it when you show up somewhere wearing the same outfit as everyone else? Instead of relying on chain stores to dress you, step into a locally owned boutique for something unique. FINA is top of the list for fashionable finds, with a revolving inventory that keeps the storefront fresh. On the Miracle Mile, Bellissima Boutique is where the fashion is at—a favorite stop of SJM readers who like to stay on top of fashion trends. At The Fashionable You, everyone is welcome. The shop specializes in making fashion accessible, with affordable price points and sizes ranging from small to 3X (and sometimes more).
---


Wedding Cakes
Looking for something both beautiful and delicious to wow your guests with? Fizz Bakery never disappoints with its wedding cakes—all yummy frosting, decadent decorations, and soft, spongy cake in many, many flavors. Order it tiered or go casual with cupcakes. Frosted Flour in Lodi is another favorite for wedding desserts. A quick look at the online gallery tells you everything you need to know about ordering a wedding cake from Lisa. SweetArts in Tracy has mastered everything from whimsical to opulent for both the main attraction and groom's cakes.
Formal Wear/Tuxedos
The dress may be the showstopper, but there's no reason your man should pale in comparison next to you on the big day. Tuxedos of Lodi keep grooms looking their best with a variety of rentable suites for him and the rest of his wedding party. With a large inventory, grooms can go traditional, looking like the perfect cake-topper groom, or add their own flair to the occasion with fun colors and accessories. Whatever is it, the team at Tuxedos of Lodi has your back!
Wedding Dress
From trumpet skirts to form-fitting lace, big ball gowns to mermaid-style dresses, there is a lot to consider when picking your outfit for your wedding day. And when it comes to trying pieces on, the experience should be special. At Sheryl Giles Bridal, all brides are treated like they are one-of-a-kind, with dress appointments that cater to helping you select the dress of your dreams. At Elizabeth of Lodi, it's all in the reputation. This local dress shop has been dressing women on special occasions since 1954! Maggie's Bridal & Formal is small but mighty, offering an intimate experience for brides and their wedding parties where everyone can pick their dresses in one place.
Wedding Flowers
Your wedding is forever, so why shouldn't your flowers last just as long? Endless Blooms in Lodi sells wooden bouquets and other arrangements for brides who don't want to throw away their décor the day after. Looking for a more traditional florist? Charter Way Florist sells real flowers to brides and grooms. At Blossoms by Lisa, the focus is on custom design, curating the perfect floral arrangements to accent the rest of your décor, or to be the standout pieces of the day (next to you of course).
Wedding Supply Rental
When planning a wedding, there are always little extras that tend to pop up. Instead of breaking the bank by buying what you need, take advantage of rental companies that carry everything from table linens to chairs and serving platters. Choose table settings and more from Giuffra's in Lodi by browsing the website or stepping into the Hansen Drive showroom. In Stockton, American Event Rentals has a large variety of pieces to finish any décor. Or, choose Bella Festa in Lodi, where everything is about the aesthetics and special touches—from gold hammered flatware to a wrought iron arch.
Wedding Photographer
If a picture is worth a thousand words, imagine how valuable a quality wedding photographer is. Briggs Photography—a husband and wife duo—come in first when it comes to capturing your big day, with packages that fit every budget. Jon & Jess Studio is another married couple celebrating their love for your love behind the lens. Mary Gillespie is a chameleon of styles, switching up her aesthetic to match the vibe of your big day.
Wedding Rings/Jeweler
This might be the most important purchase you make as part of your nuptials—whether you're eyeing an engagement ring or need wedding bands to showcase your love for one another, there are three jewelers that top our list for quality, variety, and service. Choose between knowledgeable owner Jeff at Peck's Jewelers, award-winning customer service and selection at Gary J. Long Jewelers, or the historic Danz Jewelers in Lodi, all with a long history of serving the community's diamond and jewelry needs.
Wedding Venue (Indoors)
Choosing a venue is an important decision, and one of the first questions you may ask yourself is, do I want my wedding to take place indoors or outdoors? Weather may play a part in the decision and if you ultimately choose to go with an indoor reception, look no further than Wine & Roses, where guests are transported into a fairytale filled with twinkling lights and hanging vines. Brookside Country Club also offers an indoor option where on-site catering and location are just two of the highlights. At Woodbridge Golf & Country Club, vows take place outside but inside a reception hall is just as visually appealing for the after party.
Wedding Venue (Outdoors)
When it comes to getting married outside, the venue really matters. At Wine & Roses when the weather is right, getting married in the hotel's stunning courtyard can't be beat. Or, say I Do onsite at one of Lodi's favorite wineries. Oak Farm Vineyards proffers a gorgeous backdrop of towering oak trees and active vines perfect for snapping photos. At Viaggio Estate & Winery, the grounds are huge—offering multiple spaces to get married outdoors, choosing your own setting, before guests sprawl out across the Italian-style villa for the rest of the evening.