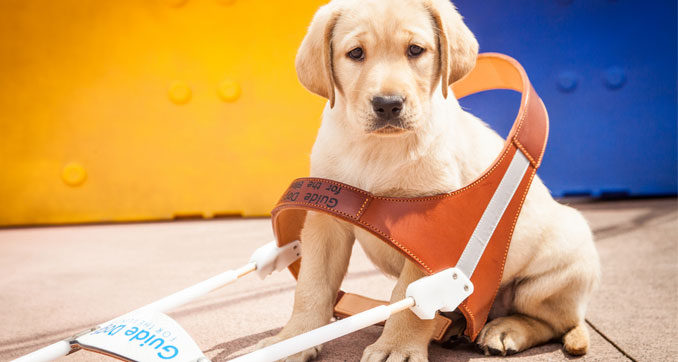 San Joaquin County's Elite Canines
Have you ever seen a puppy in a green-colored vest walking through Weberstown mall? Your immediate reaction is likely devastation, knowing you aren't allowed to touch the fluffy pooch, a guide dog puppy in training. But have you ever wondered what life is like for a guide dog? 
Have you ever seen a puppy in a green-colored vest walking through Weberstown mall? Your immediate reaction is likely devastation, knowing you aren't allowed to touch the fluffy pooch, a guide dog puppy in training. But have you ever wondered what life is like for a guide dog?  The journey to becoming a guide dog begins before a pup is born. At Guide Dogs for the Blind, a San Rafael-based non-profit with a local San Joaquin County Puppy Raising Chapter, working dogs are bred from a pool of carefully selected candidates from the Guide Dogs for the Blind Breeding Colony to ensure ideal health and temperament. Guide dogs get it from their mama (and papa). For the eight to ten years a guide dog is in service, it is responsible for the well-being and navigation of its handler—a blind or seeing impaired individual chosen to own them—helping them to ride the bus, run errands, travel, and keeping them out of danger's way. 
"Becoming a working guide dog is the hardest job any dog can be asked to do," says Linda Rubina, a puppy raiser who lives in Tracy. Born to be the best, these future guide dogs, however, are up to the challenge. "Most of them love having this job," Lora Harrison, another puppy raiser in Tracy, says. "You grab the harness and they are all business. They know they have their little business suit on… and they work it." 
Introducing Puppy Raisers
Over the course of a guide dog's life, it will have (at least) three homes. A future guide dog lives with its parents for only eight weeks before moving on to the first phase of training. Its second family is a puppy raiser, a volunteer who handles the puppy's initial training phase from eight weeks old to about 15 months.
There are 16 puppies being raised in San Joaquin County from GDB and five active guide dogs.
"I get a puppy all the time," Lora laughs. "To have an eight-week-old puppy plopped in your lap every year or so is pretty fun."
Despite the many rules of training—dogs must be kept on the left side, dogs can't be taught to play ball or shake hands, etc.—Linda and Lora both assure that anyone can be a puppy raiser. The co-leaders agree the hardest part of training the pups is saying goodbye.
"We have to keep reminding ourselves that it is not our dog," says Linda, who has raised guide dog puppies since 1979. "I've bonded with all of them. It's hard to let them go."
For many families, like Lora and Linda who are co-leaders of San Joaquin County's local branch of GDB puppy raisers, the path to becoming a raiser started with their children. At high schools throughout the county, it's not uncommon for raising guide dogs to be a student's senior project—a project they must complete before graduation.
Lora's daughter, Meghan Harrison, raised two guide dog puppies while in high school. Today, Meghan is in college, but her mom still raises puppies for GDB.
"We were like six feet under by [the time Meghan graduated], we were totally immersed. I can't see us not doing this," Lora says. "It's such a beneficial and rewarding thing."
Lora is training the family's sixth puppy, Janelle, now. She is the offspring of one of Meghan's original dogs—named Myra—who was accepted into the breeding colony, a prestigious honor for a guide dog trainee.
"It's kind of a full circle kind of thing," Lora says of taking Janelle.
Dogs in the breeding colony, as Lora explains it, are bred for ideal health and temperament, producing puppies that can be a successful guide dog for years, without any health factors inhibiting its service. GDB is vocal about their support for rescue dogs, too. For working dogs, breeding is just more reliable.
"We definitely celebrate when dogs become breeders similarly as we do when dogs become guides," Alicia says. GDB's breeding department monitors litters from a successful lineage. "Some of our dogs are placed on breeder watch when they're a young puppy."
Dogs who become breeders are honored with a ceremony much like a graduation. For Myra, the ceremony was especially meaningful. The black lab walked her puppy raiser Meghan at her high school graduation, and for Myra's ceremony, Lora returned the favor.
Dogs train daily while living with raisers, but it's not as intense as it sounds. Most of the techniques require positive reinforcement for good behavior (a GDB training requirement) and socialization. "Right now I'm training because she's sitting at my feet and waiting for me to finish," Lora explains as she's on the phone. "The actual training to get to this point is consistently every five minutes… it's just something we do in our everyday life so it doesn't feel like training."
Puppies and raisers aren't alone. Future guide dogs socialize together, and so do the raisers. The SJ County chapter of puppy raisers—who come from Tracy, Manteca, Ripon, Stockton, and Lathrop—host both social and educational meetings. Educational meetings teach participants proper care, introduce training protocols, and, most importantly, offer support to ensure dogs are getting the best from the raisers. Social outings have a training aspect, as well. They help the puppy adapt to situations it will need to thrive in with its handler post-graduation, such as bowling and seasonal visits to Santa. Every Halloween puppies are mummy-wrapped in toilet paper. It's ridiculously cute, but it also serves a purpose.
"The puppies need to be used to being handled a lot… they can't be overly sensitive to touch," Linda explains.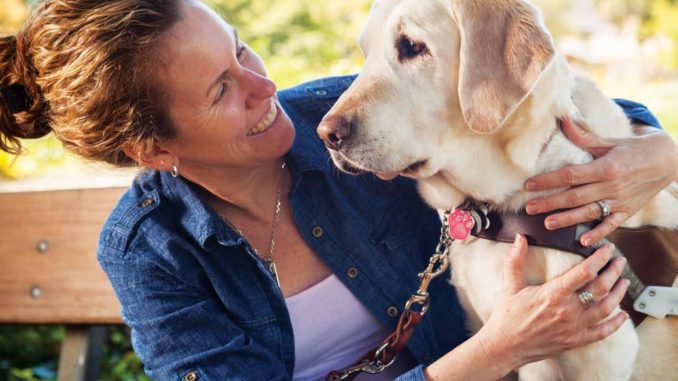 Onto Formal Training
To become a guide dog, trainees must pass formal training. With GDB that means 12 weeks spent expanding on skills started in the home, including leading a person in a straight line from point A to point B, stopping for all changes in elevation, including curbs and stairs, stopping for overhead obstacles, such as tree limbs, and avoiding obstacles in its path. When these skills are mastered and the dog has been properly trained, it's ready for graduation.
Emotionally, puppy raisers are there every step of the way. During training, dogs are given weekly report cards, which are sent to raisers.
"I just kind of hover around my computer to see which training phase my dogs are in. We don't really lose touch with them," Linda shares.
 Graduation day is a proud day for these accomplished dogs. It's the day that guide dogs and their new handlers are celebrated as official guide dog teams. It's also the day two families merge. At graduation, the raiser officially presents the dog to its new owner, the handler. The ceremonial handoff is emotional for all involved and a lot of Kleenex is shared on graduation day.
"It gives you purpose for why you're doing this," Lora says of meeting the handlers. She's always impressed with how well matched the guide dog teams are.
"When they graduate, that's what it's all about," Linda says. 
Before each ceremony, handlers and raisers meet and share stories with the dog, forming relationships that last long after the hand-off has been completed.
"Graduation day was so emotional," says Michele Carson, a handler who received her first guide dog through GDB. "[I met] the family who selflessly raised my beautiful Rhiannon. My heart was filled with so many feelings as I got to meet the people that gave me so much."
"The connections afterward I think are even more incredible," says Lora, who stays in touch with handlers in Kansas City, MO and Canada. "They always say, there's always a piece of a puppy raisers heart in every guide dog–and it's true! A piece of my heart is in Canada and in Kansas City, MO but I know what they're doing."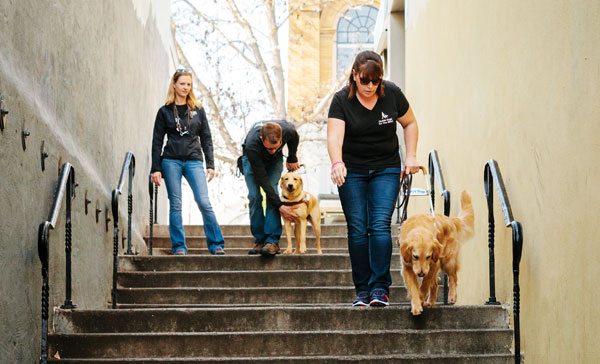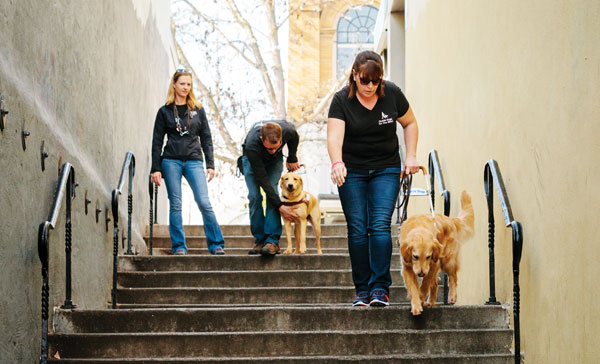 Serving its Handler
For Michele, a guide dog was a dream come true. "I honestly was jumping up and down when I got [the call saying I was approved for a guide dog]," Michele says. She describes meeting her guide, Rhiannon, as the most amazing experience of her life. "[Rhiannon] makes me feel courageous and safe. She has brought so much joy, freedom, and love."
Michele and Rhiannon are celebrating a three-year anniversary in November. Since Rhiannon went home with Michele in 2014, they have created a partnership; they are a team. Rhiannon spends her days taking Michele on her daily routes. Together they pick up Michele's prescriptions, go to coffee, buy groceries, and go on adventures with family. 
"She also flies with me to Southern California for doctors appointments. She takes me through the airport and to the gate. My family has piece of mind and even when I travel with them they can just be my family and let Rhiannon be my amazing guide," Michele says.
Rhiannon serves Michele selflessly. It's not just her job, Michele is her family.
"Many of our clients lead full and successful lives without our dogs," Alicia says. "What our guide dogs bring is an enhanced level of independence and mobility that many people either don't know is possible or a level of independence and mobility that our clients weren't able to achieve through the use of [a] white cane or [other assistance device]."
Headed For Retirement
After service, guide dogs are granted retirement. A retired guide dog often remains with its handler, or moves to a third—and final—home to hang its guide dog harness and enjoy their golden years off the job. The exact age for retirement varies, but for healthy dogs, it's after about eight to ten years of service with a handler. It's a time for the dog to become just a dog—enjoying companionship and getting to relax on the rules they've endured throughout life.
"Choosing the right time to retire a guide is never an easy decision to make," Alicia says. "If the guide dog is still healthy and performing in a way that is mutually beneficial… then we do try to keep those partnerships active."
At home, guide dogs were likely always allowed to be normal dogs. But the second that harness went on, everything changed. "This dog is going for a job and they know they are important but they have so much fun doing it and you can see it on their faces," Lora shares.
In some cases, a guide dog is able to retire with its handler, no longer working as a guide dog. In other cases, a family member of the handler will adopt the dog. If neither of those scenarios is possible, guide dogs are brought back to GDB and adopted out within the GDB community, sometimes to the dog's original puppy raiser.
Home three is the dog's final resting place. But don't feel bad for the dog that lived with three families (or more) only just now coming to its forever home. For the dog's entire life, becoming a guide is what it has known and the entirety of that journey is spent with humans—raisers, trainers, handlers—who love and celebrate them. As puppies, they were cared for; at graduation they were heralded; throughout service they were rewarded and appreciated; and in retirement, guide dogs will continue to be loved by all who have had the pleasure of knowing them.