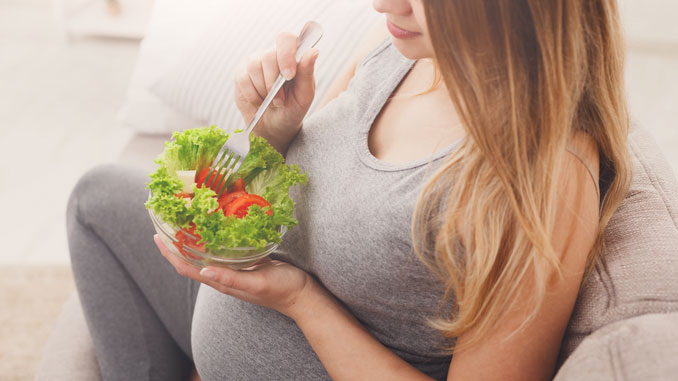 Too often women take pregnancy as a chance to throw diets out the window.
Away goes careful calculation of calories or focus on the five food groups. Instead, eating for two means double the intake and "I'm pregnant," means I'll eat what I want.
Not to shame the hungry and hormonal, but pregnancy is a time to focus more on what you eat, not less. Babies need vitamins and nutrients to thrive, and not just what is found in your prenatal.
"There's this feeling that pregnancy is a free license to eat whatever you want so people tend to overdo it on unhealthy foods," says Eugenia Hurlbut, D.O. with Gill OB/GYN Medical Group, Inc.
Dr. Hurlbut's List of Pregnancy Nutrition Dos and Don'ts
Do eat from all five food groups
Do make healthy oils and fats a part of your diet
Don't consume more than 200 mg of caffeine (or about one 12 oz. cup of coffee) per day
Don't eat raw meats including fish
Do make sure everything is thoroughly cooked
Don't eat high-mercury content fish (Tuna fish is okay at one serving per week)
Don't eat hot dogs, lunchmeats, cold cuts, or refrigerated meat spreads as they can put you at increased risk for listeria
Do look at supplements. Some patients need more than a standard prenatal, such as extra folic acid. Moms of multiples will take multiple supplements. And those who like gummy vitamins will likely need to add extra iron.
Do pair diet with good, safe exercise
Don't overeat. Increase daily caloric intake by zero in the first trimester, 340 in the second, and 450 in the third. If you are over or under weight, consult your doctor.
Do consult your doctor if you are obese
ChooseMyPlate.gov
Dr. Hurlbut recommends this website for all women who are pregnant. The super tracker is easy to use and gives portion sizes appropriate for pregnant women. It also can help patients tailor diets for gestational diabetes and includes special tidbits on what to eat during every trimester, as well as how much.
Pregnancy Weight Gain
All women are different and should consult with their physician about weight gain. However, the rule of thumb says women should gain 25-35 pounds while pregnant. The rules change for women who are obese.  "If you're in the obese category it should be about 11-20 pounds maximum," Dr. Hurlbut says.
"Healthy food is what's fueling you and growing your baby," – Eugenia Hurlbut, D.O. with Gill OB/GYN Medical Group, Inc.
 Consult a Professional:
Gill OB/GYN Medical Group, Inc.
1617 N. California St., Ste. 2A, Stockton
(209) 466-8546
Gillobgyn.com