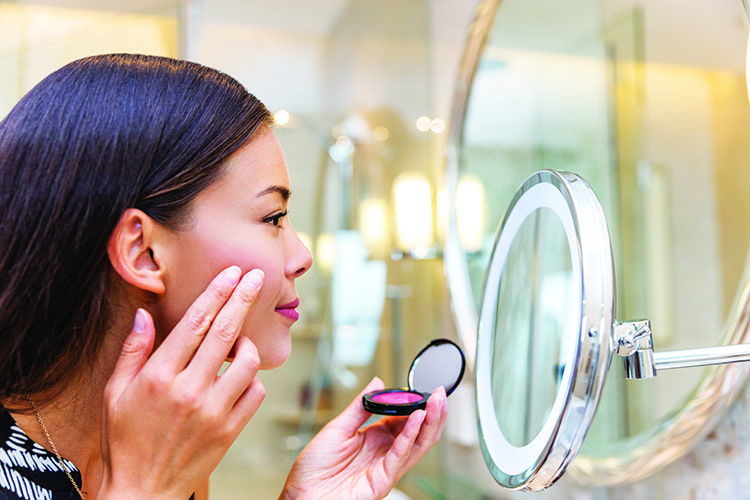 Whether you're too tired to care or too busy to find time, as mothers, our beauty routines sometimes fall by the wayside. But have no fear, the five-minute face is here!
It all starts with your skin, take care of that and the rest gets easier. Not only will you look younger naturally, but you'll have less need for beauty products to cover blemishes and discoloration, and as an added bonus, makeup will go on smoother. Perhaps if you do find yourself with time sometime in the future you might think about scheduling an appointment with someone such as this upper east side cosmetic dermatologist or similar skincare services that could revitalize your skin and make you look younger!
Central Valley Dermatology Esthetician Dominique Bobian suggests cleansing, exfoliating and applying sunblock as the simplest first steps to a fresh face beauty routine. For makeup, keep it minimal. BB cream is a good alternative to foundation. As it is full coverage already, a little goes a long way. If the foundation covers the areas you want, that's what matters. You could even look for double wear make up to try if you're after a longer-lasting look with a bit more coverage, but many opt to wear more simplistic products like BB cream. It all depends on how much time you have!
New to BB cream? Experts in the beauty industry praise the product for its light, breathable coverage that's easy on your complexion, as well all its multi-use application-use it as a moisturizer, primer, foundation, and concealer.
Last step: apply bronzer.
This final product gives your skin color and dimension. In addition to highlighting cheekbones, spread it over your forehead, nose, and chin.
"Its actually faster than 5 minutes!" Dominique says of the whole routine.
With your remaining minutes, you can up the look with a few extras. Consider white eyeliner on your bottom, inner lash line (a good trick for looking more awake than you really are) and mascara on top lashes to make your eyes pop.
Blush is another option for adding color, and it works well with bronzer. Just make sure you apply blush to the apples of your cheeks first.
And if you don't need anything more than the simple routine Dominique suggests, spend your last couple of minutes doing something just for you, whether that's drinking a cup of coffee, or taking a few deep breaths.
Shop the Products:
Cleanser removes makeup, dead skin cells, oil, dirt, and other unwanted elements from the skin. The Epionce Gentle Foaming Cleanser works well with normal to combination skin. (CVDerm.com)
Exfoliation removes dry skin cells to reveal smoother, younger-looking skin. Dermalogica Daily Superfoliant uses a highly active resurfacer to fight the appearance of aging while simultaneously smoothing skin. (Dermalogica.com)
A tinted moisturizer gives coverage while also keeping dry skin at bay, and Revision Intellishade SPF 45 combines the need for light coverage with a high-SPF skin-protecting formula. As both a sunblock and a BB cream, it reduces the number of products needed in your morning routine. (CVDerm.com)
Pay a Professional:
Central Valley Dermatology
Offices in Manteca and Stockton
(855) 339-4087
CVDerm.com