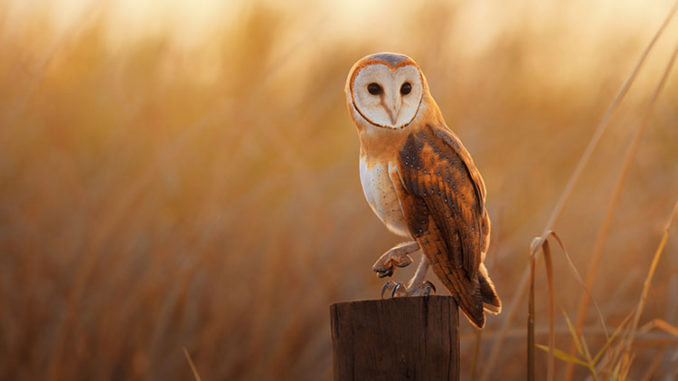 If you've strolled along the grape vines at twilight, or enjoyed an evening tasting at one of Lodi's wineries, you've probably heard the tell-tale screech of an owl overhead. Perhaps you've been lucky enough to spot those flapping wings-off for a late night snack-hard at work ensuring the safety of the vines! Yes, owls have become an important part of pest management in our Lodi Appellation-so much so, that farmers and wine growers are offering up free homes in the form of owl boxes in order to receive round-the-clock rodent control.
"In the early 1990s, Lodi winegrowers were encouraged to utilize owl boxes as part of an integrated approach to rodent control," Stuart Spencer, Program Manager at the Lodi Winegrape Commission, explains. "A family of barn owls occupying one box can consume 2,000-3,000 rodents (mostly pocket gophers, a pest in local vineyards) in one season." Boasting low-cost and low hassle pest control, many fields and vineyards are welcoming owls via owl box establishment. From time to time, owls may be tempted to make their home in houses or buildings where they are not welcome. To reduce the risk of this happening, there are systems that protect buildings from birds, like the netting installed by Apex Bird Control. Utilizing the owls is a great natural pest control, but they may become a pest themselves unless they stay in the owl boxes made for them.
One such owl box rests on the property of Twisted Barrel Winery, which the Tanner Family installed in late 2015. "My parents also live on our ranch, and they are bird watchers," Maxine Tanner explains. "We agreed that it would be an interesting pastime, and beneficial for the vineyard, as the owls can keep the rodent population under control." During an expedition to check out the box, a friend of the Tanner's accidentally bumped the pole, and down one of the owlets went. Luckily, their family friend, an experienced falconer, was able to return the (unharmed but unable to fly) owlet back in its home. Just a few weeks later, the owlets were well on their way to becoming expert rodent catchers, providing sustainable benefits for themselves and their wine-loving counterparts!
Know Your Neighbor
Barn Owls are the norm for our region, well known by their heart shaped faces and how quietly they can swoop on by! In fact, you won't hear a hoot out of them, but rather a screech. These non-territorial predators communicate with their fellow barn owls through high-pitched cries and shrieks, maintaining their mutual perimeters and keeping the vineyards rodent-free.