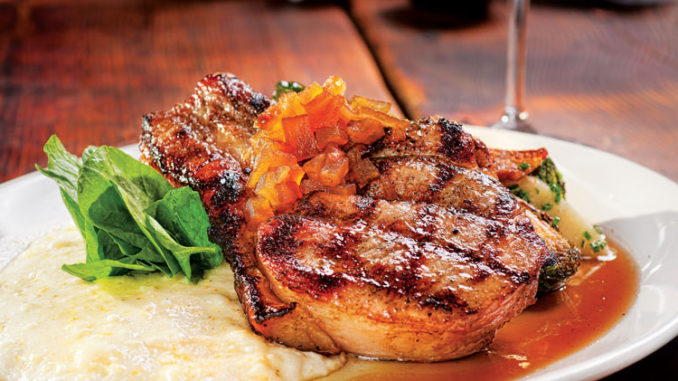 Appetizers
Market Tavern
We've said it before and we'll say it again, Market Tavern knows how to make our mouths water! Among favorites are the delectable appetizers-like the wickedly tongue-tingling Devil "Ish" Eggs & Bacon, and Tongue Tacos (crafted from corned beef tongue, spicy slaw, ranchero salsa, onions, and cilantro). Too bold for your palate? Opt for the Wood Oven Roasted Olives instead. Stockton, MarketTavernStk.com
2nd: Midgley's Public House
3rd: Papapavlo's Bistro & Bar
Food Truck
A Moveable Feast
Aficionados of fine, food truck dining find themselves glued to A Moveable Feast's Facebook feed to find out where their tantalizing entrees will turn up next! Keep your eyes peeled when cruising down Kettleman Lane, a favorite pit stop for the truck, to try specialties like the Prime Rib Sandwich. MoradaEats.com
2nd:Green Papaya
3rd: La Picosita
Deli/Sandwich Shop
Fiori's Butcher Shoppe & Deli
From sandwiches and soups, to quiches and greens, Fiori's Butcher Shoppe & Deli has got the drop on the food market. Their smartly named creations-like the Joe Montana-are crowd favorites for the lunchtime rush. And, if you've come in for a slice of something scrumptious to cook at home, might we recommend the Italian Sausage Stuffed Pork Chops? We hear they're to dine for. Lodi, FiorisDeli.com
2nd: Gian's Delicatessen
3rd: Podesto's
Barbecue
Dickey's Barbecue Pit
Don your bib, boys and girls! Because if you haven't smeared one of the flavorful sauces served at Dickey's Barbecue Pit across your shirt and dropped a dab or two along your pant line, you just aren't enjoying this meal the right way. Dig into the Spicy Cheddar Sausage to start your dining experience off right and end with a complimentary ice cream cone. Multiple Locations, Dickeys.com
2nd: Tin Roof BBQ & Catering
3rd: Waterloo, CA Restaurant
Chef
Michael Midgley, Midgley's Public House
Our very own local star Chef Michael Midgley sits in the throne at Midgley's Public House, a local eatery producing flavorful combinations of American cuisine showcased not only on his menu, but also as specials throughout the seasons. Here, the chef serves up the grub that made him famous on Food Network's Cutthroat Kitchen, enticing both locals and out-of-towner's to come and indulge. Stockton, MidgleysPublicHouse.com
2nd: Chris Isert, Brookside Country Club
3rd: Buddy O'Dell, Mezzo
Casual Dining
Market Tavern
When you're ready to hit the town with your friends, where to shouldn't be a question. Market Tavern is the prime destination to relax, unwind, and let the good times roll. Their dimly lit atmosphere was made for tossing back a couple pints or sipping on something as fine as you-which also lends to its appeal as a first date venue. Stockton, MarketTavernStk.com
2nd: Garlic Brothers
3rd: Lodi Beer Company (Tie)
3rd: Manny's California Fresh (Tie)
Special Occasion Restaurant
Papapavlo's Bistro & Bar
When San Joaquinians put on a celebration they don't want their guests to miss, they turn to one venue in particular that treats each customer like an extension of their own family. Papapavlo's knows how to set the scene for an intimate get-together, or turn up the notch on a party for up to 100 people-featuring inspired banquet rooms and gourmet cuisine from specialty menus. Stockton, Papapavlos.com
2nd: Market Tavern
3rd: Townehouse Restaurant at Wine & Roses
Fine Dining
Townehouse Restaurant at Wine & Roses
Wine & Roses' Towne House Restaurant is synonymous with fine dining! The upscale spot is always buzzing, and there's rarely an open seat. Whether it's the can't-be-beat live music or the exceptional cuisine, something draws crowds of locals there nightly to enjoy the talented team's lineup of culinary specialties featured on a continuously evolving menu. Lodi, WineRose.com
2nd: Papapavlo's Bistro & Bar
3rd: School Street Bistro
Desserts
Nothing Bundt Cakes
There's nothing bundt scrumptious flavor in every bite of Nothing Bundt Cakes' desserts. Their bakery has something for every cake-lover, from small bundtini-sized morsels to larger than life bundt cakes that cater to the entire family-and then some. If you find yourself in the Lincoln Center bakery, you simply must try the Red Velvet cake-it's a franchise favorite! Stockton, NothingBundtCakes.com
2nd: Aldo's Italian Ice And Gelato
3rd: Toot Sweets Bakery Café
Restaurant Desserts
Market Tavern
From the Elvis Pie (blended peanut butter, bananas, and chocolate) to the Meyer Lemon Meringue Pie, we have to hand it to Market Tavern for, once again, stealing the show. Their vast menu of decadent desserts surpasses many we've sampled. And speaking of sample, have you tried the Key Lime Cheesecake? Stockton, MarketTavernStk.com
2nd: Papapavlo's Bistro & Bar
3rd: Midgley's Public House
Specialty Burgers
Squeeze Burger
You better believe Squeeze Burger reigns supreme when it comes to juicy, plump patties pampered with cheese skirts and served with a side of fries. These burgers are simply swoon-worthy! Feel free to customize this bad boy with a little avocado and bacon, and don't forget to sample one (or a few) of the 22 beers they have on tap. Stockton, SqueezeBurger.com
2nd: Flip's Burgers
3rd: Moo Moo's Burger Barn
Catering
Angelina's Spaghetti House
Every San Joaquinian knows where to turn for gourmet cuisine. At Angelina's Spaghetti House, the primly packed menu is perfect for any party's theme and budget. From appetizers to desserts and everything in between, they'll work with clients to provide guests a delicious day to remember. Stockton, Angelinas.com
2nd: De Vinci's Delicatessen & Catering
3rd: Smokin' Yankee's BBQ Catering
Happy Hour
Midgley's Public House
Midgley's holds the crown for best happy hour for a reason: the atmosphere is perfect for unwinding with a group of people you know well, or not at all. And with ample chance to let loose (happy hour runs 3-6 PM everyday at the bar and on the bar patio) you have no excuse not to join the party. While you're there, sample appetizers, draft beers, and house wines at a half-off discount-now that's something to be happy about! Stockton, MidgleysPublicHouse.com
2nd: Market Tavern
3rd: Garlic Brothers
American Cuisine
Market Tavern
When you love something, you've just got to let the world know. And that's why Market Tavern is being served with yet another golden mark on our Best Of lineup! Come down and sample their Griddled Corn Bread for something sweet and savory, or for an equally delicious feast, order the House Made Mary's Chicken Pot Pie. Stockton, MarketTavernStk.com
2nd: Midgley's Public House
3rd: Centrale Kitchen & Bar
Chinese
Dave Wong's
According to our beloved readers, the cuisine at Dave Wong's comes second to none. Head on down for some out-of-this-world eggrolls paired with delicious sweet and sour sauce and other delectable entrees like Mongolian Beef and Lemon Chicken. The venue is the perfect backdrop for a spur-of-the-moment get together with friends, or an all-out party. Stockton, DaveWongsRestaurant.com
2nd: Peking
3rd: Yen Du
Italian
Pietro's Trattoria
There's reason why Pietro's is proudly celebrating 30 years of quality service in San Joaquin. A menu full of signature dishes, such as Risotto al Mare (a plate with sautéed prawns, mussels, and clams in fresh marinara sauce, served with risotto) and the raved-about Chicken Scaloppini (a plate with sautéed mushrooms, fresh marina, and wine) are just a few of the offerings worthy of your appetite. Head in to cast your ballot on your favorite. Lodi, PietrosLodi.com
2nd: Angelina's Spaghetti House
3rd: De Vega Brothers
Mexican
Casa Flores
When visiting Casa Flores, you're an integral part of the memorable dining experience, and new friends are just a chair swivel away. That charming openness guests get to enjoy is exemplified by exceptional, attentive staff and the exquisite array of entrees always just a request away. Try the Pepper Specials on for size to find out why the Steak Ranchero, Chile Verde, and Chile Colorado are all the rage! Stockton, Tracy, Lodi, Manteca, MyCasaFlores.com
2nd: Tio Pepe's
3rd: Habanero Hots (Tie)
3rd: Nena's (Tie)
Japanese
CoCoro Bistro
Craving Japanese? Check out this top contender: CoCoro, whose unsurpassed fervor for all things Japanese, has won our foodie hearts! Stop in and say hello to a plate of Sesame Chicken or some Grilled Saba, a mackerel seasoned with kosher salt. We personally can get enough of the Donburi Bowls, and there's the option to order to go! Stockton, CoCoroBistro.com
2nd: Mikasa Japanese Bistro
3rd: Komachi Sushi
Sushi
Mikasa Japanese Bistro
Many of us look forward to sushi night with bated breath, but it's more than the promise of this cuisine staple that keeps Mikasa Japanese Bistro busy! Mikasa lives and breathes the dishes we gobble up like there's no tomorrow. And we're sure we don't have to remind you (but we will, anyway!) of rolls like the Spicy Dynamite or the Crunchy Hamachi Roll. Lathrop, Tracy, MikasaSushiLathrop.com
2nd: CoCoro Bistro
3rd: Komachi Sushi
Thai
Siamese Street
Simmering with flavor is Siamese Street Thai Restaurant, whose outstanding variety of dishes has earned them a spot in our hall of foodie fame. Wrangle up your friends and head to the Taiwanese hotspot for their Chicken Satay appetizer, or delve into a plate of Thai Chili Fish-another great meal that's perfect for sharing! Stockton, (209) 466-0130
2nd: Thai Me Up
3rd: Royal Siam
Ice Cream/Gelato/Yogurt
Tigers Yogurt
Tigers Yogurt may not offer the most flavors of any ice cream shop, but they sure have the best. They drum up business by packing their store with exactly what their customers crave. Come on down and enjoy a bowl filled with Cookies & Cream, a classic flavor locals can't get enough of. Stockton, (209) 952-6042
2nd: Oh My Yogurt
3rd: Aldo's Italian Ice And Gelato
Pizza
David's Pizza
In San Joaquin County, there's a pizza parlor on every corner, but only David's Pizza brings the old-fashioned charm of hand-tossed dough back into each pie rolled, baked, and sliced in their kitchen. Using high quality ingredients to prepare their sauces and toppings, David's Pizza stands high on the pedestal of pizza joints we love to frequent. Don't believe us? Take a bite out of their Artichoke Pesto Special, or a number of other delectable favorites filling the menu. Stockton, DavidsPizzas.com
2nd: Michael's Pizza
3rd: Rick's Pizza
Outdoor Patio Dining
Garlic Brothers
At Garlic Brothers, the patio seating and breathtaking views are almost as good as the pizza. That's why it holds the top rank for outdoor seating amongst San Joaquinians. So, next time you head out, why not grab a Fishbowl, lounge outside, and watch the sun settle along the water's edge? It's certainly on our bucket list this summer! Stockton, GarlicBrothersOnline.com
2nd: Pietro's Trattoria
3rd: Papapavlo's Bistro & Bar (Tie)
3rd: Midgley's Public House (Tie)
Seafood
Bud's Seafood Grille
We've got to hand it to Bud's Seafood and Grille. Businesses come and businesses go, but Bud's fresh, delicious seafood entrees remain the very best in San Joaquin. From the California Seafood Combo to the bowls of clam chowder, Bud's will always remain the victor of our seafood aficionados. Stockton, BudsSeafood.com
2nd: El Rancho Inn-Steak & Lobster
3rd: Market Tavern
Steakhouse
El Rancho Inn-Steak & Lobster
If you want a slab of something seared to perfection, grilled to order, and just downright pleasing to look at, you're destined to be pleased with the plates at El Rancho Inn-Steak & Lobster House. They know just what guests are coming in for and they're ready to deliver with savory steaks and slices of meat that practically melt in your mouth. Stockton, (209) 467-1529
2nd: Waterloo, CA Restaurant
3rd: Woodbridge Inn Steakhouse
Wine Club
Macchia Wines
Fans of Macchia Winery are encouraged to join Club Red-the winery's exclusive wine club. Members enjoy quarterly shipments (two bottles each time) as well as ample discounts. Each shipment includes a favored zinfandel from the label, as well as another specialty handpicked by the winemaker-a Petite Sirah, Graciano, or an Italian varietal, occasionally including member exclusives. Acampo, MacchiaWines.com
2nd: Michael David Winery
3rd: Viaggio Estate & Winery
Wine Tasting Room
Oak Farm Vineyards
With three open tasting rooms, it's no wonder San Joaquinians clamor for a seat at this historic vineyard. In addition to the main area, two private rooms boast little luxuries, and staff pours Northern Mediterranean wines made from grapes grown on-site. From cabernet sauvignon, malbec, petite sirah, petite bourdeaux, and sangiovese to barbera, zinfandel, sauvignon blanc, and albarino, there's a full range of flavors to enjoy. Lodi, OakFarmVineyards.com
2nd: Viaggio Estate & Winery
3rd: Harney Lane Winery (Tie)
3rd: Macchia Wines (Tie)
Wine Bar
Mile Wine Company
This industrial-chic eatery is the place to be any night of the week! With food, beer, and wine constantly served, patrons keep entertained while they sip with live music and other events. Take advantage of wine tasting on Tuesdays, bingo on Wednesdays, happy hour Monday-Thursday (3-6 PM), and more. Stockton, MileWineCompany.com
2nd: Lincoln Cellar
3rd: Lodi's Wine Social
Winery
Michael David Winery
Six generations have grown wine grapes on the Phillips family's 750-acre estate for nearly a century. Over time sustainable farming practices have become an important part of their process, as well as producing quality wines with eye-catching labels. Stop by to indulge in red, white, and reserve wines, visit the on-site store, or sit for a tasting. Lodi, MichaelDavidWinery.com
2nd: Oak Farm Vineyards
3rd: Viaggio Estate & Winery
Zinfandel
Macchia Wines – Mischievous
The complex taste of Macchia's old vine zin is accomplished by expertly combining grapes from five of the region's oldest vineyards. A touch of petite sirah adds structure while the oak barrels in which it's aged creates a soft vanilla finish. Acampo, MacchiaWines.com
2nd: Michael David Winery – 7 Deadly Zins & Lust
3rd: Jessie's Grove Winery – Earth, Zin & Fire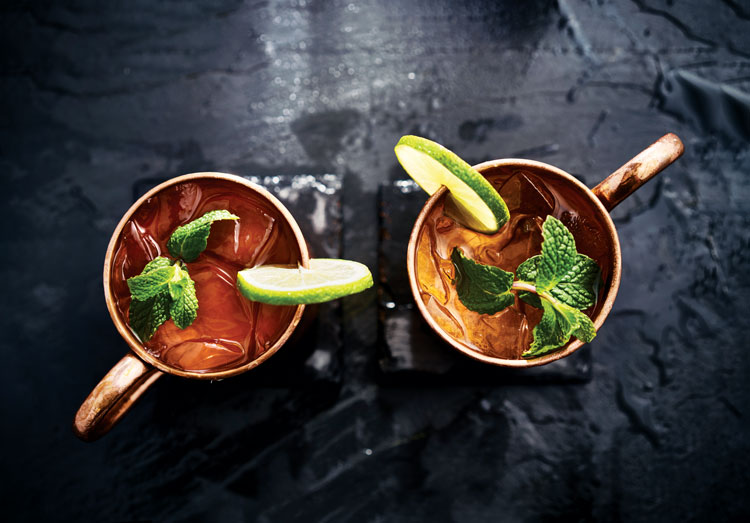 Specialty Cocktail Drink
Market Tavern
Moscow mules are served up at bars across San Joaquin County, but there's a reason Market Tavern is revered for its versions. With four options-Mexican (tequila), Moscow (vodka), Irish (whiskey), and Kentucky (bourbon)-there's a way for every drinker to enjoy this trendy beverage. Aside from the liquor variation, the cocktails are each made with ginger beer and soda. Stockton, Markettavernstk.com
2nd: Rosewood Bar & Grill
3rd: Towne House Restaurant at Wine & Roses
Margarita
Casa Flores Mexican Restaurant
On your quest for San Joaquin's finest margarita, stop at Casa Flores and taste the winning blend. After all, your neighbors have deemed it the best! Served blended or on ice, with salt or without, the fresh-squeezed juices make all the difference in this Mexican beverage staple. Stockton & Lodi, Casaflores.com
2nd: La Palma Mexican Cuisine
3rd: Habanero Hots
Beers On Tap
Lodi Beer Company
Beer in a bottle is fine, but straight from the tap it's heaven in a glass. Choose from cool flavors like tart cherry wheat and mo kel ko red ale to absorb the individuality Lodi Beer has to offer. Whether aromas of clove and banana pull you in, or caramel and toasted malt sound like a celestial pairing, Lodi Beer has it to serve-by keg, growler, or glass. Lodi, Lodibeercompany.com
2nd: Taps Barrel House
3rd: Valley Brewing Company
Beer Pub
Porter's Pub
This New American gastro pub enjoys an impressive list of local and big-name beers to keep patrons satisfied while they order up plates of delicious menu items, watch the game, or partake in one of the brewpub's sponsored events. Lodi, Facebook.com/PORTERSPUBLODI
2nd: The Abbey Trappist Pub
3rd: Lodi Beer Company
Coffee House
House of Coffees
Stop in for a pick-me-up at House of Coffees, where taking shots at 5:30 AM is completely appropriate. Whether you're looking to down espresso on Monday morning, or jonesing for a blended, caffeinated beverage with a shot of tasty syrup on the weekend, the Lakewood Mall location's list of coffee drinks with festive names offers an endless supply of potential addictions. Lodi, (209) 368-2611
2nd: Empresso Coffeehouse
3rd: Barista's
Coffee Drink
1st: White Mocha
2nd: Mocha Frappuccino
3rd: Latte
Chiropractor
Hayes Chiropractic
Honesty is the best policy at Hayes Chiropractic, where many of the doctors are members of the Hayes family. Dedicated to providing care to those they can help-and referring those they can't to qualified specialists elsewhere-the process is simple. Go in for an exam, receive a diagnoses, create a plan of care, follow said plan, feel better. Multiple Locations, HayesChiroinc.com
2nd: Robert J. Shapiro, DC, Shapiro Chiropractic
3rd: Valley Chiropractic Center
Cosmetic Surgeon
Hugh L. Vu, MD
When it comes to cosmetic surgery, finding the right surgeon is the first step. Dr. Hugh Vu-who works on the body, breasts, face, and skin-is a board certified plastic surgeon. In addition to a full line of reconstructive and elective services, Vu Plastic & Cosmetic Surgery includes a skin and laser center that specializes in fillers, Botox, correction of age and sun spots, and more. Stockton, VuPlasticSurgery.com
2nd: Joseph Burlin, MD, INC
3rd: Thomas McNemar, MD, FACS
Cosmetic Dentist
Todd A. Franklin, DDS
A good looking smile can open doors! After all, it's the first attribute many people notice when meeting someone new. From veneers, crowns, and implants to whitening, gum shaping, and more, there are plenty of ways to enhance your natural smile. A large selection of first-class tools and technologies ensure you will receive both care and results that will leave you grinning. Lodi, ToddFranklinDds.com
2nd: Stanley L. Demski, DDS
3rd: Lester Low, DDS
Dental Practice
Stanley L. Demski, DDS
What many people don't realize is that serious medical conditions often start in the mouth. That's why it's important to take care of your teeth and gums. If you experience any sort of mouth or jaw pain, seek help. At the office of Stanley Demski, DDS, full oral examinations act as a window into overall health, and allow Dr. Demski's team to get you feeling better, quick! Lodi, DemskiDds.com
2nd: Kids Care Dental
3rd: Lester Low, DDS
Orthodontist
Cameron R. Wheeler, DDS
Looking for a straighter smile? Dr. Cameron Wheeler and his team are well-versed in the way of orthodontic offerings, with a wide variety of braces types available to those throughout San Joaquin County. A dedication to technology ensures patients receive the best possible care from the Wheeler team, whose fun personalities shine through in office games and contests that beg for patient participation! Stockton, WheelerOrtho.com
2nd: Robert Sutter, DDS
3rd: Lester Low, DDS
Medi Spa
Total Body Medi Spa
At Total Body Cosmetic Surgery Center, Dr. Shaukat Shah transforms patients inside and out through a collection of cosmetic surgeries and procedures. His vision, creativity, and skills result in an overall rejuvenated, more youthful appearance, helping patients become a more radiant version of themselves through sophisticated and truly effective treatments. Stockton, TotalBodyMd.com
2nd: Kym with A Y, Organic & Natural Spa
3rd: The Make-Up & Skin Care Studio at Texture Salon
Dermatologist
Stuart I. Jacobs, MD
If your skin is hurting your confidence, or you suffer from a serious underlying condition, Dr. Stuart Jacobs-a board-certified dermatologist-may be the answer. Skilled in removing bothersome skin lesions (benign or malignant) and skin tags and performing acne surgeries, as well as treating conditions such as dry skin or hives, his expert approach advance the health of your skin while improving its overall appearance. Stockton, (209) 957-6662
2nd: Central Valley Dermatology
3rd: The Dermal Clinic
OB/GYN
Gill OB/GYN Medical Group, Inc.
When you're in need of an obstetrician you can trust, turn to Gill Obstetrics and Gynecology. With nearly 60 years of experience in San Joaquin County, the medical group's team is skilled in treating conditions at every stage of life. From your first baby, to menopause, to disorders and diseases, Gil is there to meet your needs. Stockton, Gillobgyn.com
2nd: Patrica A. Hatton, MD
3rd: Stephen M. Tsang, MD
Optometry
Brookside Optometric Group
Formed in 1998 when three local practices merged, Brookside has remained a San Joaquin favorite for years. Here, customer satisfaction is key, and a large group of doctors on staff allows the facility to grant visits outside of normal business hours, as well as host an on-site lab and frame store, making Brookside a one-stop-shop for your optometric needs. A well-loved optometrist is needed in all areas as it can help a community. Those who are looking to shut up shop with their practice and move to a new area will need to look at how to put their optometry practice for sale, so they are able to move on in an efficient manner. Luckily there are websites such as pecaa.com that can discuss this further. Stockton, BrooksideOptometric.com
2nd: Zeiter Eye Medical Group
3rd: Midtown Optometry
Hearing Center
American Hearing Aids
With Debbie Bond at the helm, American Hearing Aids is revered the best by customers across San Joaquin County. A large assortment of technological device and customer service that goes above and beyond are among the top reasons clients return for their hearing aid purchases, repairs, and services. Stockton, AmericanHearingAids.biz
2nd: University of the Pacific Hearing and Balance Center
3rd: Stockton Hearing & Speech Center
Day Spa
The Spa at Wine & Roses
Enjoy a day of pampering at the rejuvenating spa where organic products and a natural setting (think tall trees surrounding the Central Valley oasis) transport visitors to a land far, far away. Here, services take advantage of the surrounding elements to create an extensive spa menu that allows for restful, customized experiences perfect for spoiling bridal parties, birthday girls, and more. Lodi, WineRose.com
2nd: Perfect Balance Day Spa
3rd: Kym with A Y, Organic & Natural Spa
Health Club/Gym
In Shape
With multiple health clubs throughout San Joaquin County, In Shape offers convenience of location for its members, as well as a slew of classes, programs, perks, and machinery. State of the art equipment and qualified instructors have helped make In Shape a success. Find the club nearest you, or get a pass that allows you (and your family) to jump between locations. Multiple Locations, InShape.com
2nd: Crossfit 209 Sport
3rd: Ben Mackie
Yoga Studio
True You Hot Yoga
Turn up the heat on your yoga routine with one of True You's hot yoga classes. Performed in heated rooms-most stay true to Bikram style yoga-to maximize the exercise's healing properties, the studio teaches 60-, 72-, or 90-minute hot yoga classes and other stress-busting specialties such as True Fusion or Inferno Pilates. Don't forget to ask about classes held in non-heated rooms. Multiple Locations, TrueYouHotYoga.com
2nd: Vinyasa Flow Yoga
Hair Salon
ALTER Custom Hair Design
Don't just cut your hair, design your hair! At Alter, the focus is trend-setting hair design coiffed by the best talent in Stockton. All of the experts on staff are authorities in coloring, cutting, and styling locks of all colors and textures, and stay dedicated to their craft through continued education and practice. Prepare to take your style game to the next level! Stockton, AlterHairDesign.com
2nd: POMP Salon
3rd: Exclusive Beauty Salon
Tanning Salon
Havatan
Looking to bronze to just the right shade of sun-kissed color? Stop into Havatan where you'll be met with options for your tanning needs. Ask for a spray tan to enjoy a few days of glorified summer color, or opt for a more permanent approach in a UV tanning bed. Stockton, Havatan.com
2nd: Planet Beach
3rd: La Stella Tanning & Day Spa
Urgent Care
Dr. Birlew, Stockton Urgent Care
If you're visiting Nicholas Birlew, MD, chances are you're not seeing him on your best day. However, with a friendly approach, Dr. Birlew has built a reputation in the Stockton medical community as a healer focused on patient needs. If you have to spend a few hours in an urgent care office-Stockton Urgent Care is the place to visit. Stockton, StocktonUrgentCare.com
2nd: Trinity Parkway Urgent Care
3rd: Sutter Urgent Care, Sutter Gould, Stockton
Local Women's Clothing Retailer
FINA
Whether weekend plans consist of an outdoor barbecue or an upscale cocktail party, Fina boutique in Lincoln Center has an outfit to fit the occasion. The shop's inviting staff and quality garments make it a gem for women who love fashion. Home to labels like Free People and Wild Fox, high-end items are hand-picked by owner Lisa Dixon and her staff. Stockton (209) 478-5670
2nd: Lovely Girl Mobile Boutique
3rd: Bellissima
Accessories
Fashion Safari
Designed as a spot where generations can shop together, the fun clothing store houses loads of accessories to complete every outfit. From chunky, statement jewelry to dainty, everyday pieces, bright, colorful shoes to quality belts, hats, and purses, the mission is to provide great pieces at prices that allow shoppers to stock up. Lodi (209) 369-8222
2nd: Lovely Girl Mobile Boutique
3rd: FINA
Local Women's Shoe Boutique
Dennis Shea Men's & Women's Shoes
At Dennis Shea's Lincoln Center shop, Dennis and his staff are in charge of dressing your feet in hard-to-find sizes from enviable designers. Stock up on styles from Cole Haan, Stuart Weizman, Bernardo, Dansko, and more, and don't forget your beau. The retail shoe store carries both men's and women's designs. Stockton (209) 957-7064
2nd: FINA
3rd: Burton's Shoes
Fine Jeweler
Gary J. Long Jewelers
A long list of accolades and awards are proof of expertise at Gary Long Jewelers-family owned and operated since 1983. From diamond selection, to continued customer care, the fine jeweler guarantees a lifetime warranty on every diamond sold, and after an initial purchase is made, customers clamor to come back and expand collections, size up existing stones, and take advantage of that platinum promise. Stockton, Gjlongjewelers.com
2nd: Peck's Jewelers
3rd: Danz Jewelers
Consignment
My Best Friend's Closet
Looking for designer duds without the sticker shock? Pick up gently-used clothing and accessories from brands like 7 For All Mankind, Dolce & Gabbana, Coach, Ellie Tahari, and more. Or, sell your stuff. The shop is dedicated to pricing items so they turn a profit but are still marketable to buyers. Check out the seller's contract online for the run-down. Tracy, Mbfctracy.com
2nd: New & Again Consignment Furniture Gallery
3rd: Caterpillar Children's Boutique
Vintage
Superior Thrift Store
When you're in search of vintage finds, there's no better place to score a bargain than at Superior Thrift. Shelves lined with clothes, toys, and other odds and ends, plus a giant showroom packed with furnishings and antiques, means you can locate just about anything at this Stockton superstore. Don't have time to drop in? Shop online! Stockton, Superiorthriftstore.net
2nd: The Owl Box
3rd: New & Again Consignment Furniture Gallery
Furniture
CR Porter – The Showroom
C.R. Porter Home Décor and HT Home Design have teamed up to bring San Joaquinians the very best in interior design. Shop a collection of renowned brands at the Miracle Mile showroom to create a truly unique space you can call your own. With the help of owners Tammy Kelley, Brian Holtz, and Mark Tschirky, and their talented staff of designers, C.R. Porter promises the very best. Stockton, Hthomedesign.com
2nd: Thornton House Furniture
3rd: Daniger Furniture (Tie)
3rd: Bear Creek Furniture (Tie)
Shopping Center
Lincoln Center
What better way to waste an afternoon than browsing goods at Lincoln Center, where rows of shops beckon for you to come and spend your hard-earned dollars? Try on trendy fashions at Theadora, browse house wares at Best Wishes and find the finest home décor at Lino Bella. From wine bars to dessert shops, it's hard to tire of the center's local boutiques and flavorful food stops. Stockton, Lincolncentershops.com
2nd: Stone Creek Village
3rd: Park West Place – Trinity Parkway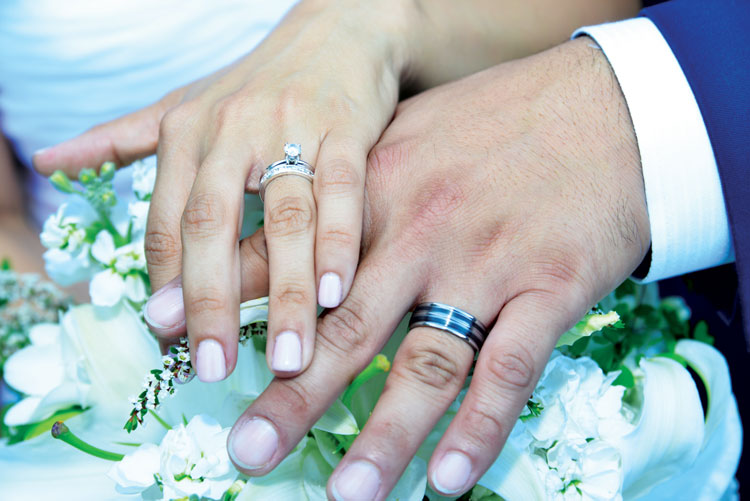 Cake
Frosted Flour
Partners Christine and Lisa team up to bring brides gorgeous cakes that taste as sweet as they look. After all, weddings are their specialty. While a scrumptious gallery exists online to help brides draw inspiration, each wedding cake is custom-designed to fit the desires of the bride and groom. Head in for a complimentary cake tasting to get started. Lodi, Frostedflour.com
2nd: Fizz Bakery
3rd: Something Sweet Bakery (Tie)
3rd: Sweet Arts Bakery (Tie)
Caterer
Angelina's Spaghetti House
When guests sit for dinner, they will be met with both professional servers and a mouthwatering meal. Every menu is caters to personal taste, budget, and occasion. Start with hors d'oeuvre then move through the flawless line-up of starters, entrees, and more before moving on to dancing and dessert. Stockton, Angelinas.com
2nd: Smokin' Yankees BBQ & Catering
3rd: On the Scene
DJ
Elite Entertainment
As the master of ceremonies, your DJ leads the party through every song and big moment. Entrust only the best, most charismatic professionals with this important task. At Elite, the company's commitment is to high-quality service, providing each couple with a song list tailored to their unique style, plus fun-filled extras such as photo booths, confetti canons, and special effects. Stockton, Elitedj4u.com
2nd: Marquis Entertainment
3rd: DeBorba Events
Dress
Bliss Bridal
Say yes to the dress in style! Peruse rows of designer gowns in this Miracle Mile bridal shop dedicated to impeccable service, personalized attention, and exquisite selection. Once you've found "the one," move on to those other important items-tuxedos, bridesmaid dresses, veils, accessories, and more! Stockton, Blissinstockton.com
2nd: Elizabeth of Lodi
3rd: Maxine's Bridal
Flowers
Silveria's Flowers & Gifts
Love is in full bloom at Silveria's where staff are ready to make all your floral dreams come true. From bride bouquets that rival a royal's, to boutonnières, bridesmaid bouquets, and wedding corsages for all of the special people you plan to share your big day with, Silveria's colorful conceptions are sure to delight. Stockton, Silveriasflowersandgifts.com
2nd: Sweet Peas Floral Design
3rd: The Little Flower Shop
Invitations
Best Wishes
At Best Wishes, an expert touch is the ideal companion for your wedding invitation journey. Staff is on hand seven days per week to help brides-to-be sort through the varied selection of wedding stationary, and choose the perfect paper to announce their impending nuptials. Stockton, (209) 478-3220
2nd: Creative DNA
3rd: Free Byrd Studios
Make-Up
The Make-up & Skin Care Studio
Say "I do" to beauty at the studio inside Texture Salon, where make-up artists are committed to giving brides a healthy glow. Consultations and wedding day makeup are part of the package, and allow bride and artist to collaborate on day-of looks. Lodi, Themakeupstudio.biz
2nd: Victoria Pena, ALTER
3rd: Perfect Balance Day Spa (Tie)
3rd: Heather Camacho (Tie)
Photographer
Briggs Photography
Richard & Shawna Briggs are the lovebirds behind Briggs Photography. Not only did a shared love of photography bring them together, their first date was spent shooting a wedding together! The perfect blend of artistic vision and relaxed atmosphere result in gorgeous photographs brides and grooms will cherish forever. Manteca, Briggsphotography.com
2nd: Dee Yates Studios
3rd: Heather Jean Photography (Tie)
3rd: Julie Nicole Photography (Tie)
Rings
Pecks Jewelers
Whether you're after an engagement ring to wow your true love, or need a wedding band to compliment her ring finger's sparkler, San Joaquin Valley's only Certified Gemologist Appraiser Jeff Fields and other experts at Peck's are there to help make the right decision. From the timeless designs of Diana's pieces to mountings, diamonds, and gemstones by Stuller, Inc., the options are as endless as your love. Stockton, Pecksjewelers.com
2nd: Gary Long Jewelers
3rd: Danz Jewelers
Tuxedo Shoppe
Tuxedos of Lodi
When you're walking down the aisle in a suit from Tuxedos of Lodi, you're not just looking good, you're making a fashion statement. And that's why they're golden in our books! Whether you're renting for your big day or taking this baby for all its worth, know you're strutting in style. Lodi, jimsformalwear.com
2nd: Formal Connection
3rd: Men's Wearhouse
Outdoor Venue
Wine & Roses
Walk into Wine & Roses and watch as the hustle and bustle of city life rolls away, replaced with a scenic retreat of sweeping vines and majestic trees, locked in another time and age entirely. Whether your special day takes place in the light of day or the flicker of glossy and regal lamps, it's a celebration no guest will ever forget. Lodi, winerose.com
2nd: Viaggio Estate & Winery
3rd: The River Mill (Tie)
3rd: Oak Farm Vineyards (Tie)
Indoor Venue
Wine & Roses
Breathe life into your big day by taking a seat in the Garden Ballroom at Wine & Roses and watching the warmth and well-wishes unfold in the company of those you cherish most. Featuring high ceilings and neutrals tones to create your perfect color scheme. Lodi, winerose.com
2nd: Morris Chapel
3rd: Brookside Golf & Country Club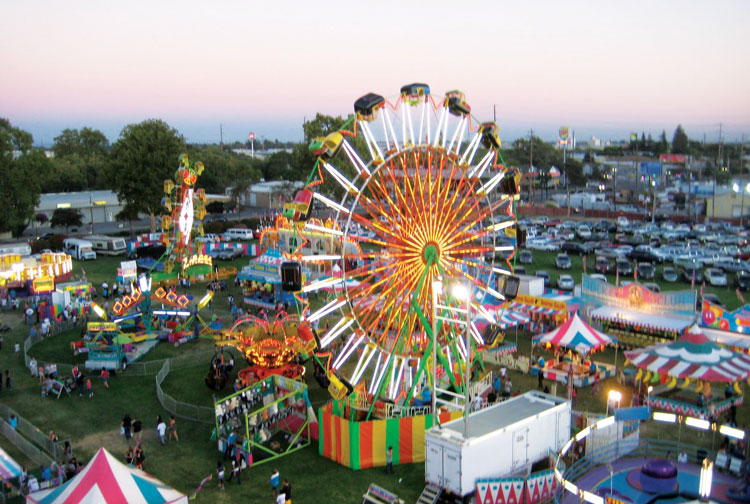 Food Festival
Asparagus Festival
The abundance of asparagus crops in San Joaquin County set the scene for the Asparagus Festival-an extravaganza focused on all things green and garden grown (food, drinks, attractions, and more!) From deep-fried vegetable bundles to strangely flavored, yet tasty ice cream, it's a must-see, must-taste, must-attend event! Stockton, StocktonAsparagusFestival.net
2nd: Greek Festival
3rd: Lodi Grape Festival
Wine Event
Lodi Wine & Chocolate Weekend
There's nothing sweeter than Lodi Wine & Chocolate Weekend, where wine lovers gather to sample the region's best varietals paired with delicious chocolate treats-think chocolate-covered strawberries, white chocolate sweets, and rich chocolate truffles. A slew of participating wineries make it easy to find new favorites. Lodi, LodiWineAndChocolate.com
2nd: Zinfest
3rd: Jessie's Grove Concert Series
Family Festival
Lodi Grape Festival
The Lodi Grape Festival is a family-friendly affair! The same attractions that draw adults to the annual event make it a must-see for kids, as well. Visit animal exhibits like the Lodi Serpentarium, get an up-close look at Tractor showcases, and test out carnival rides galore. The fun literally never ends (until closing time at least). Lodi, GrapeFestival.com
2nd: Asparagus Festival
3rd: StockMarket
Local Casino
Jackson Rancheria
The Sierra foothills hold a goldmine of opportunity in its vast cascade of pine trees, much of which can be taken advantage of at Jackson Rancheria, a casino hotel that promises not just a good time on the slots, but events, live music, and state of the art services to look forward to, as well. Jackson, JacksonCasino.com
2nd: Red Hawk
3rd: Thunder Valley
Public Golf Course
Swenson Park Golf Course
Book a tee-time at Swenson Park Golf Course, a challenging, par-72 course set alongside 200-year-old Valley Oaks and lakeside landscapes. With offerings for both 18-hole and 9-hole (par-3) games, it's a good choice for any golfing party, regardless of skill. Stockton, StocktonGolfCourses.com
2nd: Elkhorn Golf & Country Club
3rd: The Reserve at Spanos Park
Private Golf Course
Brookside Golf & Country Club
Brookside Country Club sets the standard for a perfect day of golf. Sharpen your stroke and watch your ball soar over contoured knolls and unforgiving hazards, while you show the competition how it's done on this 18-hole championship course. Stockton, BrooksideGolf.net
2nd: Stockton Golf & Country Club
3rd: Woodbridge Golf & Country Club
Tattoo Parlor
Hard Luck Tattoo
Why press your luck on any old parlor when you can go to Hard Luck Tattoo for some extraordinary ink from a quality artist? Each piece is crafted on request to ensure your tat meets expectations. From faces to tribal works and all things in between, if you end up regretting your permanent body art, it won't be the fault of these pros. Lodi, HardLuckTattoo.com
2nd: Emerald Tattoo
3rd: The Freckled Rose Tattoo
Air Conditioning/Heating
Lovotti Air
No one enjoys a hot summer when you can't escape the heat. That's where Lovotti Inc. comes in-ready to repair, replace, or install the quality air conditioner you simply can't live with out. And Lovotti Inc. will get your heater in shape for winter, too! Trust them to take on any task with expert care and friendly service. Stockton, LovottiAir.com
2nd: Tokay Heating & Air Conditioning
3rd: Queirolo's Heating & Air Conditioning, Inc.
Assisted Living Facility
O'Connor Woods
Rest easy with O'Connor Woods, where wonderful living is their everyday goal. Residents of their assisted living program enjoy an independent lifestyle, but with a helping hand during daily activities. Forget about housekeeping, laundry, and cooking, they handle these chores so you can fill your day engaging in rich experiences with your loved ones. Stockton, OconnorWoods.org
2nd: The Commons on Thornton
3rd: Vienna Nursing & Rehab Center
Local Bank
Bank of Stockton
Put your trust in Bank of Stockton where the friendly staff always has your best interest in mind! With mobile alerts for monitoring activity, easy online banking, and a 24-hour hotline for all your banking needs, you can rest assured your money is being managed well. Lodi, BankOfStockton.com
2nd: Farmers & Merchants Bank
3rd: BAC Community Bank
Local Credit Union
Financial Center Credit Union
Known as the largest credit union based in San Joaquin County, FCCU holds the gold standard when it comes to helping their customers spread their wings. They work to bring discounted prices for insurance products, financial planning, and legal assistance to each and every community member that walks through their doors. Stockton, FCCUBurt.org
2nd: Central State Credit Union
3rd: Premier Community Credit Union
Automobile Dealership
Chase Chevrolet
Looking to add a car to your collection? Or, maybe you finally need to replace that clunker you've been rolling around town in. Either way, when you steer your wheels into Chase Chevrolet, you'll know you've come to the right place. With fast, friendly service and out-of-this-world automobiles, your first visit might be your last, until you want to upgrade again! Stockton, ChaseChevrolet.com
2nd: Big Valley Ford
3rd: Lodi Toyota
Banquet Facility
1st: Brookside Golf & Country Club
2nd: Wine & Roses
3rd: Elkhorn Golf Club
Flooring Company
Classic Design Floor to Ceiling
Trust in Classic Design to take your flooring up a notch with carpet, hardwood, and laminate, bringing variety to your home in many appealing colors and styles. Their award winning work is not only evident in what they've won, but by the many spectacular reviews left behind by happy customers. Lodi, ClassicDesignFtc.com
2nd: Big Ben's Flooring, Carpet & Tile Cleaning
3rd: Raphael Hardwood Flooring
Kitchen/Bath Remodeler
Classic Design Floor to Ceiling
It's with good reason Classic Design has become known as "the Central Valley's premier destination for effortless home improvement." From floor to ceiling window coverings to kitchen décor, they bring the design know-how to benefit your home. Lodi, ClassicDesignFtc.com
2nd: Delta Plastics
3rd: John Kelly Custom Home Inc.
Blinds/Windows
Discovery Shutters & Shadings
Blinds are a bold, brilliant way to bring life into your home. Don't let them get dull; call Discovery Shutters & Shadings. The team works with you to find the right fit for your household, whether you want to shine some light on select rooms, set the mood with a dimmer switch, or improve your home's overall acoustics. Stockton, ShuttersAndShadings.com
2nd: Budget Blinds
Interior Design Firm
KTJ Design Co.
People win awards for a reason, usually, because of their expertise. Cue Kathleen Jennison, the area's leading interior designer whose goal is to help you create your dream home. Work with her to expertly meld the best in home design with your own personality and preferences-from hallways to the kitchen, the dining room to a poolside patio, and beyond. Stockton, KathleenJennison.com
2nd: Classic Design Floor to Ceiling
3rd: CR Porter – The Showroom
Charter School
Health Careers Academy High School
Your student deserves the best. And that's why parents from across San Joaquin have voted Health Careers Academy as their choice charter school in preparing their students for a college education in health related fields. Students enrolled in Health Careers Academy earn college credits during their attendance, helping them fly even further during their first years during University. Stockton, hca-susd-ca.schoolloop.com
2nd: Aspire River Oaks Charter School
3rd: Stockton Collegiate International Schools
Private K-8
Cathedral of Annunciation
Paving the way to a strong connection in Catholic faith and education is Cathedral of the Annunciation School. Their balance of academic excellence alongside the teachings of Jesus Christ ensures a strong religious connection while providing each student the tools they need to grow into adulthood. Stockton, annunciation-school.org
2nd: Presentation School
3rd: Lodi Christian School
Tutoring
Kumon Math & Reading Center
For more than 50 years, Kumon's approach to learning has helped children thrive as they move through enrichment programs at their own pace. The approach not only helps children build necessary skills in math and reading, it also focuses on increasing their motivation and focus to become more successful students. Multiple Locations, Kumon.com
2nd: Huntington Your Tuition
3rd: Give Every Child a Chance
Children's Martial Arts Studio
Moore's Karate
Shou Shu-style kung-fu is described as a serious self-defense approach to martial arts. Classes are adapted to fit different age levels so Lil Dragons (ages 3-5) are more focused on developing motor skills, hand-eye coordination, focus, self confidence, and discipline, while older students delve into self-discipline, respect, concentration, and courtesy. Stockton, Karateyogastockton.com
2nd: American Martial Arts Academy
3rd: Discovery Martial Arts
Children's Photographer
Sweet Sisters Photography
A born-and-raised Stocktonian, Janda McManus started her photography journey shortly after her son was born and she became addicted to capturing all of life's little moments. From that, a business sprouted and since 2011 she has been capturing others' memories on film, specializing in photographs of young children. Stockton
2nd: Heather Jean Photography
3rd: Free Byrd Studios
Children's Dentist
Lester Low, DDS
As a father of three, Lester Low, DDS, is skilled at handling young patients. For children there may be comfort in visiting a dentist the whole family can see, and from the moment you step foot in the waiting room, fears will be alleviated. Dr. Low and his staff provide a comfortable experience from start to finish for both routine exams and dental procedures. Stockton, Smilesdoctor.com
2nd: Kids Care Dental
3rd: Lynn Parker, DDS
Children's Clothing/Boutique
Sassy Pants Children's Boutique
Need designer duds for your budding fashionista? Sassy Pants Children's Boutique has you covered. With apparel, shoes, accessories, and gifts for kids up to age 14, it's the prime place to teach your tike the importance of style. Grab a clever onesie for your neighbor's new baby, or pick up a tutu for your own little princess. Stockton, Shopsassypants.com
2nd: Caterpillar Children's Boutique
3rd: Crazy 8
Children's Gymnastics
GymStars Gymnastics
Let your children work out their energy as they tumble and twist at the multi-sport and entertainment facility appropriately dubbed Gymstars. In addition to its celebrated gymnastics classes for kids ages two months and older (plus competitive level gymnastics for rising stars), the facility teaches cheer, karate, soccer and a superhero training class. Stockton, Gymstars.com
2nd: Impact Sports Center
3rd: Champion Gymnastics Academy
Children's Ballet
Stockton Ballet School
Here, children interested in ballet can grow into well-rounded dancers through curriculum that stretches beyond traditional ballet instruction to incorporate jazz, tap, Pilates, hip-hop, ballroom dancing, tumbling, lyrical dancing, and more. Youth programs are open to kids ages 4-15. Five six to eight week sessions are available throughout the course of the year. Stockton, Dancestockton.com
2nd: The Dance Connection
3rd: Unique Visions Dance Company
Children's Dance Studio
The Dance Connection
For 30 years, instructors at the family-owned studio have been instilling a love of dance in its students and fostering opportunities for children to grow in a wide genre of styles. From ballet to jazz, hip hop to competitive dance, the studio opens its doors to children of all ages and abilities. Stockton, (209) 956-2522
2nd: Unique Visions Dance Company
3rd: JuJu's Onstage Dance Studio
Outdoor Family Activity
Lodi Lake
It's time for a little fun in the sun! The lakefront park has no shortage of activities to keep busy bodies, well, busy. Choose from family-friendly choices like boating, kayaking, chartered river tours, and nature programs, or let kids run wild (with supervision) on the playgrounds and in the water. Lodi, (209) 368-5624
2nd: Micke Grove Park
3rd: Stockton Ports
Birthday Party Spot
Micke Grove Zoo
If your wild animal (ages 4-10) is celebrating a BIG birthday, throw them a party at Micke Grove Zoo! Jungle and rainforest themed decorations liven up the Alice S. Hunter Education Building where party festivities are held. Every invitee gets admission to the zoo, and there are even chances to get up close and personal with a few of the zoo's favorite residents! Lodi, Mgzoo.com
2nd: Zaps Zone
3rd: Go Bananas