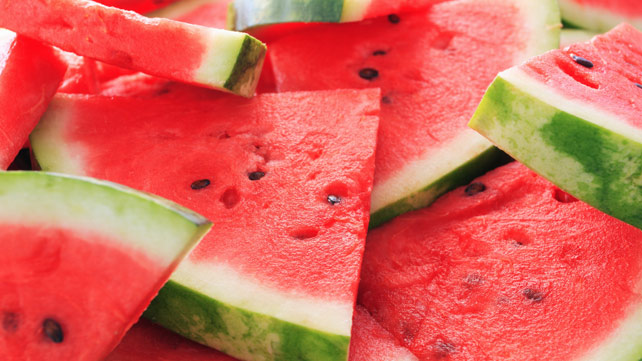 If you've ever taken a bite out of a watermelon, it's no surprise how this juicy produce got its name. The watermelon is both a fruit and a vegetable, because it grows from a seed and is harvested and cleared from the field (like any other veggie.) People have enjoyed watermelon for centuries, as the produce made its way from native Africa and spread throughout the world by way of merchant ships.
Here in San Joaquin Valley, we are among the top three counties in California for watermelon production. In 2014, county farmers produced nearly 94,000 tons of watermelon, according to San Joaquin County Agricultural Commissioner's office. Having such an abundance of watermelon means loads of benefits for people who eat them as well.
Watermelon naturally contains high levels of lycopene – an antioxidant linked to healthy perks. Eating this juicy fruit and vegetable can help improve heart health, bone health, and prostate cancer prevention. The best way to get the most out of a watermelon is to allow it to fully ripen. The redder the inside of the melon, the higher concentration of lycopene. In addition, each juicy bite of watermelon packs a mouthful of nutrients, including vitamin A, which promotes healthy skin, and Vitamin C, a supporter of our immune system. You can even eat the seeds that provide small, but helpful amounts of iron and zinc.
Trying to lose weight?  Vitamin B6, found in watermelon, supports adrenal function, maintains a healthy nervous system, and aids in the metabolism process. Looking to improve the state of your skin? Rub the watermelon rind directly onto pimples and blemishes and rinse off after a few minutes. Watermelon is a food synonymous with summer and now a health and beauty, too!
Fresh Melon Pizza
Ingredients:
1/2 medium to Large Watermelon
2 bananas
2 handfuls of Blueberries
1 Tbsp. wild harvest organic fresh mint
Flavor Tip: For added flavor, sprinkle with shredded, unsweetened coconut
Directions:
Slice the watermelon into thirds, creating "pizza" slices from the melon. Lay the slices out on a chopping block or serving tray. Slice the bananas and place 1-3 on each slice of watermelon. Rinse the blueberries and place 2-4 on each slice of watermelon. Taking fresh mint, lightly garnish the slices. Sprinkle with shredded coconut and serve. *Recipe courtesy of gordys.com
Watermelon Pico de Gallo
Ingredients:
1/2 of a seedless watermelon (the little kind – about 3 cups worth of fruit when chopped)
1/2 a red onion
1 jalapeño
1 lime
1/2 a bunch fresh cilantro
Kosher salt
Directions:
Slice the watermelon in half. Place the flat side down and cut off the rind around the edges. Dice the watermelon into small cubes. Chop half of the onion, half of the cilantro leaves, and all of the jalapeño (cut long ways along the outside and rotate the pepper – instead of cutting through the center of the jalapeño – so that you make strips instead of rings. Discard the center/stem. Then slice into small pieces.). Juice the lime. Combine all the ingredients with a few shakes of salt. Cover it and place it in the fridge for an hour or two, or dip into it right away with chips. *Recipe courtesy of icookueataz.com
Local Flavor:
Watermelon Kiwi Summer Bouquet Swizzle Pineapple Fruit Truffles by Edible Arrangements
Be amazed and delighted with sun-shaped pineapple, sliced kiwi, cantaloupe, strawberries, grapes, and juicy watermelon ball sticks in a delicious, bright, and fun display.
For More Information:
Edible Arrangements
224 N. Ham Lane,
Lodi, (209) 368-8875
EdibleArrangements.com