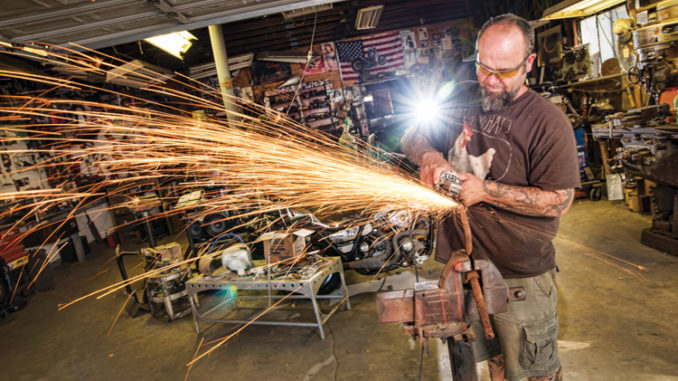 Jerrod Mays first discovered his enchantment with metal over 20 years ago, as he built and modified choppers. Today, his passion is showcased through an art form unique to him and San Joaquin. Metal being a family trade, the third generation general contractor attributes his interest in metal sculpting to his grandfather who constructed objects similar to those Jerrod creates today.
"The neighbors think I'm weird," he says of the eight-foot spider and octopus displayed outside his residence. But, these installments represent what Jerrod considers his niche-insect and animal inspired art.
Functional and non-functional, Jerrod has created many installments throughout San Joaquin, like his bike rack shaped as a bookworm, bedded into the concrete outside of the Lodi Public Library, a Pergola, found on Lodi Avenue, large enough to park multiple cars under, and a 10 -foot metal cross with a yin-yang center piece displayed at the Spanos Family residence in downtown Stockton.
In addition to creating functional art Jerrod makes a great effort to always incorporate recycled materials-an aspect that is showcased through is favorite piece-a coffee table constructed of fabricated materials and a 1918 Buick wheel.
In order to design and form such pieces, Jerrod relies on a profound visionary process to ensure he builds something incredible. Often times he begins by familiarizing himself with objects that inspire him, taking time to fully absorb all aspects before hitting the drawing board. From there he fosters his idea, sometimes for months. But more so, Jerrod enjoys the physical process of constructing the piece most. "I'll find myself-out of the blue or half way through a project-starting to pray and ask for help and guidance," he says. "I have found prayer has been a heavy guiding point," he says. "Sometimes I'll be by myself working on a project and I'll get so emotional, I'll need to take a break for a few minutes and get over it, and most of the time that's when I know it's good, because if it gets to me then it might get to somebody else."
Inspiration often guides Jerrod as well, as he looks to his wife and two- year-old, who help fuse his style with child-like characteristics. "My wife says, 'oh look at this little cartoon, wouldn't it be cool to make something like that,'" he says. "And that's how the bookworm came about."
The humble sculptor also credits his work as a teacher as a huge source of inspiration. Privately instructing students on his property a few times a month, Jerrod admits he looks to his elderly pupils Elsa and Valerie instead of modeling himself after a well-known historic sculptor. "Elsa is 70 and I just get so inspired by her, she could come over and just grab the most miscellaneous stuff out of a garbage can and weld it together and make the most beautiful piece you ever saw," he says with a smile. That's the amazing thing about welding, people can make beautiful decorations and sculptures out of discarded materials that people have thrown away. Welding is a great way to recycle, ensuring that fewer materials are wasted. Of course, welding isn't that straightforward. For someone to weld properly, they will need a number of tools, such as the syncrowave by Miller to ensure welders can cut a number of different materials. This helps them to use more materials in their sculptures and art. There are some other tools that a welder may need, but a welding machine is one of the most important pieces to have.
Over the years, Jerrod has grown as an artist, in more than just skill set. Initially, he forged art that he desired based off of things he enjoys, now he aims to do something different. Just like the metal he sculpts, Jerrod has transformed, as a humble and diverse artist, considerate of what other people want and like to see. "The last five or six years this is what I've been thinking, I want to see the mom, the dad and the kid equally like my art-so now I find myself looking for things that catch every type of eye," he says.