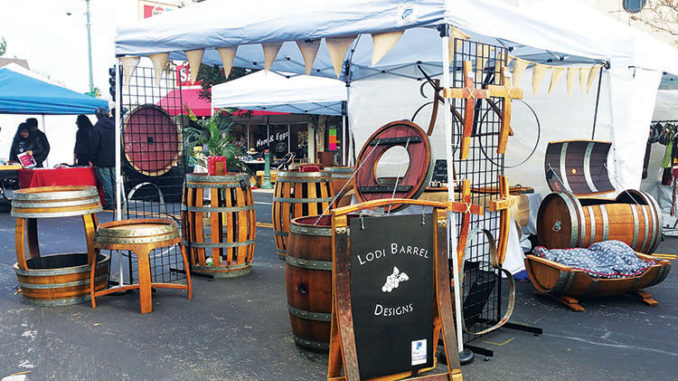 Sometimes memories are made by more than a moment behind the selfie stick. Every now and then, they're etched into a signature stem glass, or prepared through a nostalgic dish you've enjoyed as far back as you can remember. And now, they're carved as a lasting impression of your adventures in the Lodi appellation.
Lodi Barrel Designs started as nothing more than a hobby for Rick Serna, the craftsman behind each unique creation. But today, his work has broadened from ice chests to barrel seats, decorative waste bins, and one of our personal favorites (and Rick's), the wine barrel clock. Each is handcrafted and customizable. "I can incorporate logos, family names, whatever you want!" Rick says.
Rick first started his unique business after visiting the Lodi Street Fair. "I saw a booth there with a wine barrel dog bed. And then I said to myself, 'I can build the bed for much cheaper than what they are selling them.' So, I made a bed for my Pekingese. Then I started scouring the internet for ideas on what to make next."
Lodi Barrel Designs even found a place at weddings, with Rick's lighted barrel rentals, perfect for those who want to incorporate the rustic charm of Lodi's appellation into their big day. "I've already had a couple of weddings booked," Rick recalls. We have to agree that the soft glow of LED lights between each removed barrel plank can really bring an evening reception together.
But where does Rick go to collect each unique barrel? "I buy my barrels from various brokers and wineries throughout Lodi, Napa, and Sonoma regions," Rick explains. "All of my barrels are previously used. I prefer the wine stained wood for my projects."
Repurposing has never looked better. And Rick plans to expand his lineup further, with designs for chairs, benches, and candle holders, or "different serving trays, wine racks, and Edison-style lighting."
The sky is the limit with the right tools at hand. And with every exceptional design Rick creates, one more piece gets added to his own personal collection.
Buy Barrel Art With:
Lodi Barrel Designs
(209) 603-2636
LodiBarrelDesigns.com