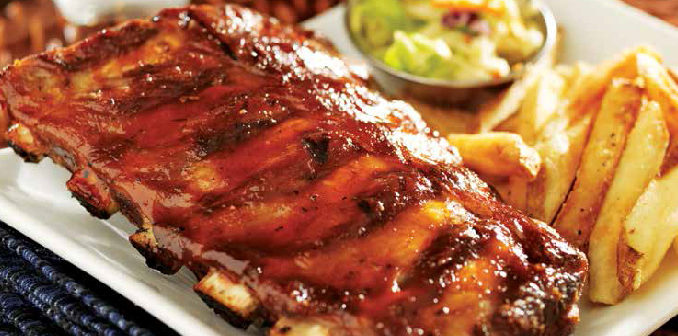 Juicy ribs that fall right off the bone, chicken smoked to perfection and homemade sides that make us feel at home…this is what BBQ is all about. Firing up the grill for a backyard barbeque is reminiscent of summertime, but it can be enjoyed all times of the year thanks to the plethora of tasty offerings in San Joaquin.
Wintertime makes us long for the warmer weather and a chance to light up the grill, especially when the Super Bowl rolls around. Fortunately, San Joaquin has plenty of restaurants and caterers who provide the ultimate cure for our BBQ cravings without the cleanup. We have hit the streets of San Joaquin to bring you a few mouthwatering options for the big game, or basically any occasion. Put the chips and dip aside, and treat your guests to a saucy side of San Joaquin's best BBQ. There is no better way to celebrate an American past time than with a good ole' American favorite…barbeque.
Besides the smoky, perfectly marinated meat drizzled (or should we say soaked) in your choice of sauces, nothing screams homemade comfort food like some side dishes. BBQ is not complete without the complimentary sides. Corn. Potatoes. Skewers. I need not say more. Nothing makes a better game day meal than some messy BBQ. Barbeque may be an American tradition, but it has origins from all over the world and is said to be older than Homo Sapiens. Our ancestors discovered that cooking meat over a fire made the food more enjoyable. And so, the tradition of cooking food over a flame began. Spanish settlers who arrived in the Caribbean are said to have coined the conventional term to refer to the natives' methods of slow-cooking meat. By the turn of the 19th century, the technique was widely used in the Southern US to cook the prominent meat in the region – pork. Because of the ability to cook an abundance of food at once over a grill, barbeques have become the perfect meal for large gatherings. Over the next few centuries, BBQ became a delicacy in the US. Stands began popping up after the Civil War along the road sides in the South, and were mostly set up by Freed men who knew the method and could make a living from it. Thus, these stands were turned into restaurants, and the demand for BBQ grew.
"Barbeque is the earliest method of cooking," says Royce Farms owner Dave Royce, "it's a craft. I am proud to carry on the legacy." His restaurant, Royce Farms, was established more than 15 years ago in 1998 as a father and son venture and offers everything from smoked ribs, salmon, tri-tip and pulled pork sandwiches to baked beans with three different kinds of sausages and homemade sauces. One of the restaurant's signature dishes is their smoked ribs, which are slow cooked for 5-6 hours on the premises, making the meat fall right off
the bone.
  Royce says he feels incredibly lucky because his job involves being in front of the grill all day, and most of the time, catering parties. BBQ makes a great addition for social gatherings, such as work events, says Royce, because everyone can enjoy the food especially on game day. "People huddle around the BBQ and talk their game," he adds, "it's a gathering spot and brings people together." Besides the traditional favorites like chips and dip, BBQ offers a different yet perfectly satisfying game-day meal with that BBQ taste that everyone craves, says Shaunna Young, Manager of Dicky's BBQ in Lodi. "It is a good option because it can feed a bunch of people and also offers more variety." In addition, Young says that people appreciate the restaurant and its family packs because they often don't have the time to BBQ themselves, especially for a large group of people. Dicky's BBQ in Lodi opened more than two and a half years ago, and has since been a local favorite. The restaurant serves everything from pork to sausage, turkey to chicken and just about every BBQ favorite in between. In addition to the main courses, Dicky's serves mouthwatering sides like BBQ beans, coleslaw and mac 'cheese. The southern smoked restaurant makes and uses their own sauces, which come in a variety of flavors from sweet to spicy and are available for purchase in their shops.
Young says that popular costumer favorites include the BBQ Beef Brisket and ribs. The brisket is slow smoked for 14 hours after being marinated in a secret blend of Dicky's seasonings. "This keeps the moisture and flavor in. It is very tender, and melts in your mouth," she adds.
This tender, melt-in-your-mouth favorite is why barbeque makes a perfect addition to any gathering. For the next game day on Superbowl Sunday, make sure to check out these local restaurants for your gathering or game day meal!
BBQ in San Joaquin
Royce Farms BBQ
10880 N. Hwy 99
Stockton, (209) 931-8333
Roycefarmsbbq.com
Dickey's Barbeque
1379 S. Lower Sacramento
Lodi, (209) 365-9021
Dickeys.com
Waterloo Club
10447 E. Waterloo
Stockton, (209) 931-4019
Thewaterloo.com
Papa Joe's Big BBQ
& Steak House
211 E. Yosemite Ave.
Manteca, (209) 221-1919
The Tin Roof BBQ
& Catering
171 S. Guild Ave.
Lodi, (209) 366-1128
[columns] [column size="1/2″]
Love Café
Seafood & BBQ
3008 E Hammer Ln.
Stockton, (209) 477-4484
Taste of Texas
535 W. Harding Way
Stockton, (209) 946-0860
TNT BBQ & Catering
322 S California St.
Lodi, (209) 369-7268[/column] [column size="1/2″]Weber's BBQ, Manteca
82 S. Mellon Ave.
Manteca, (209) 823-4227
Shorter's Rib Pit
16 East 9th Street
Tracy (209) 839-2290[/column] [/columns]