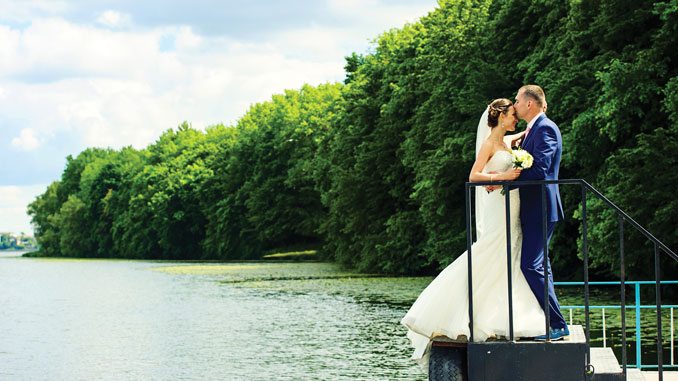 Whether it's a getaway before the big vacation or the only honeymoon you're taking, San Joaquinians can find the perfect escape in Lake Tahoe, with picturesque scenery, high-end accommodations, and year-round activities.
Where to stay
Splurge on an over-the-top, romantic spot near the lake. The Lodge at Edgewood in Stateline, Nevada has honeymoon written all over it. Each of the 154 luxury rooms and suites features a personal gas fireplace and private deck or terrace. Spend your days within the resort's luxurious confines indulging in a Sierra Stone Facial at Spa Edgewood or watching the sunset through floor-to-ceiling windows over filet mignon at Edgewood Restaurant. 100 Lake Pkwy., Stateline, NV.
Cruise Lake Tahoe
Get on the water in the most romantic way possible and celebrate your newlywed status with a gondola ride down the Tahoe Keys Marina. Book the starry-eyed surprise package, which includes a private gondolier for two guests and a one-hour ride underneath starry skies. Splurge on extras like champagne and roses. Tahoe Amore, (530) 314-8866.
Take to the air
Combine the magic of air and water with a Tahoe Balloons hot air balloon ride. The oversized balloons are launched from 21-ton, two-deck catamarans. Enjoy breakfast aboard the aircraft carrier before heading 8,000-10,000 feet in the air to glimpse views of Emerald Bay, Fallen Leaf Lake, Cascade Lake, Desolation Wilderness, and, on a clear day, Yosemite. Tahoe Balloons, (530) 544-1221.
Sail into the sky
There's more than one way to get airborne in Lake Tahoe. If 10,000 feet sounds too high, switch that adventure out for parasailing instead. North Shore Parasail takes off out of King's Beach. During the ride, lovers are dipped into the clear blue water and shot up in the air. You choose the stopping point from 600 feet to 1,400 feet. North Shore Parasail, (530) 546-7698.
Build trust
If you visit Tahoe in summer, The Gondola at Heavenly offers a different destination than ski slopes. It's here that couples can strengthen their relationship with adventure, embarking on a high-flying ropes course perfect for adrenaline junkies. Or, just enjoy the ride—and the view—to the top before heading back. Heavenly Mountain Resort, (775) 586-7000.
Dine fine
Nestled in a vintage Tahoe cabin, Evan's Gourmet Café has a reputation as the most romantic place to dine for lovebirds. The food—including porcini dusted veal loin medallions and a dark chocolate raspberry crème brûlée tart—is served in an elegant white tablecloth dining room. Evan's Gourmet Café, (530) 542-1990.
 Visiting in winter? Ditch hot air balloons and lake activities for ski slopes and dog sledding.