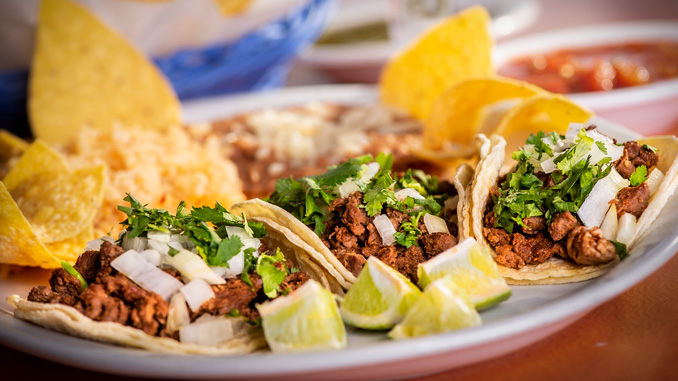 San Joaquin's Top Tacos
San Joaquin County is known for its abundant agriculture, thriving art scene, and tacos. Yes… tacos. We hit the road, literally, to find the best tacos around. From upscale eateries to the region's burgeoning taco truck scene, and beyond to every nook and cranny, we found them all. In the following pages, you will find traditional street tacos alongside fusion versions and everything in between. I can promise you one thing, when you are done following along, you are going to be craving tacos. And not just any tacos… you will be craving all the tacos!
---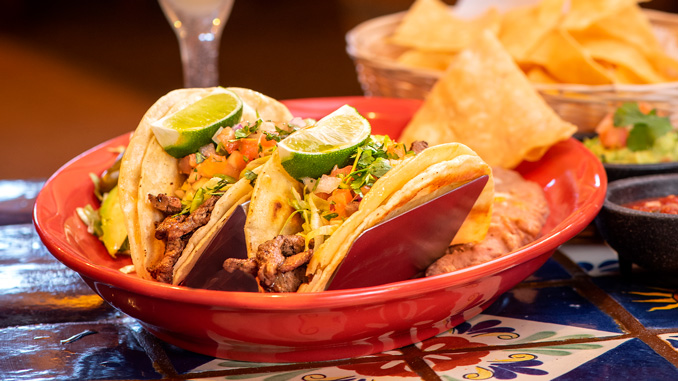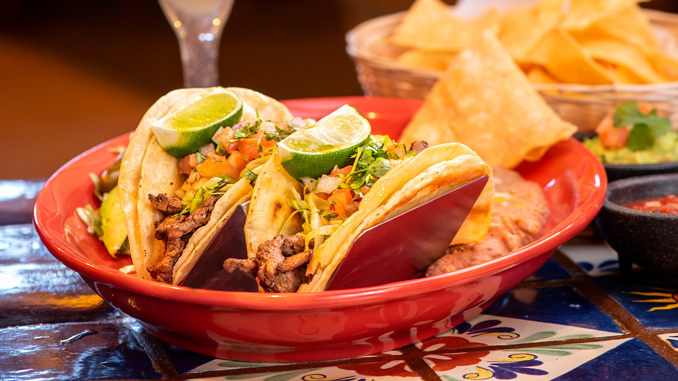 Habanero Hots (pictured)
The Vibe
One of Lodi's longest running Mexican restaurants, Habanero Hots is a local foodie's favorite! A massive dining room, full bar and huge portions, make this place worth the trek to Victor Rd. With a ton of taco options, there is something for everyone in the family's taste buds! Pro-tip, order the house salad with beans.
The Flavor
Get the shrimp tacos…trust me. Filled with grilled tiger prawns and seasoned to perfection with a special house blend, these tacos will make you want to do the Macarena. Seriously. And once they finish it with a good dose of fresh lime juice and Pico de Gallo, they also plate up their in-house rice and beans. You might need to ask for a wheelbarrow to get you to your car!
---
Nena's Mexican Restaurant
The Vibe
Their motto says it all. Nena's is a place that feels like home and tastes like Mexico. This long-standing downtown Stockton location knows what's up when it comes to authentic, mouth-watering, coma inducing Mexican food. They make a mean margarita, but I'm also a huge fan of the horchata to wash down their spicy cuisine.
The Flavor
You simply can't go wrong at Nena's. But if you want to have a life changing experience, order up a Vampiro Taco. This little shell of heaven is filled to the brim with tender hunks of steak and chorizo. Then they top it all off with cilantro, onions, cheese, and smother the entire thing in a spicy sauce. This is one of those, "It isn't that spicy…oh wait…oh dang that's hot," tacos moments. Totally worth the sweaty brow!
---
Cancun Restaurant
The Vibe
If you frequent downtown Stockton, you have probably seen this oversized restaurant on the corner of Miner and Hunter streets. This place is huge, with a spiral staircase that leads to a second floor for special events. The open dining room has ample seating. Which is a good thing, because you will want to be comfortable when you are grubbing on tacos and sipping a strawberry margarita!
The Flavor
Stick to the beef or chicken tacos. Stuffed in a crispy taco shell and decked out with lettuce and cheese, they are perfect for late night eats. And the good news is they are open until 10:30 PM, when your hankering for good grub is just kicking in.
---
Streetzlan 

The Vibe
If you haven't ventured to this spot in Downtown Galt slanging some serious eats, you are missing out. Chef Erick Silva and his wife Jessica have a deep appreciation for gourmet street food. The décor is rustic and modern with both communal tables and high tops. While you are there, grab a cold Michelada or their specialty sangria to enjoy as you wait.
The Flavor
Chef Silva isn't messing around with these Vaquero tacos that are bursting with flavor and grease. For starters, this dude makes his own tortillas from scratch. He adds the braised meat, piles it up high with Monterey Jack cheese and adds the robust and aromatic salsa Macha. One bite and you'll be hooked for life. And just when you think it can't get any better, they serve the tacos with a piping-hot consommé to dip them. I'd be remiss if I didn't also mention their fish taco. It is, quite honestly, the best fish taco I've ever put in my mouth. The beastly filet of crunchy golden cod is topped with a spicy sauce, sliced avocado and purple cabbage. It is out-of-this-world good.
---
Don Luis Mexican Restaurant
The Vibe
Just off Highway 99 in Stockton, Don Luis has been in the business of serving original Mexican cuisine since 1994. Great food, atmosphere and one of those places where they treat everyone like family. You can sip on a margarita, order a Tecate, or savor a Michelada while deciding what to order.
The Flavor
Hit this place up at lunch where you can get two crispy beef or pork tacos topped with lettuce, tomatoes, shredded cheese and drizzled in a spicy taco sauce. While you're at it, just go for the whole enchilada and make it a meal—that way you can grub on their Spanish rice, refried or whole beans, AND a salad. Just be prepared to take a nap from your food-induced coma.
---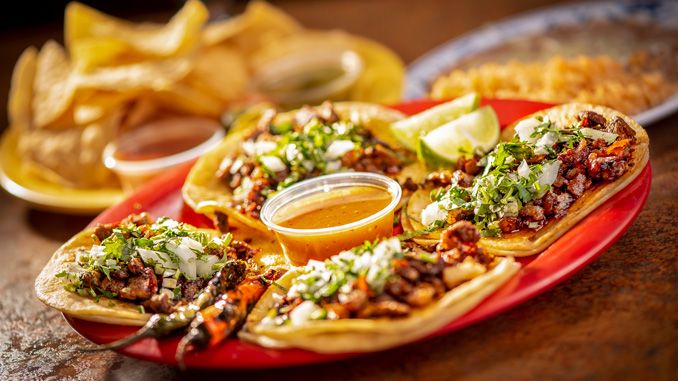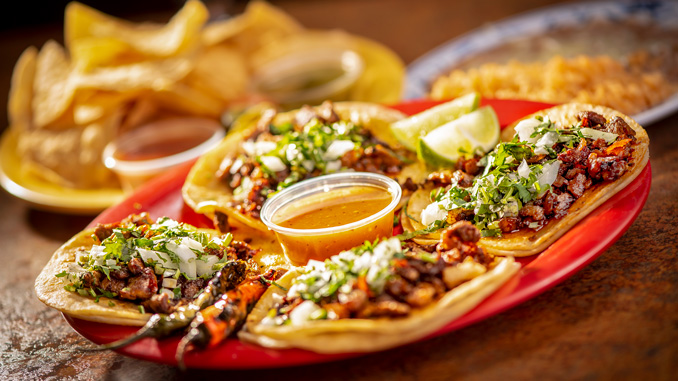 Tepa Taqueria (pictured)
The Vibe
This place is a popular spot for local college students and does a booming lunch with the business crowd. Located on Pacific Avenue, this casual jaunt located in a strip mall is a hit for a reason. You can walk up and order before finding a seat in the amply sized restaurant.
The Flavor
Everything is good here. It's a toss-up for me on what to order. I'd go for the al pastor, cooked on a rotating spit and as flavorful as you can find, or the chicken tacos served on soft corn tortillas with cilantro and onions. You can also hit up their salsa bar where my favorite is a medium spiced salsa that almost looks like a tomato sauce.
---
Mi Ranchito Café
The Vibe
This long-running establishment on Center Street in Stockton reminds you of the old neighborhood restaurants you grew up going to with your grandma. With painted murals on the walls and ample seating for a group, this place is always filled with return customers and is popular among foodies in the 209! Be sure to wash down your tacos with a Modelo or beer of your choice.
The Flavor
The shrimp tacos are killer. Home-made tortillas are stuffed with buttery sautéed shrimp and topped with seasoned grilled onions and peppers. There is just something special about how simple these bad boys are. The carne asada tacos are also a fan favorite. Can you say, #givemeallthetacos?
---
El Jardin
The Vibe
This chain of taco shops owned by the Delgado family has been around since 1985, which tells me this place has some winning recipes! Located in a strip mall in Manteca with ample parking and a comfortable dining area, El Jardin offers up tasty tacos to locals seven days a week.
The Flavor
Go big and get the Taco Supreme. This thing has everything and the kitchen sink. A crispy flour tortilla is filled with steak, green sauce, lettuce, tomatoes, guacamole, sour cream, purple cabbage and cheese. Yes please! Seriously, it's satisfying on a whole new level!
---
El Paczifico 

The Vibe
One of downtown Lodi's newest restaurants, El Paczifico is just what the Lodi restaurant scene needed. This place has a vibrant dining room with plenty of seating and larger spaces for groups in the back. Run by a husband and wife team, this grub-worthy restaurant is dishing up some of the region's best gourmet tacos. There is so much to love about this place, but one of the major perks is their offering of fresh, seasonal margaritas to wash down your meal. Seriously, the strawberry margarita is uh-maz-ing!
The Flavor
A good fish taco is like a warm hug. The pescado tacos at El Paczifico are no exception. With soft corn tortillas, crispy golden-fried cod, cotija cheese, and a cabbage slaw, you will be back for these over and over again. Served alongside tasty beans and flavorful Spanish rice, let's just say, you won't leave hungry. But I can promise you will leave happy.
---
Angelo's 
The Vibe
On a bustling corner across the street from the movie theater in Downtown Lodi, Angelo's is a popular spot for local families. This place isn't fancy, but its reasonably priced and offers up a full bar if you are in the mood for Margaritas! The perfect place to bring the kids before or after the show!
The Flavor
The menu is huge, with a ton of options, but I opted for the twist. I decided to try a taste of the Colorado beef tacos. They were spot on. The savory sauce has a hint of heat and the meat was tender as heck. The Colorado beef is served in a grilled four tortilla with lettuce. I'd order it again. I hear the chicken tacos are also super popular.
---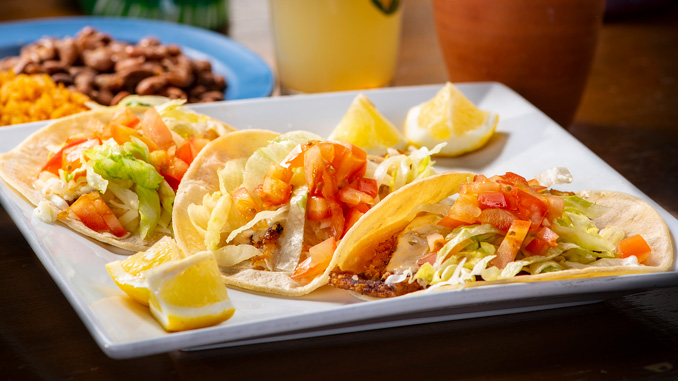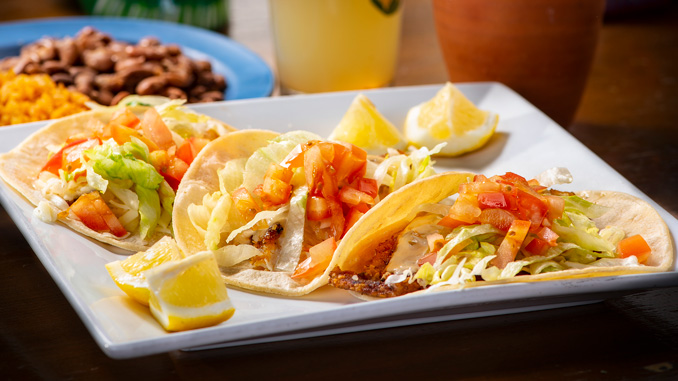 La Palma Mexican Cuisine (pictured)
The Vibe
This place has all the feels of a restaurant that serves up gourmet Mexican food with flair. Located on the Miracle Mile in Stockton, the biggest challenge is finding a parking spot on a bustling Friday night. But fear not, it's totally worth it because their food is delicious, and the full bar makes this place a perennial favorite.
The Flavor
Their most popular item on the menu is their fish tacos…and for good reason. Unlike most restaurants that fry their fish, La Palma grills the delicate white fish. It's seasoned to perfection, placed on a soft corn tortilla and topped with a special sauce, lettuce, and tomato. You will find yourself returning for one of these tacos. I'll bet you!
---
Casa Mexicana
The Vibe
This family favorite is celebrating its 20th year in business in 2019! Located in the Bella Terra shopping center on Kettleman Lane in Lodi, this is one of those places where they treat you like family and the chips and salsa flow like lava. Cozy up with the family in one of their comfortable booths and order some sangria or beer to sip while you savor.
The Flavor
You can go one of two routes at Casa Mexicana. Order the deep-fried chicken tacos with lettuce and tomato or opt for the fish taco in a home-made flour tortilla with lettuce, tomato, and sour cream. I'm a sucker for the flour tortillas because they are like fluffy pillows of goodness, but if you are more of a traditionalist, go with the fried chicken taco!
---
El Senor Frogs
The Vibe
You can't miss this this popular Pacific Ave. Mexican restaurant. With its canary yellow, red, and green exterior, it practically screams at you to come savor their fare. The place is tiny, so it fills up fast. And plan for limited parking. El Senior Frog's savory gravy and chips also has quite the reputation among local fans.  
The Flavor
What I love about a place like this is that they give you options. I go for the fish tacos, which can be fried or grilled and topped with cilantro, onions, tomatoes and lettuce.
---
Flakos Takos

The Vibe
Located on the bustling jog of storefronts by Lodi's downtown movie theatre, Flakos Tacos consistently pumps out tacos for locals and regulars. Yes, this is a chain. But I dare you to tell me these tacos aren't the bomb. This fast-casual concept is a huge hit with their $1 Taco Tuesdays and their tasty combinations.
The Flavor
The bacon wrapped fried shrimp tacos are why the hashtag #foodporn was invented. Flakos Takos takes succulent shrimp, wraps it in bacon and deep fries them to a golden brown! Then they slap them on soft corn tortillas, embellish them with fresh Pico de Gallo and drizzle generously with a spicy crème sauce. Bonus: If you eat there, you can customize your tacos with their fresh salsa bar, complete with tomatillo salsa, salsa verde, Pico de Gallo, and more!
---
La Villa Mexican Restaurant  
The Vibe
I love the feeling when you walk into a family owned restaurant. Located in Tracy, this joint is casual, with bright, colorful walls and low ceilings. There is plenty of space to bring the family, grub on some tacos, and cradle a Corona. Which is exactly what you should order.
The Flavor
This place has a reputation for huge portions. I mean, the taco is at least a 1/3 of a plate and overflowing with all the fixings. For me it's a coin toss between the beef and chicken tacos, both of which are topped with lettuce and cheese. They can be served on corn or flour tortillas, which might be untraditional, but I prefer. Because every now and then, I just want a flour tortilla. The lunch special also includes a side of Spanish rice and refried beans with gooey melted cheese. So scrumptious!
---
Miguel's
The Vibe
This taco haven is in an unassuming strip mall on Pacific Avenue. While the location may be underwhelming, the food is not. And be sure to order a Margarita or Michelada to sip on while you wait for your tasty tacos. Oh…and did I mention they have Taco Tuesdays? Winning!
The Flavor
Miguel's serves up a grand assortment of tacos. You can choose from beef, pork, chicken or fish tacos, but I'd go for the crispy chicken tacos stuffed with shredded cheese and lettuce. I totally dig the red sauce on these tacos—with medium heat and a whole lot of flavor, it totally elevates the taco to new heights.  
---
Mazatlan Café
The Vibe
This Lodi establishment has been in business for over 45 years. Located on a corner in Lodi's eastside, this local fave is somewhat of a legend for locals. It's your basic hole in the wall with solid service, good food, and a restaurant full of regulars. What I mean is, it's the kind of place you should go when you are craving serious eats.
The Flavor
Get the crunchy chicken tacos. These shells are crispy without falling apart and are loaded with chicken. Although, I'm guessing their regulars probably stick to the carne asada or ground beef. Either way, each bite is satisfyingly delicious.
---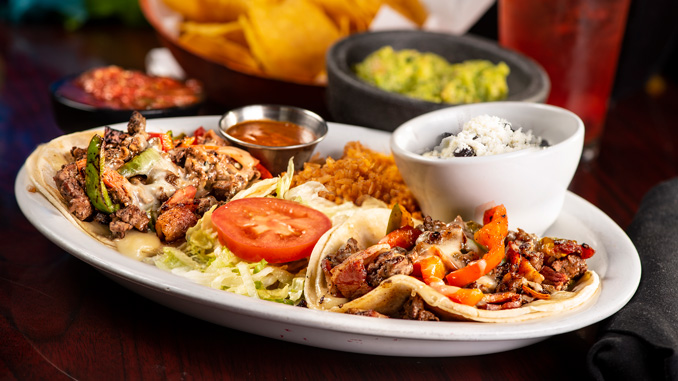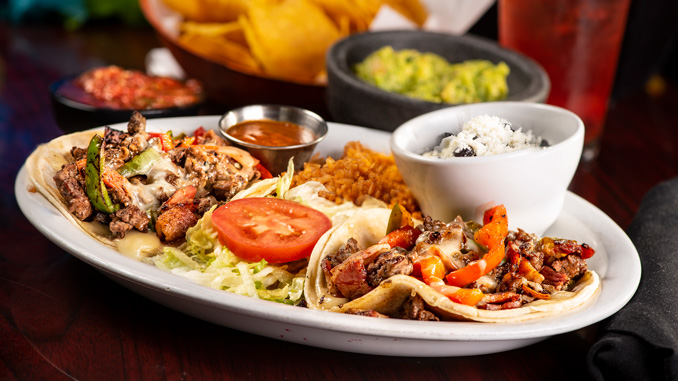 Octavio's (pictured)
The Vibe
Octavio's is the perfect place to relax, unwind, and enjoy some delicious homestyle Mexican food with family or friends. This location on the marina is formerly known as Casa Flores and has a refreshed dining room vibe. They also have a patio that is the place to be on a warm summer night. Making a mental footnote on that now!
The Flavor
I love a good verde, and Octavio's hits a home run with their Chicken Verde tacos. Juicy chicken and a vibrant verde sauce make a winning combination for taco lovers in San Joaquin County. I mean, don't these look tempting? You might even find yourself doing the happy dance… that is, if you aren't stuffed after inhaling your meal!
---
Xochimilco Café
The Vibe
The old storefront electronic sign hanging from this unpretentious nook in downtown Stockton will beckon you inside. The owners hailed from Michoacan, Mexico and serve up huge portions of authentic cuisine for eager eaters. Be sure to bring your appetite!
The Flavor
Take your stab at the beef tacos. They basically come crowned with salad, a huge mound of crispy lettuce, and ripe red tomatoes. But to take your taco to the next level, be sure to douse it in their special spicy table sauce…because you are going to want to bathe in it.
---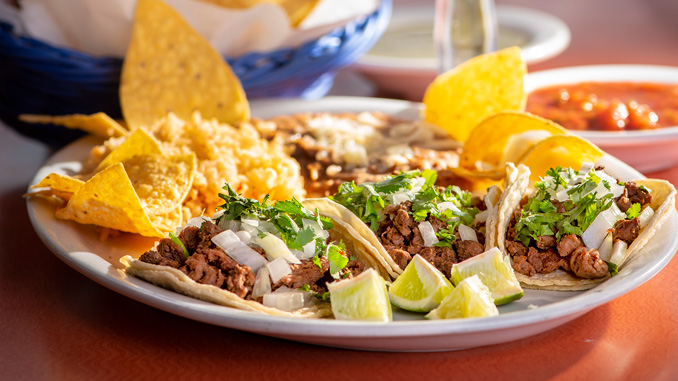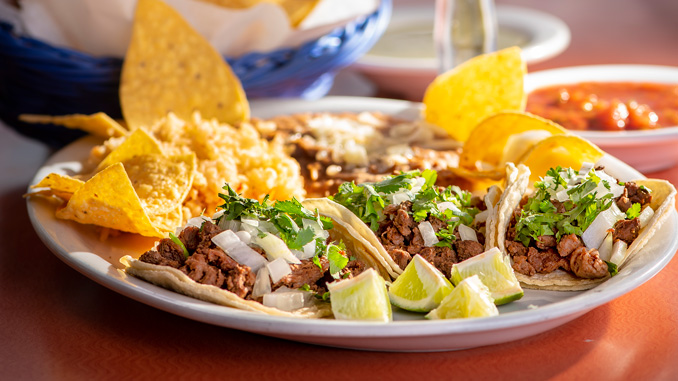 Arroyo's Café and Cantina (pictured)
The Vibe
One of the richest taco legacies in the 209. Arroyo's was established in 1946. Yes, you read that right—1946! Family owned and authentic as hell, you can feel the love and tradition in every bite. We love the location in Quail Lakes for its easy freeway access and ample space.
The Flavor
Looking for tacos like your grandma used to make them? Check out Arroyo's beef tacos. Crafted in two crispy corn tortillas and stuffed with slow cooked beef, you will have a tough time not ordering a second round. The beef tacos are garnished with lettuce and cheese. Which works for me, because I love my cheese! Get in my belly.  
---
Taqueria El Grullense
The Vibe
Located in a huge building on a corner of Waterloo Rd., this is casual dining for the family. With healthy portions, cheap prices, and delicious food, you will probably be back for more. And they offer up all the traditional dishes like lengua and tripa too.
The Flavor
The al pastor tacos are probably the most popular, but I opted for the buche tacos. Made from pork belly and cooked low and slow to produce the most tender chunks of meat, these tacos are legit. And they keep it simple with fresh cilantro and onions and an herbaceous green sauce.
---
Fat City Brew and BBQ
The Vibe
You might be asking yourself why we are featuring a BBQ spot. I'll tell you why—because each week, this place serves up some serious tacos for Taco Tuesdays. The Miracle Mile hot spot also keeps 46 beers and 6 wines on tap. That's reason enough for me to head in for a tasting of tacos.
The Flavor
You choose your meat at this BBQ joint. Head to flavor town and pick from BBQ chicken, pulled pork, tri-tip, hot link, or bacon. The meats are all smoked, layered in soft corn tortillas and topped with a crunchy cabbage slaw. The best part, they have four different BBQ sauces to choose from, ranging from sweet and tangy to a mild habanero. I'm a big fan of tri-tip, so its my go to taco at this joint.
---
Delta Bistro and Lounge
The Vibe
This modern bistro and lounge is located in the University Waterfront Hotel in downtown Stockton. It has a super chill vibe and is a great place to throw back some cocktails with co-workers. And now, to the delight of taco lovers, they are offering up Taco Tuesdays.
The Flavor
I love that this place changes up the tacos every Tuesday. I love an unexpected twist and each week the chef whips up a flavorful option to feature for their Taco Tuesdays. From ginger chicken tacos with carrots and purple cabbage, to Spanish chorizo tacos on a bed of cabbage and black beans, each offering takes you on a different culinary tour. Follow their Facebook page to see what tacos they are serving up each Tuesday!
---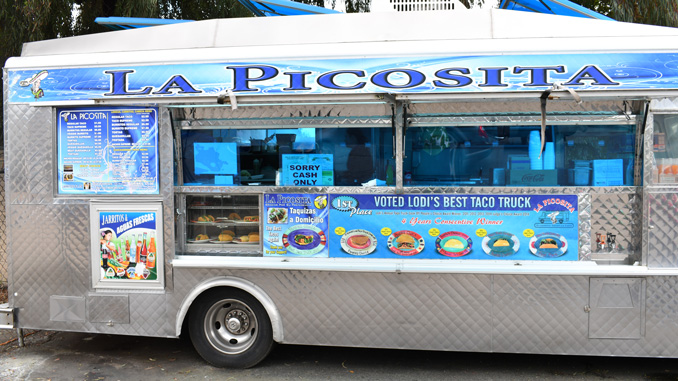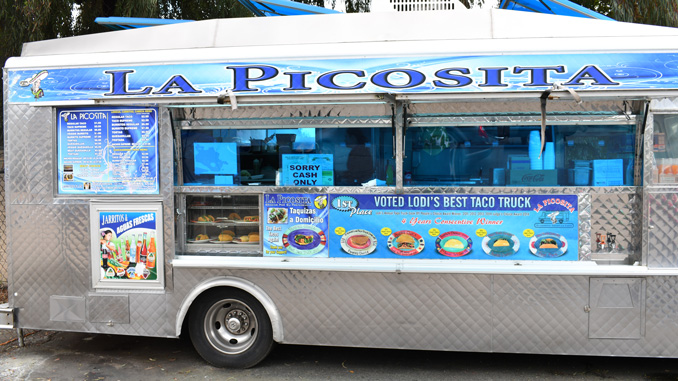 Tacos to Go—Taco Truck Faves
La Picosita
The Vibe
Expect long lines if you hit them up at lunch. According to Lodi's Annual Taco Truck Cook Off, La Picosita is Lodi's fan favorite. Located on the corner of Turner and Church Streets and tucked in the corner of a car detailing parking lot, this place knows what's up. Remember its cash only and the most affordable tacos you can find.
The Flavor
These tacos live up to the hype and are as legit as you can find. I can't decide which is better, the spicy carne asada or their crispy pork carnitas tacos. Both are topped with fresh cilantro and onions, but honestly, the meat speaks for itself. Seasoned to perfection and juicy as heck, they also give you fresh limes and jalapeños just in case you want to turn the heat up even more! These tacos are a great example of residual heat. Just enough spice to warm you up, but not so much you need a glass of milk.
---
El Mayita
The Vibe
To say this taco truck is popular is an understatement. Located in the 76 Gas Station parking lot off March Lane and I-5, the line is always long. In fact, sometimes even parking is difficult. You should be prepared to stand in line for a few minutes, and you might have to scarf down your tacos in the car, so you aren't late to work. But I promise you, this place is worth the wait. Like, holy cow worth the wait.
The Flavor
You guys, this taco truck reigns supreme and for good reason. If you are looking for the juiciest Al Pastor anywhere, El Mayita is your friend. The meat is marinated and cooked on a spicket, where they slice off large flavorful chunks of the al pastor onto beds of soft corn tortilla. Then they load it up with fresh pineapple, purple onion, and a spicy guacamole crema. Packed with flavor and oh so delicious, these tacos are the bomb! As in—I'm still talking about them to everyone I know— good. The carne asada tacos are also tasty as heck. Okay…just order one of everything.
---
Gordo's Tacos
The Vibe
This place is clearly a popular spot to pick up your taco fix. So much so, that they now have a taco truck and a brick and mortar building. Can you say winning? The colorful taco truck serves up all the authentic meats from carne asada and carnitas to birria and buche. Authentic, flavor packed meats are the staple at this foodie favorite.
The Flavor
These tacos are loaded with love. Made using their home-made corn tortillas, the buche (pork stomach) tacos are my main jam. The meat is slow roasted and delicious, topped with the traditional dose of cilantro and onions and served with grilled onions and nopales. I could eat here every day. In fact, I'm heading back to try their Amor y Paz Taco stat. Taco bout a breakfast I can get behind, the tortilla is stuffed with spicy chorizo and topped with an egg.
---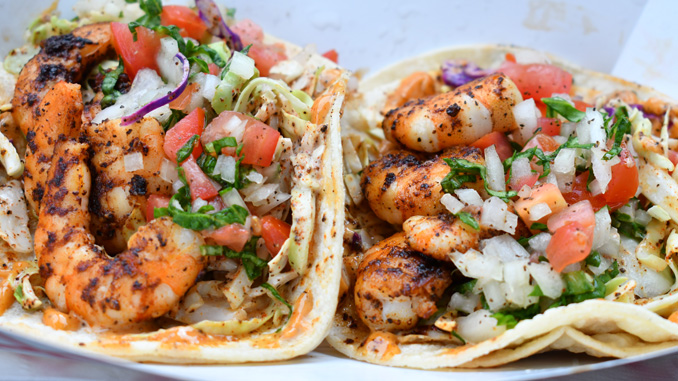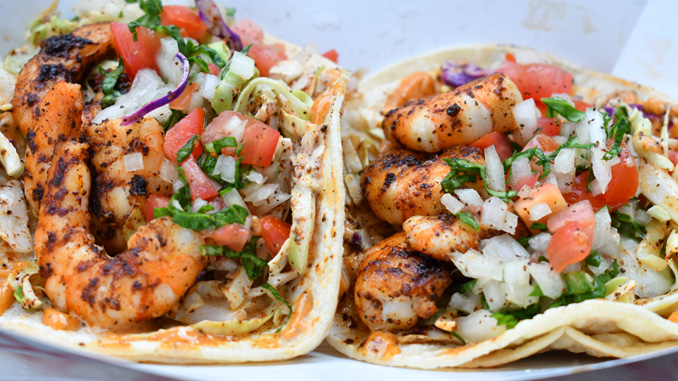 Moveable Feast Cajun Shrimp Tacos (pictured)
Not Your Momma's Tacos—untraditional tacos
Moveable Feast Cajun Shrimp Tacos
The Vibe
Lodi's formidable gourmet food truck known for their sexy street food recently added tacos to their already stellar line-up. Look for their bright green truck in the F & M parking lot off Ham and Kettleman Lane. You can count on these guys to satisfy your unconventional taco cravings.
Flavor
Just when you think you've had it all, the guys over at Moveable Feast began serving up their already famous Cajun shrimp in a taco! Yes, you heard that right—taco! Spicy seasoned and blackened Cajun shrimp is piled high on a soft corn tortilla before being topped with crispy cabbage, in-house Pico de Gallo, and their creamy Cajun sauce. This taco has my heart and will leave you reaching for a cold one!
---
M Sushi Ahi tacos
The Vibe
Lodi's newest sushi spot in charming downtown Lodi is making a splash with their inventive cuisine. Once you step inside, you immediately feel like you are in another city. Modern décor, sleek plating, and the latest hits from top 40 music bumping in the background.
The Flavor
You might not think of sushi when craving tacos, but M Sushi might just change your mind. The Ahi Tuna Tacos are amazingly fresh. Served in the crispiest wonton shell, the tuna is tossed in a spicy sauce and topped with fresh cabbage, tomatoes, peppers, and microgreens. They come in orders of three, so just go ahead and ask for two orders!
---
Mamas and Tapas- Jamaican Jerk Tacos
The Vibe
Its not everyday you get to eat Caribbean fusion food. That's just what you get when you roll up to this beloved Manteca mecca for foodies. An expansive open dining area with industrial touches and lots of natural light, it's the spot that will give you the best setting for your Instagram photos!
The Flavor
Tell me these tacos don't sound like a trip to the tropical islands? They take a crispy taco shell and stuff it with a healthy portion of Jamaican jerk chicken. The taco gets topped with crunchy cabbage a cilantro lime aioli and the tastiest mango salsa. Insider tip—get the Mamas and Tapas Taco Plate with Puerto Rican rice and beans. You won't regret stepping out of your taco comfort zone.
---
Do it Yourself Taco Bar
By now, I'm, guessing you're craving #allthetacos and planning your next meal. Or maybe you are hosting a Cinco de Mayo party for family and friends. Either way, we've got the details on how to create your own taco bar in the comfort of your home! This is one of my favorite ways to feed a crowd—it's cheap, delicious, and perfect for those warm May weekends spent outside with a cold beer in your hand. These recipes are simple to make, which also makes them perfect for those busy weekday family meals. Now, who is ready for the next Taco Tuesday?
---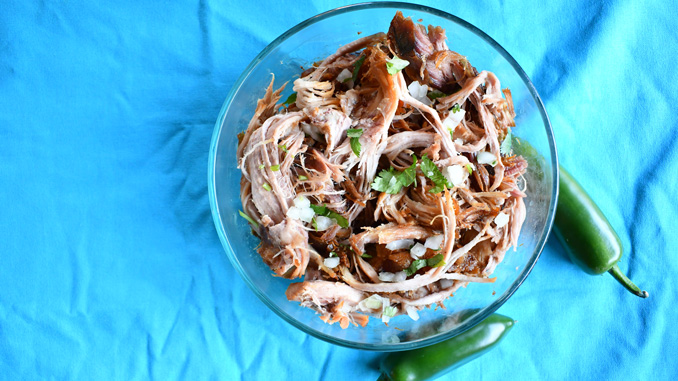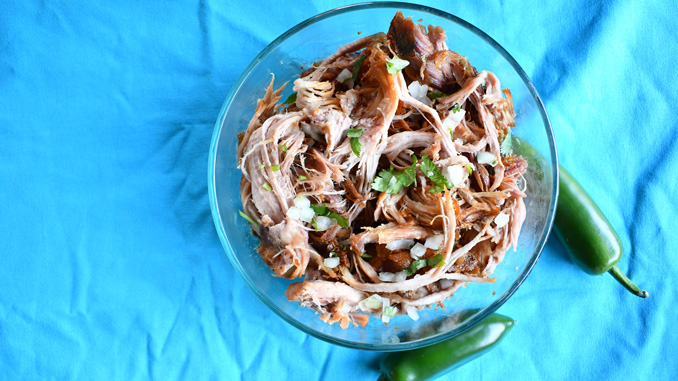 Recipe 1
Crispy Carnitas
Ingredients
4 Lb. Skinless Pork Butt or Shoulder
3 TSPN. Salt
1 TSPN. Pepper
2 TBSN. Mexican Oregano
1 TSPN. Ground Cumin
1 Large Yellow Onion
8 Cloves Garlic
2 Limes, Juiced
2 Large Oranges Juiced
1 TSPN. Orange Zest
1 C. Coke, Mexican Coke is Preferred
3 Bay Leaves
Directions
Rinse the pork butt and pat dry with paper towels. Add pork, salt, pepper, oregano, cumin, onion, garlic, lime juice, orange juice, orange zest, coke and bay leaves to a slow cooker. Cover and cook on low heat for 8 to 10 hours or on high heat for at least 5 hours. Remove the pork and shred. Set oven to broil. Line a baking sheet with foil and spray with non-stick cooking oil. Pour 1 cup of leftover juices from the crock pot and pour over the meat. Cook for about ten minutes or until the skin becomes crispy.
---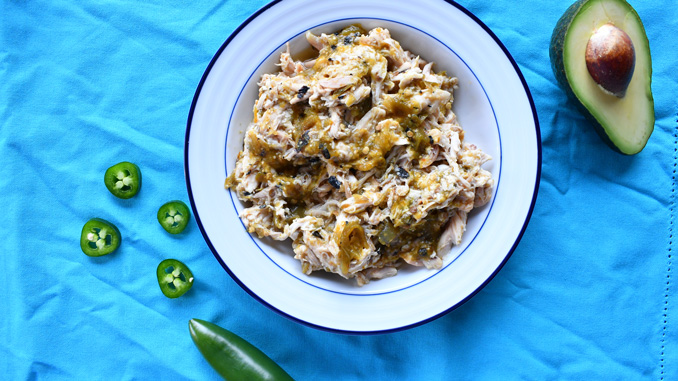 Recipe 2
Salsa Verde Chicken
Ingredients
4 Chicken Breasts
1 12 Oz. Jar of Salsa Verde
1 Jalapeño, Chopped
1 14 Oz. Can of Fire Roasted Green Chiles
1 Yellow Onion, Quartered
4 Garlic Cloves, chopped
½ TSPN. Cumin
½ TSPN. Mexican Oregano
½ TSPN. Salt
Directions
Place 4 Chicken breasts in a slow cooker with salsa verde, jalapeño, green chiles, onion, garlic, cumin, oregano, and salt. Close and cook for four to six hours. Remove the chicken and shred with two forks. Also remove jalapeño and onion and chop roughly. Pour one cup of remaining salsa verde sauce from the crock pot and combine with the chicken. Sprinkle with cilantro, onion and a lime wedge. Sour cream and cheese are optional, but a definite yes in my book!
---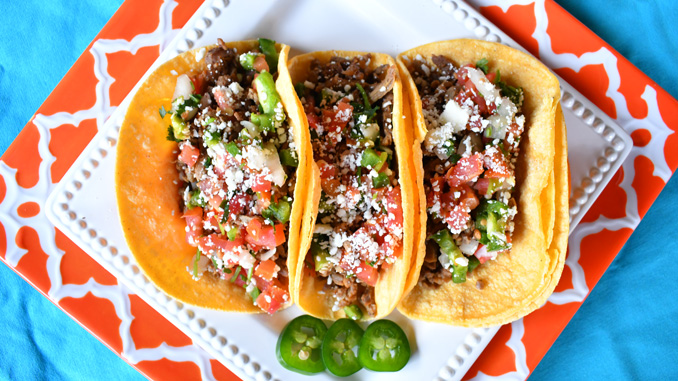 Recipe 3
Carne Asada
Ingredients
2 Lbs. Skirt Steak
2 Limes, Juiced
4 Garlic Cloves, minced
½ C. Orange Juice
1 C. Chopped Cilantro
1 TSPN. Cumin
¼ TSPN. Chili Powder
½ TSPN. Salt
¼ TSPN. Pepper
1/3 C. Olive Oil
2 TBSN. Apple Cider Vinegar
1 Jalapeno, chopped
Directions
Mix all ingredients in a gallon size Ziploc bag and add the meat. Seal the bag tightly, getting out all the excess air. Refrigerate for at least two hours, but not longer than 8 hours. Preheat your outdoor grill to medium-high heat. Cook for 3 minutes. Flip the meat and cook for an additional 3 minutes until you have nice grill marks and the meat is heated through. Remove from heat and slice into strips cut against the grain. Serve with sour cream, pico de gallo, and cotija cheese.
---
The Essentials
Tortillas—both corn and flour
Cilantro and Onions
Salsas—Pico de Gallo. Salsa Verde, Chile de Arbol,
Sour Cream
Jalapeños
Avocado and or Guacamole
Cheese—Cotija and Monterey Jack
Limes, Quartered
Hot Sauce
Beer—Tecate, Corona, Pacifico, Sol, Modelo, Dos Equis
Napkins
Pro Tips
Don't forget limes. You need lots of them! The acid in the limes will brighten the spices in each protein.
For the best flavor, remember that the most taco meat can take time. Cook it low and slow.
Be sure to have a variety of options for meats.
Have more than one type of hot sauce. Don't limit yourself to Tobasco. Include Tapatio, Chipotle, and Habanero flavors too!
Don't have time to make any of this at home? We've got you covered. Head over to Rancho San Miguel, where you can pick up a huge variety of options to take home and serve up as your own!