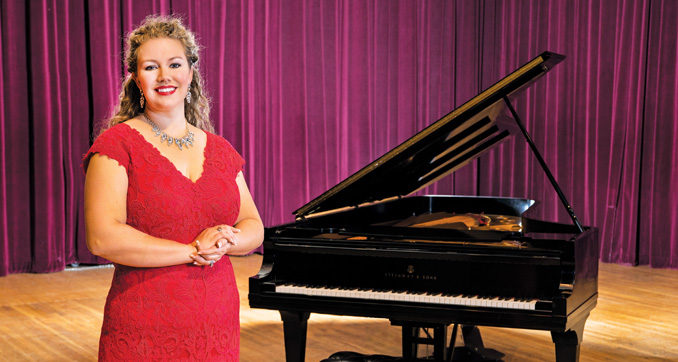 The lights dim and the once bubbling cacophony of men and women settle down and into the velvety comfort of their seats. They look up and onto the stage where the curtains have parted and a singular form stands tall. Her golden tresses flash beneath the glow of the spotlight as excitement tangled in her chest radiates down her limbs. She steps forward and into the weight of her role. Her lips part, she breathes in deep, and Liisa Dávila lets loose a soprano's melody that carries her captive audience away from the theater and into a world of her making.
Micaëla of Carmen, Donna Elvira of Don Giovanni, and Liù of Turandot are just a few roles that Liisa—a classically trained Soprano—has performed throughout her life on stage. Nearing her 200th performance, Liisa has worked with organizations as close to home as the Philomathean Club of Stockton and the Stockton Opera Guild, and as far as the Greek Island of Syros. "I am grateful to have sung locally, nationally, and internationally," Liisa smiles. "My favorite is on the opera stage where I can be a singing actor, portraying different characters."
Music has always been a part of Liisa's life. "My first exposure to the art of singing started at home. I have a very musical family and we had a lot of singing, music study on the piano, and even little plays on the fireplace hearth." Though Liisa took to the violin, viola, and piano, singing has always been her first and greatest love. "My family has said that I have been singing since day one, looking for any opportunity to use my voice and find a song to sing."
Between private lessons and her time at Delta College, Liisa worked with choir ensembles to grow her skill and fuel her passion. But her transfer to Sacramento State and time with the Sac State Opera Theatre led her to choose her profession. "…I had the opportunity to perform a leading role in the school opera productions. I loved the music and the process of learning music for the stage, and decided that is how I wanted to guide my career." After graduating with her Bachelors, her studies continued onto LA, New York, and Florida—with a summer spent overseas in Greece.
Now, Liisa continues her travels, performing with numerous opera organizations in the valley, foothills, and beyond. When asked about some of her proudest moments, two, in particular, took her attention. "Singing Schubert Mass in G in the acclaimed Avery Fisher Hall at Lincoln Center in New York. So many great singers have been on that stage and I got to stand there in the very same spot, doing what I love most. Incredible!" Her second was equally dear and much closer to home. "Singing the role of Violetta in the opera La Traviata with Townsend Opera in Modesto. It's one of the most challenging roles in the soprano repertoire. I felt too lucky to have the opportunity to sing it and blessed to have been able to make it through with success."
When she isn't on stage, Liisa helps her students to master the art of the voice. "I got involved with teaching because friends kept asking for private voice lessons. My private studio has grown from only a few friends to a full studio of 12 or so. I found my own system and technique to teach from my years of experience and I am happy to share what I have learned." Her community work takes her to high school and junior highs, coaching students to bring out the best in their vocal range. "I feel that there are beautiful voices out there that need a place to shine. I feel happy being a part of that."