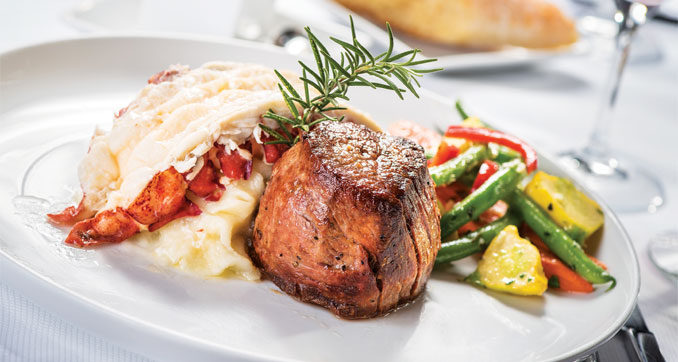 It's a Friday night and the tables are bustling with conversation. Clinking glasses and laughter merges with the sizzle of a steak on its way to a table and the careful slosh of another hearty pour of wine. These sounds echo under the dim mood lighting, providing guests with their own sweet serenade during dinner. It's a hearty melody that enhances the senses and prepares the appetite for another fine meal at Ernie's Food & Spirits.
Serving up this experience has come naturally for one of Manteca's leading restaurants, celebrating its fifth year this December. Nestled in the far back of a parking lot off Main street, Ernie's Food & Spirits is a treat to uncover. Once discovered, it provides locals with a taste of five-star dining over and again, and offers out-of-towners a sweet reprieve before their departure. Inevitably, it drives them to return much sooner than they might have expected, just to have a taste of succulent cuts of filet mignon or fresh, wild fish.
High-quality ingredients are the base to every well-seasoned meal. And produce has as much say in what is offered on the menu as the chef, who allows only the freshest, in-season entrees to reach his guests. Because of such standards, the menu must always evolve, changing almost quarterly to ensure ripe fruits and vegetables are always readily available. But who's to say that such strict standards are a bad thing? Especially when every visit could mean sampling from an entirely enhanced structure of dishes, built upon one another to satisfy even the ficklest appetite?
Imagine, for a moment, just a few of the classics often offered on the menu. "A 12-ounce Bison Rib Steak, prepared with the current season in mind," says Kimberly Stone, General Manager at Ernie's. "This is an amazing dish that is a great alternative for a steak eater. Filet Mignon and Lobster Tail is a classic duo that consists of choice center-cut tenderloin and butter poached-cold water lobster, plated with seasonal vegetables and garlic mashed potatoes." 
Weekly seasonal fish are always available for those looking for a fresh catch from the watery depths. And grilled octopus, sliced and served over a chickpea and arugula salad with Piquillo pepper sauce offers a different variation to the often overindulged calamari plate.
But monumental menu options aren't the only trick up the establishment's sleeve. Spirit aficionados can revel in the extensive library of whiskey, scotch, cognac, and bourbon stocked along the shelves in the bar room. Guests can have themselves a seat at the bar or the tables nearby to take full advantage of Ernie's Happy Hour, which runs Monday through Thursday, from 4 to 7 PM. And, if it isn't already made apparent by the volume of bottles aligning the nearby walls, Ernie's can satisfy your need for a variety of wine varietals from across the world.
Whether you're out for the night of your life, looking to celebrate a very special occasion, or would like to savor the simpler joys in life, like a finely seared steak, tip your taste buds to the restaurant that can satisfy such sublime cravings. 
Your Table Is Ready At:
 Ernie's Food & Spirits
1351 N. Main St., Manteca
(209) 239-3351
ErniesFoodandSpirits.com