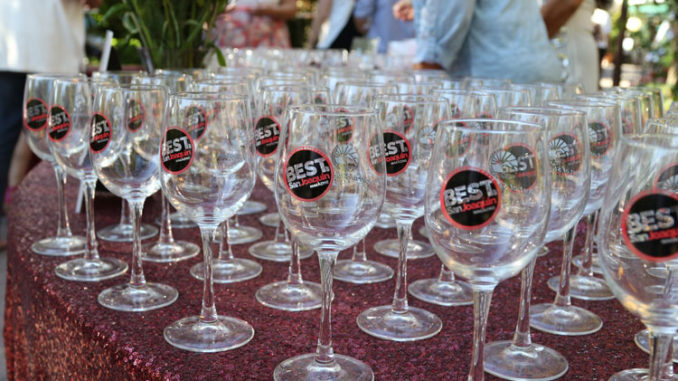 San Joaquin Magazine's Best Of Party
It's hard to believe that our readers have been selecting their favorites for more than 10 years. To celebrate, San Joaquin Magazine hosted one of the largest parties ever. More than 5,000+ readers voted for their favorites in more categories than ever before to show their favorite San Joaquin businesses some love, and to connect on a more personal level with San Joaquin Magazine. We are a magazine that thrives on positivity and praise, and it's an honor to be able to showcase everything that makes San Joaquin great—from restaurants and wineries, to shopping and entertainment.
There was only one way to celebrate the Best Of issue's 10th anniversary—with one hell of a party! With Viaggio Estate & Winery as the venue, a good time was guaranteed! The vineyard's classic elegance shone through, while winners from across categories served up signature dishes and drinks to all. Even the ambiance and extras were created using some of San Joaquin County's best resources. This was our first year hosting a party with the public, and it was also the first year we gave our best of winners a place to showcase their talents and attendees a chance to enjoy them all in one place.
This party wouldn't have been possible without the unwavering support of our local sponsors. We are eternally grateful for their contributions to and support of San Joaquin Magazine, the United Way, and this party. We had a blast, and we only have them to thank for it!

Giving Back
Proceeds from the event benefitted the United Way of San Joaquin County. "We chose United Way as our beneficiary because it's an organization that has done so much for the community, serving as a middleman between the public and local charities," says Managing Editor Lindsey Rodrian. "By running huge campaigns and giving money raised back to smaller charities in their own backyard, they make serving San Joaquin possible for many nonprofits."
"We're here to improve lives," says Andy Prokop, President and CEO of United Way of San Joaquin County. "We do that by raising funds and awareness for our local nonprofits. We attract tens of thousands of local employees to share their hard earned income every pay day and on occasion we're blessed to have special events raise large sums of money to help us do even more."
"The Best of San Joaquin Magazine just hosted one of the greatest and largest fundraisers our United Way has ever enjoyed. Because of the generosity of everyone at San Joaquin Magazine, our community just got better."

Restaurants
Brookside Country Club – Chef Chris Isert
The San Francisco Culinary Academy alum and born-and-raised Californian is behind the fare at Brookside Country Club. He has a passion for bringing people together over food. 3603 St. Andrews Dr., Stockton (209) 956-6200, BrooksideGolf.net
Bud's Seafood Grille
Since 1993, the family-owned and operated establishment has served quality seafood that is both simple and fresh, as well as a variety of beef and chicken entrees, delicious salads, and homemade desserts. 314 Lincoln Cntr., Stockton, (209) 956-0270, BudsSeafood.com
David's Pizza
Hand-tossed, New York-style pizzas are the main dish at David's Pizza. At two San Joaquin locations, staff serves thin- or thick-crusted pies and an assortment of other mouthwatering menu items. Stockton, (209) 477-2677, DavidsPizzas.com
De Vega Brothers
Brothers Alberto and Rafael Vega crafted a robust menu of authentic Italian cuisine using only the freshest, top quality ingredients. Here, guests become family over plates full of chicken picatta and glasses filled with vino from Lodi to Italy. 5757 Pacific Ave., A140, Stockton, (209) 323-4339, DeVegaBrothers.com
Habanero Hots 
We're not kidding when we call this Lodi gem a hotspot. The festive cantina serves Mexican and American grub paired with margaritas and hot sauce, along with other offerings from the full bar. 1024 E. Victor Rd, Lodi (209) 369-3791, HabaneroHots.com
Kyodai
At Kyodai, the vibe is contemporary and the sushi (and other traditional Japanese fare) is worthy of high praise. Modern décor and superb presentation make it stand out. 5779 Pacific Ave., Stockton, (209) 323-5495
Mezzo
The farm-to-table menu at this neighborhood bistro takes advantage of the area's agricultural offerings, while the intimate setting makes it a perfect date night stop. 3499 Brookside Rd., Stockton (209) 473-7300, MezzoStockton.com
Midgley's Public House
Chef Michael Midgley is at the helm of the local eatery that turns out flavorful and inventive American cuisine. A seasonal specials menu punctuates the restaurant's staples. 296 Lincoln Cntr., Stockton (209) 474-7700, MidgleysPublicHouse.com
Mikasa Asian Bistro & Sushi
An extensive menu of Asian fare takes center stage at this upbeat bistro and sushi bar. Expert presentation means the food always looks as good as it tastes! 2610 S. Tracy Blvd., Tracy (209) 830-8288, MikasaBistro.com
Papapavlo's Bistro  & Bar
Take a seat at Papavalo's, indoors or out, where Mediterranean fare is served in a casual bistro setting. Patio seating, a full bar, and quality service add to the dining experience. 501 N. Lincoln Cntr., Stockton, (209) 477-6133, Papapavlos.com
Komachi Sushi
Boasting the best Japanese food outside of Tokyo, the restaurant prides itself on serving authentic cuisine from a sizeable menu, crafted to fit every set of taste buds. 307 S. Lower Sacramento Rd., Lodi (209) 334-3131, SushiKomachi.com
Smokin' Yankee's BBQ Catering
Kick back and relax while the experts do the work! Serving breakfast, dinner, and everything in between, this catering company boasts a menu filled with smoked meats and traditional breakfast plates. Stockton, (209) 471-4858, SmokinYankeesBbq.com
Angelina's Spaghetti House
At this established Italian eatery, family recipes reign supreme. An adjacent deli serves up sandwiches and more, while inside the main restaurant guests can enjoy a quality meal in a relaxed setting. 1563 E. Fremont St., Stockton, (209) 948-6609, Angelinas.com
Frosted Flour
Find sweets with a wow factor at this adorable Lodi bakery where weddings and big celebrations are their specialty. Includes themed cakes in mouthwatering flavors and tiered creations almost too gorgeous to eat. 904 W. Lodi Ave., Lodi (209) 369-2253, FrostedFlour.com

Nothing Bundt Cakes
At this small-chain, counter-serve bakery, Bundt-style cakes are served in an array of delectable flavors from red velvet to marble. Pick up one—or a dozen—to go. 128 Lincoln Center, Stockton (209) 957-2253, NothingBundtCakes.com
Wine & Beer
Barsetti Vineyards
Step into the Old Town Galt tasting room and order up a glass of the properly named Old Town Red. Here, guests are part of the family and Vineyard Owner Janis Barsetti uses her wines to pay tribute to rich Galt roots. 400 4th St., Ste. 150, Old Town Galt, (209) 747-3861, BarsettiVineyards.com
Delta Sierra Beverage
The family-owned and operated wholesale distributor behind our Best Of beer garden specializes in the finest domestic, imported, craft, and micro-brewed beers and non-alcoholic beverages in the San Joaquin Valley. 3700 Finch Rd., Modesto, (209) 522-9011, DSBeverage.com
Harney Lane Winery
Small lot, 100 percent estate-grown wines reign superior at this Lodi gem owned by Kyle and Jorja Lerner. All of the fruit used in making their one-of-a-kind, tasteful wines is grown on-site. 9010 E. Harney Ln., Lodi, (209) 365-1900, HarneyLane.com
Jessie's Grove Winery
Some vines at Jessie's Grove date back to the 1800s, making production of old vine varietals possible at the family-owned ranch and estate. The downtown tasting room serves samples. 27 E. Locust St., Lodi, (209) 368-0880, JessiesGroveWinery.com
Macchia Winery
Award-winning, bold reds take center stage at Macchia, where cheeky names infuse style into the line-up of small-lot vinos. For owners Tim and Lani Holdener, the most important part of winemaking is the quality of the grape. 7099 E. Peltier Rd., Acampo, (209) 333-2600, MacchiaWines.com
Oak Farm Vineyards
Here, the unique assortment of Northern Mediterranean wines is all handcrafted, small-lot, and sourced from single vineyards. A laidback atmosphere that pays tribute to the vineyard's history makes an ideal place for tastings. 23627 N. DeVries Rd., Lodi, (209) 365-6565, OakFarmVineyards.com 
Viaggio Estate & Winery
Italian for journey, Viaggio is a secluded private estate that boasts classic elegance. Located in the heart of Lodi's iconic wine country, it's an ideal spot for finding romance—whether at a wedding or on a first date. 100 E. Taddei Rd., Acampo, (209) 368-1378, ViaggioWinery.com
Weibel Family Tasting Room
For three generations, Weibel has turned out quality fine and sparkling wines, made from grapes grown on over 500 acres of California vineyards. Each artisan wine is created with both passion and expertise. 13 N. School St., Lodi, (209) 370-6013, Weibel.com

Event Sponsors
Port of Stockton 
Throughout the year, the Port of Stockton offers a slew of opportunities to stay and play in San Joaquin County. From quality family-friendly events to daily operations, the Port is an integral part of the Stockton community. 2201 W. Washington St., Stockton (209) 946-0246, PortOfStockton.com
Lovotti Inc.
When you're looking to create comfort in your home, look no further than Lovotti Air. Qualified staff is ready to repair, replace, or install heating and cooling systems in your home. 2216 Stewart St., Stockton, (209) 931-2100, LovottiAir.com
California Catalog & Technology
IT service catalog features help define, publish, and measure services while providing financial insight into costs and consumption. Expose specific service offerings where, when, and how they are needed, and more. Ca.com/US/Products/Ca-Service-Catalog.html
Services
The experts who helped create the look and feel of our Best Of bash!
Elite Entertainment
Looking for a qualified DJ to emcee your event? Elite Entertainment staffs some of the best in the business, and has an array of party extras to take your event to the next level. Stockton, (209) 952-3548, Elitedj4u.com
K&T Lights
Make your event—whether it's a wedding, party, or holiday affair—a little bit brighter with the help of K & T Lights, a family-owned lighting company in San Joaquin County. 3636 Mammoth Cave Cir., Stockton, (209) 957-0829, KAndTLights.com
Briggs Photography
This husband-wife team was behind many of the fabulous photos taken at our Best Of event, a craft they've honed while working the local wedding scene. 2316 Fawnwood Ln, Manteca (209) 239-7542, BriggsPhotography.com
Ro-Sham-Bo Photo Booth 
Add a dose of interactive fun to your next party or event with a customizable photo booth. Guests can get creative with props, and take home photos as favors to remember the night. (209) 401-1145, Roshambo.biz
Marquis Entertainment Photo Booth 
Give your event a personal touch by employing the experts behind Marquis Entertainment. In addition to photo booths to amp up your event, the company offers disc jockeys skilled at playing master of ceremonies. 2235 Hacienda Dr., Stockton, (209) 951-1982, Marquisentdjs.com
Erin Elizabeth (Artist)
Stockton native and accomplished artist Erin Elizabeth showcased her talents at our affair with live painting. The primarily self-taught artist is known for her bold use of color and texture. ErinElizabeth.com
Caricature Artists
Mike Rosenthal has made a name for himself creating colorful caricatures in less than one-minute. His live demonstrations offer a rare form of entertainment for parties of all kinds. SF Bay Area, (510) 205-9249, Caricatures4Parties.com
Nathan Ignacio
You may have heard the smooth sounds of Nathan Ignacio vibrating through our party. The Modesto man behind the "one-man-band" is a master of instruments who effortlessly blends folk, blues, and soul to create dance-worthy tunes. Modesto, Facebook.com/Nathan.Ignacio