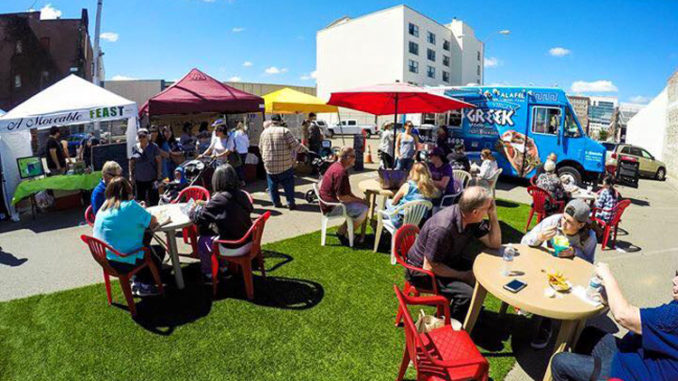 The Food Truck craze is quickly conquering our country as a premiere dining experience offering everything from classic funnel cakes to authentic Mexican food and unique takes on street food. Though many consider the industry a trend, New Yorkers in the 1700s thoroughly enjoyed the original concept, served from pushcarts.
Fast-forward to 2011, just months after the official end of "The Great Recession", when Forbes Magazine named the food trucks of today the number one small business opportunity. It is simply a case of establishing effective truck insurance cover, creating a business idea and getting on the road! The industry's startup costs, which statistically fall under a $100,000 investment, served as a breath of fresh air for many facing financial difficulty, unemployment, or business closure. Its appeal also spread to those that harbored a love for cooking, chefs looking for a change, or those with an interest in small business ownership, or who simply craved that next step.
As many jumped on board, the media followed, with Food Network shows documenting the start up venture. This is precisely what inspired Stocktonian Saravy Yem to take the leap, growing his delivery service into a full-blown food truck. "We decided to bring dishes that don't exist quite yet to the public in Stockton," he says. "Many of our southeast influence stay hidden." With that mission, he and his family decided to give San Joaquin a taste of Southeast Asian cuisine, via their truck, Rice Pot Movement.
For Christine Louie, owner of Mamas and the Tapas, the dream of opening a brick and mortar restaurant was out of reach, "So my husband, daughter, and I decided to try a food truck, and see how it went." The family based their business model and menu-that can be found at many local events and the business park in Brookside-on their family values. "We've always centered everything around food," she explains. Today, Christine works solo producing favorites like Jerk Chicken and the Mama's combo, which features Puerto Rican rice, beans, one beef empanada, and one chicken flauta.
The family affair continues on in another local favorite, A Moveable Feast, the brainchild of father-son duo Doug and Sam Seed. When Sam was laid off, he and his father began preparing homemade meals for neighbors and friends. The Seed family recipes received such strong response that it grew into the catering service, Morada Eats, in 2008. Doug says his passion, fierce desire, and love for cooking is what prompted the idea to morph Morada Eats into the iconic green truck that can be spotted roadside in Lodi nearly every day of the week. "We bought a trailer from a guy, and we finished it off, acquiring a char broiler, deep fryer, and cold hot steam table," Doug continues. "My son and I installed the refrigerator and freezer similar to the ones you can find at Ice Cool Trailers, and did another major rebuild a few years ago". We did research around and found that you can get mobile freezers and coolers to ensure food is kept chilled, fresh or frozen during travel – this is exactly what we needed. Doug went on to explain that he regularly reaches out to a team that specializes in commercial refrigeration servicing typically used by restaurants to ensure that his refrigerator is able to keep his chilled produce fresh and cool while on the move.
For Mony Vangsoulatda the food truck business venture simply made sense. For many years she grew up under the wing of her mother, who ran a local restaurant, until it closed and she retired in 2012.
With the wish of sharing her families close ties to the traditional Thai cuisine of their homeland, she teamed with her cousin, Reagan, and purchased a truck customized to best suit Thai cooking. She stated that when she got the truck, it was perfect, but a few repairs were needed to get it in good working order. Fortunately, her cousin knew of a local repair service similar to this Houston Commercial Truck Repair business, and they haven't looked back since. In 2013, The Green Papaya served their first roadside customer and has since become a local favorite.
Alfonso Ochoa knows how to build a business from the ground up. It's what he has focused on since 1998, as he worked a second job during harvesting season to support his passion for cooking alongside his family. With a simple menu of tacos, and his fellow workers as customers, La Picosita continued to grow until he could afford a more permanent truck position on the corner of Turner and Church Street in Lodi.
As the industry continues to boom, many chefs across the country are enticed by it's nature, and this was just the case for Sam Hissayko, a local chef with over 23 years of experience. "I used to work in the big restaurants as a chef, and always wanted to open my own," he explains. "But I wasn't able to make that type of investment, so, I said, 'okay, let's start with the food truck.'"
His truck, Go Falafel, filled a community void because, as Sam explains, there weren't many options for those looking for Mediterranean or vegetarian food. So Sam hit the ground running, posting up at flea markets. "Many people weren't' familiar with the food," he says. "They had heard about it, but never tried it. So, I gave out samples." After months of struggling to see a return, Sam is pleased to say that today, "people love my food!" Check it out for yourself at Sam's local spot, Chuck E' Cheese, on Pacific Avenue in Stockton.
Alvin Costa, a lawn care business owner of 14 years, always enjoyed making kettle corn on the beach with his family. His entrepreneurial spirit led him to take his love for kettle corn to the next level, offering it through a mobile tent set up. Since then, Costa's Finest Kettle Corn has certainly grown, as their food truck offers additional eats from three local companies, including hot dogs, and ice cream. Track them down in Lodi's Lowes' parking lot, Lodi Farmers Market, and many street fairs and Food Truck Manias.
"When I started my business I chose to give back twenty percent," Alvin explains. "For fundraisers, school functions, sporting events-we'll come on site and whatever we sell we donate twenty percent back to the foundation. And that's how I've gotten a lot of business…being able to give back to the community."
Alvin and Costa's Kettle Corn is a perfect testament to the benefits reaped by a food truck community. The profitability spans beyond the business owner, as many trucks use local produce, and then put their earnings back into the community they serve.
In addition to monetary support, the food truck culture also unites community. San Joaquinians have taken this trend under wing, uniting trucks with others in the area, to bring the best together on one lawn, as the bands play. Regardless of which San Joaquin city you reside-chances are your community is hosting a round up sure to satisfy a variety of tastes. And for you food truck enthusiasts out there, our cities' rotating schedules lovingly compliment each other's events, meaning you can catch a mania nearly every week!
Follow these trucks on social media to find out where they'll be next!
Rice Pot Movement:
Mamas and The Tapas:
facebook.com/MamasAndTheTapas/
A Moveable Feast:
The Green Papaya:
Go Falafel:
facebook.com/GoFalafel4u/?fref=nf
Costa's Finest Kettle Corn:
facebook.com/Costas-Finest-Kettle-Corn-229550920450034/
Get your craze on with these local food truck round ups
Lodi Food Truck Mania
Head to Hutchins Street Square the fourth Sunday of each month for free entry into their food truck world, featuring rotating favorites like Mamas And The Tapas Catering, A Moveable Feast, Bacon Mania, Go Falafel and more. Compliments of the city of Lodi, free entry is available for all, and attendees are encouraged to bring a blanket or lawn chair to enjoy crisp summer air, live music, and of course street food. Follow "Lodi Food Truck Mania"
Stockton Food Truck Mania
Enjoy fun in the sun at Oak Grove Regional Park for a collective truck tasting hosted by SactoMoFo and The San Joaquin County Park District. Each first Thursday of the month from May to October the park welcomes a plethora of gourmet food trucks from all over Northern California, including favorites like Costa's Finest Kettle Corn, Drewski's, Gameday Grill and more. The event prides itself on being family-friendly, and encourages guests to bring chairs and blankets to enjoy the live music.
Micke Grove Food Truck Mania
Gorgeous Micke Grove serves as the venue for this food truck mania hosted the third Wednesday of the month through October. Enjoy live music, entertainment, and as usually, a delicious assortment of gourmet food trucks.
Manteca Food Truck Mania
Mark your calendar for the the second Sunday of each month, and take full advantage of this free event featuring live music, and an assortment of delicious food trucks like The Sweet Spot, Smokin' Hot Pizza, La Mex Taqueria and many more.
Tracy Food Truck Mania & Aircraft Day
Spend a few hours on the third Saturday of every month through October, at the Tracy Airport, tasting, listening and enjoying the aircraft festival. In additional to a full line up of food trucks offering all different types of eats, attendees can enjoy tethered hot air balloon rides!