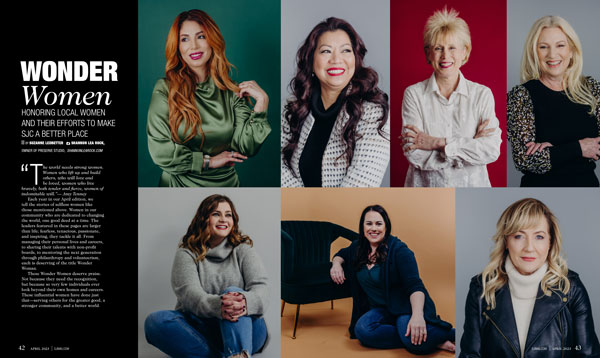 "The world needs strong women. Women who lift up and build others, who will love and be loved, women who live bravely, both tender and fierce, women of indomitable will."— Amy Tenney
Each year in our April edition, we tell the stories of selfless women like those mentioned above. Women in our community who are dedicated to changing the world, one good deed at a time. The leaders featured in these pages are larger than life; fearless, tenacious, passionate, and inspiring, they tackle it all. From managing their personal lives and careers, to sharing their talents with non-profit boards, to mentoring the next generation through philanthropy and volunteerism, each is deserving of the title Wonder Woman.
These Wonder Women deserve praise. Not because they need the recognition, but because so very few individuals ever look beyond their own homes and careers. These influential women have done just that—serving others for the greater good, a stronger community, and a better world.
---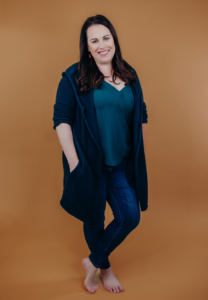 Melissa Phillips Stroud
VP of Sales and Marketing at Michael David Winery
Board of Director for GOT Kids, Lodi Memorial Hospital Foundation and the Lodi Grape
Festival. 
As Vice President of Sales and Marketing at Michael David Winery, Melissa Phillips Stroud oversees sales and marketing of the brand through US distribution and direct-to-consumer sales. But when the married mother of three isn't driving distribution of her family's wine brand, you will find her dedicated to projects for Lodi's non-profit community. Melissa currently sits on the boards of GOT Kids, Lodi Memorial Hospital Foundation, and the Lodi Grape Festival, where she plays an instrumental role in the advocacy and fundraising of each organization.
Philanthropy runs in her blood. As a third generation Phillips, her involvement with the local community is a priority. Her family's Michael David Winery Foundation has donated over $1 million dollars to the greater Lodi community, with a focus on both elderly and youth populations through groups like LOEL Senior Center, 4H programs, the Lodi Parks and Rec, and more.
Her love of community can be easily traced to her family roots. Her mother volunteered for the American Cancer Society's Cattle Barons Ball, her sister played piano at a retirement home for the elderly, and her father gave feely to those in need around him, never asking for anything in return. Both sets of grandparents were also active volunteers as donors to Mary Graham Hall, delivering groceries through their church to shut ins, and reading to children in elementary school as classroom grandparents. "Needless to say, I feel very blessed that this was just part of life," says Melissa.
Between shuffling her children to various activities and being accountable to her family's 200 employees, Melissa has found her true passion—early childhood literacy. In collaboration with two of the organizations she currently serves, The Lodi Memorial Hospital Foundation and GOT Kids, she started the Imagination Library in Lodi. Each month, children up to age five are eligible to receive one free, age-appropriate book mailed directly to their home. "This will take years to have an impact on our greater community but is one small thing we can do to help our future selves," Melissa says.
Melissa also encourages others to find something they are passionate about and to serve those around them, adding that support is not always financial. "Many opportunities exist to give time and energy toward new ideas for organizations," she says.
"The greater Lodi area is such a giving community and I hope we all continue to work together to raise ourselves up."
---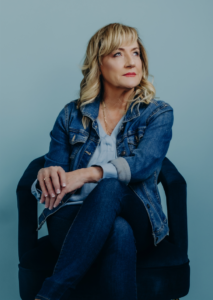 Karen Chandler
Agriculture/Commercial/Residential Real Estate Agent
Olive Farmer/Grape Farmer
Karen Chandler's kindness, compassion, and zest for life is contagious. She farms both olives and grapes, is a successful agricultural, commercial and residential real estate agent, and even makes her own olive oil, Olive Drop Olive Oil, that she sells at local markets and events.
When she isn't toiling at work, she is giving back to others by serving on the board of directors for the Lodi Boys and Girls Club, chairing the live and silent auctions for Concourse de Elegance, working as a sustainer for Junior League of San Joaquin County, and dedicating her time as a member of the Knights of the Vine.
On any given day, Karen is enthusiastically running around town asking local business owners for donations to whatever fundraiser she is working on at the moment and she rarely takes no for an answer. Taking students on local farm tours, collecting jackets, and securing funding for programs that serve vulnerable populations are a driving force for Chandler.
When she was just a toddler, Karen's father passed away and her mother was ill, so she was sent to a boarding school called St. Patrick's Children's Home in Sacramento. Raised by nuns, limited to watching television once a week, and a long list of chores, she likes to tease she was living the story of Cinderella. For Karen, being the kid that only had one pair of sneakers is a powerful motivator to help like populations as an adult.
At the Lodi Boys and Girls Club, Karen has seen the impact seemingly small items can have on a young person in need. "I can't tell you how priceless it is to listen to the kids talk about how it makes them feel to bring home groceries for their mom or siblings," Karen says. "Just the sparkle in their eye after receiving such a donation is all the thanks I need."
An active fundraiser for local 4H and Future Farmers of America, Karen feels strongly that we must set an example for our youth in volunteering to better our community. "Believe it or not, the children need a purpose," Karen says. "All you have to do is ask them to help with a local fundraiser and they will thrive."
"These kids are going to be our future, and we need to lead by example giving of our time and talents."
---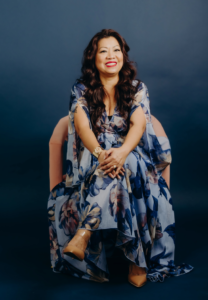 Marina C. Narvarte
Director of Membership of Lodi Chamber of Commerce
Volunteer Extraordinaire
If you've ever met Marina Narvarte, you know her smile lights up a room. As the Director of Membership for the Lodi Chamber of Commerce, her energy and passion for all things Lodi is positively inspiring. Technically speaking, her job is to develop and implement strategic membership and retention plans for the Lodi Chamber of Commerce. She oversees membership retention efforts by ensuring current members have opportunities for networking, are communicated with on a regular basis, and receive membership value.
But in true Wonder Woman fashion, she does so much more. Marina serves as the staff liaison for numerous committees. She also directs ribbon cuttings, groundbreakings, business mixersand several key events.
The Marina we know has come a long way from her upbringing as a Filipina American born in Manila, Philippines as the second youngest of seven siblings. "When I was growing up, I knew what it felt like to not have all the resources, support, or the availability of others," Marina explains. "Not knowing what the future held, I ensured myself that if given the opportunity to be put in a position to help others, I would." After migrating to Okinawa, Japan at the age of fourteen, and meeting her husband Jonathon, the two made their way to the United States and had three children.
Ever since Marina has held true to her word. She gives of her time, treasures, and talents to dozens of organizations. Too many to list, she has done incredible work for the Women's Club of Lodi, LOEL Center, LOVE LODI, Grace and Mercy, Lodi 180 Teen Center, and the Boys and Girls of Lodi. "It is the unpaid, unheralded help that underpins the fabric of society and makes my life fulfilled. Because if it isn't you who will help, then who will?" she asks.
While every organization she works with is close to heart, this year, Marina will put her efforts into learning more about the national and local kidney foundations. Her eldest daughter, Joana Mari, is fighting end stage renal failure for the second time, and Marina hopes to familiarize herself with resources in order to exhaust her family's options. While learning more about the organ donation process, Marina also aims to bring awareness to the community about the benefits of getting tested to see if individuals might be a match for someone suffering and in need of a new kidney. "[My family] are my roots, my foundation, and my first understanding of what love is."
"My family plays a very important role in my life because we help each other set personal goals and ensure there is growth."
---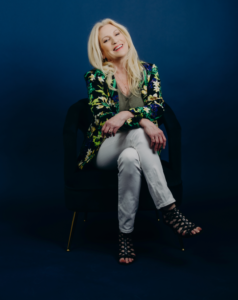 Debbie Baglietto
V.P. Branch Manager at Oak Valley Community Bank
As Vice President Branch Manager at Oak Valley Community Bank, Debbie Baglietto focuses on relationship management and business development. When she transitioned to her role at OVCB, it was clear to her the company was community minded. The bank practices what they preach, encouraging employees to get involved within the community.
OVCB fueled Debbie's interest to get involved with the United Way, first in Sonora, and later, in Manteca, where she leads the Manteca United Way Community Council that raises funds for the community. She currently chairs the council and has for the past ten years. Her work with the United Way made her acutely aware the number of nonprofits needing support.
Her passion in supporting United Way is multi-faceted. When she donates to the organization, the board can share those funds with vetted, impactful nonprofits that need the funds to further their missions. The culmination of fundraising concludes with the United Way's Big Night of Giving, where the board hands out the checks to local groups. "It is so heartwarming, and it helps us remember how much need exists and why we volunteer," Debbie says.
Debbie has had a positive impact on the Manteca Chamber of Commerce board for the past nine years, where she formerly chaired the organization. Part of their efforts include the Vocational Educational Foundation, which helps raise funds for vocational scholarships for young adults and older adults to help get them back into the workforce. She also supports the Downtown Business Alliance in their efforts to promote revitalization of downtown and create a vital commercial core destination for residents and visitors.
Another organization close to her heart is America's Veterans. Debbie volunteers for the Disabled American Veterans and recently joined their board of directors in hopes of advocating for an often overlooked and forgotten population.   
Debbie credits her mother's kind heart and religious upbringing with inspiring her to give back to the community. She acknowledges that philanthropy is also a great way to meet people, get involved with different community causes, and have fun getting to know all the wonderful organizations doing good. A lyric that repeatedly gives her pause and reflection is from the Randy Travis song, "3 Wooden Crosses." "I guess it's not what you take when you leave this world behind you, it's what you leave behind you when you go."  
"There is so much need that if we are able to help one person, child, veteran, animal, or support organization—we can make an impact."
---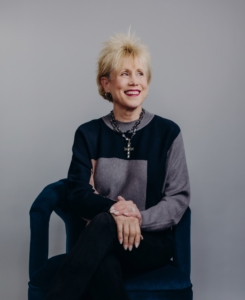 Danielle Kreitz
Community Fundraiser and Advocate
For Danielle Kreitz, making a positive impact on someone's life is a priority. Her philanthropic work is inspired by the belief that every child deserves a bright future and an equal opportunity to reach their full potential. "I am driven to make a positive impact on the lives of children and to help address the challenges they face here in our local community," Danielle says.
Investing in tomorrow's leaders is exactly what Danielle has accomplished through a myriad of local organizations in Stockton. One nonprofit she has found profoundly impactful is her time spent as a board member for the Transitional Learning Center. She finds great joy in creating positive childhood memories for the children at the center by providing all needed supplies for celebrations like graduations, back to school, and supplying Halloween costumes.
Danielle, who spent 39 years working in her family business, DC Vient, a commercial finishing contracting business started by her father, found her true passion in life serving others. She, along with her husband Chuck, have supported multiple nonprofits from the Child Abuse Prevention Council, United Way, Rotary, and the Salvation Army. She also volunteers as a Butterfly Auxiliary for Hospice of San Joaquin, where she raises funds for their hospice house in Stockton and donates goods like bedding to Gospel Mission.
Her tireless work on behalf of the Uplift All Foundation is impressive to say the least. The mission of Uplift All is to inspire and empower the homeless in our community through services and programs that provide hope and the steps toward self sufficiency for a better tomorrow. For Danielle, one of those programs is the Loads of Hope mobile laundrovan service. She focuses her fundraising efforts on keeping the van going and accessible for the unhoused.
But Danielle's volunteerism doesn't stop there. Around ten years ago, she started working with the Stockton Police Department to stock every police car with a stuffed animal to be given out to children as needed for comfort. As the recipient of Stockton's Unsung Hero Award and Power of One Award, we are confident that if there is a need in Stockton, Danielle is willing and eager to find a way to fulfill that need.
"Don't be intimidated," Danielle says of volunteering. "Whatever appeals to you, there is a need, and you will be welcomed and appreciated."
"Whether it's providing access to education, services, or just having the chance to be a kid, I believe that investing in the next generation is an investment in the future."
---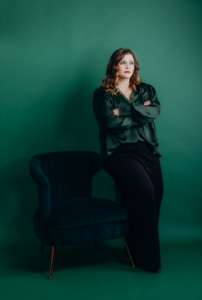 Danielle Mondo Tibon
Senior Philanthropy Data Analyst for CommonSpirit Health
Board of Director at St. Mary's Dining Room
For Danielle Mondo Tibon, her mother Candie was her inspiration to give back to the community in which she was raised. "From as far back as I can remember, she was involved with our schools, our church, and this community," Danielle says of Candie. "Every time she had an event or project, my brothers and I always tagged along with her. I don't think I ever heard her tell someone no when they asked for her help. When she died in 2014, a part of my heart died, too. It took some time and therapy, but I found healing in continuing that same work—like I was honoring her legacy in a way."
By day, Danielle is the Senior Philanthropy Data Analyst for CommonSpirit Healthcare. Being a part of the CommonSpirit Health (Dignity Health's parent company) National Philanthropy team gives her a unique lens into healthcare philanthropy. CommonSpirit Health has over 80 fundraising entities across the United States, including St. Joseph's Medical Center. And each day, Danielle has a front row seat to all the incredible fundraising that is happening in the community. Healthcare systems across the country are ever changing, but what differentiates St. Joseph's Hospital is the focus on local.
She also beams when discussing the COPE fund. Social workers in the Cancer Center identify patients in need, sometimes for transportation assistance to get to and from treatment every day, or even minor dental procedures that could be hindering further radiation treatment. "COPE is one of the most popular programs that donors choose to fund," says Danielle. "It warms my heart that strangers are willing to help patients out without ever knowing who they are or what they are going through." Danielle also donates her time to St. Mary's Dining Room by serving on the executive board.
Giving back to this community is important to Danielle for so many reasons. She considers herself blessed to be born and raised in Stockton, educated by some of the most amazing teachers throughout her Catholic education, and then exposed to brilliant professors at UOP. She has been professionally raised by some of the smartest and kindest people here and her entire life is in Stockton. If you ask her, Danielle is the first to tell you that this community made her who she is today.
"It warms my heart that strangers are willing to help patients out without ever knowing who they are or what they are going through."
---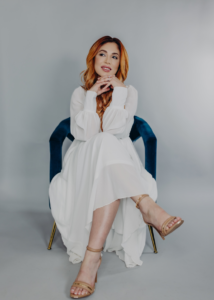 Nesrin Shabbar
Owner of American Waffle Diner
Education has always been important to Nesrin Shabbar, and building a successful career was always part of the plan, it just didn't turn out quite the way she imagined. Born in Europe to immigrant parents, Nesrin grew up between the United States and Jordan, spending most of her time stateside in Stockton. She married young and had two daughters but she still pushed to go to school and create a path for herself.
The original plan was to attend pharmacy school so Nesrin studied biological science at University of the Pacific and graduated with her bachelor's in 2007. In 2011, she received her MBA in business administration. Not long after, her husband passed and Nesrin inherited his business—a small diner in Stockton called America Waffles. Despite receiving an offer, she couldn't bring herself to sell if because of the sentimental value for her family, especially her two girls who had grown up at the restaurant with their dad.
"I was barely 32 years old and found myself responsible for a business that I never had any experience with at all," Nesrin shares. "And I have two young daughters that I need to raise… and be the mother and the father [at] the same time."
More than a decade later, and Nesrin is still at the helm of the restaurant, which she renamed American Waffle Diner. "I accepted the challenge and kept the restaurant all these years and brought it to what it's like now," she says. "I took this place from a basic restaurant to a beautiful 50s-style diner."
Despite a lack of experience in the industry, Nesrin figured it out, and she's continued to rack up accolades, including the top spot for Best Waffle in San Joaquin Magazine and several other categories including Best Bloody Mary and Best American Cuisine. She's also been feature, alongside her restaurant, on Good Day Sacramento and Fox 40, and has since remarried.
"Behind every successful woman is herself," Nesrin says. "And I worked hard for my success. My diner will be always my happy place."
"Be the queen you want to be," Nesrin Shabbar