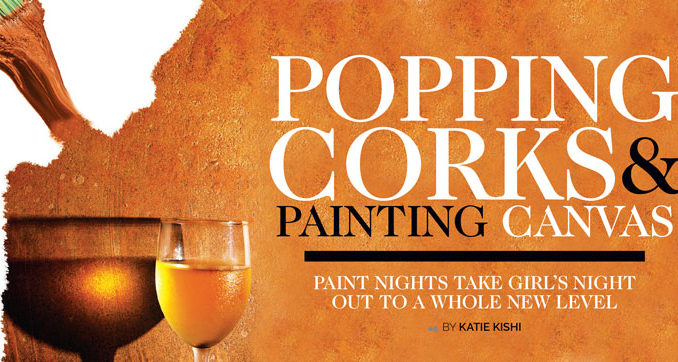 Whether your high school creations hung proudly in the art room, or your middle school teacher suggested you instead join math club—everyone harbors their own inner artist. Perhaps this plays part in the roaring popularity of "paint nights", a concept first marketed by two New York men, now sweeping across San Joaquin.
A girl's night out turned paint party is a force to be reckoned with. Just ask Marcie DelaCruz, co-owner of Shades of Color in Stockton. She explains that, "It creates an environment where people can come together, create memories, and tap into their creative side. Most of our customers are women, and women are always looking for different ways to enjoy the company of their girlfriends. This brings another element to it." This new layer of bonding truly nurtures community connection and interaction, as Painted Cellar's Elisabeth Beiter states, "We want people to put down the smartphones and be together."
And with a drink in one hand and a brush in the other, the activity has proven its success. It's also no secret that alcohol lowers inhibitions, with the added bonus of quieting that nagging voice in your head that's frequently shoving your inner artist into a back corner. Of course, it's common to be skeptical and hesitant about your finished product, but adding alcohol to the mix helps calm the nerves. "Sometimes people go into the class not knowing what they can accomplish," says Marcie. "But by the end of the night they're amazed and excited by their work. It helps people tap into their more creative side and loosen up."
There's no doubt comically fusing art, alcohol, and community is a genius social situation—but the experience can also be therapeutic. "Being creative in a group is good medicine. It builds union, community and inspiration," says artist Erin Elizabeth, host of Art Alchemy and owner of EE Studios. "Art is a powerful healing tool that many of us can use these days. It just feels good to paint and get it out!"
And get it out you shall if you're ever in Danine Soliven's course! As a comedian, DJ, and host, this painting instructor has a knack for breaking people out of their artistic shell. This goes especially well in her "Rated R" class, a personal favorite for the woman who wears so many hats. "It puts me in a comfortable spot where I can be my most confident. I allow profanity, sexual jokes, and explicit music to make it a fun adult painting party." The end result? A group of unique canvas paintings, that are clearly personal renditions, for each attendee to take home and hang… or not.
Besides posing as the perfect opportunity for a girl's night out, this social trend offers a slew of benefits for the community. Restaurants and local venues host their own paint nights, welcoming new foot traffic and the possibility of new business. And local artists are offered an equally beneficial opportunity: Showcasing their very own work to potential clients! "The art community doesn't have that many opportunities, so many artists are grateful for the position," Danine states. "Paint Nite is my full-time job and has opened up opportunities to do some freelancing on the side. I've created and sold some paintings because people see my work at Paint Nite, which is an awesome bonus."
Whether you're looking to rekindle your artistic flame, hoping to show some support to your local artists and businesses, or just searching for a reason to call the gang up for a night on the town, a paint party is the perfect first step toward connecting all three! So drop that smartphone, grab a glass, and get to work on your next masterpiece!
Paint Nite PaintNite.com
Painted Cellars PaintedCellars.com
Shades of Color ShadesOfColor.net
Erin Elizabeth – Art Alchemy, ErinElizabeth.com
Made by Mo Facebook.com/MadeByMo1244