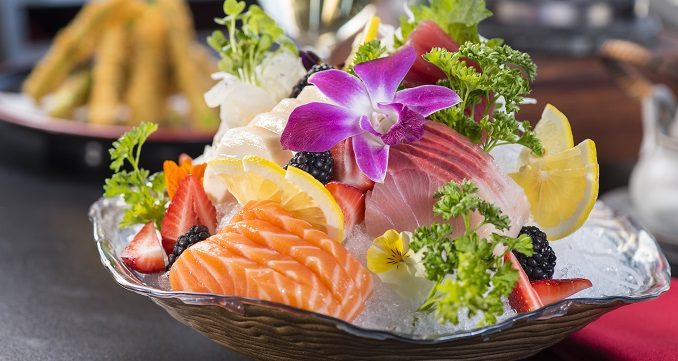 Fresh and flavorful are two choice words to describe every visit to Komachi Sushi, a charming restaurant seated at the edge of Lodi. Perfect for those seeking a reprieve from the appellation, Komachi Sushi thrives on frequent return customers who've made this little gem their home since August 2013.
Privy to every part of her business, Sunny Chong owes her success to her own diligence and that of her staff. "I have so much pride for my employees, myself, and my customers," Sunny beams. "We operate in a barely 2,000 square foot restaurant. But my customers recognize my food and service. They appreciate what we do here." Behind the bar, chefs serve the freshest plates of sashimi, and the entrée selection is comprised of various dishes that range from katsu, to udon, soba, and ramen. For Komachi, quality means everything during a time when so many restaurants serve flashy rolls, or colorful dishes, only for the freshness and flavor to fall short. At Komachi, each ingredient is checked for quality, and served in such a way as to amplify the dish.
As a successful entrepreneur, Sunny chose to bring her own unique flavor to Lodi's dinner tables with hopes of incorporating a little bit of Napa with each serving opportunity. But she insists her restaurant isn't for those trying to zip in and out.
"We're not looking to promote the lunch rush. We want our guests to stay as long as they want. We want them to sit down, enjoy a meal, and have discussions here, or business meetings." This thoughtful encouragement garnered a strong following for Komachi Sushi, with over 70% of their guests as regular customers. "We're just a small town! Everybody knows everybody. We know everybody. It's very rare that we don't know someone coming in."
Whether you're on your first visit, or your fifteenth, you can't compete with Komachi's extensive menu options. From classic sushi staples like the California and Dragon roll, to off menu items and special requests, Sunny works hard to ensure that no two visits are ever alike. Unless, of course, you find a favorite roll you can't get enough of. Considering Komachi serves up items like the Candy Cane, with spicy crab and avocado, topped with the chef's own choice assortment of fish, mango, and green onion, it's hard not to eat outside the box every now and again.
And might we recommend our own menu must-have? From the plethora of sizzling plates available, go bold and go for the Bulgogi, thinly sliced rib-eye that's marinated in Korean barbecue sauce with onion. It's a mouth-watering dish that makes for a great transition to dessert. Matcha Cheesecake? Yes, please!
As Komachi's reputation grows, Sunny strives to continue serving her guests in an atmosphere that inspires new friendships between customers and rekindles old. Plenty of light flows unhindered into the restaurant during the day, and as the sun dips into mountains, guests are treated to an ambiance that emphasis elegance and modern charm. It doesn't come as a surprise that many request Sunnny for private dinning parties on the weekends.
"We have guests staying at Wine & Roses from San Francisco who call up and want to arrange for a dinner party on Saturday." Sunny explains. "People all the way from New York who stop in and go wine sampling come here after to experience what Komachi has to offer." From crab and lobster dishes, to equally enticing Korean and Japanese entrees, specially designed to suit the dinner party of the day, Sunny takes the time to tailor to those that have know her restaurant, out of the plethora in San Joaquin, best.
Whether you're looking for someplace new for a romantic dinner date, or plan on bringing a few friends out to lunch, Komachi welcomes you to have a seat, pour over the menu, and savor each and every bite brought to your table. As the restaurant's motto describes; "Come as our customer, leave as our family!"
Komachi Sushi
307 S. Lower Sacramento Rd., Ste D., Lodi
(209) 334-3131
SushiKomachi.com