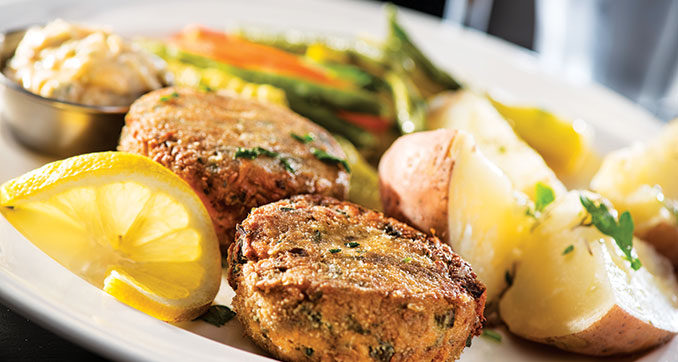 Tucked away in Lincoln Center is a local gem that has perfected their formula for cooking fresh seafood, earning the title, "Best Seafood Restaurant" in San Joaquin County every year since 1994. Bud's Seafood Grille focuses on creating the perfect dining experience to compliment the food from the heaped bowl of freshly baked sourdough bread and butter to your final bite of homemade dessert. Whether you are a seafood fanatic, or don't even like fish, there are a range of equally excellent dishes at this "All American".
Despite its name, the Seafood Grille serves some of the most tender beef in San Joaquin. The owner is so proud of it he put his name on it. Bud's Beef consists of pan-fried medallions that almost melt in the mouth. Or, try the New England clam chowder, served by the cup or in their signature Bud's bread bowl. Many say that it is the best in town, because of its creamy, silky consistency, and its generous serving of clam chunks that give it a delightful bite. Local secret: if you get the early bird special, served between 4 and 6 PM, you get a complimentary cup of chowder with your entree!
On Friday nights Bud's Seafood Grille lights up, and the chef cooks some sublime homemade specialty dishes. Start with the homemade crab cakes and then try Bud's Authentic Cioppino fish stew, which is made fresh every Friday. It's a great way to sample a selection of the seafood available at Bud's, with shrimp, squid, mussels, and crab in one delicious dish. If you don't happen to visit on a Friday, then ordering the Mixed Grille or the California Combo is the next best thing. Then, on the Specials Board on Saturday, it's Surf 'n Turf, given a unique twist by the addition of prawns to the usual beef and lobster offerings.
If Bud's has one motto it is 'put more shrimp on it', and if you order a shrimp dish, like the Jambalaya special, you will not be disappointed by the generous mound of succulent Gulf shrimp you receive. Don't worry salad lovers, you won't be disappointed by the greens here, the Shrimp Louie Salad and Bud's Beef Salad both come loaded with all the goodies you could desire. To finish, the Cheesecake and Pot De Crème at Bud's gives the best desserts in town a run for their money.
On Sundays, Bud's Seafood Grille is open for one of the most legendary brunches in the area. For just $14.95 you can choose between loads of classic brunch dishes like Omelets, Eggs Benedict and San Francisco Sourdough French Toast, or opt for a decadent seafood dish, like the Crab Cake Benedict, Hot Shrimp Melt or the Lox Bagel. Incredibly, included in the price are a seasonal, super ripe fruit salad and a homemade blueberry muffin or coffee cake, as well as unlimited coffees and mimosas, depending on your preferred poison. Go to Bud's, and bring your taste buds. This spot cannot be missed for seafood enthusiasts in San Joaquin Valley.
Bud's Seafood Grille
314 Lincoln Cntr., Stockton
(209) 956-0270
BudsSeafood.com