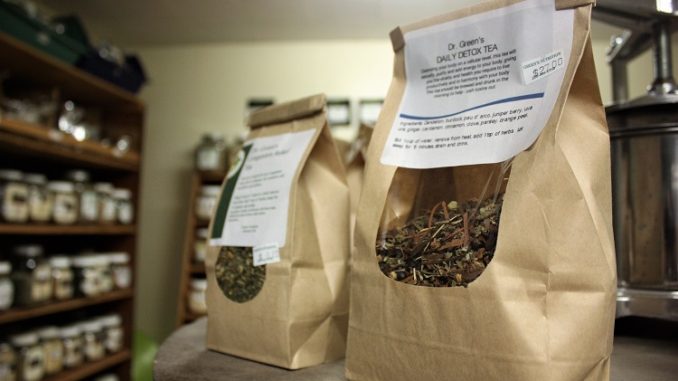 Green's Nutrition stocks old-school bank vault with powerful remedies
There are tea drinkers and there are herb enthusiasts. These folks pick up a box of chamomile at the local grocery store or grab a few stems of lavender at the farmers' market and that's that. And then there's the die-hard, no-nonsense herbal remedy fans that'd rather help supplement our doctor-prescribed meds with tried and true herbal concoctions than sit at home drowning ourselves in bottles of Nyquil. We are the healthy, we are the proud, and we most likely shop at the Herb Vault, located in Green's Nutrition in Stockton.
This sweet little shop has been the pride and joy of Dr. Eunice Green since 1995. Originally located on Waterloo Road, Eunice moved her shop to the Miracle Mile in 2010 and has remained a steady presence there since. The store carries a little bit of everything healthy that you'd want from your local grocery store, be it food, vitamin supplements, or hygiene products—with a little, "I've been looking for this everywhere!" twist. And, to top it off, members of the staff or community often provide special classes to learn more about how to improve one's health and standard of living.
Which brings us to Green's Herb Vault—quite literally, a vault in the building. Once Wells Fargo hit the road and Eunice eventually moved in, the vault became the perfect holding cell for a wide variety of dried goods, stacked from wall to wall and floor to ceiling. "There's over 430 herbs that you can buy by the ounce," Dr. Eunice Green explains. House blends, premade by Eunice or Herbalist Chris Devincenzi, are also available for those who'd rather grab a bag and head on out.
This impressive variety is restocked weekly, used up by customers or students of Chris' herbology classes held about every six to eight weeks. "Everybody walks away with herbs, medicines, and tinctures…. stuff that they need," Chris notes as he pours up a bag of herbs for a customer. "What we've done is, we've made it a simple process so people feel empowered to do it themselves."
And if the many visitors during our interview is any indication, the San Joaquinians stopping by Green's Nutrition do feel that empowerment. If you're looking to "spice" up your health, drop in to the Herb Vault and spend some time chatting with Herbalist Chris Devincenzi or Dr. Eunice Green.
Stop In At:
Green's Nutrition
1906 Pacific Ave., Stockton
(209) 464-5738
GreensNutrition.com