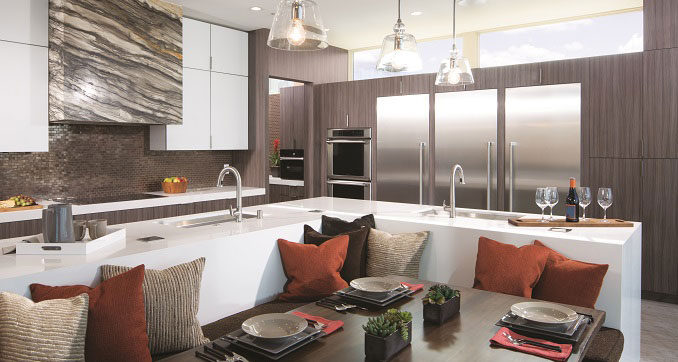 Old futuristic movies like 2001: A Space Odyssey that depicted a design style of modern elegance with classic white and stark contrasts in their set designs could have become the blueprint for some styles now trending in the kitchen. Meanwhile its counterpart, the bathroom is seeing a resurgence of older designs reflecting the 1920's only this time with a touch of 21st century sophistication.
Trends in the basic foundation of any kitchen or bathroom are color schemes. Gone are the warm colors of the last 15 years to be replaced with cooler overall looks and combinations of features. Contemporary soft gray walls contrast wooden cabinets stained in lighter accent finishes. A local trend in remodeling according to Tiffany Gomes-President of Classic Design Interiors-is painted cabinets of all colors and unique trims. For those of you who want to branch out and experiment with a completely new style like this, don't worry, there is plenty of online interior design advice that can help guide you and make sure you're doing it right.
Another trend that reflects the aforementioned Space Odyssey look leans toward industrial designs where black and white creates stark definition. These designs use technological advances to provide seamless functionality to produce smooth surfaces without the protrusion of handles or pulls. Cabinet design using hydraulics and "easy-close" doors that fold up, or drawers with buttons that enable one-push open. Sleek, industrial pendant lighting is another feature often seen in this theme along with exposed structural aspects and pipework. "We're seeing a lot of younger clients interested in the industrial designs," says Brian Holtz, co-owner of HT Home Design. Furthermore, the addition of something like plantation window shutters London, to add natural light inside the room, could add that extra flare of relaxation that every property needs.

Technology drives operations in these kitchens. Appliances are set flush with cabinets and smooth stovetops that feature touch-screen settings operated like today's Smart Phone technology. Wireless keypads run everything from lighting to fans-even oven temperature and refrigerator settings can be wirelessly remote controlled via Smart Phone apps. So many things can be controlled digitally nowadays, with lighting being one of the most exciting things. Many people have always dreamt of turning their lights off by using their phones, and now they can. Of course, the lighting has to be installed first. It's usually recommended that a point cook electrician is contacted to install any lights and fixtures. That way, homeowners can be confident that the lights have been installed properly. Once that's sorted, phone applications can be set up to allow people to control these devices by using their phones.
Add to the elegance of these rooms with the latest trend in remodels-the addition of composite surfaces made of natural stone such as quartz. "We've seen a movement away from granite countertops to replication of natural stone like quartz," says Tiffany Gomes. "These stone surfaces are more consistent with something you would get out of a quarry. Each slab is unique, but with composite quartz you can expect consistency with movement and the look of natural stone."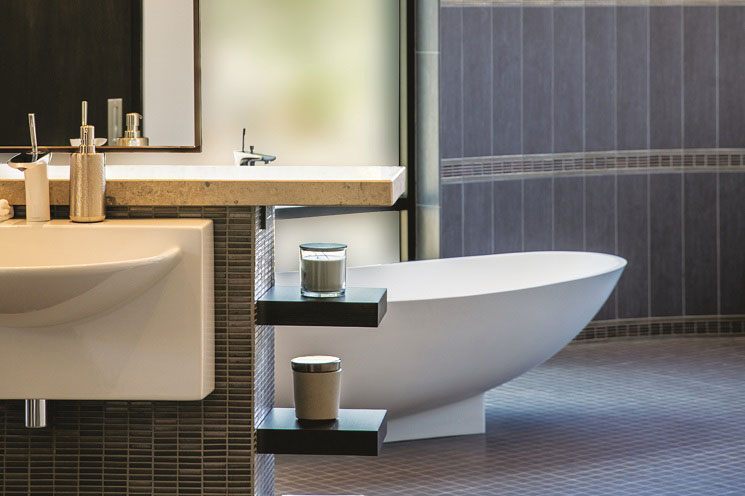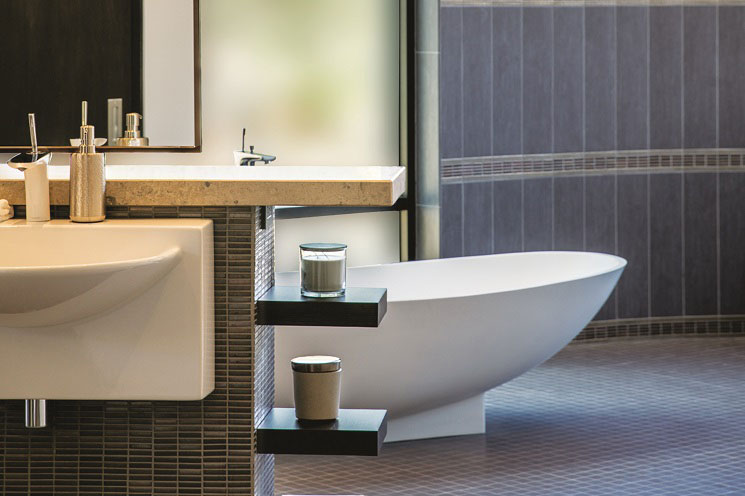 When it comes to the bathroom, the continuing theme of industrial design combined with innovations in "smart storage" features is leading the trends. Similar to current kitchens, color schemes range between cool grays and lighter wood to classic black and whites. Using the industrial look of styles once found in metal shops, current bathroom features apply exposed metal plumbing and dual-purpose piping. The above-level sink bowl is designed in clear glass. Then these bathrooms use smart storage elements like the piping below the vanity to act as towel racks or open metal shelving for easy access to more towels and supplies.
Another captivating and artistic trend harkens back to Mediterranean-inspired mosaics where old world tradition meets contemporary flair. Designers are using elements like stunning metallic tiles and hand-painted terra cotta fitted together to create dramatic backsplashes or tub or shower accents. Some bathroom design use colorful tiles woven together in various forms that resemble five pedal flowers or other geometric shapes.
Interesting techniques and furniture designs are being combined with bathroom fixtures to make sophisticated bathroom interiors. Bathroom vanities and sink bowls mixed with modern furniture in both industrial and wood frameworks blend into almost unrecognizable cupboards, shelving, fixtures, and lighting combinations. Once more utilizing hydraulics, push buttons, and seamless cabinets to create clean drawer space.
Tub designs are using smooth curves not always shaped in traditional ovals. Porcelain tubs take unique shapes with soft, curved rounds backed up against straight edges. Faucets and fixtures done in various metallic colors aren't necessarily found at the back or front of the tub, but rather in the center against the wall. Fixtures range from vintage-inspired glamour to original-styled hardware put together to resemble classic looks with original flair.
Shower designs range from window-pane glass door fronts that open up like French doors to elongated showers with dual showerheads for couples to shower in tandem. Strong tile elements dominate the overall look of these bathrooms. Instead of larger tiles or solid stone counters, many current designs emphasize "subway-like" look of light tiles with dark grout. These tile patterns create a busier look, which is being tempered by the smooth surfaces of the vanity, tub, and shower designs.
Anyone looking to upgrade their kitchen or bathroom will find these trending styles both interesting and unique, and fun additions to their homes. Those who own older kitchens will be astonished to discover how technology has completely transformed the entire room and made it that much easier, quicker, and more efficient to cook and serve food.