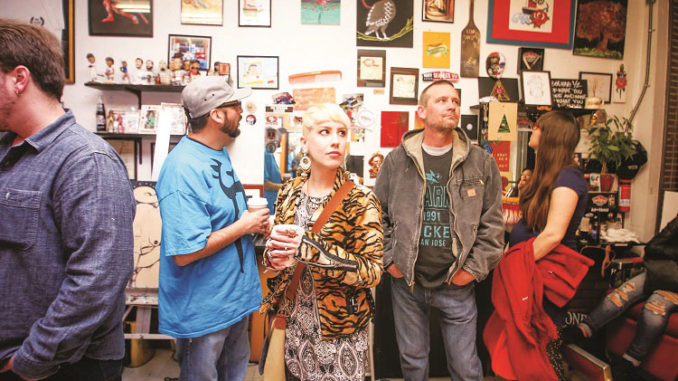 It's an ephemeral moment that makes a lasting impression on the hearts and minds of Stockton. Amidst live music that carries in waves across the venue and its many guests, portraits and paintings, photography and sculptures hang along walls and racks. Some showcase a moment in time, immortalized. Others encompass a singular thought, or multitude of feelings. By tomorrow, this symphony of work will be gone. So is the life and style of the pop-up gallery, belonging to the minds behind the 1850 Collective.
"We have shows how and whenever we want. It's one of those experiences that makes us connect more to viewers, because it's kind of like that special moment," Gabriel Reyes, President of 1850 Collective, explains. "I know that it seems like the ideal thing would be to have a gallery somewhere, but many of our members like that we don't. We're more grassroots."
The 1850 Collective organized its first gallery in March 2016, named after the year Stockton was officially founded. It was the brain child brought to life by over a dozen local artists, and nurtured by the growing downtown community. "Each artist kind of felt that it was hard to get your work out there as an individual. And so, joining up, there was around twenty of us. And we could do our own art show instead of joining smaller groups," Gabriel adds.
Venues and local business showcase their support by donating space for the gallery, food and drink, and services. Many have chipped in from the very beginning. "As our collective grew, our relationship grew stronger with Goodstock. Not only them, but with Channel Brewing, [and] with Cast Iron; many of us [started] up around the same time." From the rooftop of the Stockton Hotel, to Millie's Art Corner, the Federal Building, Cal Pine, and Brick and Mortar—the 1850 Collective has brought their works to life.
The Collective hosts a wide variety of artists, ranging from painters and graphic designers, to photographers, DJ's, and more. New members are selected after they've hung out with the Collective at a gallery. "We [like] for it to be a friend of a friend who's [already] in the Collective. We want to [foster] that bond we all have together. After the show, we usually take it to a vote."
For the Collective, there's no better feeling than showcasing their work to the community. And as Gabriel notes, "The feeling you get when someone comes and sees artwork of, not even yours, but of a colleague or a friend's—it brings a feeling of joy."
Catch the Collective! June 10
The 1850 Collective is taking over the Goodwin Gallery! Temporarily, of course. Join them June 10th for the exciting opening reception of what will be a month-long stay with the gallery on the Mile. Support your favorite local artists and shoot the breeze about the story behind every masterpiece.