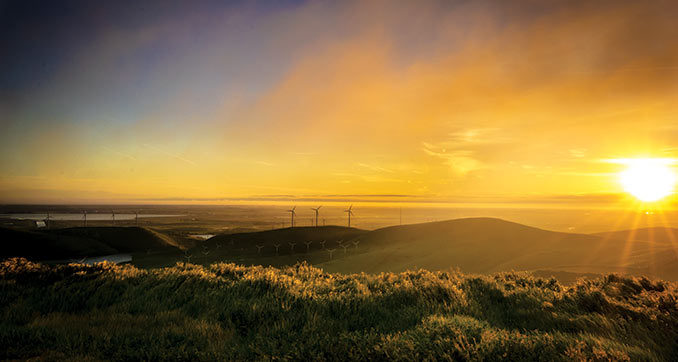 While Lodi is one of California's leading wine regions, we've scooted off to the Livermore Valley to trade our coveted glasses of award-winning zinfandel for other red varietals prominent in this AVA, most notably the relatively obscure petite sirah that thrives here. With an array of places to sip, see, and indulge, it's the perfect locale to ignite the senses. You'll revel in the scenery (all rolling green hills), taste the international cuisine (each within walking distance of the next), enjoy the sweet serenades of local musicians, treat your eyes to the area's inspired art scene and get your hands on a pair of clubs in an attempt to beat par at some of California's most eye-catching golf courses. For Lodi lovers, it's the ideal spot to wine and dine without sacrificing the small town charm you've become accustomed to.
Wine
It's no secret that Wente Vineyards—producing 700,000 cases of wine annually—is Livermore's largest wine producer; you've probably already had the pleasure of tasting a Wente label. The winery itself, however, is an experience. With both a tasting room located on the main stretch in the vineyard-heavy outskirts of town, and a restaurant-golf course-vineyard location off the beaten path known for its upscale dining experience and summer concert series (see sidebar), it's a worthy destination for first time visitors and locals.
Concannon Vineyard is the town's other big player. One of just two wineries—the other being Wente—to thrive through the prohibition period in the Valley, the barrel-filled tasting room offers guests the setting wine tasting dreams are made of, while on-site food trucks, weekly events, and the Underdog Wine Bar make it a must-stop destination.
There are, however, several lesser-known wineries that grant Livermore locals bragging rights as a premier vino destination. Murrieta's Well, Wente's luxury label, proffers a tasting experience akin to high-end Napa wineries; McGrail Vineyards with its expansive lawn is known for family-friendly live music events complete with catering and lawn games (the rosè here is perfect for a summer evening); Garrè Vineyard & Winery has an on-site restaurant worthy of a pre-tasting lunch (absolutely try the champagne); The Big White House Winery & John Evan Cellars is a laidback experience with bottles that taste as good as they look thanks to the L.A.-based artist and winemaker's sister Laura Marion who creates them; and Bent Creek Winery, where the retiree turned expert winemaker, has a passion for teaching guests who want to listen about winemaking in the Valley.
Getting around
Grab a map of Livermore wineries, and you'll be surprised to see just how many stretches are walkable (although bare in mind you will be walking the dirt sidelines of a busy road); they are also perfectly acceptable biking paths as long as you don't overindulge. As with any destination, Uber is a good way to get between stretches suitable for walking. However, if you want to take advantage of another Livermore gem, book a ticket for the Wine Trolley.
A typical trolley ride picks riders up downtown and shuttles them to Livermore Wine Country where they stop at three separate wineries for tastings and indulge in a catered lunch from one of Livermore's local establishments—Ofelia's Kitchen or LaPanotiQ. LivermoreWineTrolley.com
Wente Concert Series
Every summer, Wente Vineyards creates a winning list of musical acts to anchor its calendar of seasonal activities. The concert series is a favorite among locals and visitors alike that has only become more prestigious with time, and the 2017 lineup stays true to that growth.
Full Series schedule:
Chris Isaak – July 12
Alanis Morissette – July 14
Matt Nathanson – July 18
Kenny Rogers' Final World Tour with Linda Davis – July 26
Diana Krall – August 1
The Band Perry – August 3
Joan Jett & the Blackhearts – August 9
Boz Scaggs & Michael McDonald – August 15
Seal – August 16
Patt Benatar & Neil Giraldo – August 21
Dwight Yokam with Los Lobos and King Leg – August 24
Smokey Robinson – August 30
Collective Soul – August 31
George Thorogood and the Destroyers "Rock Party Tour 2017" – September 19
Dine
When visiting Livermore, the itinerary is simple: wine, then dine. The blooming Valley and nearby downtown are primed for the experience. More laidback than wine country to the North, the casual feel doesn't translate to second class. Instead, you get the same homey feel of Lodi, with a different string of international restaurants boasting authentic cuisine and sophisticated wine and beer-prominent hotspots. Almost every stop gives guests the option of sitting outdoors. If the weather is nice, take advantage. Outdoors seating, often laid out right on First Street, brings booming energy to your dining experience.
In the vineyards: The menu at The Restaurant at Wente Vineyards is driven by its California wine country setting, taking advantage of the area's sustainably and organically grown local ingredients (many cultivated from the vineyard's private garden) to create a parade of American dishes, subtly influenced by French and Italian provincial cuisines. With a menu that changes daily, there is always something new to tickle your taste buds.
Downtown: Set a few miles from the vineyards, Livermore's established downtown is home to an array of international dining destinations complete with local wine selections as well as international pours. Take a trip around the world without leaving the confines of Livermore's quaint city center.
For Italian cuisine, step into Bruno's—you can't miss it, an over-sized chef statue flanks the front door—a staple of downtown Livermore that opened in 1998, before the rest of First Street had caught up with the town's reputation as a worthy food and wine destination. Here, authentic Italian cuisine is served in a family-friendly atmosphere. Grab a table (and order the gnocchi de jour) or simply sip wine at the indoor wine bar. Must Try: the restaurant's bread, dropped by the basketful, accompanies every meal. Eat as much as you can.
For Chicago-style pizza in California, Paxti's—a growing small chain—reigns supreme. You'll wait 45-minutes for a deep dish pie, but just like Bruno's, its authenticity that you'll get. The pizza here does not pale in comparison to those ordered in the windy city. Must Try: the bruschetta.
To continue your tour of genuine international cuisine, make a reservation at Uncle Yu's on the Vineyard. Another downtown restaurant, this spot boasts high-end Asian dishes with a twist. The atmosphere is urbane, and the food does not disappoint. Must try: a three- or five-course tasting menu presented by the restaurant's chef and sommelier.
A more relaxed Asian eatery is the Lemongrass Thai Restaurant, located just around the corner. Opened in 1991, it's a mainstay of downtown, carrying the casual air of Livermore past where today most eateries are up-and-coming. Must Try: the beef and chicken satay.
A mash-up of Latin American cooking can be found at Pura Vida Cocina Latina & Sangria Bar, a chic, cozy wine bar boasting a themed-cocktail menu and bar bites. Must try: the sangria, made from scratch, in a variety of flavors.
Opa! Rounding out Livermore's international dining scene, Pura Vida Cocina Latina & Sangria Bar gives Greek fare a modern twist by focusing on contemporary options and cocktails prominent in Greece. Must Try: The daily specials are always worth a glance.
Fondue
Fancy yourself a fan of fondue? Simply Fondue is best known for two things—a traditional fondue experience complete with main courses, chocolate, and cheese, and a martini menu that spans several pages. If you're only there for the chocolate and cocktails, request an outdoor table. Must try: the martini flight, which lets guests taste small pours of the establishment's most popular martinis (the menu boasts more than 180 varieties!).
Night Cap
Livermore has evolved over the last decade or two, trading many of its everyday businesses for unique offerings that cater to the Bay Area's sophisticated clientele. The downtown continues the wine experience well into the night, with live music, coveted late night small plates and cocktail venues, and wine bars that boast plush outdoor seating or indoor couches for a lounge-like, drinking-in-your-own-livingroom feel.
Step into The Last Word, a perpetually busy afterhours spot where craft cocktails are sipped in a lively yet quaint dining room complete with a short menu of small plate favorites. Must Try: the menu's chicken and waffles to share.
       The Banks Vault, a newer establishment opened late last year, resembles the infamous coffeehouse in Friends, if you traded espresso beans for Valley wines. Grab a seat at one of two couches in the lounge and catch up. Several TVs at the bar cater to Bay Area sports fans. Must Try: a twist on the trendy Moscow Mule, made with vino.
       Double Barrel, located next door to First Street's popular Alehouse, offers outdoor seating in front and back (although you may have to wait for an outdoor seat on a nice evening). Must Try: Taste sips from several vineyards in one spot with a wine flight.
Flight Schedule
Check out these other Livermore spots—that aren't winery tasting rooms—with wine flights on the menu:
Double Barrel – 2086 First St.
First Street Wine Co. – 2211 First St.
Swirl on the Square – 21 S. Livermore Ave
Zephyr Grill & Bar – 1736 First St.
Live Music
Call ahead for a schedule—most offer a calendar of local acts from Thursday-Sunday (and the wineries have similar offerings during the day).
Beer Baron – 2223 First St.
Double Barrel – 2086 First St.
First Street Wine Co. – 2211 First St.
Sauced BBQ & Spirits – 2300 First St. #120
Swirl on the Square – 21 S. Livermore Ave
The Last Word – 2470 First St. #100
The Art Scene
Evenings on the Green
2400 First St.
Peruse artwork and fine handcrafts from local vendors in Downtown's Bankhead Plaza Tuesdays, July 11-August 15, 5:30-8:30 PM. Live music is offered from 6:45-8 PM.
Pinot's Palette
153 S L St.
Sign-up to create your own masterpiece at Pinot's Palette, a wine-and-paint spot in Livermore's thriving downtown business district.
The Bankhead Theatre
2400 First St.
The cultural epicenter of Livermore, the Bankhead Theatre offers ballet, opera, theatre, music, and more. Starting July 15, the Tri Valley Rerperatory Theatre will present The Wizard of Oz on Saturdays and Sundays through July 30.
The Perfect Wine Country Dessert
You've sipped varietals all day long and enjoyed expert wine pairings with dinner, so why stop now? Loard's Ice Cream serves a (non-alcoholic) champagne sorbet that is perfectly pink and refreshing after all that wining and dining.
Golf & Grub
Try your hand at some of Livermore's best golf courses with on-site restaurants.
Poppy Ridge Golf Course offers players three nine-hole courses, appropriately named after some of the region's most popular wines. The Merlot is the most challenging of the lot, while the Zinfandel offers a flatter playing field and the Chardonnay takes advantage of both topographies.
Après Golf: Grab grub at The Grill at Poppy Ridge, which uses fresh, locally grown ingredients to create a seasonal menu.
Wente Vineyards offers the area's most prestigious course. Book a tee time in advance to ensure you can get on the course, and if you want to play for less, ask about twilight tee times.
Après Golf: Order from the easy menu of appetizers, salads, burgers, and sandwiches while overlooking the 18th hole.
Las Positas Golf Course prides itself on its reputation as a walkable course for guests. Renovated in 2012, golfers can choose between nine- and eighteen-hole options on the 27-hole course before retiring to nearby Beeb's Sports Bar & Grill for California fare and refreshments.
Après Golf: Affectionately called Beeb's, the laidback hangout boasts panoramic views of the course. On Wednesdays, guests can partake in a spirited, and rather competitive, trivia night.
Wine Happenings
(Call Ahead: Some events require advance reservations)
July 13, Sunset Yoga & Wine
McGrail Vineyards offers yoga instruction followed by wine tasting and small bites from 6:30-8:30 PM.
July 13, Vu Speakeasy
Vasco Urbano will offer a flight of five wines at Nottingham Cellars from 5-8 PM.
July 14, Evening in the Vineyards Music Series
Las Positas Vineyards host its fifth annual summer music series, including wine and pizza from 6-9 PM.
July 15-16, Art Under the Oaks
Head to Alden Lane Nursery to taste pours from local wineries, and enjoy live music, art, and food offerings.
July 26, The Somm Series
This selection of Concannon Vineyard's Somm Series, lead by Estate Sommelier LeeAnn Kaufman, focuses on pairing wine with pizza, 6-8 PM.
July 27, Tempranillo & Taco Thursday
At Dante Robere Vineyards, sip the vineyard's 2014 tempranillo, paired with eats from Your Taco Guy, and live music, 6-9 PM.
July 29, Summer BBQ & Music Event
At Cedar Mountain Winery & Port Works, enjoy music, wine, and grilling 6-9 PM. Bring your own grub to grill while the winery takes care of the rest!
Taste Our Terroir
July 20-23
Livermore's annual food and wine event partners area winemakers with Bay Area chefs to produce drool-worthy food and wine pairings. All of the creations highlight the region's terroir, and awards are granted to the best by a panel of judges made up of industry experts. Buy tickets to cooking demonstrations, garden lunches, evening lobster boils, and more. A true treat for foodies and wine lovers alike, the entire weekend is dedicated to promoting the area's best in food and wine.