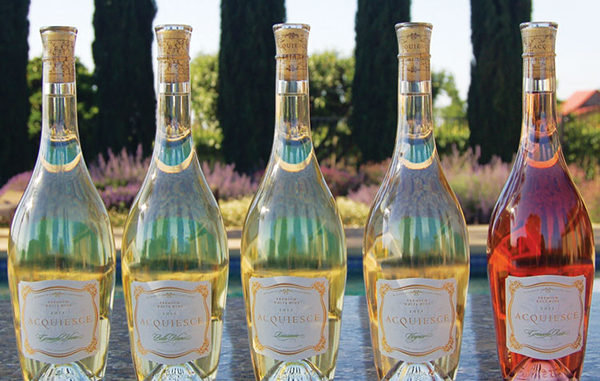 Sue and Rodney Tipton purchased their Acampo home on 18 acres in 2003 as a way to acquiesce. There were 12 acres of Zinfandel grapes planted on the property at the time, but much of that has been overhauled, as Acquiesce Winery has become the Lodi AVA's only winery to brand itself as white-wine exclusive.
"I've always felt that whites were often overshadowed by the bolder reds in the region," Sue shares.
The decision was made when Sue fell in love with a white Chateauneuf du Pape wine. "It was the best wine I had ever tried," she says. She initially planted four acres of white Rhône cuttings from Chateau Beaucastel and has recently removed 6.5 acres of her zinfandel crop to keep up with demand.
"My wines include estate white Rhône varietals Grenache Blanc, Roussanne, Picpoul Blanc, Viognier and our newly planted Clairette Blanche and Bourboulenc, which are new to the United States," Sue shares of her crops. "I was the first to plant Picpoul Blanc, Clairette Blanche, and Bourboulenc in Lodi."
Another distinct decision Sue made was to forego traditional oak barrels for stainless steel tanks. She calls it "a winemaker preference"—one made to highlight Lodi's exquisite fruit and the fruit-forward profiles of her wine.
In 2012, Acquiesce opened a tasting room in a preexisting structure—a 100-year-old barn that had fallen into disrepair. "The century old barn [now] has a colorful upbeat vibe," Sue says of the renovated building.
Word has gotten out and Acquiesce is thriving. "We sell out of wine every year," she says.
Friday through Sunday, visitors are invited for tastings—a five wine and small bites pairing that highlights the wines aromas and flavors—or to grab a place under the shade sails and enjoy a bottle or a glass with a picnic lunch and views of the wine grapes.
Just for Fun:
Staff encourages visitors to add to the winery's "Before I Die" chalkboard, an activity known to garner laughs, giggles, and sometimes tears.
What to Try:
Acquiesce's Grenache Blanc is a favorite, and 2015 has proved a great year for the varietal. Don't know what wine to pair with sushi? This is it!
Join the Club:
Guarantee yourself a few bottles of these high-quality, small-production wines by signing up for the Acquiesce Wine Club. However, be prepared to wait—"We currently have a waitlist for our wine club membership," Sue says.
Come Taste:
22353 N. Tretheway Rd., Acampo
(209) 333-6102
WhiteWineWinery.com