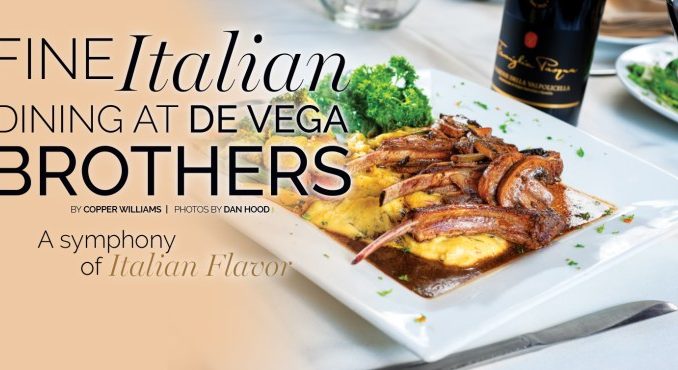 By Copper Williams
A symphony of Italian flavor is exactly what you'll find when you walk through the double doors of De Vega Brothers in the Stonecreek Village.  Having been in the business for over 17 years, owners Alberto and Rafael Vega know the secret to keeping their guests coming back for more. It starts with only the freshest, top quality ingredients, sensational service in and out of the kitchen, and most importantly, the close connections with guests transformed into family.
Alberto and Rafael's renowned restaurant first began with their culinary training among some of our most well-known local restaurants in the Central Valley. It was during these enlightening years that their genuine love and devotion for food flourished and their decision to open their own restaurant solidified. As Joanne Vega, manager of De Vega Brothers, explains "It had been their dream since they were children."
The skill that the brothers cultivated during their culinary apprenticeships was more than enough for them to open De Vega Brothers, a singular business that started small in Manteca, and grew into the magnificent restaurant San Joaquin knows it as today. Joanne fondly recalls their humble beginnings and more than a few of their amazing guests that still follow them today. "We have a customer from Manteca who still orders catering from us. And there's a lady and a group of her friends who still come in every month!"
It may have something to do with dishes such as the Chicken Piccata, an entrée of chicken sautéed in white wine, mushrooms and capers, blended with fresh herbs, garlic and lemon juice. It's certainly been a longtime favorite of old time friends! And fingers always seem to pause when they slide across the Deep Fried Ravioli, a delicious dining opportunity prepared just as the name describes. Enjoy each parmesan dusted bite with a side of ranch dressing and marinara sauce!
The atmosphere at De Vega Brothers has always been a perfect blend of elegance and class,
with the warmth of family and close friendships. It's something that Alberto and Rafael pride themselves on. "Our business is not looking for one time customers," Joanne explains. "We're looking for return customers. If someone likes our food, they tell their friends and come in for parties. That's why, every year, we have Christmas parties from repeat customers."
If you're looking to come in and enjoy this sensational experience, allow us to help guide your oh-so-eager palate to some tried and true favorites! Test out De Vega Brother's Lamb Chops, a sliced rack of lamb that has been marinated amongst De Vega Brother's choice seasonings, sautéed, and then placed on the grill. It's served up with a house crafted auju with thinly sliced mushrooms.  If you're looking for a dish with some port-side appeal, dig into the Sautéed Mussels, a plate that, Joanne can attest, you'll be sipping up until the very last drop! Enjoy chopped garlic, onions, and fresh tomato sautéed until a golden brown. Combined with mussels that have been steamed with a white wine, it's a flavorful lesson in seafood done right.
Whether it's a family function or a work related dining day, De Vega Brothers is pleased to make you a part of their family. Host your gathering under their doors for a party no friend or colleague will soon forget. And don't forget to drop by during the upcoming summer months for a few luxurious hours outside on De Vega Brother's patio, sipping on local wine near the water fountains and listening to Stonecreek's own summer concert series.
Become Part of the Family:
De Vega Brothers
5757 Pacific Ave., A140, Stockton
(209) 323-4339
DeVegaBrothers.com