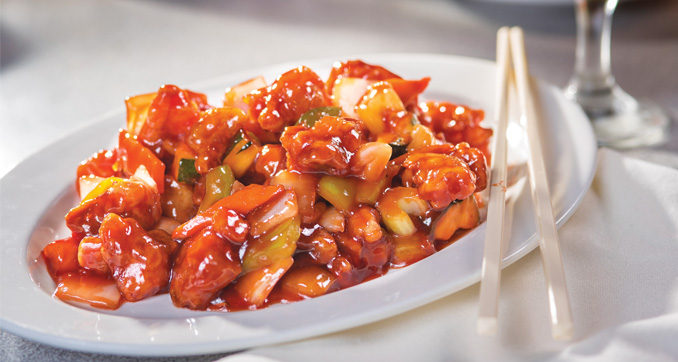 Not many businesses can boast an air of flair, fine food, and family quite like Peking Restaurant. With familiar staff and rich, warm tones coating the walls of their business, this Mandarin Szechwan inspired establishment holds their banner high in San Joaquin. Just a stone's throw from Lincoln Center on Pacific, it's regarded as the perfect lunchtime getaway during a weekend shopping experience.
Peking Restaurant first opened its doors under the guidance of Bill Chu in 1979, and the establishment filled the area's need for an authentic taste of the Asian continent. Over its long history, it developed a following, known for fresh ingredients prepared in seriously mouth-watering ways. Dishes such as the Braised Tofu, rich in black mushrooms and water chestnuts, has become an old-time favorite for returning customers. And our personal favorite, Northern Style Vegetables, sautéed in a light garlic wine sauce, is a hit with vegetarians on the look out for good eats.
"We want families to enjoy a meal together, and if you're by yourself for a quick lunch, no problem!" says Curterina Chu, co-owner of the family-run establishment. "Our food is fresh, it arrives quick and hot."
Since its inception, Peking continues to charm its guests with traditional family dishes such as the Sizzling Rice Soup, but it's also enjoyed an inspiring twist in updated décor and refreshing options in the form of a dessert menu. Of course, when we're ready to sink our teeth into an entrée, we turn to the Prawns Ala Peking, a tantalizing dish that's typically spotted across many tables in the restaurant.
"Some of my favorite dishes are our walnut prawns and the Mongolian chicken," Curterina explains. "The prawns are deep fried, have a light coating of our special sauce, and are topped with sweet walnuts. And I love the Mongolian chicken because the onions bring out the flavor of the spiciness and work really well for the dish!"
Put in your wine list request, pick out your beer pairing, or go for dry champagne to toast your meal off right. The extensive variety of dishes that include lamb, beef, and chicken, or seafood and pork, allows more freedom and flexibility for even the pickiest taste buds. Guests can even snag an entrée or two that they won't find written down. "Our chicken lettuce wrap isn't on the menu, but customers can order it specially! The wanton noodle soup is also a popular secret dish."
If you aren't looking for a little ambiance to add to the flavor, you can always get your meal to go! Peking Restaurant is happy to prep your entrée for whatever journey you're deciding to take, whether it be to a cozy picnic at the park or right back to your apartment for that all-night marathon. Don't feel like leaving your house? They've got you covered. Order delivery and dinner will be brought to your door.
"There are some people who order every three days," Curterina recalls. "And those from out of town come in, get a taste, and end up ordering every day from their hotel!"
It's the little things that make a big difference for customers who frequent Peking, but it's all in the family recipe for building and maintaining an incredible restaurant. Stop in any day of the week and enjoy lunch specials from 11 AM to 2:30 PM, featuring fried wontons, hot and sour soup, and your choice of steamed rice, or egg-fried rice with your entrée. Of course, our favorite time to visit just happens to be dinner (from 5-10 PM), where the dishes exude that old saying: The more, the merrier.
Dine In Or Take Out With:
Peking Restaurant
7555 Pacific Ave., Suite # 115, Stockton
(209) 957-0617, PekingStockton.com