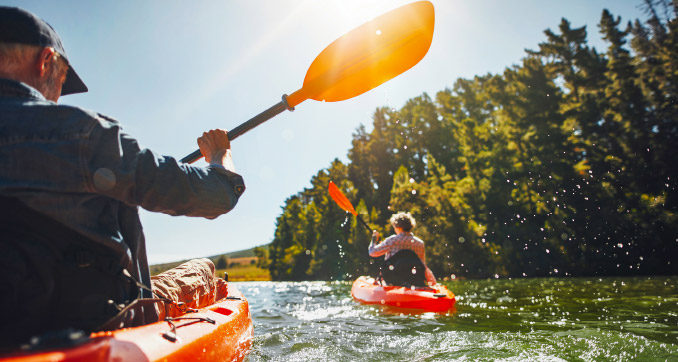 There's something special about disconnecting and immersing yourself in the beautiful solitude of nature. You're unreachable. Stresses fade as the ding of incoming emails are replaced by chirping birds. You focus on the rhythmic motion required to propel your kayak gracefully forward, and enter an almost meditative state.
For some, a venture of such experience requires a road trip, but for San Joaquinians, it's backyard bliss. With the Delta, Lodi Lake, and Mokelumne River in reach, tens of thousands of locals are cashing in on the diversely rewarding hobby of kayaking. The paddle sport offers a host of benefits-it gets you out and active, improving cardiovascular fitness and increasing muscle strength in the back, arms, shoulders, torso, and chest, without worry of wear and tear on joints, as it's a low impact activity. It relieves stress, and can capitalize on existing hobbies like bird watching, or camping.
Sure, we're not right on the raging waters here in San Joaquin-but flatwater practice at Lodi Lake will develop and sharpen the paddle skill necessary to hit the white waters. And make no mistake, the Mokelumne River can boast powerful currents, whirlpools, and ripples that make for a perfect balance of relaxation and adventure for newbies and veterans alike. Its slow flow is relaxing, and allows travelers to take in sights that vary from a plethora of animals, to foothills and canyons as the river winds.
And this year's massive rainfall and spring's melting snowpack have the Mokelumne River running high. Dan Arbuckle of Headwater's Kayak Shop is encouraging first-timers to stay in Lodi Lake and pick up a reliable kayak such as the sun dolphin journey 10 ss so that they are as safe as possible out on the water. "We're taking our Social Paddles to the dam, and with the weather we've had this year, it's a great opportunity for people to learn new skills, like crossing currents and pulling out into eddys (reference our lingo list to find out what that is)," Dan shares.
From mastering the forward stroke and understanding boat handling, to immersing yourself in the sport until you're ready to hit those rapids-San Joaquin is your oyster.
Take your new hobby on the road and explore picturesque spots just outside of our neighborhood. Camp accommodations are close by, and we encourage you to make a weekend of it:
Cosumnes River Preserve, Galt, CA
Grab your yak and enjoy the last free-flowing river from the Sierra Nevada's into the Central Valley. The Preserve's Visitor Center is home to a dock open to non-motorized watercraft only, and has paddling brochures on hand that map out a three-hour suggested self-guided paddling tour. Take in tons of wildlife as you maneuver from the sloughs to the Cosumnes River, and it joins the Mokelumne. Enjoy both flat water and swift currents throughout this adventure.
Spicer Meadow Reservoir, Tuolumne County, CA
With 2,000 surface acres, 22 miles of shoreline, and islands and inlets waiting to be explored, this lake is perfect for paddlers. Considered the best boating facility of the three lakes (Spicer, Union, and Utica Reservoirs share space along a 9-mile stretch of Spicer Meadow Reservoir Road) it boasts a concrete launch ramp. And for the anglers, Spicer Meadow is stocked with Eagle Lake Rainbow and Kamloop trout.
If you prefer to steer clear of motor boats (although the max speed is 10 MPH), stay in the upper part of the lake, which is limited to non-motorized boats. Make a weekend of it and post up at one of Spicer's camp grounds. For only $24 per night, you can camp near the reservoir at 6,4000 feet.
Silver Lake, Carson Pass, CA
Since the 20s, Central Valley residents have found refuge at Silver Lake throughout the hot summer months. Carson Pass is perfect for campers, hikers, bird watchers, nature lovers, and, of course, kayakers. It's home to four major boating lakes, several smaller lakes, and an abundance of lodging recreational opportunities.
Silver Lake is our top pick of the bunch, resting at 7,300 feet with 5.5 miles of shoreline and 385 surface acres. Small fishing boats, canoes, and kayaks are commonly found on the water.
New Hogan Lake, Calaveras County, CA
Just about 30 miles northeast of Stockton is New Hogan Lake, a beautiful man-made body of water in the foothills of the Sierra Nevada Mountains. Gorgeous views make this spot gold for all nature lovers, and a variety of developed campgrounds are easily accessible. With 4,400 acres, 50 miles of shoreline, warm summer water, and affordable entry fees, it's worth the short trip to explore the many arms and coves, and take in the stunning views.
Wednesday Evening Social Paddles
The Headwaters Kayak Shop is all about spreading the love for the yak, and invite you to join them from April to October each Wednesday Evening at Lodi Lake. Meet likeminded people, get a feel for the water, and learn a thing or two from the experts. The two-hour paddle is led by Headwaters staff, and launches from the Lodi Lake Boat House and continues along the Mokelumne River at a leisurely pace. No equipment? No problem-rentals are available for $25. And if you do, Headwaters welcomes you to join the party free of charge.
Full Moon Paddle
From April to October, the Headwaters team hosts a monthly paddle under the light of the full moon. Reserve your spot and grab a bag of glow sticks to deck out your deck, all while watching that brilliant white orb crest over the water and breach the heavens. This two-hour tour returns to the Lodi Boat House.
Wildlife Tours
Join wildlife expert and Headwaters Kayak Team member, Bill Beckett, for an equally relaxing and informative paddle that allows participants to focus on and view the many types of wildlife that call the Mokelumne River home. Offered one Friday and Saturday every month, the morning tour is limited to 10 participants to ensure quality time for all.
*Visit HeadwatersKayak.com for more information and full schedule
Lingo List
The Yak (could we do an image or drawing with this and ID it? See "kayak features" image in folder)
Bow: The front, pointed tip of the kayak
Deck: The top of the kayak that surrounds the seat
Hull: The bottom
Stern: The back
Back band: A band located behind the seat that can be tightened to adjust seat angle and provide lower back support
Skeg: A fin-like piece built into the bottom of the kayak designed to help keep it straight when facing winds or currents
The Water
Downstream: The direction in which a river's current flows
Upstream: Against the current
Eddy: A river feature formed when the current is forced to flow around an obstacle, like a rock or tree stump. The deflected current forms an open space, and water flows back upstream to fill it in. Use this act of nature for resting, or getting out of the current.
White water: Water becomes aerated when a river's gradient causes turbulence. It's also used to describe rivers that have rapids, or shallow, fast moving stretches of a river.
Flatwater : Bodies of water that are flat and slow moving, like most lakes.
Open Water: A large body of water that lacks foliage and shoreline crucial to providing wind protection. Only experienced sea kayakers should paddle open water.
Rapid: A section of river where the gradient increases, causing an increase in the flow of water and turbulence.
The International Scale of River Difficulty
Class I: Get out there and have some fun! These waters are mellow and easy-going.
Class II: Attend a class or guided tour and get some flatwater practice in before you hit a bit of waves and whitewater.
Class III: Take a safety course before you take on faster flowing water with features that require skilled maneuvering.
Class IV: These rapids require skill and experience to safely maneuver around features that could cause injury.
Class V: If you've caught on to the trend by number five-you can probably guess that, here, if you don't maneuver right, you could die.
Class VI: Make sure your will and life insurance policy are up to date, because these rapids are not runnable.
While on the water, always carry:
Personal Flotation Device (PFD)
Safety Whistle
Dry Bag with change of clean clothes
Float Bags
Bilge Pump
Tips:
"If you're paddling the river, always check the flows and the weather forecast before you go out. In the kayak world, our biggest enemy is wind-if winds are high, waves can pick up. And if it's windy, keep close to shore so you have a way out." –Dan Arbuckle, Headwaters Kayak Shop
"If you want to hit the Delta, it's important to understand that it's tidal, and how to read them. You want to ride the tide out and ride it back in, because if you go against the tide you can cover 1 mile in an hour, and if you're paddling with it, you can cover 10. Anyone can call us at Headwaters Kayak Shop if they need help reading the tides, or visit Bask.org." –Dan Arbuckle, Headwaters Kayak Shop