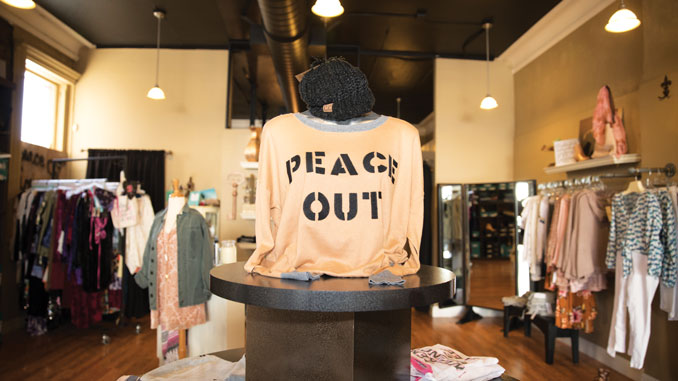 Looking for a boho-chic boutique that stocks not only the latest in designer trends but also those timeless staple favorites?
Then turn your attention to downtown Lodi where Bella's Closet awaits, the ultimate one-stop shop for anyone looking to experience a taste of the exotic. "I want people to step out of their shell, but still feel completely comfortable!" says owner Alycia Green. And this is just what inspired her to head Bella's Closet—her love for styling.
Alycia took to the helm of her sister-in-law's boutique in August 2015. As a Lodi native, she couldn't be more thrilled about the location, perfectly nestled among tasting rooms and longstanding local restaurants.  Plus, "anything owned by people from Lodi is in downtown Lodi!" she adds.
The name change came to let the public know that something new was in store, and Alycia chose 'closet' because, "I don't carry one specific style, I stock a range of different trends inspired by my own closet."
Bella's Closet lives up to its name, with a little bit of something for everyone. Initially, it was stocked with mothers and daughters in mind, but now, "it's become a grandkid and grandma store too!" Alycia smiles.  From handmade jewelry to shoes, jeans, sunglasses, and day, night, and active wear—the shop is bursting at the seams with creative styling possibilities, and Alycia is here to help! "I love carrying items that can be worn different ways by different people—it can be made their own," she says.
Uniqueness is fundamental at Bella's Closet, as Alycia steers clear of department store brands to offer items only sold at boutiques that can't be found everywhere. Lucy Love, a southern California company, goes from casual to fun and flirty; while Good hYOUman features amazing fabrics and active-inspired styles. "I'm all about comfort and clothing that feels good!" says Alycia. And it shows in the rich textiles draped over her mannequins and neatly folded throughout her store.
"I love to touch everything," Alycia says of her trips to market. With new inventory each week, she's constantly searching for the hottest trends, and items she knows the public will love. Because her boutique isn't restricted to a specific style, eye-catching items that appeal to different people really serve as the backbone to this super-cute boutique. 
"I want women to come together and have a social experience in a fun atmosphere," Alycia smiles. "Come on down and hang out!"
Shop On:
Bella's Closet
14 W. Pine St., Lodi
(209) 339-9838