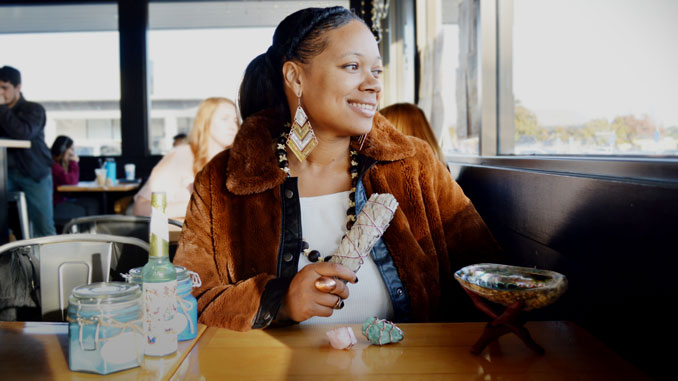 Local life coach shines light on self-love
Self-love isn't always an easy job, but it's crucial to your development, happiness, and success. Onisha Love, a Stockton native began to understand the importance of this 'inside job' when faced with a seemingly easy task—stand in front of a mirror, look yourself in the eyes, and say, 'I love you.'
"It brought me to tears," she says. And that experience birthed an expedition of self-discovery, learning, and ultimately, teaching. "I worked with a woman who gave me the tools that I needed to understand loving who I was as an induvial," she continues. "Not, 'Oh, I'm pretty, I have money…. but instead, loving my character." And that, empowered her to find her path.
Today, Onisha works as a Spiritual Intuitive Counselor and healer—under her business, Awakened Flower—who offers empowerment and spiritual intuitive sessions. "The empowerment sessions assist clients in understanding that they are the key to their success; as we work through negative relationships and self-sabotage, set goals, and let go of limitations that don't serve them," she explains.
The spiritual intuitive sessions set clients on the right track, granting clarity in life situations like a loss, career change, relationship issues, and more.
With a passion for helping people, Onisha's goal is to spread love through awareness, and to help her clients know love, feel love, attract love, and be loved. Thus, her very appropriate name.
We sat down with Miss Love and spoke about key factors she touches on with her clients, and she was kind enough to share her wisdom with us, because as she puts it: "Each one teaches one."
And for Onisha, it was crucial to start in her community, "because once you empower your community, it flourishes and grows.  One empowered individual can, and will, empower another."
Book a Session:
AwakenedFlower.com
(415) 857-4917
Steps to Empowerment
Love Yourself
"It's so important in life because it helps to align and balance your mind, body, and spirit as One. It empowers you to understand who you are as an individual. When feelings of depression or insecurity show up, begin checking in on your self-love."
Think Positive Thoughts
"Positive thinking shapes the world around you, and within yourself. When practicing positive thinking, you'll begin to see your life shift as you start attracting positive people, jobs, and everyday experiences."
Set Goals
"Contentment can lead to becoming stagnant. It's very important to continue growth by creating vision boards, confronting your fears and challenging yourself by setting goals and pushing through them!"
Remove fear from your life
"Fear is a blessing blocker and shows its face in many different ways. Knocking down those fears are crucial to self-growth. Go for that promotion, ask the question, take the leap of faith. Anything you want in your life, do it, go for it!"
Nurture healthy relationships
"People typically want to identify what is wrong with the 'toxic' person, but instead, you should focus on raising your awareness of self. Your reasoning could be past things that happened or programming from childhood that you haven't processed through. My goal is to help you figure out why you would want to be with someone toxic and guide you to attracting healthy relationships."
Find balance
"If you feel anxious, stressed and like you never have time, that's a sure sign that you are off balance."