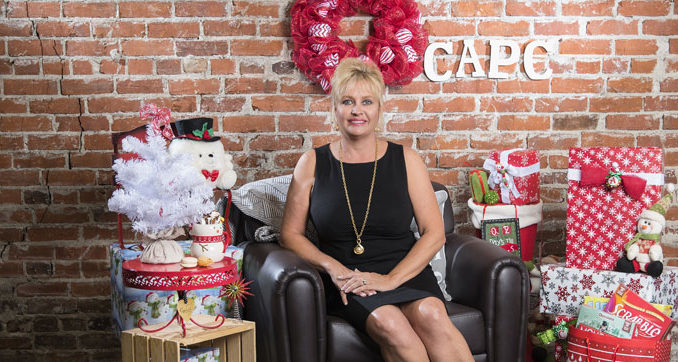 "What is my purpose?" Shauna Jacob asked herself while working through The Purpose Driven Life program with her husband at Lodi's First Baptist Church. Without a clear answer, "We went on a journey to figure it out."
At that time, the mother of two and business marketing major worked closely with her father, a business developer, and together they opened numerous businesses, built them up, and sold them off.
"Many families within our church were fostering and adopting," Shauna explains. "And due to substance abuse issues within my family, I was used to dealing with people in crisis." Shauna also had custody of her niece, and her husband had spent time at Mary Graham Shelter in his youth before joining the Marines. "So, we had a bit of background on how the foster care system worked and decided to go through the process."
Shauna and her family flew through the steps required by foster applicants and soon welcomed their first placement, two young boys in need of two-day respite care placement. As Shauna explains, respite care placement serves as a break for foster families, and the stay was much more challenging than the Jacob family anticipated.
A few months later they opened their doors again, to an AB12 girl in need of a home. "AB12 allows children that have spent most of their time in the system to remain there until they're 21, instead of 18," Shauna explains. "It was an amazing experience. We quickly realized our family worked much better with older children. As the Jacobs continued to care for AB12 girls, Shauna became involved in Safe Families, a national program that operates under the umbrella of her church.
"The church came to me in 2012 and asked if I'd be interested in heading the program," Shauna says. With years of varied business experience under her belt, she jumped right in, working with families from the church that are teamed with families in crisis.
"Safe Families take a child in, and also work with their parents as they get things in order, and go through needed steps to put their family in a stronger place." Shauna continues. "Today, many families are socially isolated and their extended family is nonexistent, or unavailable or unable to help. That's where Safe Families steps in to be the support system for a family in need."
A year later, First Baptist was approached by the Lisa Project—a ten-minute, gut-wrenching, interactive experience about child abuse—in hopes to share the message of child abuse prevention within the community. Shauna presented the Project and its proposed partnership to the congregation, emphasizing the faith-based community's responsibility to help fight child abuse. Unknowingly, San Joaquin County Child Abuse Prevention Council's (CAPC) Executive Director, Lindy Turner-Hardin also heard her message. "She approached me after hearing me speak and said, 'You need to come work for me!'"
Shauna joined the public relations team at CAPC, with a goal to act as a bridge between the organization and the local faith-based community. As she climbed the ranks to her current title as Development Director—CAPC's operating budget increased by a whopping $11 million. "This is our first year with the $14 million budget," Shauna says, "So, this is our year of stabilization!"
A part of the many projects, events, and resources CAPC offers—is Adopt a Family—a holiday-focused program for children receiving services at CAPC. "As the program grew, we realized the importance of family bonding and changed it to be more of a pickup site—to encourage families to be together, open the presents at home, and take the opportunity to have quality time together," Shauna says.
"The families that we work with are in crisis. They're facing a battering array of situations, dealing with hard topics, and their children are often seeing things they never should, experiencing things they have no control over… things that could define their life. We want to step in for those families and give them a hand up for the holidays," Shauna says.
Currently, CAPC brings Christmas to nearly 600 children, with help from amazing donors—like St. Joseph's who gifts the program's first 200 kids—and individual supporters. Donors may select the age and sex of the child before receiving the child's wish list via email.
"Having money at Christmas is stressful, imagine having none and a child that is asking if Santa is coming tonight…. That's a burden these parents won't have to carry this year."
If you need help or want to help:
Child Abuse Prevention Council
540 N. California St., Stockton
(209) 464-4524
CRISIS LINE: (209) 464-4524