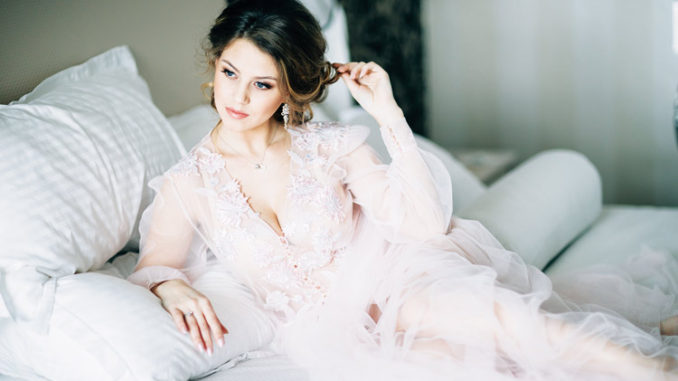 Boost your confidence and wow your babe with an extra special wedding gift
Sexy is not my thing. I've always known it, but 15 other women learned one evening I was forced to participate in a "fitness" pole dancing class. The amount of awkward I felt inside smeared across my face and took over my body. The instructor laughed and said, 'Don't be weird about it!" I could not.
So, when I caught wind of the boudoir wedding gift trend I slightly cringed. This is some sexy stuff. One, I do not feel that I'm photogenic, and two… you wear what? In front of who? I called a few local photographers that offer the service to get the low down, and the longer they spoke, the more intrigued I became.
This is no X-Rated wedding gift. Instead, imagine yourself all dolled up with help from professional stylists, rocking a fierce 1920s pinup inspired suit—or, posed in a black and white photo that elegantly showcases your bare back being tickled by your perfectly styled hair. That doesn't sound so bad.
After diving deep into a boudoir photography blog wormhole, I can now say that I'm all about it, and here to answer the 5 W's (and then some) in hopes to help you gift the best wedding present around.
Who?
Being photographed is an intimate experience, let alone being photographed in lingerie or partly nude. It seems any creep off the street would take that gig—right?! It's important to find a professional, quality photographer that you vibe well with. Meet, or speak with your prospects on the phone, before scheduling anything. Make sure you communicate well and feel comfortable with their personality, as they'll direct your poses throughout the shoot.
Many wedding photographers are beginning to offer this service—while others specialize in it, and boast tons of wardrobe options and props to amp up your shoot! Hit the Internet for reviews and galleries to find your perfect fit.
What (should I wear)?
We're all women here, so I don't need to explain why wardrobe is key. Take time to search for the perfect little somethings that make you feel super sexy, but also confortable in front of a camera. Consider your style and the look you're going for. Will you feel like striking a pose in a barely there teddy or will you freeze once your out of the private dressing room and under bright lights? Or, would a more conservative, but still sexy, look inspire you to express your sassy self and truly enjoy the experience?
Where?
Typically, boudoir photographers will have a studio available for the shoot. This will serve as a private place to have your hair and makeup done, make wardrobe changes, and pose freely with all the right lighting. Other options can include your home or a stunning hotel room. Talk location right off the bat, to ensure that the photographer you choose can meet your location dreams and needs.
When?
Chances are you're hitting the gym hard to look your best on your big day. Schedule your shoot a week or two before the wedding to reap the benefits of your hard work and encapsulate it forever! Who doesn't want to be photographed when they feel their best and busted their booty (literally) for it? The experience itself is rather invigorating, and will also serve as a nice break from sometimes stressful wedding planning.
Why?
What's better than a beautifully bound book of sexy photos of you? I know you're not Kim K, but I still can't deny the intimacy of this special wedding gift. Your hubby-to-be thinks you're the most beautiful woman alive, so what better way to wow him minutes before you say 'I do'.
Another perk is girl power, baby! Boudoir is all about self-love and acceptance, freedom and fun. Pour a glass of wine, get pampered by professional hair and makeup artists, and celebrate how beautiful you are.
Should I bring a friend for moral support?
If your friend is a bottle of wine, then yes. Also, a human friend in attendance is highly suggested. Both the wine and your bestie will help you relax. Crack jokes with your girl and ask her for feedback on poses. She most likely knows what you like, and how you like to look—so she'll be a perfect addition behind the lens. Bring your favorite songs along, too! There's a reason why every Vogue shoot has music blaring in the background. You'll be dancing away as you nail perfect poses with no pressure.