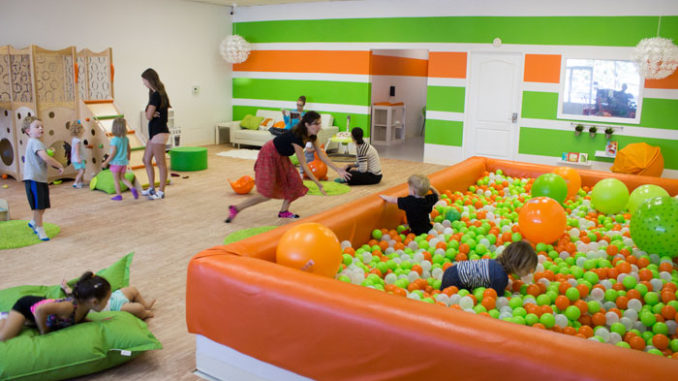 Mommin' ain't easy. Sometimes we need validation, adult interaction—and a healthy dose of caffeine! And sometimes (or, wait, is it all the time?!) our kids need a release, a play buddy, and a place to (safely) jump off the walls.
Maybe that's what makes Ginger Bugs in Lodi so special. It was created for parents, by parents. Owners Kelli and Jim started their family in 2009 and faced some changes. Kelli left her fast-paced career to serve as a stay at home mom, and Jim continued to work long hours and travel often. Add moving to a new city to the mix, and you've got some serious inspiration!
Ginger Bugs began as a custom apparel and party décor supplier for kids and families, and has since expanded to include their parent-prayer-answering space in Lodi. The 2,200 square foot play space was built with both parent and child in mind, with a bunch of interactive play options, a clean, sleek, and trendy ambiance, and free Wi-Fi, coffee, and other adults (gasp!). "I suffered with post-partum, and wanted to create a place for moms to come with their hair up, and to be welcomed and supported."
Kelli and Jim spent countless hours researching top of the line play products in which to stock Ginger Bugs—with safety, cleanliness, and fun at the forefront. "We spent a lot of time doing market research, visiting similar businesses in other cities to see what worked and what didn't," Kelli says. "We wanted to keep it simple, calm, and minimal—to not over stimulate. And we worked to find manufactures that focused on what we care about."
The Ballpit and Balls are equipped with GermBlock technology, utilizing state of the art bio-static technology that tests against over 50 common harmful germs. The Soft Play items are designed and created by Atomic Playgrounds—leading experts in the industry. Their products meet North American Society of Testing and Measures standards for Indoor Soft Playgrounds. And the play structure from CedarWorks, is equal parts, fun, functional, and fashionable. The splinter-free, chemical-free, high-quality design is made from furniture grade wood and boasts an earth friendly finish.
So, how do you get in on this!? Ginger Bugs makes it easy. Adults are always free, and kids can play daily for $9 a child. Or, opt for a Monthly Membership Package. For only $49 a month per child, your kids are granted unlimited, Monday-Friday access, and you're rewarded with moments of freedom as you watch from your post. Monthly member perks include discounts on Rick's Pizza, House of Coffees, and Edible Arrangements—and Ginger Bugs Merch, and Birthday Party Packages.
Yes, I did say birthday party packages! Ginger Bugs offers their space and creative talents for your next birthday party! Kelli can customize all aspects, including décor, food and snacks, and favors. "That's my favorite part!" she smiles. And what a relief, knowing you can trust your child's birthday party in the hands of a passionate expert.
It's clear Kelli's mission statement is in full force, as moms come pouring through the door by 10 AM with their little ones. "This place saved me!" a customer chimes in.
Come Play:
312 N Ham Ln., Lodi
Mon-Fri, 8:30-1:30
(209) 224-8684
GingerBugsLodi.com