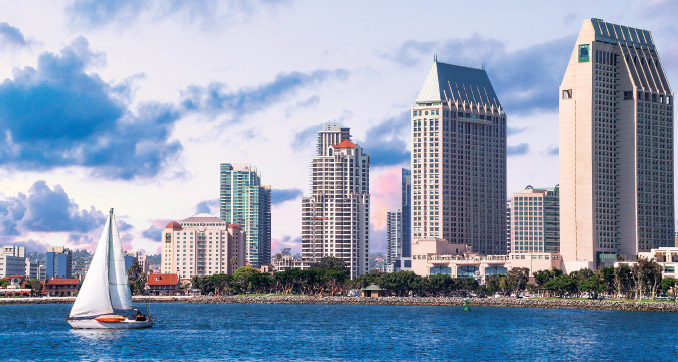 Known for its beaches and warm climate, San Diego is a premier California destination year round, but as we kiss the rainy season good-bye, the timing couldn't be better for a visit to San Diego.
San Diego is truly a destination for every kind of San Joaquinian-for couples who want to wine and dine at quaint restaurants with boastful beach views, families looking for a new playground to find adventure together, and groups who won't be able to pass up the booming nightlife and plentiful cultural offerings. Get on the water, punch your umbrella into the sand, or meander through the city's neighborhoods on the hunt for your next adventure. There's no better time to pack a beach bag and escape to San Diego.
Stay:
Looking to soak up some sun in the San Diego Bay? Make the most of your beach vacation by staying on the water at Bahia Resort. Located on the San Diego Mission Bay, it's easy to venture into the city for big attractions or spend an easy day on the water.
Rooms and suites at the hotel offer gorgeous bay views, along with comfortable amenities that allow visitor's to enjoy time spent indoors just as much as time spent outside. Some rooms come with fully equipped kitchenettes, stocked with cooking and dining supplies.
The largest draw of the Bahia Resort, however, is the activities offered on site. In addition to the picturesque beach and sparkling pool, Bahia offers rentals for surfing, sailing, paddle boarding, cycling, and even boating. Guests can take the equipment out on their own, or learn a new craft by taking advantage of lessons offered by experienced staff. For those who want to spend more time on land, there are two lighted tennis courts on-site, complimentary for guest use.
Transport yourself to another time and place with a ride on the hotel's Bahia Belle, a turn-of-the-century Mississippi-style sternwheeler. In early evening, the Belle offers family-friendly hours, and at night it turns into a dance club with flowing drinks and a spinning DJ. The Belle cruises the bay between Bahia and its sister-property the Catamaran Resort Hotel & Spa, with plenty of opportunity to jump on or off.
During the day, hire a driver (it's free) to take you to the Catamaran and enjoy the luxurious, beachfront spa. You'll find breathtaking views of the bay and an extensive menu of South Pacific and Asian healing-inspired services featuring marine and botanical-based products. BahiaHotel.com
Getting There:
Getting to San Diego is easier than ever thanks to Allegiant Air and its direct flights from the Stockton Metropolitan Airport. No expensive Uber rides to Oakland or overnight parking fees at SFO cutting into your vacation budget. Just get to Stockton and you're on your way! AllegiantAir.com
Eat:
San Diego presents visitors with a smorgasbord of cultural cuisines across the city. There's enough tasty, one-of-a-kind cuisine to create your own bucket list of famous San Diego food.
Add Fries: In San Diego, combining French fries and Mexican food is common practice. Pick up a California burrito (with fries inside) from hidden gem Juan Berto's, or grab a platter of carne asada fries at Lolita's in East Village or Kearny Mesa. LolitasMexicanFood.com
Satisfy Your Sweet Tooth: At Juniper & Ivy in San Diego's Little Italy, guests can order a yodel-a cylinder-shaped chocolate cake covered with warm chocolate sauce. Inside, there are nitrogen-frozen balls of white and milk chocolate, hazelnut brittle, and white chocolate foam. JuniperAndIvy.com
Food from the stars: Mille Fleurs is a French restaurant in Rancho Santa Fe known for its high-end French cuisine that comes at a price (hey, you get what you pay for) and its cozy, romantic ambiance. Martin Woesle has been the Chef de Cuisine since 1985. George's at the Cove in La Jolla is another worthy option for a big night out. The Californian food, smart décor, and impeccable service are all top notch at George Hauer's hotspot with a view. MilleFleurs.com, GeorgesAtTheCove.com
Play:
If you love animals, San Diego, full of animal adventure experiences for every individual, is the right place to vacation.
Located in Balboa Park, the San Diego Zoo is home to more than 3,700 animals, including 650+ species and subspecies. The zoo offers a collection of different "experiences" for guests to choose from. One-the Animals in Action Experience-gives visitors the chance to get up close and personal with zoo residents. Come close to a rhino, watch exotic cats play, and feed the flamingos. Trainers bring zoo animals to guests to get a closer look in a safe environment. Those who choose this experience will have the chance to touch and feed animals, and go behind the scenes to learn more about the animals and their habitats. Want to learn more about the animals? Book the Inside Look Tour. Want to have coveted animal interactions and visit areas of the zoo closed off to regular ticket holders? Buy a VIP ticket. Are you a panda fan? There's an experience tailor-made for you. Zoo.SanDiegoZoo.org
San Diego is also home to the San Diego Zoo Safari Park. Here guests can hop on a cart and venture through animal habitats, getting a closer look at giraffes, zebras, and more. A guide gives insights as you stroll through the habitats on 1-hour tours customizable to your likes and dislikes. For those after a bigger adventure, check out the flight line safari (where a harness takes you 130-feet above the park for a birds-eye view of the animals), or the roar and snore safari (a sleepover with the animals that includes camp activities and after-dark experiences). SDZSafariPark.org
The Safari Park offers other experiences and offerings, as well as special events throughout the year.
If you're lucky, you can take advantage of one of San Diego's newest animal experiences, the chance to swim with a sea otter. Nurtured by Nature is in North San Diego County, a short drive from the city center, and the experience they offer is one-of-a-kind. It's so popular that the 2017 slots are sold out, but some are lucky enough to slip in when there has been a cancellation. A 2018 calendar will open, however a date has not yet been set. The reservation-only experience is offered year round. For those willing to forgo swimming with the otters, an alternative otter experience may be available by calling ahead for details. NurturedByNature.org
Last up is one of San Diego's most well known animal excursions-SeaWorld San Diego. Half theme park, half aquarium, the attraction includes an animal theme park, oceanarium, outside aquarium, and marine mammal park. It is no secret that whale watching is a popular pastime in San Diego and therefore if you want to witness some of the most fascinating marine life in the world, then San Diego is the place to be.
In addition to intimate, all-day orca play-a unique experience for the whole family-there are rides, shows, and exhibits throughout the park. Take a behind-the-scenes tour and meet the animals, including resident penguins, dolphins, sea lions, and even a beluga whale. The sea lions, dolphins, and killer whales put on shows for guests at scheduled times, and a cirque show-Cirque De La Mer-has joined the ranks, featuring an underwater world with delightful, aerobatic creatures. SeaWorldParks.com
After you've exhausted the wild side of San Diego, head inland for some of the big city charm the laidback beach town has to offer. The Gaslamp Quarter-given its name because of the decorative gas lamps that dot the area houses many of the city's biggest attractions. The landscape is unique; Victorian-era mansions sit next door to modern skyscrapers, and what's inside each is sure to be a surprise as the district provides plenty in the way of nightlife and cultural offerings.
Spring and summer are the perfect time to catch a Padres game at Petco Park where high-end eateries serve grub worthy of the calories, and local beer is on tap. Or if sports aren't your specialty, slip into one of the district's art galleries for a highbrow evening. The cosmopolitan playground doesn't fall short on big city attractions.
For families, the Gaslamp Quarter boasts the New Children's Museum, a carousel and candy store in Seaport Village and the U.S.S. Midway Museum.
After hours is when the Quarter truly comes alive. As those gas lamps turn on, late night dining, live theatre, music, and dancing are all on the menu. Rooftop bars are aplenty in the city where it's never too cold to hang outside, and expert mixologists and sommeliers pour the best drinks to fuel your night. Step into nightclubs (like Parq), wine bars (Vin de Syrah Wine Parlor is a good one), and dueling piano bars (The Shout House! is a can't-miss San Diego attraction).
Shop Til' You Drop:
In Mission Valley sits the Fashion Valley Mall, offering some of the best shopping California has to offer. Luxury stores create a maze you'll love to get lost in, with several levels of retail stores-including Louis Vuitton and Burberry-beckoning for you to come and splurge.
Can't Miss Events:
Rhythm & Brews Music & Craft Beer Festival, May
Love beer? This place is calling your name. The San Diego Brewers Guild hosts the annual event to highlight the region's best local brews in the heart of Vista Village. More than 50 breweries showcase over 100 beers, ensuring every beer tasting novice and expert will find samples they like. Add in live music and delicious food trucks from across the region and this festival-held May 6-becomes a can't-miss event for both visitors and locals.
Comic-Con International 2017, July
The San Diego Convention Center will play host to Comic-Con International again this year. From July 20-23, fans of comic books and popular arts will gather to watch panels, meet their favorite actors and characters, and get insider details into what's coming next in the world of comic book entertainment. The event is marked by the wild costumes fans wear. They tend to go all out to emulate their favorite on-screen and in-book creatures. Comic-Con.org
CONCACAF Gold Cup, July
Catch a couple of soccer games at Qualcomm Stadium in San Diego on July 9. The double-header features a matchup between Mexico and El Salvador (teams with a historic rivalry) followed by Curacao vs. Jamaica.
LGBT Parade & Music Festival, July
San Diego's Pride parade has become one of the year's largest events, drawing crowds from near and far. On July 15, the annual parade will return, taking over some of San Diego's busiest streets. More than 100,000 people attend the parade each year, making it the fourth largest Pride parade in the United States. The 2017 theme will be Allied in Action: United for Justice. At night, the parade turns into a celebratory music festival that lasts into the next day, complete with five stages boasting musical acts, cultural offerings, and comedians. There is also food, an art exhibit, community services, and more.