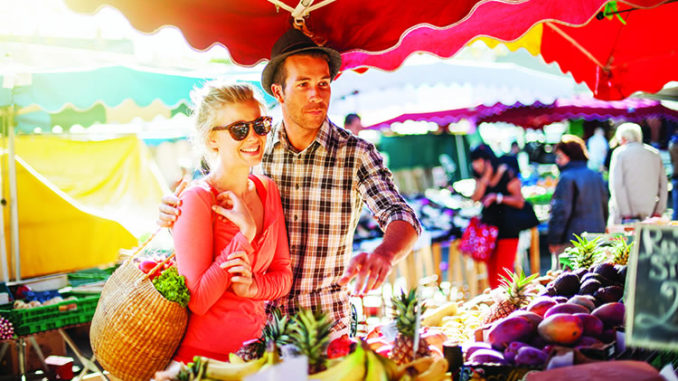 Lodi is blessed with a downtown spread that would make any city's walkability score weep with envy. Peppered in delectable bites, various boutiques, and oh-so-many- tasting stops from our beloved appellation, it's always a treat to see where the road takes you. And here's where it took us!
Farmers Market Fun
With springtime back in our appellation, flowers aren't the only plants in full bloom! Peruse locally grown fruits and vegetables every Thursday at the Lodi Farmers Market beginning May 18th from 5 PM to 8:30. Grab a bite to eat on a restaurant patio for prime time people watching, or take a to-go treat from a food truck while you browse booth vendors.
Lodi Farmers Market
(209) 367-7840 Ext. 110
LodiChamber.com/LodiFarmersMarket
About Town Tastings
A trip downtown wouldn't be complete without stopping by our favorite tasting rooms! Huddled up next to Cheese Central (also a perfect pit-stop before wine sampling), is Weibel Family's tasting room. Cozy on up to the bar and request one of Weibel's many sparkling wines. When you're looking to add brews with some of your favorite blends, Brix and Hops provides a rotating tap of local and regionally known beers, and wines from our appellation.
But why stop at two, when there's so many local blends to sample? Take up the mantel and journey to venues that skirt the edge of the tracks near Lodi's iconic entryway into downtown, or blaze on through the businesses between School Street, Sacramento Street, and Main.
Brix and Hops
14A S. School St., Lodi
(209) 452-0070
BrixandHops.com
Weibel Family Tasting Room
13 N. School St., Lodi
(209) 370-6013
Weibel.com
Artist Stroll
Downtown Lodi is filled with historic and story-driven works around every corner. Murals have paved over many a moody building, providing us with highlights of our city's abundant history. Statues align cross streets and local businesses, bringing a whole new level of adventure to our expansive sidewalks and something to gaze upon whilst tipping back a brewski on restaurant patios. Local artists proudly display their works along iconic shops, such as Lodi Community Art Center, Double Dip Gallery, and School Street Gallery.
Double Dip Gallery
222 W. Pine St., Lodi
(209) 365-3344
DoubleDipGallery.com
Lodi Community Art Center
110 W. Pine St., Lodi
(209) 333-3855
LodiArtCenter.org
School Street Gallery
123 S. School St., Lodi
(209) 810-9735