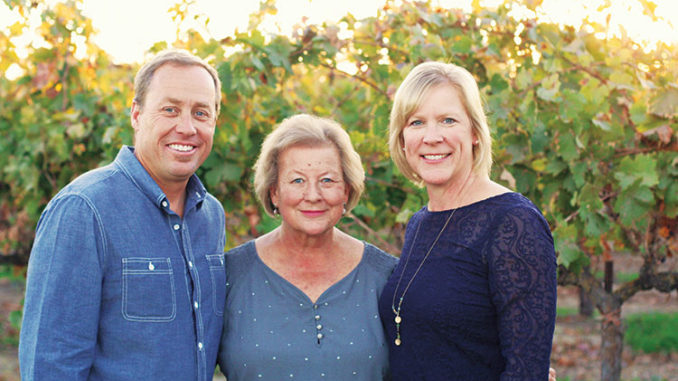 Enclosed in 80-year old Deodar cedar trees is a Mediterranean retreat that captures the essence of our Lodi appellation. Five generations of the Mettler family have helped cultivate the soil of their Harney Lane residence, where a legacy of farming and wine grape growing has continued since the 1900s. But its latest generations are what have brought about the extraordinary tastes of the Harney Lane vintage we all know and love. A process that is as near and dear to the Mettlers as family.
"My husband, Kyle, and I started the winery with my parents, George and Kathy Mettler," Jorja Lerner explains. "In 2006, my husband and I presented a plan to my parents to diversify and start making a bit of wine ourselves. It was a way to keep our business viable moving into the next generation."
George and Kathy Mettler were eager to continue the family legacy of farming, and soon enough they, Jorja, and Kyle had developed a brand that has prospered much like the wines to which they credit their success; growing better with age each year. "…We have tried to focus on creating a variety of wonderful wines so that everyone will find something that they enjoy," says Jorja. "The greatest compliment is that so many of our visitors finish tasting through our lineup and say that they didn't find one that they didn't like."
But who can't play favorites? When guests drop in for a visit, they become a part of the extended family, offered seating along Tuscan-styled patios under the shade of the cedars that were planted so long ago. Favorites like the Old Vine Zinfandel, Lizzy James Vineyard, or the Albarino, a taste of summer itself, are perfect for sipping out in the sunshine. Friendly staff are ready to share not only a glass of Chardonnay, but the family's fine history.
But Jorja and Kyle's hard work has not only showcased itself in the plethora of guests that drop in for a spell, but the many awards they've won over the years. "We have won 11 Best of Class awards, over 8 Double Golds, and over 40 gold medals," Jorja smiles. "We have been very blessed to have won multiple awards since our inception."
Those that subscribe to their wine club have also tasted the fruits of the family's labor, receiving exclusive offers to bottles of Primitivo, and other library wines. And the family is thrilled to sit down with their biggest wine enthusiasts every year for Dinner with the Family. But whether you're part of the Wine: Thirty club, or an old friend visiting your favorite winery, you're always a part of the Harney Lane legacy.
Sit Down For A Sip With:
Harney Lane
9010 E. Harney Ln., Lodi
(209) 365-1900
HarneyLane.com