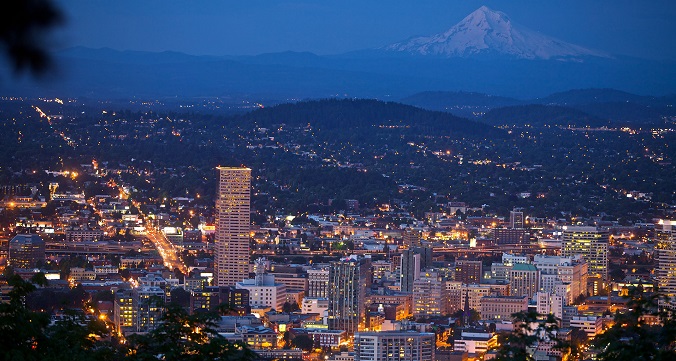 With a motto like "Keep Portland Weird," it should be no surprise to visitors just how diverse the city is. Set atop the Columbia and Willamette rivers, shadowed by the perpetually snow-capped Mount Hood, Portland combines sparkling natural beauty with gritty big-city vibes. As promised, there's plenty of weird to go around, including locals who swear Big Foot is their neighbor and niche nightlife that is equal parts hip and strange. Drink beer, go hiking and revel in the local spirit of Oregon's largest city.
Let Voodoo Doughnuts Put a Spell on You
In Downtown Portland, swarms of tourists (and many locals) walk the streets, clutching little pink boxes in sticky hands. At first glance, you may begin to wonder what coveted treasure is inside that little box, and why every third person you pass is holding one like a newborn child.
The pink squares are packed with delectable donuts from the City's most famous counter-serve bakery—Voodoo Doughnut. The cake creations are known for their creative flavors and the quirky environment that falls in line with the city's "Keep Portland Weird" motto. Bite the head off of a jelly-filled Voodoo Doll, or replace breakfast with a Captain my Captain (donut topped with Captain Crunch). Then, pack a box to hold you over for the rest of your trip—you won't want to wait in line twice. Even though the popular spot is open 24 hours, there's nary not a line.
Expert Tip: If you stay at the Embassy Suites by Hilton Portland Downtown (319 SW Pine St.), you can book a Voodoo Doughnut Package where hotel staff hand-deliver your donuts of choice from the nearest shop (22 SW 3rd Ave.) No waiting required!
Visit Multnomah Falls
Located on the Oregon side of the Columbia River Gorge east of Troutdale, Multnomah Falls (with two drops) was created at the end of a hanging valley by the Missoula Floods. You can park your car and walk right up to the lower drop, or take a hike to the top. The best photo op is often on the 45-foot footbridge between the two drops, where visitors can walk 105-feet above the lower cascade. It's also a prime viewpoint for the upper falls.
Bring your camera, and all its extra lenses, to fit in with the masses snapping photos of the state's largest waterfall (measuring at 602 total feet). For the best views, bring your hiking boots and hit the trails. A series of switchbacks will take you from the footbridge to a platform at the top of the upper falls to enjoy a birds-eye-view of the Columbia Gorge.
A small shop at the base of the falls sells coffee and sweet treats. Inside, you can pick up souvenirs. Go early to avoid crowds—the parking lot is known to fill up.
Expert Tip: Snap a selfie at the Vista House (40700 Historic Columbia River Hwy.) If you're headed from Downtown Portland to Multnomah Falls, the Crown Point Vista House is a quick stop between destinations. The gorgeous memorial that honors Oregon pioneers (nicknamed Thor's Crown by many) includes an indoor museum and gift shop. The real draw, however, is the panoramic view of the Columbus River that proves natural beauty doesn't exist far from the modern comforts of a big city.
Eat at the Pods
While there are plenty of restaurants in city proper, you'll find many people—professionals, families, and tourists alike—dining at food cart pods in small lots dotting the city. It's an odd location, usually street-side or in a small parking lot-esque area surrounded by metal gates, but the people of Portland go crazy for their unique take on the food truck.
Instead of wheeling themselves to business parks, the pods park and pay rent in a single locale for a designated period of time. The same business may take up a spot for years, or if could be gone when the next month's rent is due. Each pod-central contains a collection of diverse dining options—try The Parmacy (2231 NE Alberta St.) and Steaks Fifth Avenue (340 SW 5th Ave.) Culinary options range from Japanese to Chinese, burgers to BBQ.
Browse at Powell's Books
Powell's City of Books (1005 W Burnside St.) is huge. In fact, the store that claims to be the largest independent new and used bookstore takes up an entire city block between NW 10th and 11th avenues and between West Burnside and NW Couch streets. Books and products—some new, some old, some signed, some rare—occupy 1.6 acres of retail space. On one side is a bookroom the size of a city library dedicated to only kids reads. Founded in 1971, it also houses a coffee shop with seating areas and small bites.
In addition to being an experience—one you must have while visiting the city—Powell's is also the ideal place to pick up books that can't be found anywhere else, including those that are out of print. USA Today called it one of the ten best bookstores in the country. And, if you're lucky, you could catch a unique peddler poised with a typewriter outside who has a unique talent. She'll write you a personalized story on the spot—for a fee.
Catch Dinner and a Movie at The Living Room
Looking for a movie theatre that feels a little like home? Living Room Theatres (341 SW 10th Ave.) is a downtown hotspot that plays indie flicks and big blockbuster films on six state-of-the-art projection screens and boasts an attached gourmet kitchen. Before the movie starts, waiters hustle in and out to drop plates of pre-ordered food on diner's trays (located on every individual recliner for maximum comfort). This way, you can enjoy dinner and a movie simultaneously, as well as a selection of beers, wines, and spirits from the full bar. In the evenings, entry is only granted to those 21 and over.
Bike the City
Portland is a mainstay on lists of the country's most bikeable cities—taking the top spot several years over. Part of the reason may be The Portland Bureau of Transportation's BIKETOWN, a bike share in the city. How does it work? For visitors, a single ride or day pass allows access to the orange bikes that are strategically placed around Portland. Use the mobile app to locate bikes quickly, or to reserve a bike ahead of time. When you're done riding (single rides allow up to 30 minutes of use while day passes grant riders 180 minutes) simply return the bike to any station with an open rack. Note: bikes don't have to be returned to the same place you picked them up! The city also has a Pilot Program for adaptive cycling.
Drink Like a Local
When you're in Portland, you drink beer; it's what you do. The biggest problem beer-lover's will have is choosing which breweries to try as there are more than anyone could sample in a single trip (Portland has 58). Deschutes Brewery (210 NW 11th Ave.) is a must. The tasting experience is cool because instead of slamming preselected tastes, diners get to customize their tasting trays. Simply pick up a menu, write down your favorites and the wait staff will deliver your picks. The Black Butte Porter and Mirror Pond Ale are among favorites.
Fat Head's Brewery (131 NW 13th Ave.) is a newer establishment with hearty eats and extensive brew options, Hopworks Urban Brewing (2944 SE Powell Blvd.) doles out beers made with organic hops in a kid-friendly atmosphere, and Old Town Brewing (5201 NE Martin Luther King Jr. Blvd.), whose niche is delivering beer by bicycle to those who choose not to dine in the cavernous building, is known for build-your-own pizzas and seasonal fruit beers.
Next up, head to the library—the Multnomah Whiskey Library (1124 SW Alder St.) No reservations are available for non-members at this city hotspot that fills up quickly on weekends thanks to its cozy upstairs lounge-feel and impressive array of more than 1,500 spirits and small plates (many of which are, you guessed it—whiskeys), but a one-time Hall Pass can often be acquired by calling ahead.
Visit Portland's Cultural District
Within Downtown Portland, there is a walkable hub dubbed the Cultural District. Here, visitors merge with locals to enjoy some of the Portland's finer—albeit still occasionally strange—attractions. The Portland Art Museum (1219 SW Park Ave.) is the West Coast's oldest art museum. There is more than 112,000 square feet of gallery space over several floors. Exhibits range from museum mainstays, such as its collection of Asian and Native American art, to modern creations including an oversized stick of butter and politically-charged video installations.
Just steps away, the Oregon Symphony performs (909 SW Washington St.) and The Oregon Historical Society Museum (1200 SW Park Ave.) takes visitors back in time through the state's rich history. There's also the First Congregational United Church of Christ (1126 SW Park Ave.), which stands out from other buildings in the area because of its Venetian Gothic architecture and style. Between spots, strolls through South Park Blocks—the 12-block area that makes up Portland's Cultural District—feature public art. On hot days, you're welcome to dip your toes or even wade into the fountain at Keller Fountain Park.
Play at the (Adult) Arcade
Whether you fancy yourself a video game aficionado or simply miss the days of spending your hard-earned quarters on rounds of Pac-Man in an effort to beat the machine's high score, this quirky arcade that boasts adult-only hours (and a full bar) is for you.
Ground Kontrol Classic Arcade (511 NW Couch St.) has all of the old-school classics plus a few newer choices. At night, the atmosphere is oddly modern with a retro shtick. There are over 90 games from the past four decades that stay true to the experience with original quarter slots and cabinetry, but with modern amenities and an electric glow that doesn't quite resonate with the games of the 1970s. Own at Centipede, relive your childhood with Mario Bros., and show off your puzzle skills with Tetris—all with a drink in hand and a pocket full of quarters to spend.
Find Big Foot
Some swear they've seen Big Foot creep past their camera lenses, while others will tell you the legend is false, but regardless of your beliefs on the matter, one thing is for sure: if sasquatch does exist, he's visited Multnomah County. OregonBigfoot.com keeps a running list of sightings of the beast, and you may be able to add your own to that list.
According to Big Foot expert and co-host of Animal Planet's Finding Bigfoot
Matthew Moneymaker, the creature he believes to be an Asian descendent of the orangutan has been spotted in several places. So where is the best spot to find him in Oregon? Twenty miles east of Portland in the Mount Hood National Forest is a place called Salmon-Huckleberry Wilderness and it may just be your best chance at a sighting.
There are lots of Portland natives who swear they have seen Big Foot, and plenty of experts who promise he resides in the deer-heavy forested areas of the state. Ask around to hear their stories, then take a hike and look for clues yourself. Or, schedule a tour. Serious believers can take overnight trips in Oregon with Big Foot Researchers Organization.